In Lego Detective's Office Modular Set (Part I), I shared The Highlander Pool Hall.
In Lego Detective's Office Modular Set (Part II), we looked at Al's Barber Shop.
In Lego Detective's Office Modular Set (Part III), we looked at the second floor – the Detective's room and the bathroom.
In this post which is Part IV (the finale of this series), we're going to be looking at the third and highest floor – the kitchen and the roof.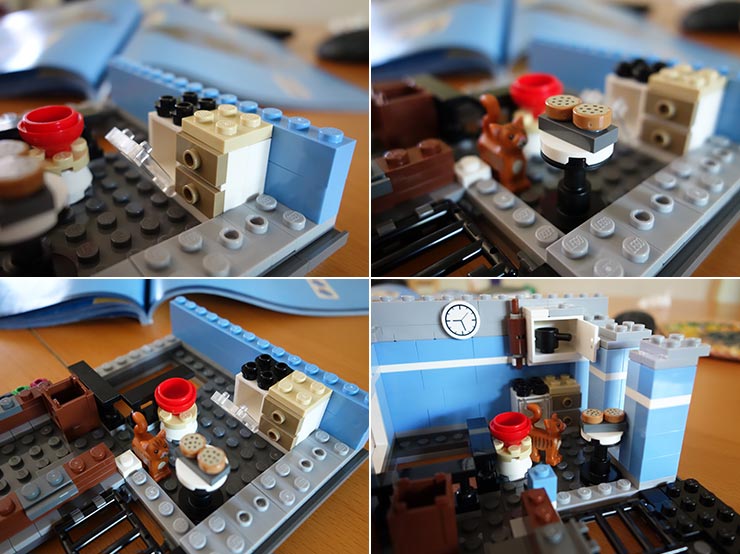 There are lots of details in the kitchen. It's a full kitchen. You can see the cabinet, stove and oven. There's a rolling pin which I found interesting to build. I'm assuming that's a red mixing bowl. There's also a black saucepan in the wall cabinet which I find really cute. And of course every kitchen has to have cookies being cooled.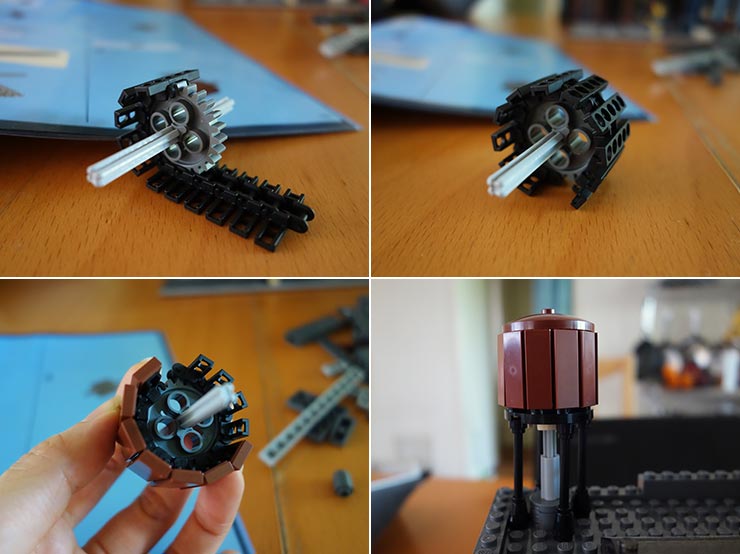 There's a water tower on the roof. It's so cool the way it's constructed. Lego, you've done it again. Bravo.
Below is a picture that shows the level of details to the design even if it's just a roof.
An aerial shot of the kitchen. The bottom left corner is the stairs that connects the second and third floor.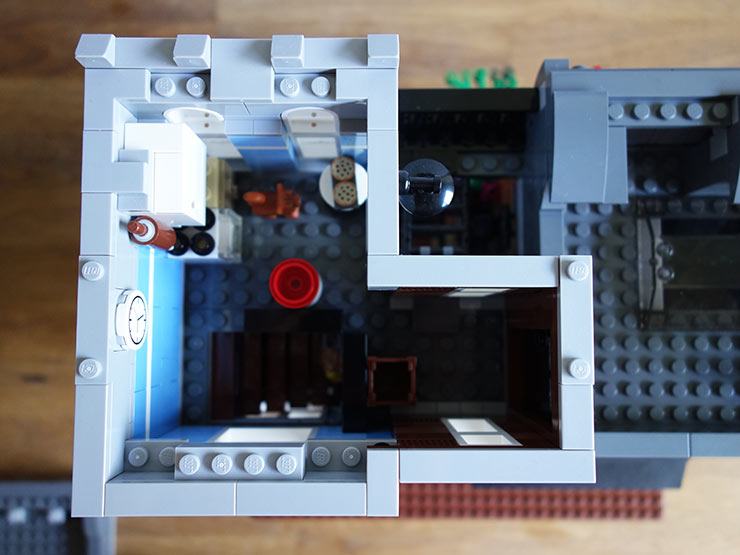 A skylight window on the roof. It can be easily removed by the smugglers to check on the detective to see if he's in his office.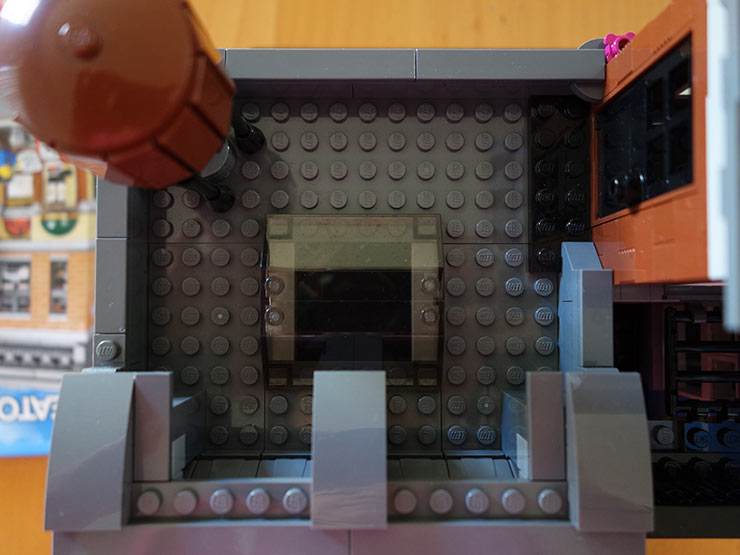 I love how ingenious Lego came up with this brick built lettering which I believe it's the first time Lego's making it this way.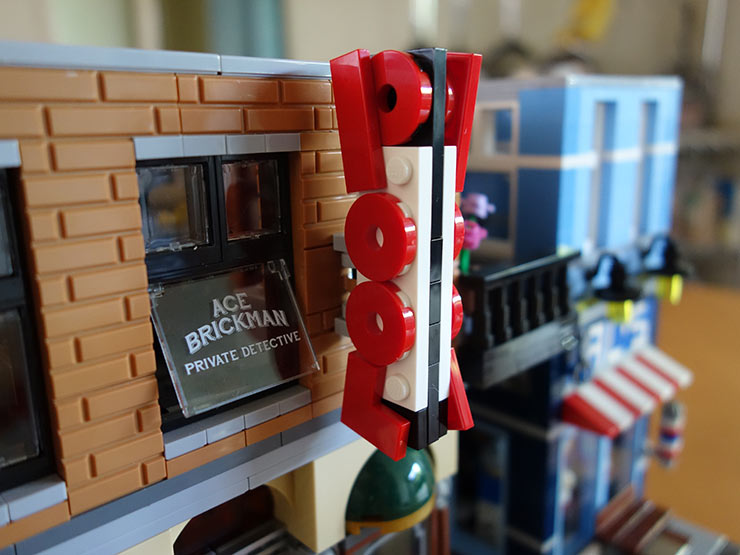 A newspaper stand that sits right outside the pool room. It opens up. Awfully detailed, cute and cool. There's even a newspaper inside.

The front view of the building completed with a tree and a lamp post.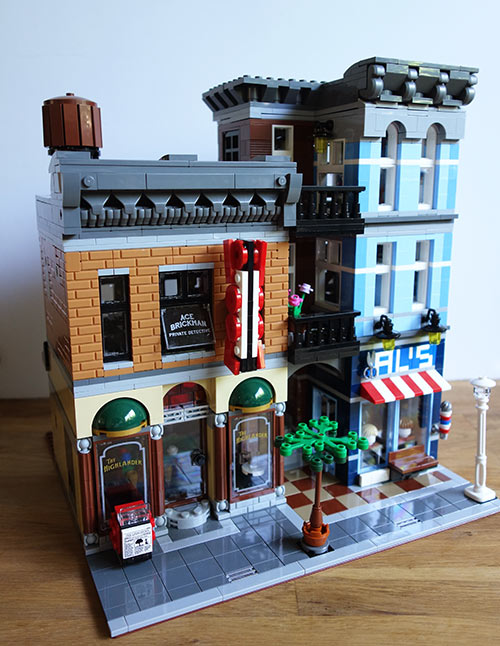 A close up of the foyer of all three floors.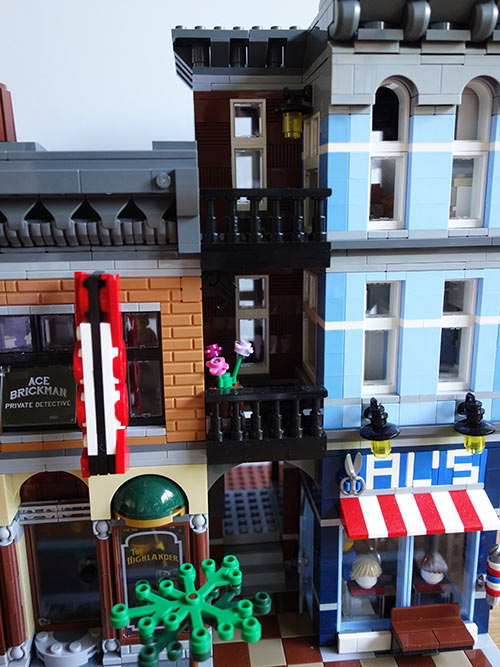 The back of the building. A little bare compared to the front but still looks great.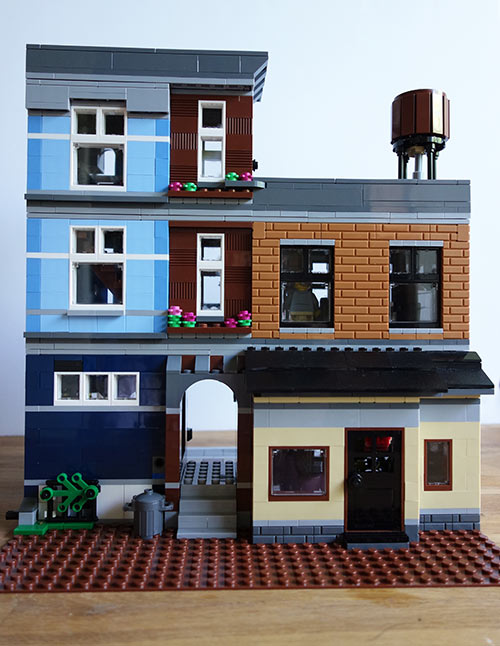 And there you have it. A beautiful and colorful building indeed with wonderful and clever details and surprising elements. With 2262 pieces, I really took my time to build this Lego Detective's Office set and thoroughly enjoyed it. There was very little repetition (well, except the walls) and not once did "I'm bored" come across my mind when building it. With all the hidden compartments and movable objects, it's definitely a fun building.