In Lego Detective's Office Modular Set (Part I), I shared The Highlander Pool Hall. In this post, we're going to be looking at Al's Barber Shop.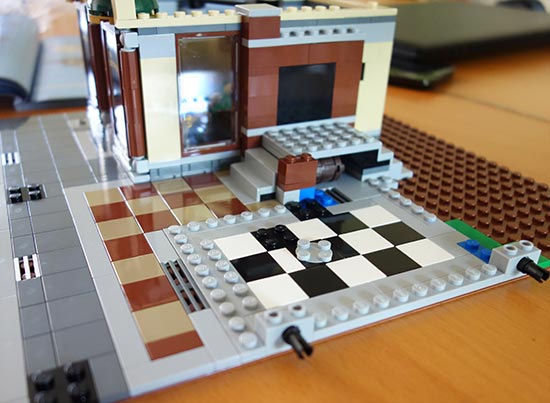 Like I mentioned in Part I, I love the tiled floors. They're uber smooth and kinda sexy. Also, I love how everything fits perfectly. Aahh, my OCDness is so fulfilled. I did have some minor panic when I thought Lego forgot some pieces in my box. It took a while to find em.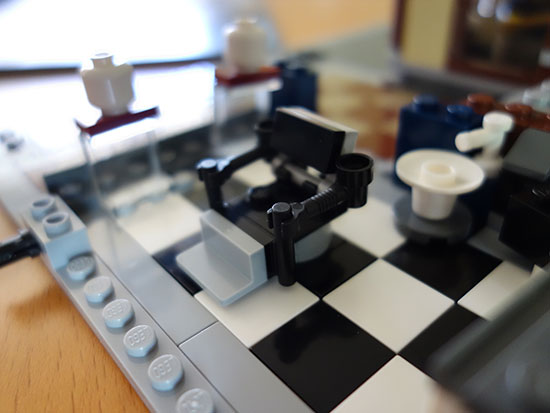 Details details details. The barber chair which swivels and reclines by pushing the back seat. So neat! Behind the chair is a faucet and a sink. Ridiculously fun to make.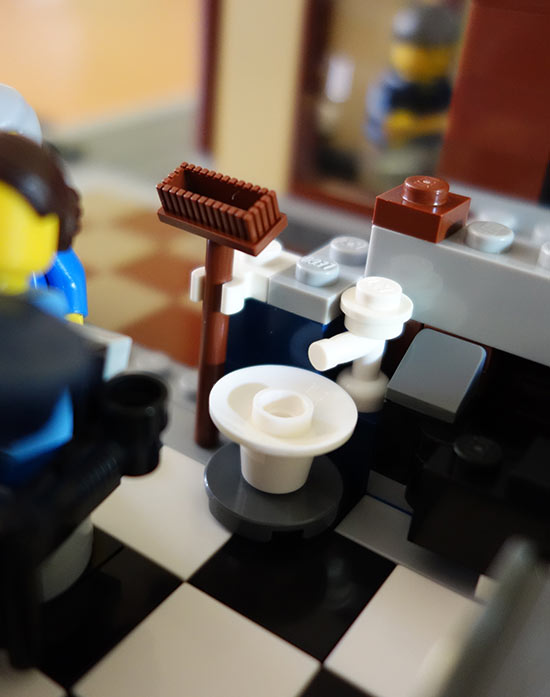 Let's not forget the broom.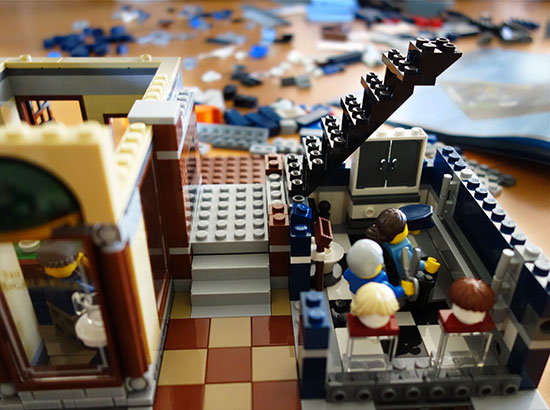 The black stairway leads to the second floor (which is movable). Below the stairway is a cabinet that's actually not a cabinet (Read more about it below). Also, see the wigs on display. Have you ever seen wigs in salons? I wonder why they decided to put wigs there.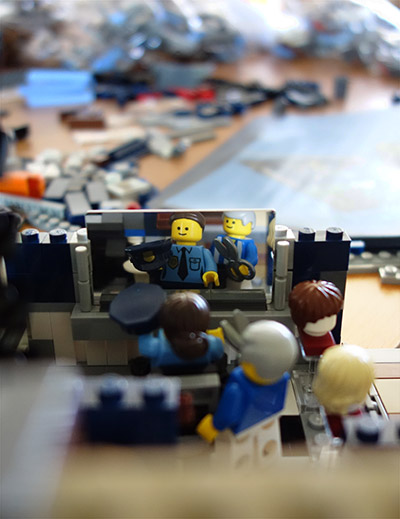 The barber shop has a freaking reflective mirror. First kind for Lego. It's held in place by a top and bottom rail and bricks with vertical handles (gray). Above, two lights are attached to add detail to the room.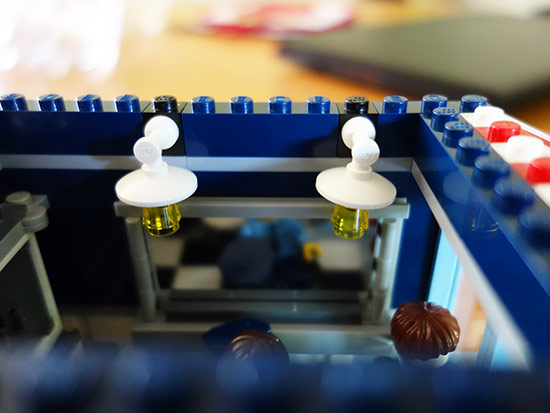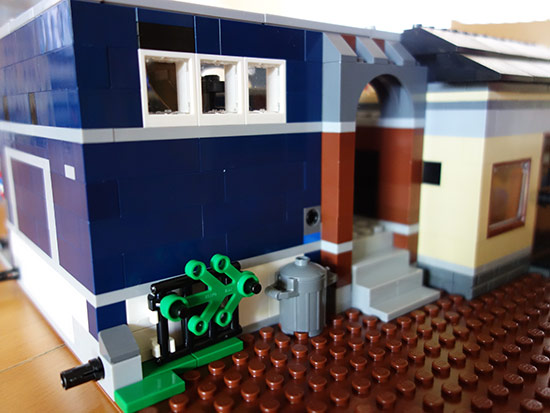 The back of the barber shop. Trash can is awfully cute.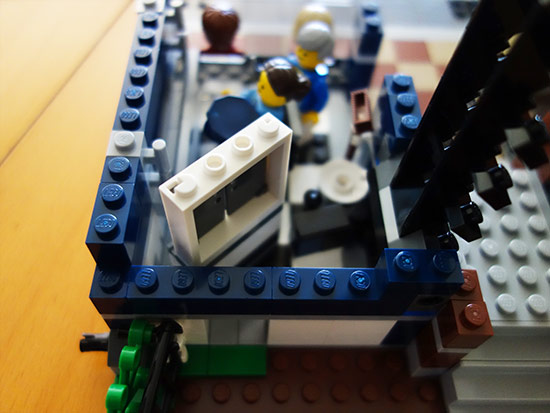 These are the trap doors that I was talking about. This is how candy is smuggled in from the back of the building into the pool room. Candy is hidden in a barrel under the steps (gray) which connects the barber to the pool room (sliding door under the trophy).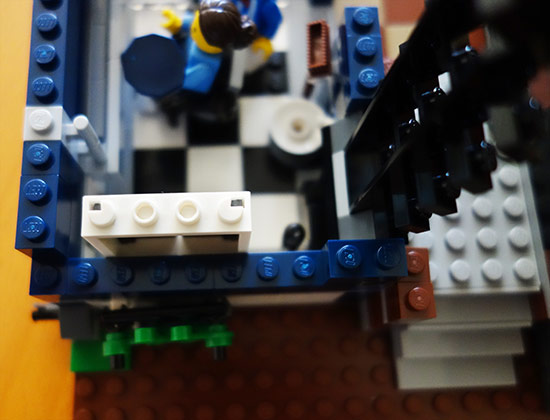 Closed trapped doors.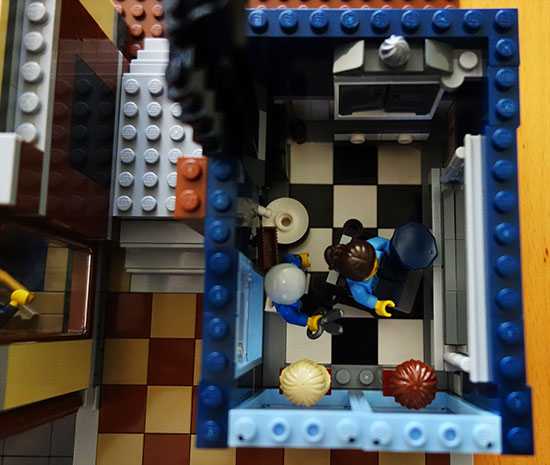 Here's a look at the interior of the barber shop. Note the barber holding a pair of scissors. It may well be the first Lego scissors. Snip snip.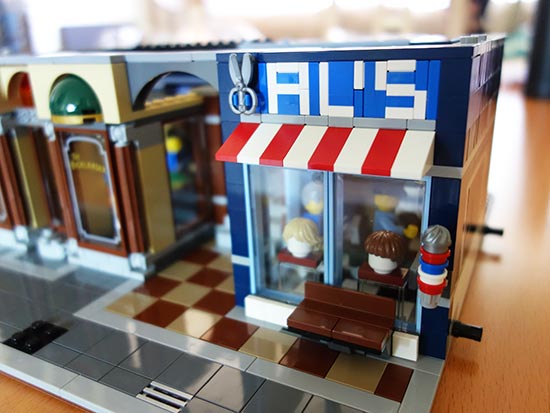 The word Al's so innovative. Nice touch Lego. I do wish I could change it to AP's which is Ai Ping's. The bench is pretty cool and the red and white roof improves the aesthetics to the front design of the barber shop. The barber's pole could have been designed more accurately with more slanted stripes instead.
And there you have it. Al's Barber Shop. Again, amazing details and was enjoyable to build. For this room, I think I took 3-4 hours to build as well. Yes, I took my very sweet time.
Part 3 is the second floor that has the Detective's Office with a pretty cool variety of great looking furniture and more hidden stuff.