Taiwanese comfort food at its best. Melt in the mouth pork braised in a gorgeous thick sweet & savory sauce. So addictive you can't stop eating.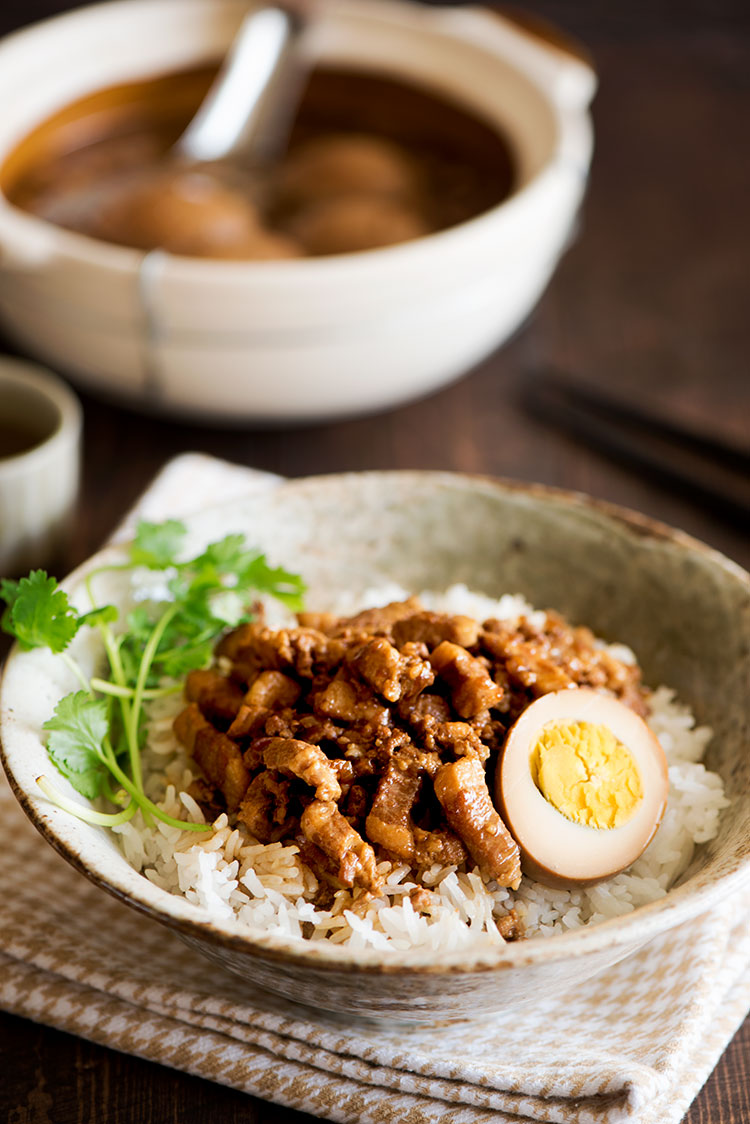 Thank goodness we humans require three times of daily food consumption. I mean can you imagine just eating breakfast and you're done for the day. That would suck. Really bad. Although I wished it was really six times a day, I'll accept three.
A friend once told me that he wished he didn't have to eat. He finds eating a burden and a waste of time. I was bewildered. Beyond belief. Here I was wishing I could eat more and there he was.. not wanting to eat. If only I could transfer his 'eating time' to me. How awesome would that be? I don't know how he would survive. He'd probably die but that's not important. What's important is that I get to eat.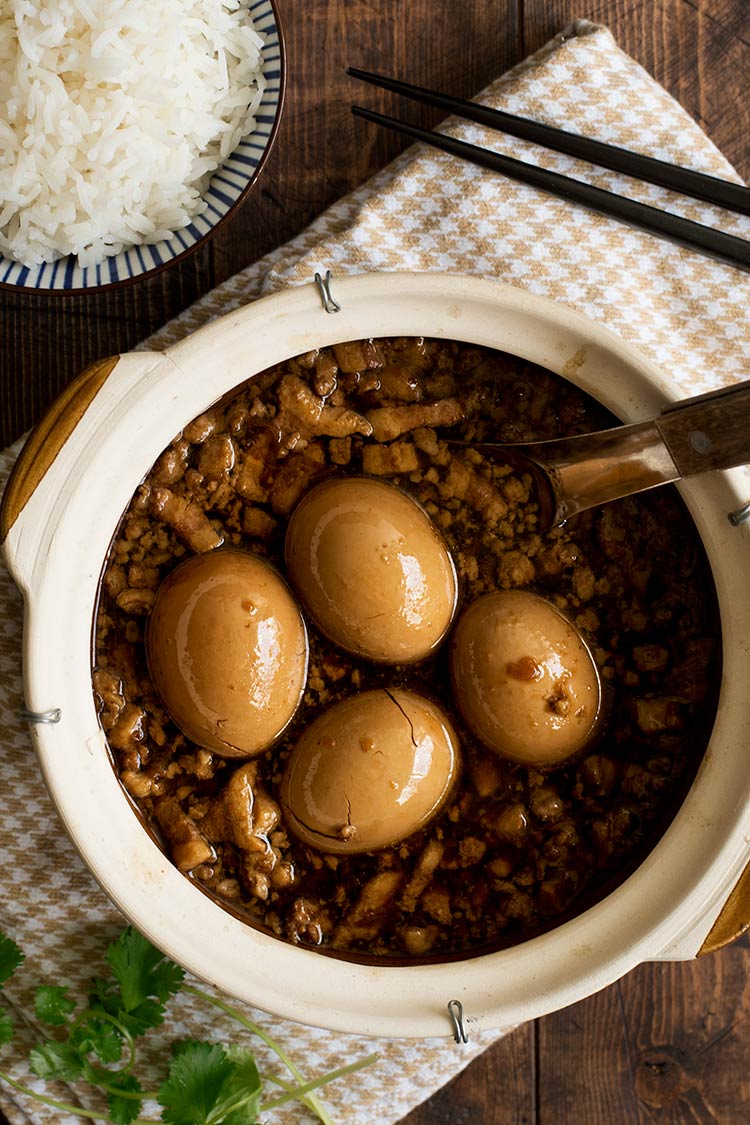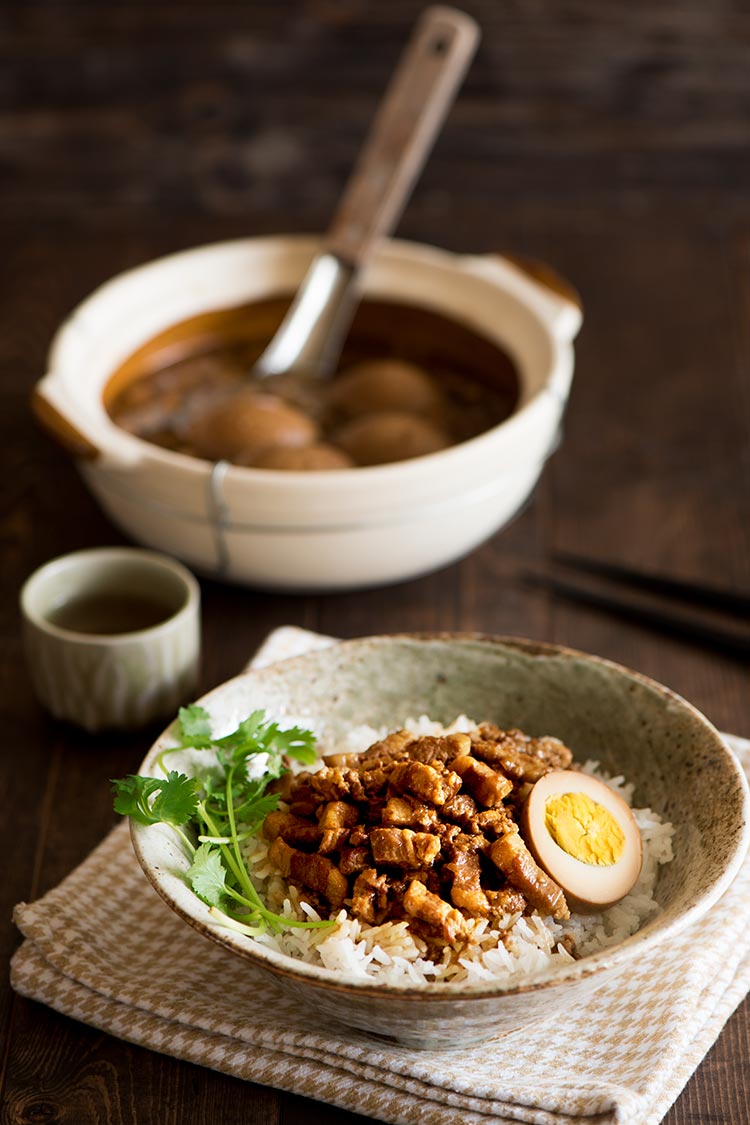 My first meal in Taiwan was horrendous? A tragedy, really.
If humans only needed one meal a day, it would have taken me days to meet 'Lu Rou Fan'. Yes, days are considered long for me. This dish is superbly sinful indeed. You know how when you want to take your second helping of something so delicious, your mind blares a warning saying 'NOOOOOOoo, you shouldn't' while your heart beats out of your chest and yells 'Yes, yes, you should' and your hand seem to have a mind of its own moving itself to go for seconds and thirds and fourths.
Sinful.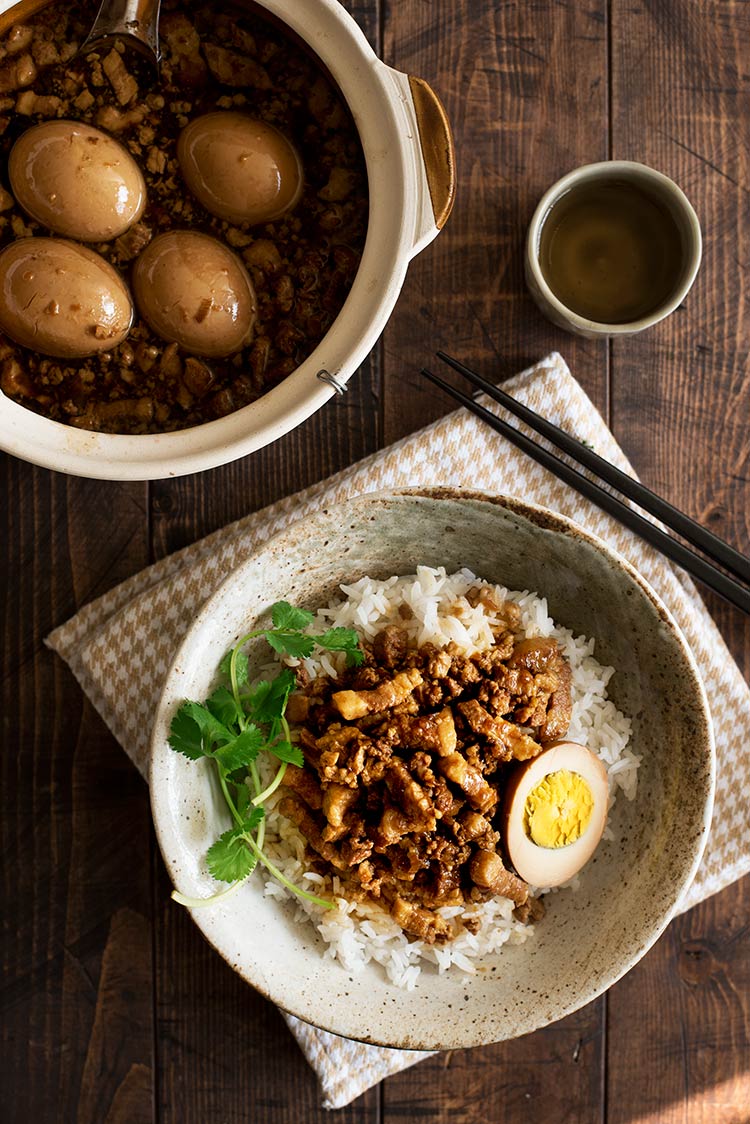 Guys, meet Taiwanese Braised Pork over Rice. Gorgeous, thick sweet and savory sauce with melt in the mouth pork as a result of sizzling fragrant pork belly that was slowly braised in soy sauce, five spice powder, fried shallots and fried garlic. So addictive. Oh, did I mention the slowly infused braised in that very same awesome sauce eggs? *faints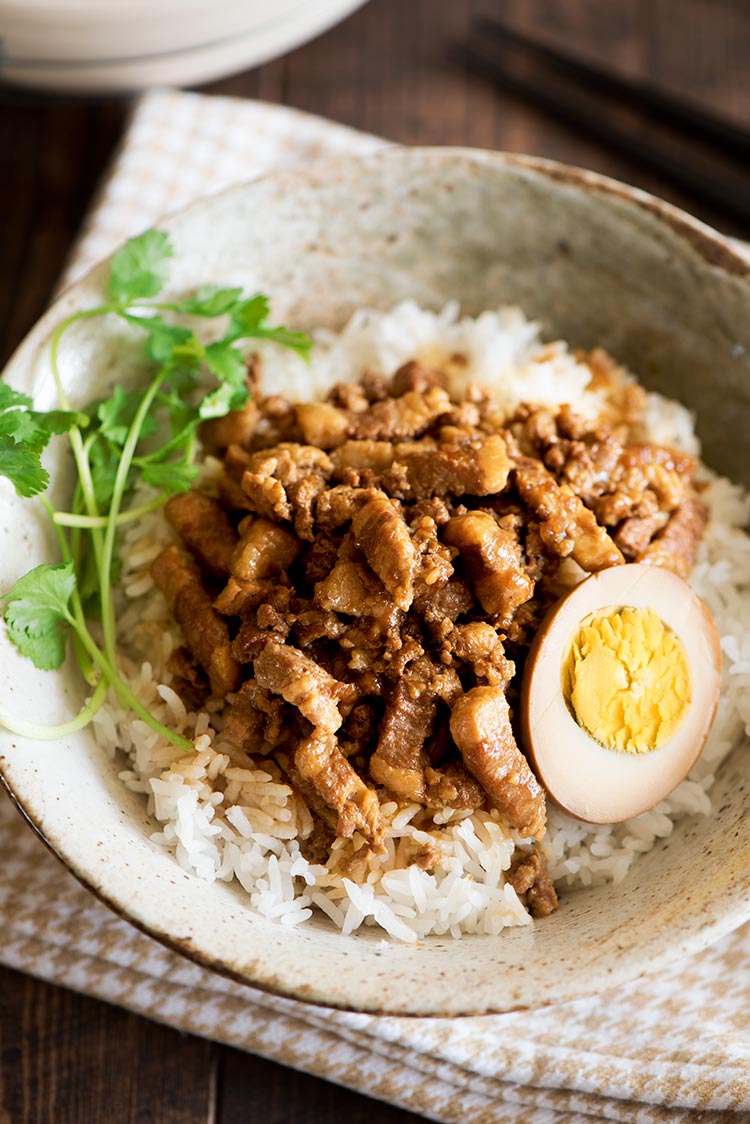 PS: Mr. V (a 100% pure Taiwanese breed) said this upon his first bite… "Omg, this is so Taiwan". I take it as a compliment. That and the fact that he can eat this for lunch every day for next week or two. Seriously.
Love Taiwanese food? How about some Taiwanese Beef Stuffed Scallion Pancake. Crispy flaky chewy scallion pancake, fresh crunchy cucumber & a warm melt in the mouth tender beef with a sweet & savory sauce all throughout.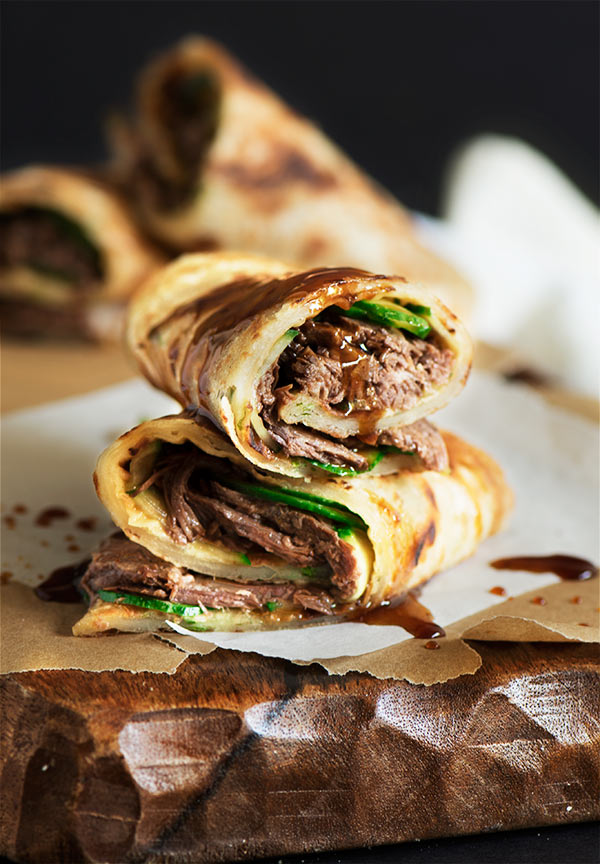 Also, if you haven't already, check out my last post Hokkaido Milk Rolls. This Hokkaido Milk Rolls will be the last dinner rolls recipe you'll ever need. Amazingly soft, light & fluffy. I guarantee.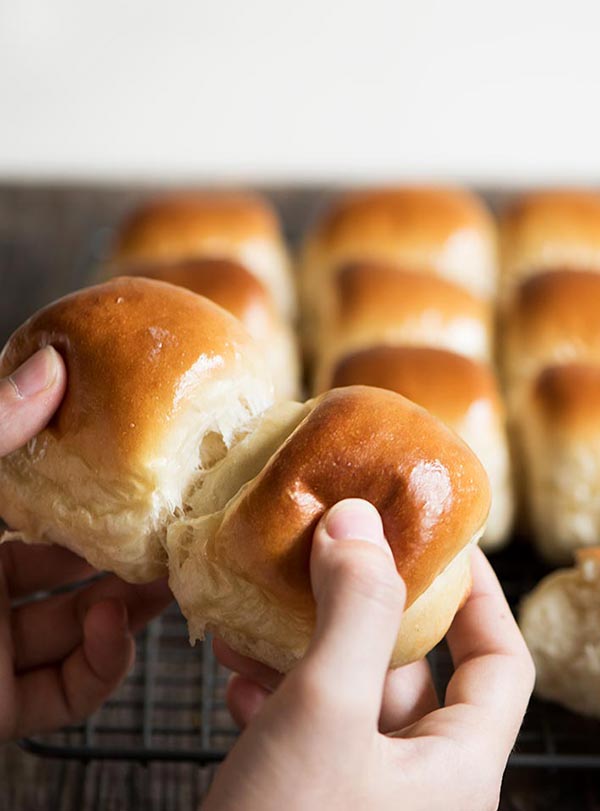 If you like what you see, don't forget to subscribe and follow me on Instagram, Facebook, Pinterest or Twitter to get the latest post updates. See you there!
---
Taiwanese Braised Pork Over Rice (Lu Rou Fan)
Taiwanese comfort food at its best. Melt in the mouth pork braised in a gorgeous thick sweet & savory sauce. So addictive you can't stop eating.
Author:
AiPing | Curious Nut
Ingredients
1 tbs shallot oil or lard
2 lb pork belly, thinly sliced or diced
1 lb ground pork (best if it's 60/40)
2 tbs thick caramel sauce (optional, for color)
¾ - 1 cup light soy sauce (see notes 1)
3½ tbs sugar
¼ tsp five-spice powder
¾ tsp white pepper
1 cup fried shallots
¼ cup fried garlic
8 hard boiled eggs, peeled and poke some holes on the surface
4 cups water
Directions
Over high heat, add the shallot oil or lard to a wok or a large saucepan. When the oil is hot, add the pork belly and the ground pork in. They will sizzle and the fats will start to render.
Once meat is no longer pink, turn the heat to medium high, add the thick caramel sauce, soy sauce, sugar, five spice powder and white pepper. Give it a quick stir and let the pork absorb the sauce. Let this magic go on for a couple of minutes.
Add the fried shallots and fried garlic. Continue to fry. The fried shallots and garlic will start to absorb the sauce too. After a couple minutes, add the water, turn the heat to high and bring the liquid to a boil.
Once boiled, add the hard boiled eggs, turn the heat to low and simmer covered for 1½ hours. Uncover and let simmer for another 30 minutes.
Gently push the oil aside and see the consistency of the sauce. If you like it thicker, simmer uncovered longer. Once you're happy with the consistency, taste the sauce. Some people like their rice with more sauce (so ensure the sauce isn't too salty) while others like their rice with less sauce (ensure the sauce is salty). To increase seasoning, add soy sauce, sugar, white pepper, five spice powder or fried shallots. This dish is savory but is slightly sweet as well. If by any chance you want to dilute the sauce, add hot water. You can choose to skim half, all or none of the oil. Best to refrigerate it for easy removal of oil plus this is best eaten the next day. You can make a large batch, freeze and consume in the future too.
Notes
1. Different brands of soy sauce have different levels of sodium. Start with ¾ cup and add more in step 4 according to your taste.
2. If you're wondering what the 1 tbs oil is for when we're frying pork belly (which already has plenty fat)? It is to jump start the rendering process.
3. Too much fat? YES. The beauty of this dish is that the pork is cooked in the sauce and all that fat. You can always skim the fat out later. What to do with the skimmed fat?
Taiwanese chicken rice
, stir-fried vegetable, congee or soups.
4. Not only can you enjoy this pork with rice or noodles, you can even use it to enhance other dishes such as steamed tofu or stir-fried vegetables.