Everything has secrets. Wisteria Lane has secrets. Magic has its secrets. Coke has its secrets. Not to mention KFC's 11 herbs & spices. Heck the entire universe is all secretive. I'm sick of secrets. How about I tell you a secret today?
Do you want to know what's the secret to "What on earth did you put in this" tasting authentic Chinese food right on your plate from your kitchen that you just cooked with your bare hands? Ok.. some of you can probably already guessed the answer just by looking at the title post, but I've still got to make an introduction. Right?
Are we ready to trick people into believing that you and I are geniuses 'cause we all know that we're not… or are we?
Shallot oil and Garlic oil.
Oil that is infused with shallots or garlic. These oils are magical. When you eat food drizzled or tossed with them, fireworks explode in your mouth. And then of course there's burping and flatulence.
So how do we use the magical garlic or shallot oil?
#1 Replace regular oil with shallot or garlic oil when cooking stir fries.
#2 Drizzle either or both oil in soup, rice congee, noodles (dry or soup), steamed dishes like fish, tofu, or eggs.
#3 When cooking rice, use chicken broth instead of water and drizzle either or both oil after rice is cooked.
#4 Added oil to soy sauce as a dipping sauce for dumplings or meat.
#5 Use the fried shallots or fried garlic as a garnish for every freaking Chinese food you please. Vegetables, fried rice, noodles, soup, or steamed food. You name it.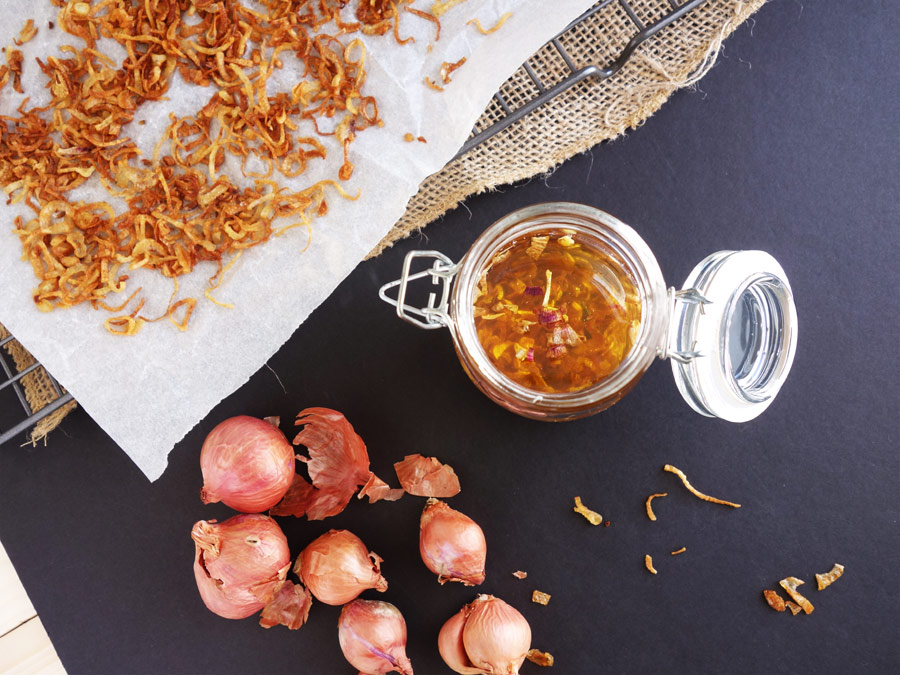 Also, if you haven't done so already, check out my last post Sambal. A must have, delicious South East Asian condiment. It's spicy yet sweet. It's great to go with rice, noodles, meat, fish, vegetables. Pretty much anything.
What secrets do you hold?
---
Shallot Oil      Makes 1 1/4 cup oil     2 1/2 cup fried shallots
what you need:
1 lb shallots, peeled and thinly sliced
1 1/2 cup oil (Neutral tasting)
directions:
1. In a wok or a heavy-bottomed pan, heat oil over medium high heat and put a piece of shallot in. When the piece of shallot starts to sizzle, wait about 30 seconds, pour half the sliced shallots and stir.
2. Stir every so often to ensure even browning. In 7-8 minutes, half of shallots will start to turn a golden color. Turn down the heat to medium and watch them like a hawk.
3. Keep stirring. Shallots will start to puff up and within 1-2 minutes, half the shallots will turn a darker golden color. At this point, the shallots can crisp up and burn in a blink of an eye.
4. Turn the heat down to medium low and using a slotted spoon or strainer quickly scoop all the shallots. The residual heat will continue to brown the shallots a little more so take them out a shade lighter. Shallots will seem soft n wet but will crisp up as they cool.
5. Drain the fried shallots in the strainer for a minute. Spread n loosen them so they are not clumped together. Transfer them to a paper towel lined baking sheet in a single layer to drain the excess oil. Again, spread them out. Check and replace paper towel if it's getting too greasy. We want the shallots draining in as dry paper towels as we can to maintain its crispiness.
6. Turn the heat up and fry the remaining shallots.
7. Once completed, let the oil cool, strain it and store in a sterilized container.
If you took a bite of fried shallots, you just earned some major curious points. Yumz!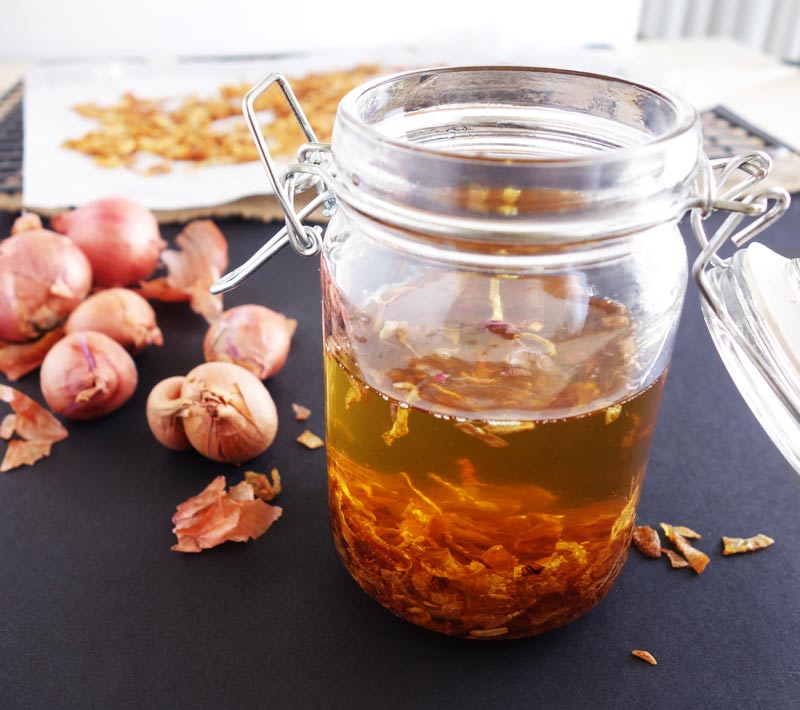 Notes:
1. Oil: It lasts indefinitely at room temperature away from heat and light.
2. Fried shallots: Cooled fried shallots can be stored in an airtight container in the refrigerator to maintain its crispiness. They can also be stored in a dark, cool place at room temperature but will eventually lose its crispiness. You can store some fried shallots in the shallot oil as well.
3. To double the amount of fried shallots, increase to 2 pounds. You don't have to increase the amount of oil but the shallot oil will decrease to about 1 cup. Fry in 4 batches.
4. Buy whole shallots from any Asian supermarket – the smaller variety. They sell them in a small net bag at the produce section.
Garlic Oil         Makes about 1 cup oil
what you need:
2 garlic heads, peeled and minced
1 cup oil (neutral tasting)
directions:
1. In a skillet, heat oil over medium heat and put a piece of garlic in. When the piece of garlic starts to sizzle, pour the rest of the garlic in. When all the garlic is sizzling, turn the heat to medium low. Stir to evenly brown the garlic. Garlic burns easily and makes everything bitter.
2. Once the garlic has turned to a light golden brown (about 6-8 minutes), pour the garlic and oil into a sterilized container. The residual heat will continue to brown the garlic a little more. Let cool.
3. If you want to separate the garlic and oil, you may do so. Fried garlic can be used as a garnish.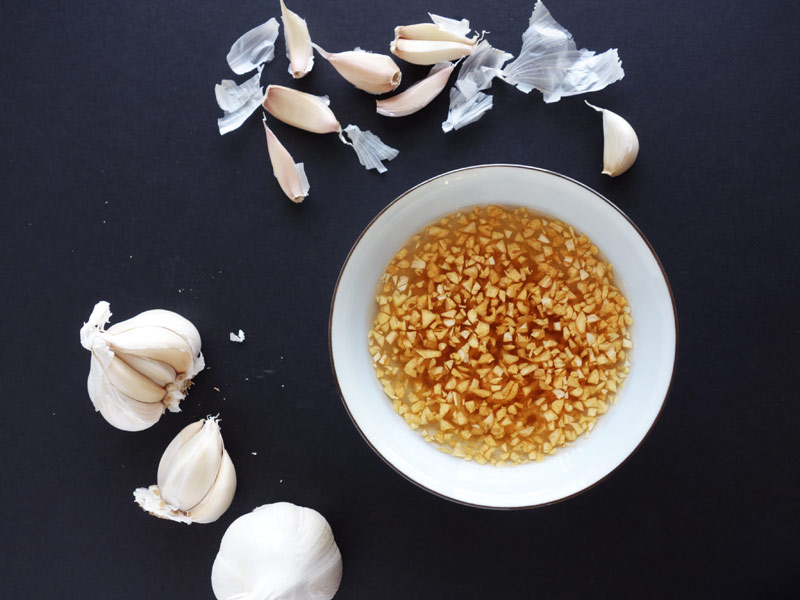 You know what? Do the same with ginger for that matter. Julienne ginger (2″ in  length) and shallow fry the ginger until golden brown (similar method to garlic). Fried ginger and ginger oil is exceptionally delicious as a garnish and drizzled in steamed fish. Of course they're great in stir fries as well.
My parents always have one or all the infused oil in their kitchen at any given time. And now, I do too.
Three secrets… in a day. Lucky you.