Indulge your family and friends this holiday season with the softest, fluffiest and most delicious dinner rolls ever. I guarantee.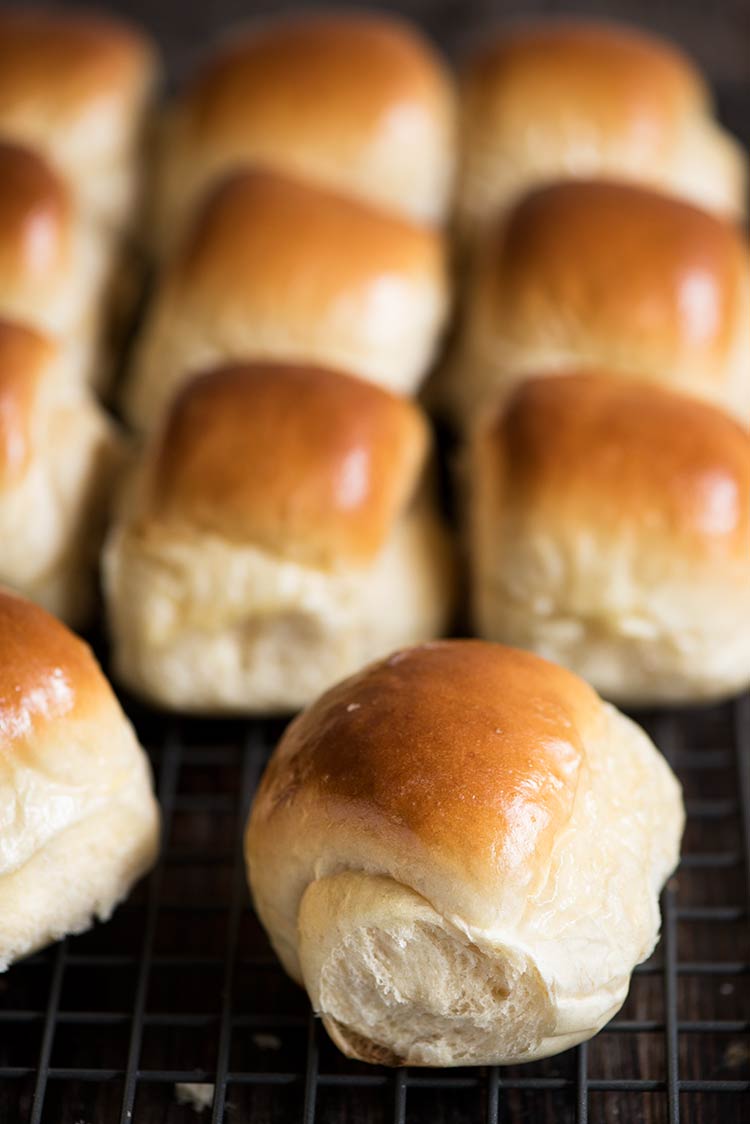 Rolls have never (Yes, NEVER) appeared on my family's dining table.
For one, growing up, my family didn't have an oven. Two, it's uncommon to eat rolls with our meals.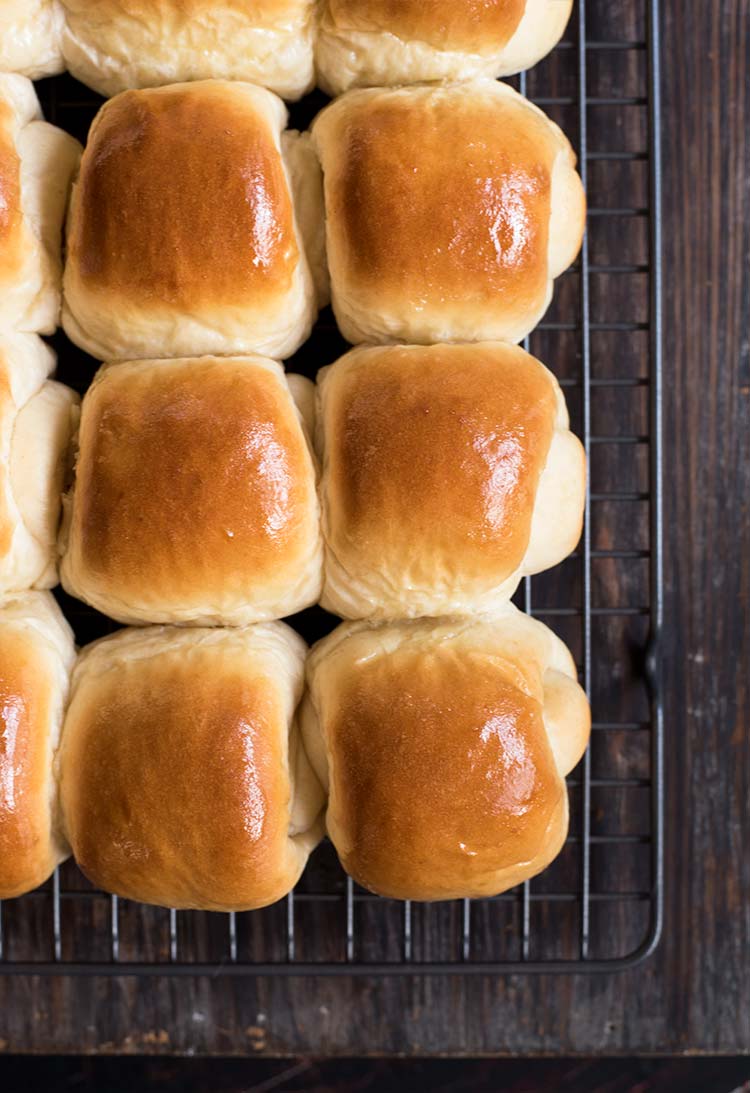 So to me, rolls were a specialty. Something I only get to eat at steakhouse restaurants (which is a rare affair). Birthdays…. Anniversaries… Straight As… Yes, we're Asians after all. 🙂
Little did I know it was a regular affair in the Western world.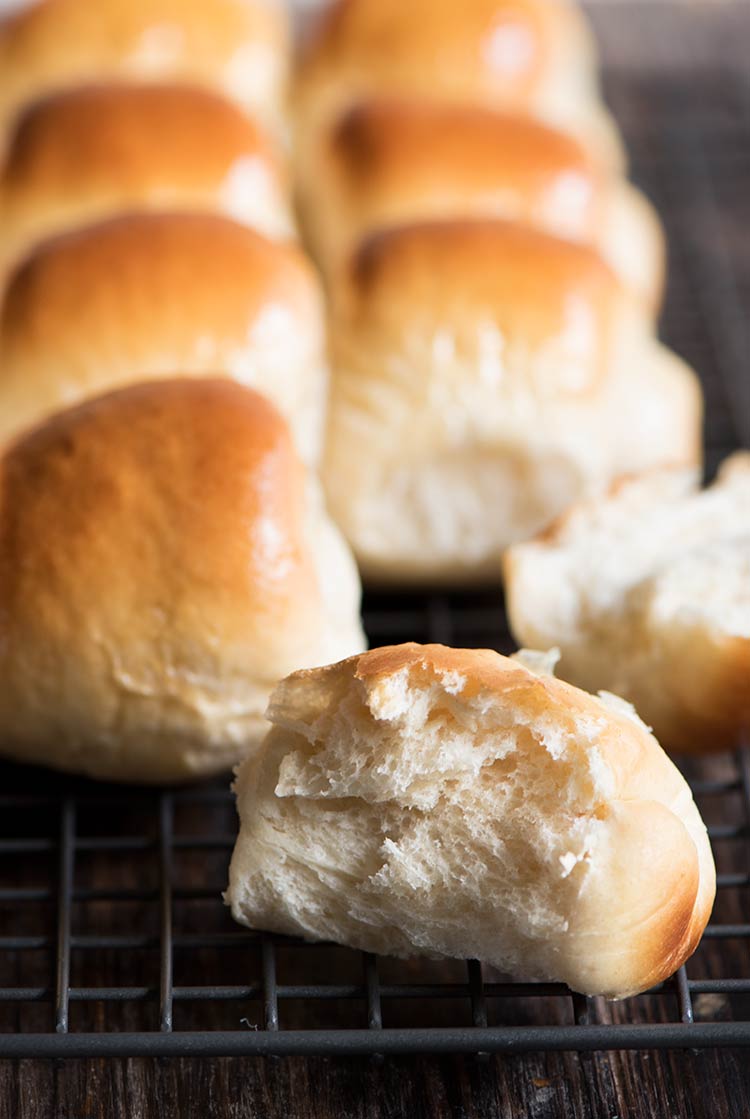 I love rolls. They're small and cute. They're a good size for me to enjoy some carb but not too big that it fills you up. Of course, I don't eat em with rice. That would be weird.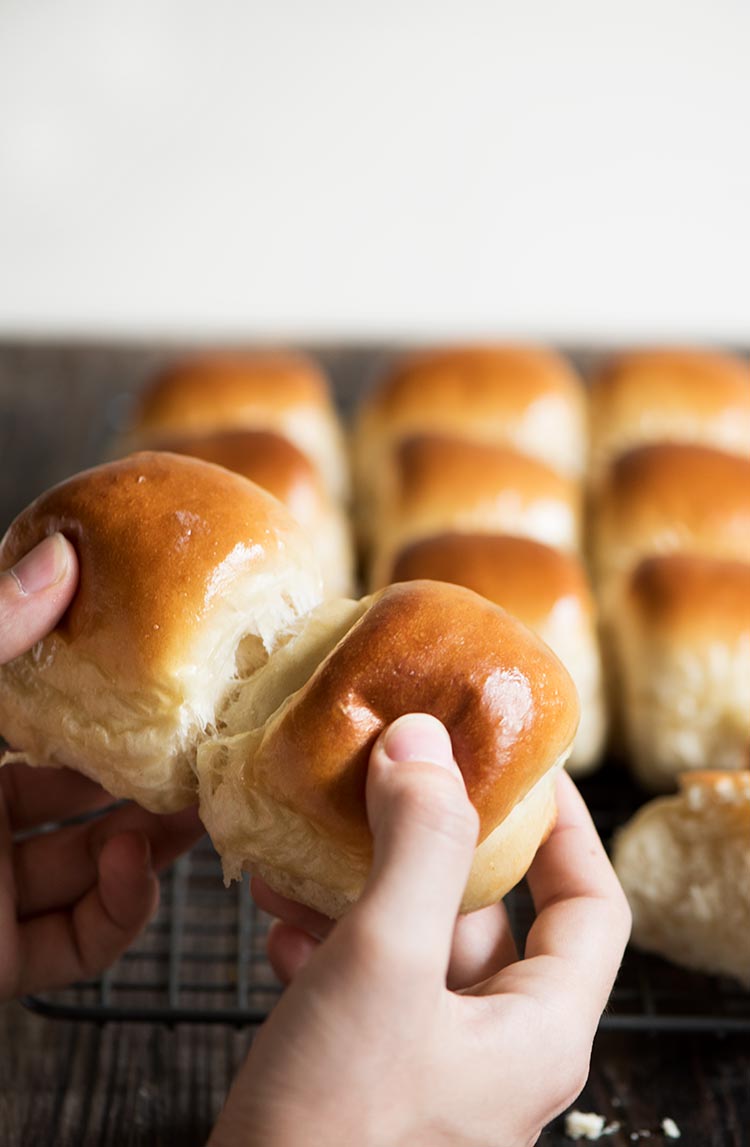 I do have one pet peeve about rolls. Some of them can be hard as a brick. Like if someone would to throw one at me, it'd knock me out cold and leave me bleeding to death.
Death by rolls.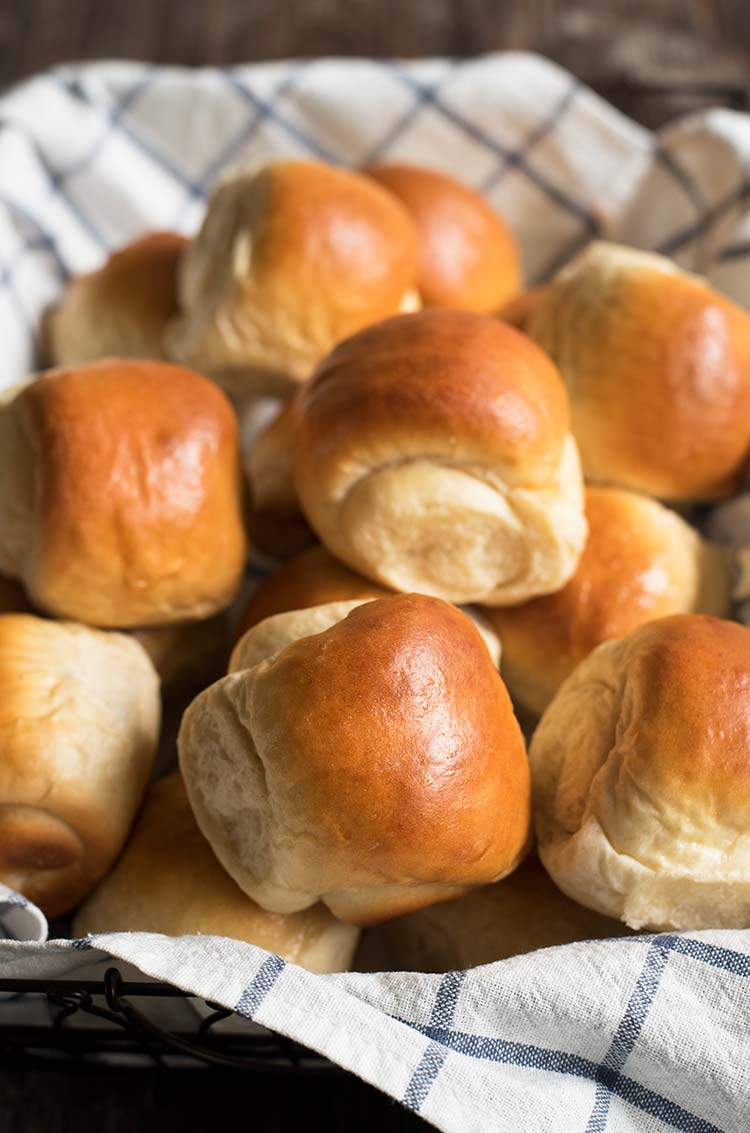 All this drama ends here with this delicious Japanese Milk Rolls which employs the tangzhong method where a pudding like roux (made up of flour and milk) is first cooked and then added to the rest of the ingredients for the dough.
This small extra step is all we need to make the most amazingly soft, fluffy & pillowy rolls. Best part, it continues to stay soft after a couple of days unlike regular homemade rolls.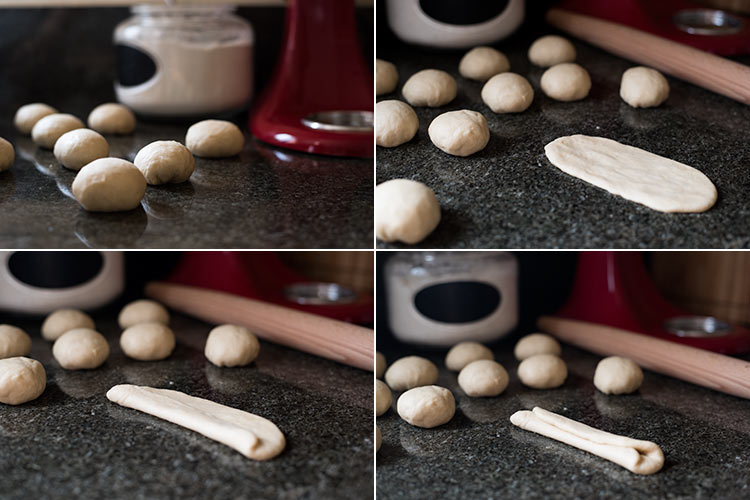 Tips:
1. To read in depth about this TangZhong method or how to easily convert any bread recipe to make soft, fluffy bread, click here.
2. The rolls are shaped this way to increase height and fluffiness to the rolls. If you're pressed for time, just shape them into balls, let rise and bake. They won't rise as high but they'll still be soft and fluffy.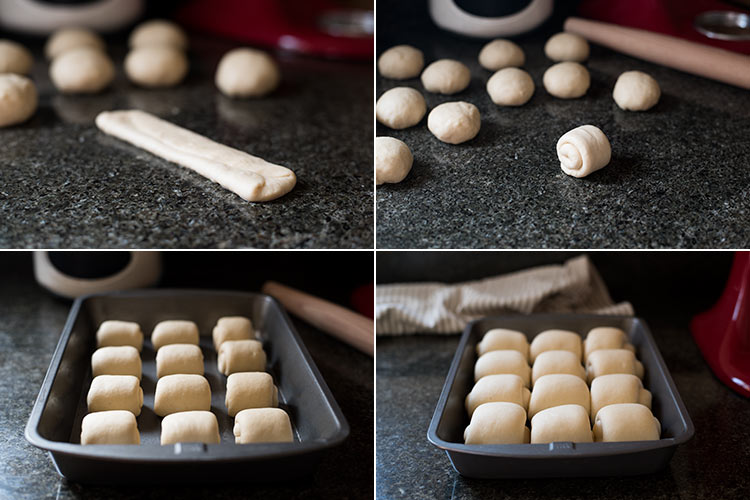 Lastly, if you haven't already check out my last post One Pan Chicken in Spicy Tomato Sauce. A classic Malaysian dish, chicken is seared & braised in a thick spicy, sweet sourish sauce made of a flavorful spice paste & tomato sauce. All in one pan!
If you like what you see, don't forget to subscribe and follow me on Instagram, Facebook, Pinterest or Twitter to get the latest post updates. See you there!
---
Hokkaido Milk Rolls
This Hokkaido Milk Rolls is the softest, lightest & fluffiest rolls ever. I guarantee.
Author:
AiPing | Curious Nut
Recipe type:
Bread; Rolls
Ingredients
Tangzhong
3.25 oz milk
0.65 oz bread flour


Dough
5.25 oz warm milk
2 tbs sugar
2¼ tsp (1 pack) active dry yeast
12.1 oz bread flour
1 tsp salt
1 large room temperature egg
1 tbs unsalted butter, softened


Egg wash
1 egg, lightly beaten
Directions
Activate Yeast : In a small bowl, add the warm milk, sugar and yeast. Give it a stir and let sit for 10 minutes. This is to activate the yeast.
Tangzhong: In a small pan, over medium low heat, combine the milk and flour. Whisk until the consistency's like a thick pudding. It takes a couple of minutes. It's ready when the temperature is 149 F or line streaks stay visible. Set aside and let cool.
Make Dough: In a large bowl, whisk the flour and salt together. Crack the egg in, add the yeast mixture and the tangzhong. Stir until it comes together.
Knead: If kneading by hand, turn it over a work surface and knead for 5 minutes. You may need to keep work surface and dough lightly floured if dough is too sticky. Add the butter and continue to knead until butter is well incorporated another 7-10 minutes. If using a stand mixer, knead on low speed for 5 minutes. Add the butter and knead for another 5-8 minutes. After adding the butter, the dough hook may not be able to pull up the dough stuck to the bottom of the bowl. Scrape it up so that the dough is evenly kneaded. To know if dough is ready, dust some flour on the dough and poke it. It should spring back immediately.
First Rise: Allow the dough to rise (covered) in a warm, draft free place for 1 - 1½ hours or until double in size.
Shape: Punch all the air out and knead the dough a little. Divide the dough into 12 equal parts and shape each into a ball. Using a rolling pin, roll out the dough until it becomes a long oval. Fold one side (lengthwise) into the middle and then fold in the other side. Use a rolling pin and flatten it. Now, roll the dough into a cylinder. Pinch the seams. Place it seam side down on a greased 13" X 9" pan. Repeat with the remaining dough balls.
Second Rise: Cover with a clean cloth and let rise again for 1 - 1½ hours or until double in size. 30 minutes before the rolls are ready, preheat the oven to 375 F.
Bake and cool: When the rolls are ready to bake, brush the top with egg wash and bake for 15 minutes. Remove the rolls from the pan immediately and let it cool on a wire rack. If you want shine on the rolls, rub freshly baked rolls with butter. Rolls can be kept in room temperature in an airtight container for 3 days.
Notes
1. Rolls (will stay soft) can be kept over the counter for 2-3 days. If keeping longer than this, wrap tightly with aluminum and place in the an airtight container/bag in the freezer (not the refrigerator) for 3-4 weeks max.

2. Reheating Rolls (rolls must be in room temperature): Preheat the oven to 300 F, loosely wrap the rolls with aluminum foil and bake for 5 - 10 minutes or until heated through. Take heed not to overheat or it will come out drier than before. If baked rolls were from the freezer, loosened the tightly wrapped foil and thaw overnight on the counter top to bring them to room temperature.