This shop has been compensated by Collective Bias, Inc. and its advertiser. All opinions are mine alone. #SimplySparkling #CollectiveBias
Ah.. can you feel it? The holiday season is near.
Holiday equals party. Party equals food. Food equals happiness.
I grew up in a home where my parents would often open our house and have families and friends over. It will be filled with plenty of love, laughter, fellowship and most importantly delicious food.
My mom told me that my grandpa (her dad) used to do the same when she was younger. Now that I'm a (self proclaimed) adult, I've somewhat inherited their spirit of hospitality.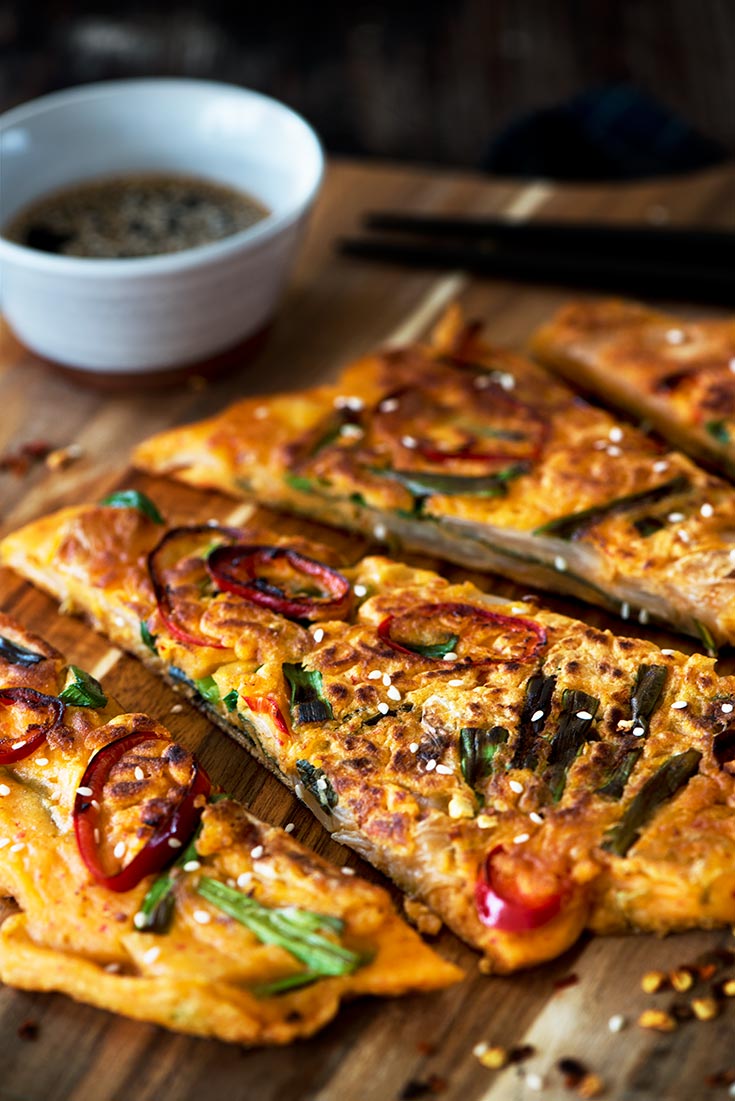 For parties or even just small get togethers, I'm always trying to crank new ideas for good appetizers. I believe that appetizers are like first impressions. Fail and you'll be remembered (badly) for life. Succeed and they will make a good lasting imprint on the hearts and tummies of your guests. Mainly tummies.
As good as an appetizer should be, it should also be easy to make. Holiday entertaining is hard work itself and I'd like to enjoy our guests instead of fretting over the food. That's why this Savory Korean Kimchi Pancake is the perfect appetizer.
Crispy on the outside, light and fluffy on the inside with delicious kimchi in every bite. I guarantee these pancakes will be gone in the blink of an eye.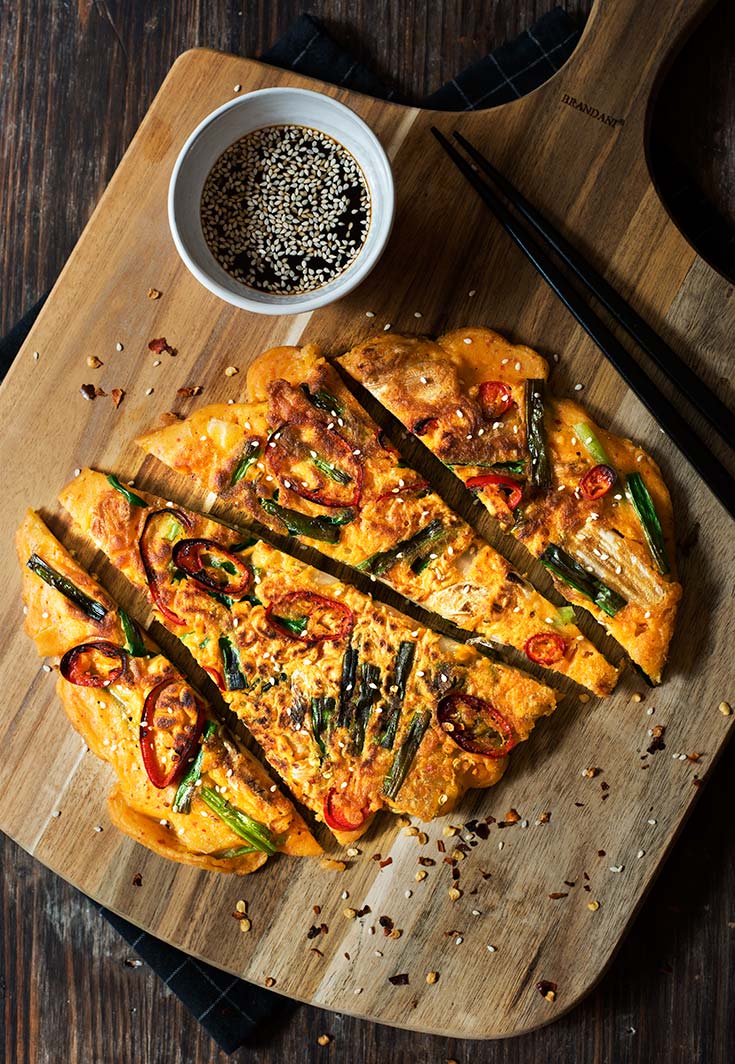 The trick to making the pancakes light and fluffy is seltzer water. No leaveners are used at all.
Yup.
I got myself some Canada Dry Sparkling Seltzer Water at Ralphs. They come in three flavors – Original, Mandrin Orange, and Lemon Lime. For this recipe, I used the original but if you're adventurous, you can try the other two flavors.
What's great about seltzer water is that it's effervescent and bubbly which helps lift the pancake. Plus, it's great that it's all natural, unsweetened with zero sodium. That way, I can control the amount of sugar and salt in the pancakes. Plus, it's zero calories like water. So, in theory, these pancakes won't make you fat (fingers crossed).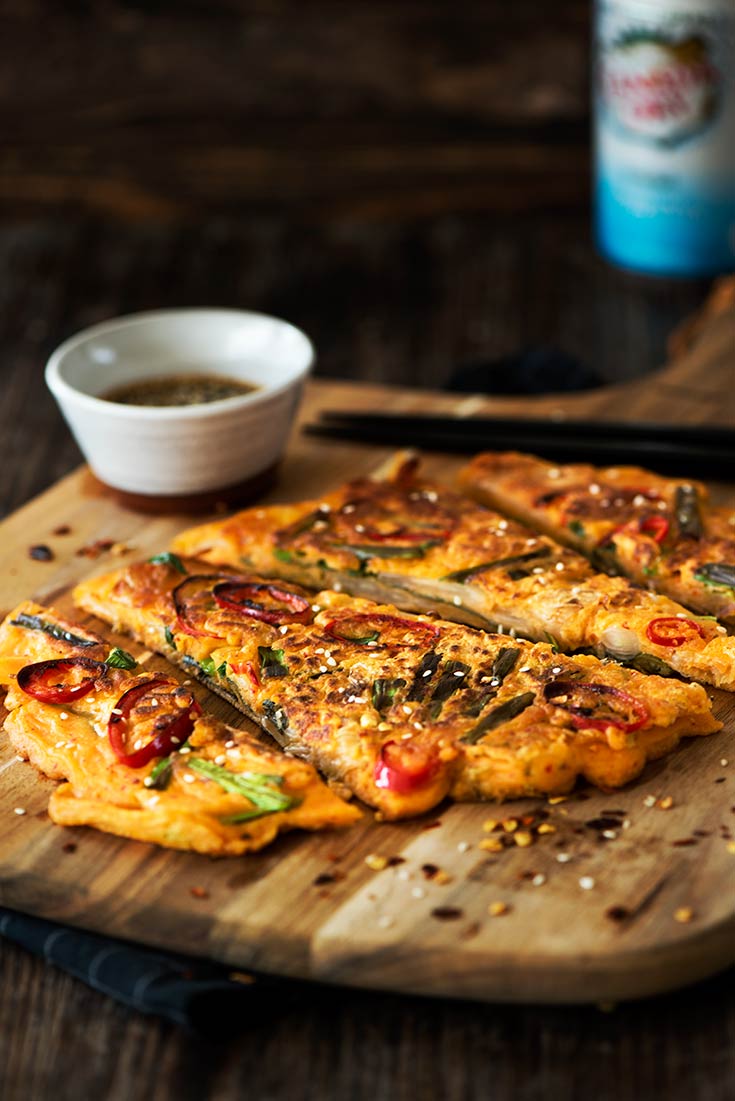 So head over to your nearest Ralphs (or other Kroger stores near you) and get yourself some Canada Dry Sparkling Seltzer Water. You can find them at the bottled water aisle (not the juice and soda aisle).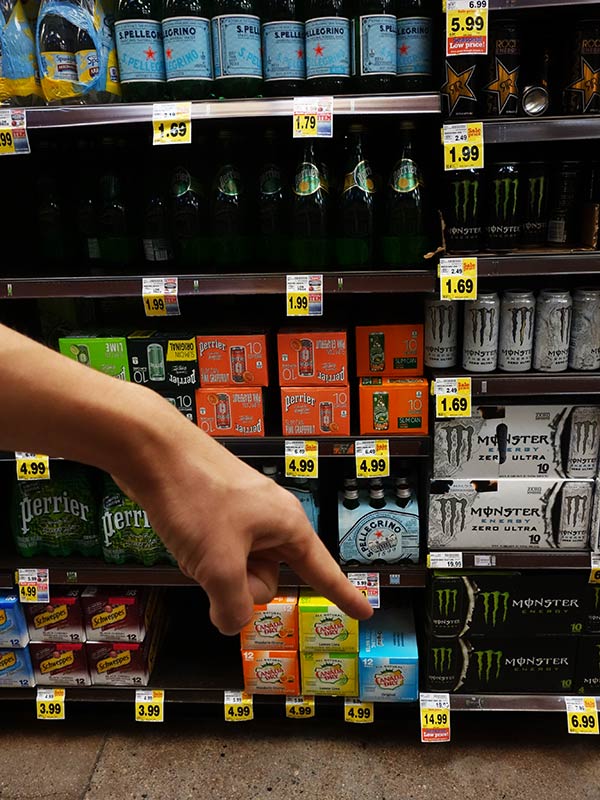 Oh and if you're a Korean Food Fanatic (KFF – I made that up), today is your lucky day. You'll never need to order another Korean pancake anymore. This trumps all Kimchi Pancakes out there.
Tips:
1. Seltzer water makes pancakes light and fluffy. Make sure it's cold. Cold liquid helps make pancakes crispier.
2. Rice flour absorbs less oil and helps make pancakes crispy. It also adds a distinct flavor like no other.
3. Cornstarch absorbs less oil and browns well too. Brown = flavor.
4. Make sure that there is sufficient oil, the batter is cold and that the pan is hot (so no non-stick pans here).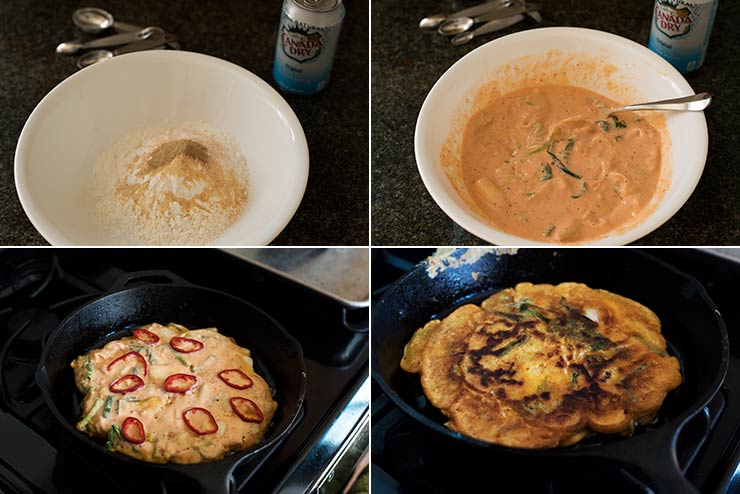 Can't get enough of savory pancakes? Then you're going to love this Okonomiyaki. Delightful savory Japanese pancakes made from an easy to make batter, cabbage and bacon topped with Japanese mayo and okonomiyaki sauce.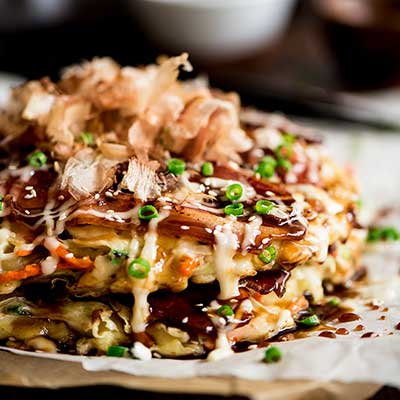 Also, if you haven't already, check out my last post Vietnamese Lemongrass Pork Chops. Tender & juicy smoky lemongrass marinated pork chops with a special dipping sauce. Cooks in 10 minutes & made from common ingredients.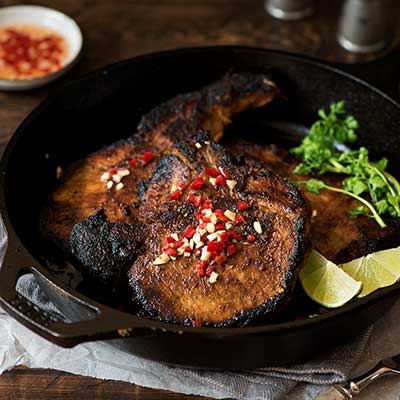 Savory Korean Kimchi Pancake
Crispy on the outside, light and fluffy on the inside with delicious kimchi in every bite. I guarantee these pancakes will be gone in the blink of an eye.
Author:
AiPing | Curious Nut
Ingredients
⅔ cup all-purpose flour
⅓ cup rice flour
2 tbs cornstarch
½ tsp onion powder
½ tsp garlic powder
½ tsp sugar
½ tsp salt
¼ tsp white pepper
1 cup (tightly pack) sliced kimchi
2 tbs kimchi juice (will add spiciness to the pancake)
¾ cup cold Canada Dry Sparkling Seltzer water, Original flavor
1 egg, lightly beaten
6 thin green onions, cut into 1" length
1 red chili, sliced


Dipping Sauce
1 tbs soy sauce
1½ tsp rice vinegar
½ – 1 tsp water
⅛ tsp sugar
½ tsp toasted sesame seeds
Directions
In a bowl, whisk together the all purpose flour, rice flour, cornstarch, onion powder, garlic powder, sugar, salt and white pepper.
Add the kimchi, kimchi juice, seltzer water, egg, and half of the green onions. Using a spoon, mix to combine until there is no visible flour.
Pre-heat a 10" cast iron pan over medium heat. Add 2-3 tbs of oil. When the pan is hot, pour half the batter into the pan. You should heard sizzling (if not the pan is not hot enough and won't be crisp). Spread the batter and kimchi to even thickness. Top the pancake with half the remaining green onions and half the red chilies.
Fry the pancake for 3 minutes. Carefully flip and fry for another 3 minutes. Remove and place it on a wire rack while you cook the rest of the batter. Slice the pancakes into squares or wedges. Serve immediately with dipping sauce.
Notes
1. If the pancake has cooled and lost its crisp, heat and crisp it right back up by popping it under the broiler for 1-2 minutes. Watch it closely so it doesn't burn.