In Taiwan, I lived in a city called Chiayi. Coming from Kuala Lumpur, you can imagine my shock when this "so called" city did not have skyscrapers, subways, an abundance of malls, shops and restaurants. Yes, that's my definition of a city.
I mean come one, there was only one Thai restaurant and one Southeast Asian-ish restaurant. With a heavy Malaysia palate, I only had two places to go to get my Taiwan-free food fix. It sucked. Very bad.
I lived there for almost half a decade. 5 years guys. Five years with a clinically depressed tongue.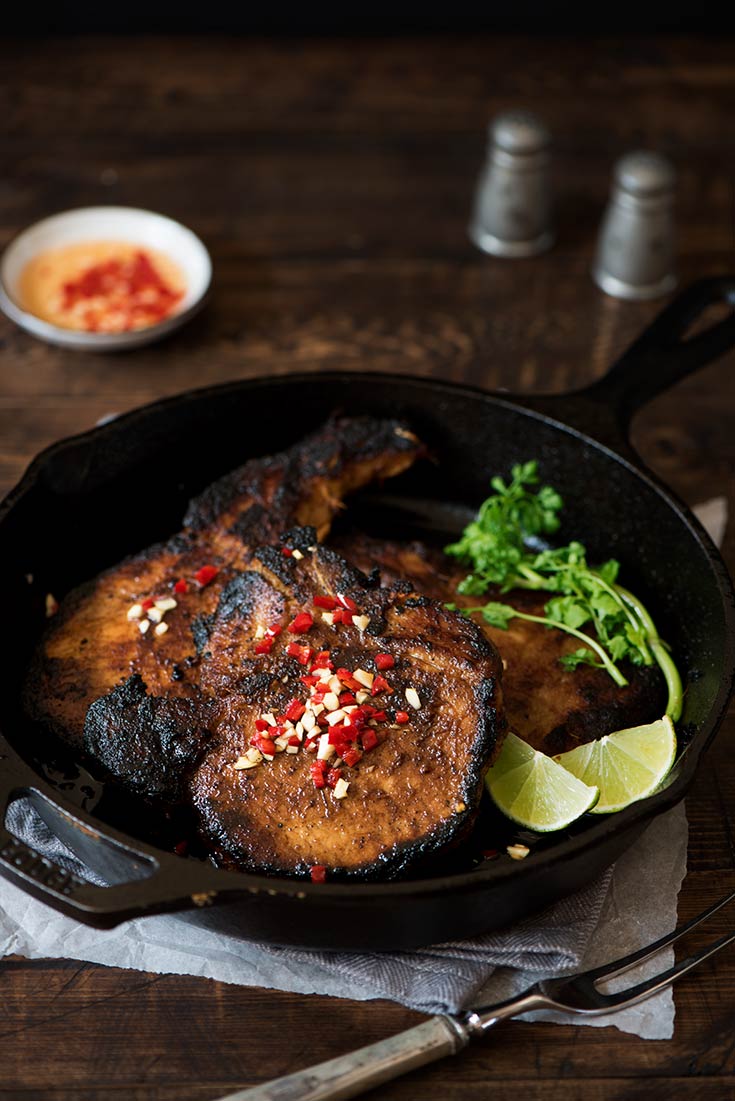 But as Mr. V would say about anything in life… be grateful. And I was. Grateful for those two restaurants in Chiayi particularly the Southeast Asian one. They have an egg noodle dish that can only be found in that restaurant. They're also the only place that has spicy, pungent Indonesian fried rice.
But the one thing that has been close to my heart is their Vietnamese Lemongrass Pork Chops. That was my first dish that I ordered there when I first visited Taiwan ten years ago. Two firsts. It definitely brings back tons of memories.
If I dig deep enough, I probably still can find the video of me eating it.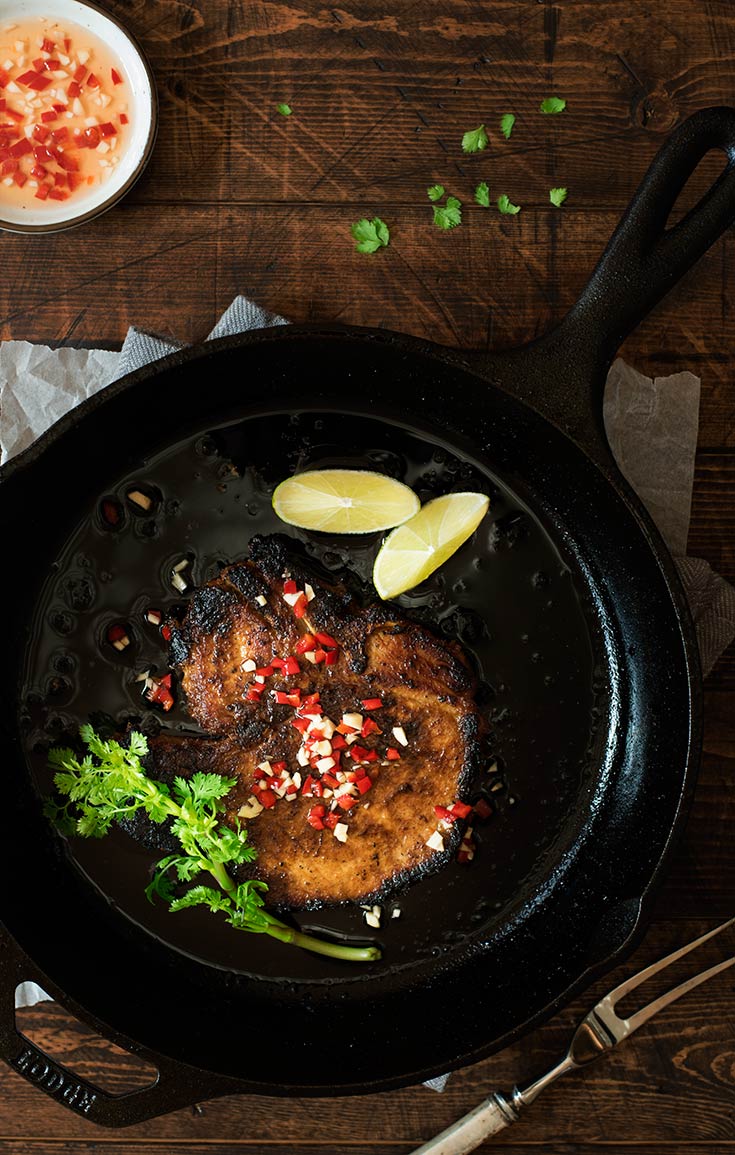 Not sure how to make this, I sought a fellow food guru Mrs. O. She's Thai but she's well versed with Southeast Asian food. Very quickly, she gave me some pointers on this recipe. I've never in my life cooked pork chops before. My mentality: They're meant to be cooked by chefs and eaten in restaurants.
But after making these, I'm a changed lady. The marinade, which I should say is superb, does ALL the work. Then, in less than 10 minutes, you'll have tender and juicy pork chops with an incredible lemongrass flavor. Seriously. It takes longer to cook the rice. What a joke.
A 10 minute meal. That's rare for me though I prefer mine medium rare. Pun intended.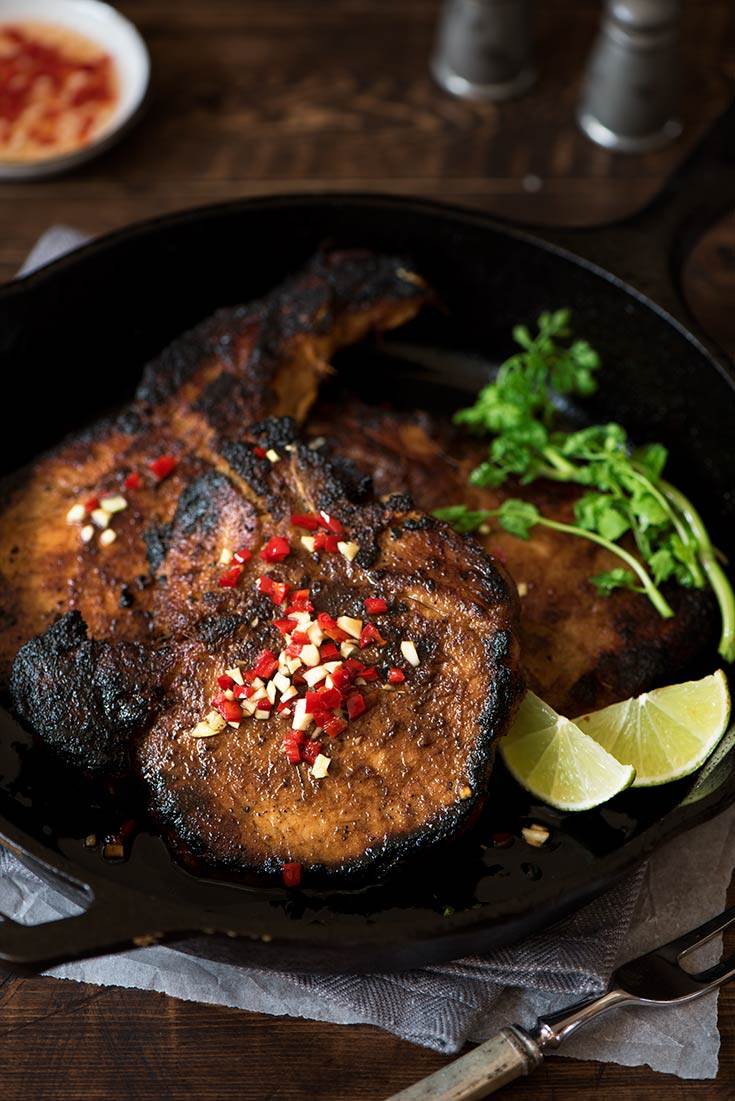 Tips:
1. Buy the rib pork chops and not loin pork chops as they have more marbling which equals more tender and juicier pork. Get the 1/2″ thick cut so that marinade can penetrate the meat which equals more flavor.
2. Use a meat thermometer especially if you don't want to overcook them. Overcook equals tough and hard meat. Yuck.
3. You can even freeze the marinade along with the pork, thaw a day before in the refrigerator and enjoy a delicious dinner on any busy week day. Ten minutes. Still blows my mind.
4. Some lime juice is added to help tenderize the meat. A little goes a long way as too much will make the meat mushy and stringy.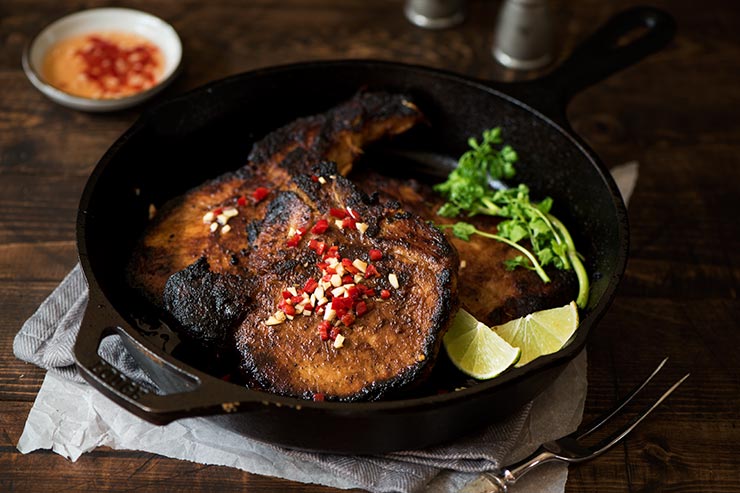 Love pork stuff? You're going to love this Tonkatsu, Japanese Fried Pork. Crispy outside, moist & tender inside. Perfect with fresh, crisp cabbage & a special dipping sauce.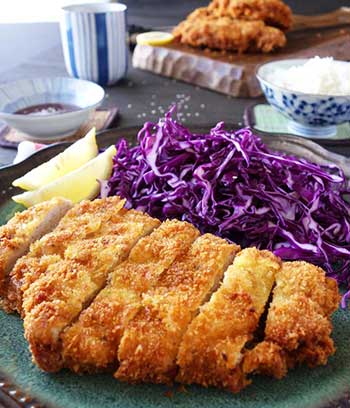 Oh and if you haven't already, check out my last post Cajun Chicken & Shrimp Alfredo Ziti. No dairy Alfredo sauce yet super creamy & delicious with smoky & hot tender Cajun chicken & juicy shrimp.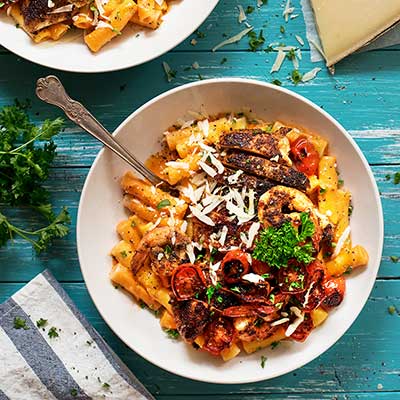 Vietnamese Lemongrass Pork Chop
Tender & juicy smoky lemongrass marinated pork chops with a special dipping sauce. Cooks in 10 minutes & made from common ingredients.
Author:
AiPing | Curious Nut
Ingredients
4 bone-in rib pork chops ½" thick (about 2 lb)


Marinade
8 garlic cloves
8 small shallots (short variety) or 2-3 large
5 stalks lemongrass, white parts only (roughly sliced)
4 tbs brown sugar
2 tbs fish sauce
2 tbs soy sauce
1 tbs oil
1 tsp lime juice
1 tbs sesame oil
1 tbs thick caramel sauce or kecap manis (for color)
½ tsp black pepper
Pinch of salt


Dipping Sauce
1½ tbs fish sauce
1 tbs sugar
1 tbs lime juice
1 tbs water
½ tbs vinegar
1 garlic clove, minced
1 small Fresno chili, minced
Directions
In a blender or food processor, blend the ingredients for the marinade until smooth. Pour over the pork, making sure they're well coated. Marinate overnight.
In a small bowl, combine the ingredients for the dipping sauce. Adjust according to taste. For sweeter, add sugar, for saltier add fish sauce or salt and for more sour, add lime juice or vinegar.
Heat a large pan over medium high heat (or you can grill too). Add a thin coat of oil. Scrape as much marinade off the pork. Once the pan is hot, carefully place the pork into the pan.
Sear for 2 - 2½ minutes. Using a thong, flip the pork and sear another 1½ - 2 minutes or until internal temperature of the thickest part of the meat reads 145 - 150 F (medium rare to medium). Remove from pan and let the meat rest for 3 minutes before serving.