Delightful savory Japanese pancakes made from an easy to make batter, cabbage & bacon topped with Japanese mayo & okonomiyaki sauce.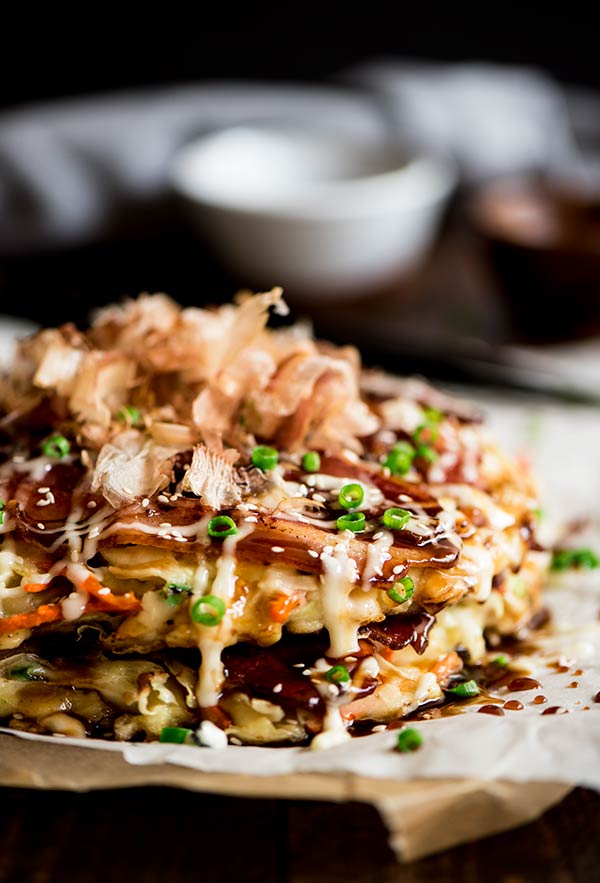 Have you ever imagine waking up in someone else's body for one day?
Whose would it be?
I'd choose Yoshihiro Akiyama aka Choo Sung Hoon. He's a South Korean-Japanese mixed martial artist.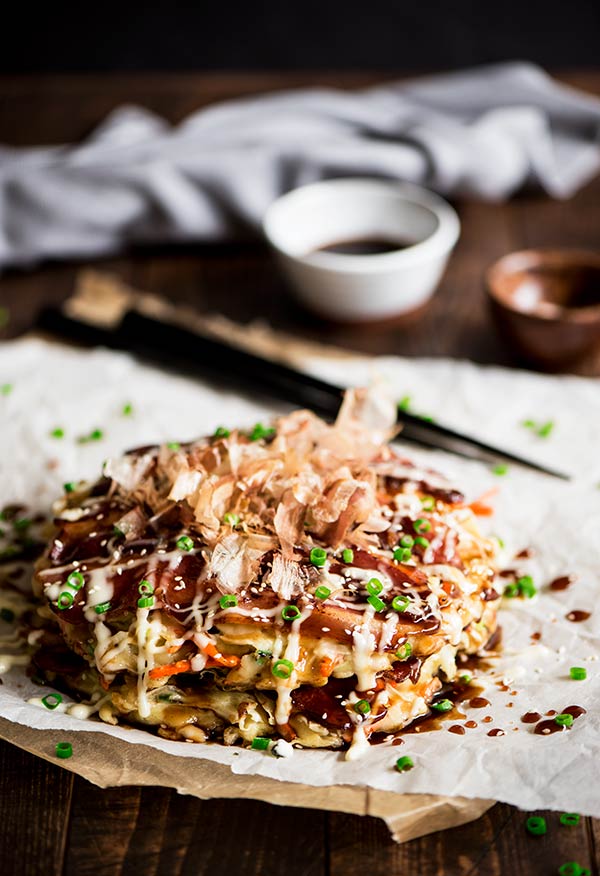 Remember I made a confession here about my addiction to a YouTube show The Return Of Superman?
Well, Yoshihiro's one of the dad starring in that show along with his daughter Sarang. Even though the show's Korean based, but he and his family lives in Tokyo. So, it would be great to experience living there from his point of view.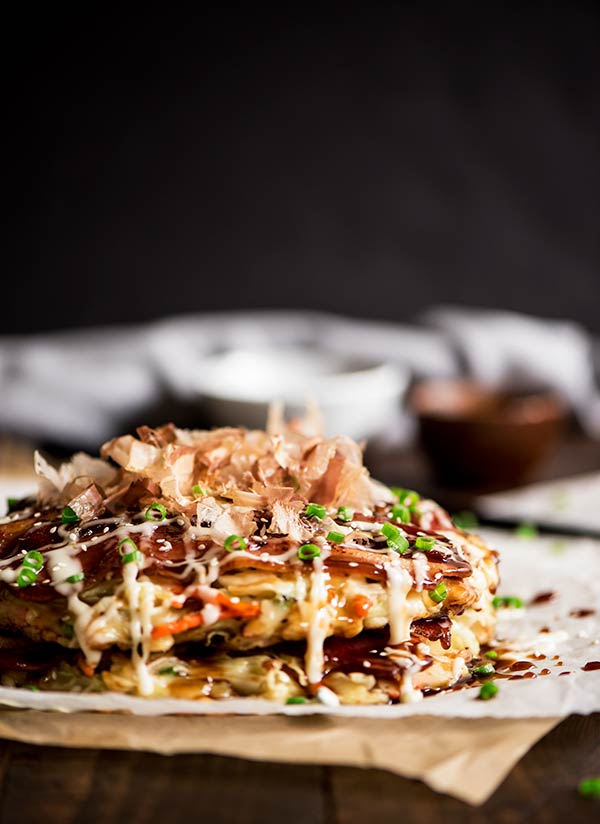 One also can't deny that he has a ridiculously good body. I wonder what it would feel like walking into a ring… the roaring crowd, the intimidating opponent, the adrenaline, the wins or the losses.
But these aren't the only reasons why I'd like to wake up in his body. The truth is… he cooks.
Yup.
A fighter dad that cooks. So rare these days.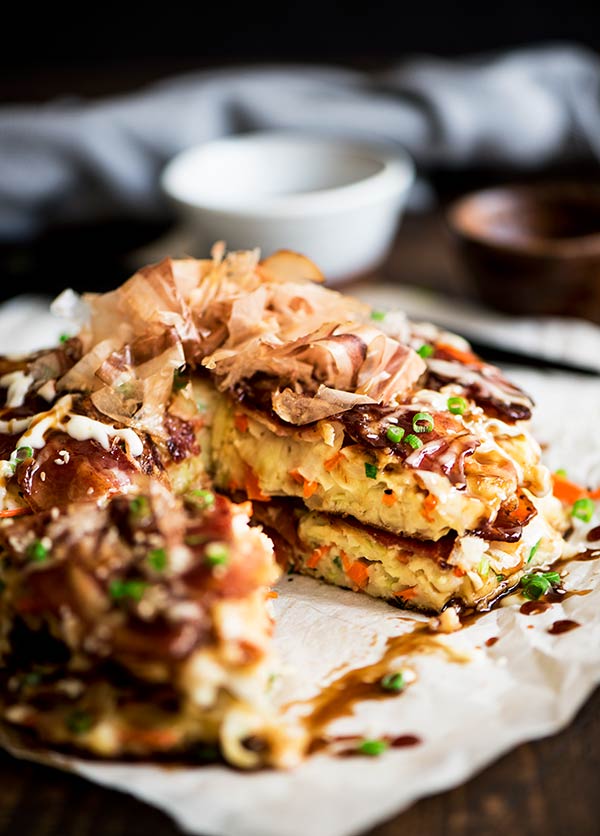 I can totally imagine being in his awesome body in Tokyo cooking something local. I'm new to this being in someone else's body business so I wonder whether his brains and memories will still present when I take over. I kinda need him to be if I'm planning on cooking.
Ok, dream's over. Let's get back to reality.
So I watched him make okonomyaki in one of the episodes. Just like the curse of the Korean Black Bean Noodles, this too gave me the sudden urge to eat it.
Okonomiyaki is a savory Japanese pancake. There are two main types of okonomiyaki. Osaka (or Kansai) style or Hiroshima. Today is all about the former style – Osaka.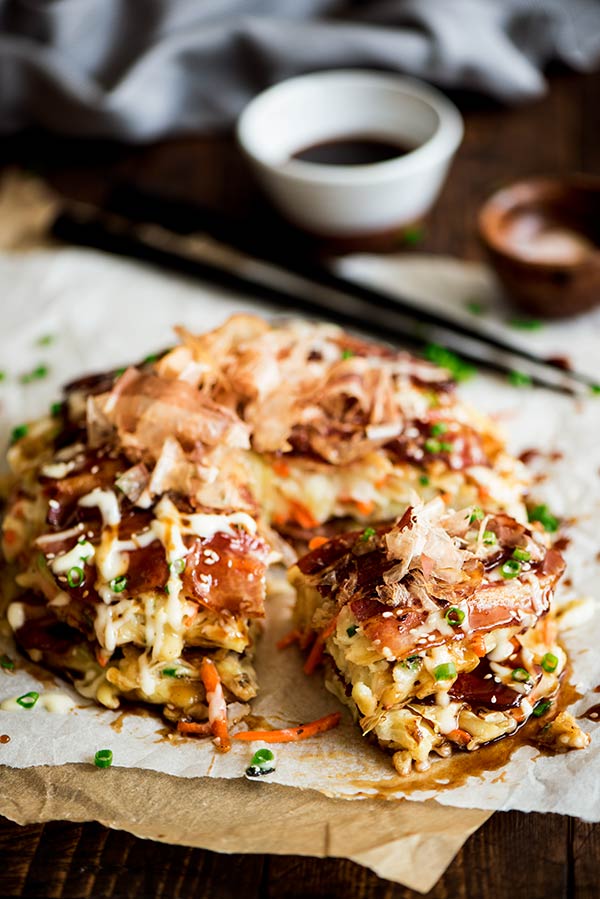 The unique thing about the batter of Okonomiyaki compared to other savory pancakes is the inclusion of nagaimo (a type of yam). It's sticky and slimy which when added to the batter helps the pancake hold its shape and gives the pancake a distinct texture.
It makes the center of the pancake look like a half raw type of texture. In all honestly, some hate it while other love it.
I, of course, love it to death!
Delightful savory Japanese pancakes made of vegetables in a batter and crisp bacon topped with Japanese mayo and okonomiyaki sauce.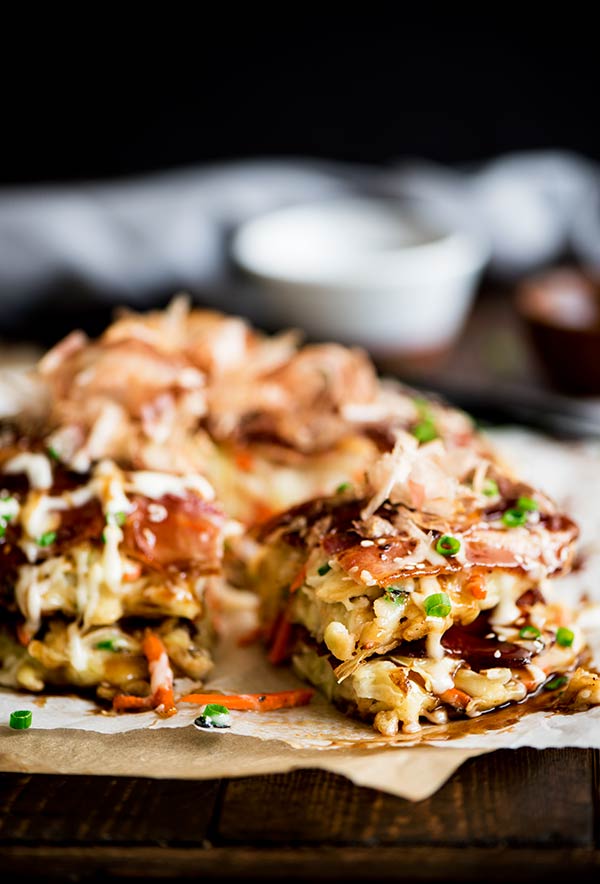 If you like what you see, don't forget to subscribe or follow me on Instagram, Facebook, Pinterest or Twitter to get the latest post updates. See you there!
---
Okonomiyaki (Savory Japanese Pancake)
Delightful savory Japanese pancakes made from an easy to make batter, cabbage & bacon topped with Japanese mayo & okonomiyaki sauce.
Author:
AiPing | Curious Nut
Ingredients
¾ cup all purpose flour
¼ cup corn starch
½ tsp baking powder
½ tsp salt
½ tsp sugar
¾ cup dashi (see notes 1)
¼ tsp soy sauce
½ tsp sesame oil
2 eggs
2 - 4 tbs nagaimo (Japanese Yam), grated (see notes 2)
1 pack bacon
4 cups thinly shredded white cabbage
2 green onions, finely sliced
2 small carrots, cut into thin matchsticks


Sauce
Japanese mayonnaise (See notes 3)
Okonomiyaki sauce:
1½ tbs Worcestershire sauce
1 tbs ketchup
1 tbs oyster sauce
1 tbs honey
1 tbs brown sugar
½ tsp soy sauce


Garnish
Bonito flakes
Green onion
White sesame seeds
Dried seaweed flakes (optional)
Pickled ginger (optional)
Directions
In a bowl, whisk together the dry ingredients - flour, corn starch, baking powder, salt and sugar.
In another bowl, whisk together the wet ingredients - dashi, soy sauce, sesame oil, eggs and nagaimo. Whisk well. Once we add the dry ingredients to this, we want to minimize mixing.
Pour the wet ingredients into the dry ingredients. Use a whisk and gently stir until just combine. Small lumps are fine. Do not overbeat. We want to limit the development of gluten in the batter.
Let the batter rest in the fridge while you prepare the rest of the ingredients. This helps relax the gluten.
Add the cabbage, carrots and green onions into the batter. Stir to combine. It will look similar to coleslaw. There should be enough batter to help coat the vegetables yet sufficient vegetables so it's not just a blob of batter.
Heat a 10" cast iron pan over medium high heat. Add a thin coat of oil. Once the pan is hot, turn the heat to medium and pour half the batter into the pan. The Initial high heat is to help crisp up the pancake while lowering the heat is to slowly cook the thick pancake.
Using two spatulas, even the height using one spatula while the other spatula is used to bring the edges together to form a 7" wide and ¾" thick shape. Like forming a patty on the pan.
Once the pancake is formed, add the bacon on it. Don't touch or poke or prod the pancake. Let it fry for 4-5 minutes.
Carefully flip the pancake and fry the second side for another 4-5 minutes. Again, don't press it down or touch it. Flip once more to crisp up the first side. Remove and repeat the steps for the remaining batter.
Drizzle the pancake (bacon side up) with sauce and sprinkle the garnish. Slice and serve immediately.
Notes
1. DASHI: Dashi is stock made of dried kelp (kombu) and bonito flakes. Both can be found in any Japanese or Korean market. Use chicken or veggie stock if you don't have dashi on hand. If using commercial ones, keep in mind that different brands have different levels of sodium. Adjust salt and soy sauce accordingly.

To make dashi:
2 cups water
1/2 oz kombu
1/4 cup packed bonito flakes

Place kombu in water and bring to boil in a saucepan over medium heat. Remove kombu just before water boils and when you start to see bubbles around the sides of the saucepan (Broth will turn sticky and bitter if kombu is in boiling water). Add the bonito flakes and turn the heat to medium high. Let it come to a boil. Once boiled, let it simmer for one minute, turn off the heat and let steep covered for 5 minutes. Strain and use. You can make a second round of dashi (lighter flavor) using the same kombu and bonito flakes to not waste them.

2. Nagaimo is a type of Japanese yam that can be found in most Chinese, Korean or Japanese markets. I actually found them sold in Ralphs (believe it or not). It's white/light yellow in color. Some people may be sensitive to raw nagaimo so take head when grating it. Nagaimo adds a sticky, uncooked like texture to the pancake. Start with 2 tbs or less for this recipe if you're not sure you're going to like the texture. If you love it, increase to 4 or even 8 tablespoons for this recipe. If you have access nagaimo, you can use it like a potato. Add to stir fries, curries or even soups. Due to its sticky properties, nagaimo is very good for stomach issues like gerd or gastric.

3. If you can't find Japanese mayonnaise, replace it with regular mayo. For every ¼ cup regular mayo, add ½ tbs rice vinegar and 1 tsp sugar.

4. The type of vegetables used is up to you. You can even add meat or shrimp if you like.
Apam Balik (Malaysia Peanut Pancake Turnover)