Remember a few weeks back, I mentioned that Mr. V and I were going to have some friends over for Indian Food Night. When I asked him what level of spiciness I should prepare for them, he answered "As long as I can eat it, they will too".
Great (Not).
You see, Mr. V can't take spicy food. But I can. He'll tell you he can… but really, he can't. But I can. Yes, even after living with a true Malaysian, he still can't. Did I mention I can. If I feed him spicy food, it'll look like I'm abusing him.
Sigh…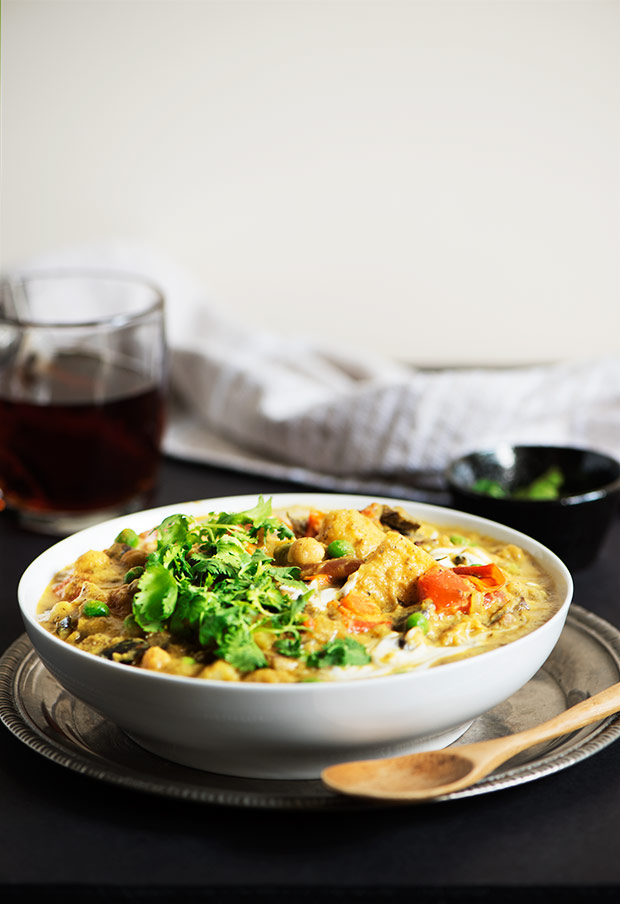 So, to keep things on the safe side and mainly because the other two dishes I was going to serve was already a little on the spicy side (for my sake really), I decided to go with a non spicy curry.
Kurma (or Korma) it is.
For me, eating non spicy curry is like eating melted ice cream. It defeats the purpose of the food. I don't think I've ever willingly ordered or eaten kurma before.
* Side story, I've actually eaten melted ice cream when I was 8. Yes, I put ice cream in a bowl and wait for it to melt before I consume it. My mom told me that ice cream was too cold for me. So I decided that eating it melted would solve the problem. Go figure.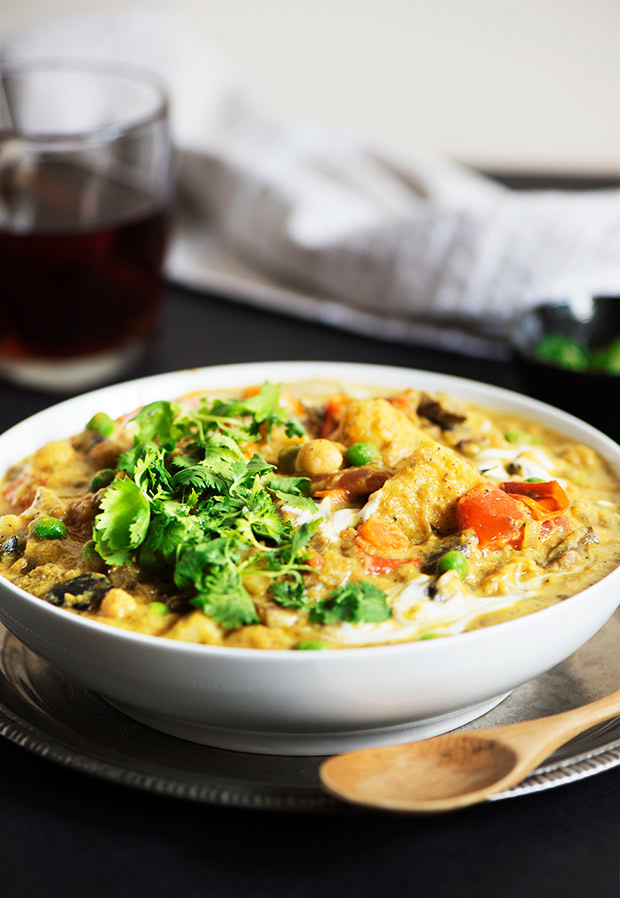 Back to the story.
I do have to give props to kurma. Like most curries, it has a great depth in flavor. No doubt about it. But more importantly, kurma is known for its silky smooth, ultra thick and rich gravy. Yum…
So, although it wasn't spicy, it made the cut.
In all honesty, I'll still need a spicy curry next to this kurma… I just can't help it.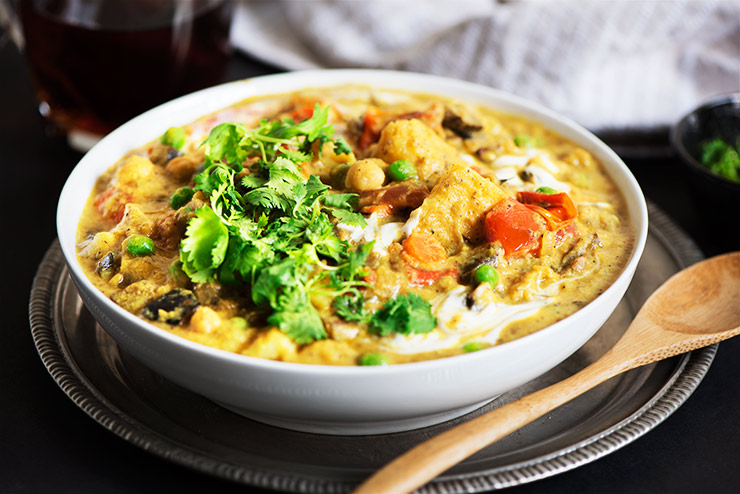 Also, if you haven't already, check out my last post Taiwan Beef Stuffed Scallion Pancake. Crispy flaky chewy scallion pancake, fresh crunchy cucumber & a warm melt in the mouth tender beef with a sweet & savory sauce all throughout.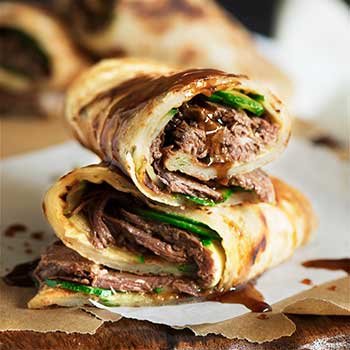 P/S: About thickening the Kurma gravy:
Traditionally, kurma is thickened using yogurt or cream. I've never liked thickening my curries with just yogurt. It's way too much tang. I rarely have cream in my refrigerator. However, I always have cans of coconut milk in my pantry. So I used that instead for this recipe. I also added some yogurt to balance the richness and creaminess. Use a combination of cream and yogurt or coconut milk and yogurt or even all three. Try and then see what combination you like the most.
---
Potato Eggplant Kurma                        Serves 4 -5 as main dish or 8-10 as a side
what you need:
Spice Paste:
1 small onion
1/2″ ginger
3 garlic cloves
1 dried cayenne chili, deseeded and soaked
1 green chili (I use Korean chili and since it's not spicy, I didn't deseed it)
1/4 cup unsalted cashews
1/2 tbs poppy seed
1/2 tbs ground coriander
1 tsp cumin powder
1 tsp fennel seed
1/2 tsp turmeric powder
1/2 tsp fenugreek seed
1/4 tsp black peppercorn
1/4 tsp garam masala
1/8 tsp ground nutmeg
1/8 tsp ground mace
1/4 cup oil or ghee
1 cinnamon stick
2 green cardamom pods
1 star anise
3 whole cloves
2-3 sprigs fresh curry leaves or 1/4 cup dry curry leaves
1 small onion, cubed
2 tomatoes, cut into thin wedges
3/4 cup russet potato, diced
1/2 cup carrot, sliced or diced
3 cups raw eggplant, seared (see notes)
1/2 cup frozen peas
1/2 cup cooked chickpeas
1/2 – 3/4 cup coconut milk (or cream)
1/2 cup yogurt (replace with coconut milk for vegan)
1 tbs shredded coconut, roasted and grounded (optional, just to thicken sauce)
Salt to taste
directions:
1. Add the ingredients for the spice paste into a blender and blend until smooth.
2. In a wok or pan, over medium heat, add a thin coat of oil or ghee and fry the cinnamon stick, cardamom pods, star anise, whole cloves and curry leaves for a few minutes until fragrant. After frying, I remove the spices and place them in a herb bag because I don't like them swimming around in the gravy. If you don't care for this, move on to step 3.
3. Add the spice paste and fry over medium heat for 10 minutes until fragrant. If it seems too dry, add oil, ghee or water 1 tablespoon at a time. We don't want to burn the paste. Remove and set aside.
4. Add a thin coat of oil or ghee and fry the onions over medium high heat until soft. Add the tomatoes and fry them until they soften. Add the spice paste and herb bag (if using). Add the potatoes and carrots. Fry for a couple minutes.
5. Add the coconut milk and water or stock. Turn the heat to high and bring the liquid to boil. Once boiled, season with a little salt, cover and simmer over low heat.
6. When the potatoes are almost done, add the eggplant, peas and chickpeas and simmer for another 10 minutes. Add the yogurt and shredded coconut (if using). Taste and adjust seasoning. Thin the gravy with water or thicken with coconut milk (or cream) or yogurt. Serve with rice, roti or naan. And remember, curry always taste better the next day.
Notes:
1. To sear eggplants, over medium heat, add 2 tablespoons of oil or ghee in a wok or pan. Once the oil is hot, add the eggplants. Sear until soften. It may seem dry but once the eggplants soften, the oil will excrete out again. Once eggplants are soft, turn the heat to medium high to sear well.
2. You can replace the vegetables with any of your favorite ones. Cauliflower, spinach, broccoli…etc. And if you're a carnivore, just replace the vegetables with chicken, pork, beef, mutton, shrimp or fish. The sky's the limit.
3. You may notice the ingredients have both seeds and powder. That's because I use what I have. I usually recommend measure for measure but if you want to be more accurate, then apply this: If you have seeds when the recipe calls for powder, just increase a little. If you have powder and the recipe calls for seeds, just decrease a little.