Amazing flavors of garlic & butter, beautifully charred & crisp outside yet insanely soft, chewy with melting cheese inside. Best part is, no kneading required.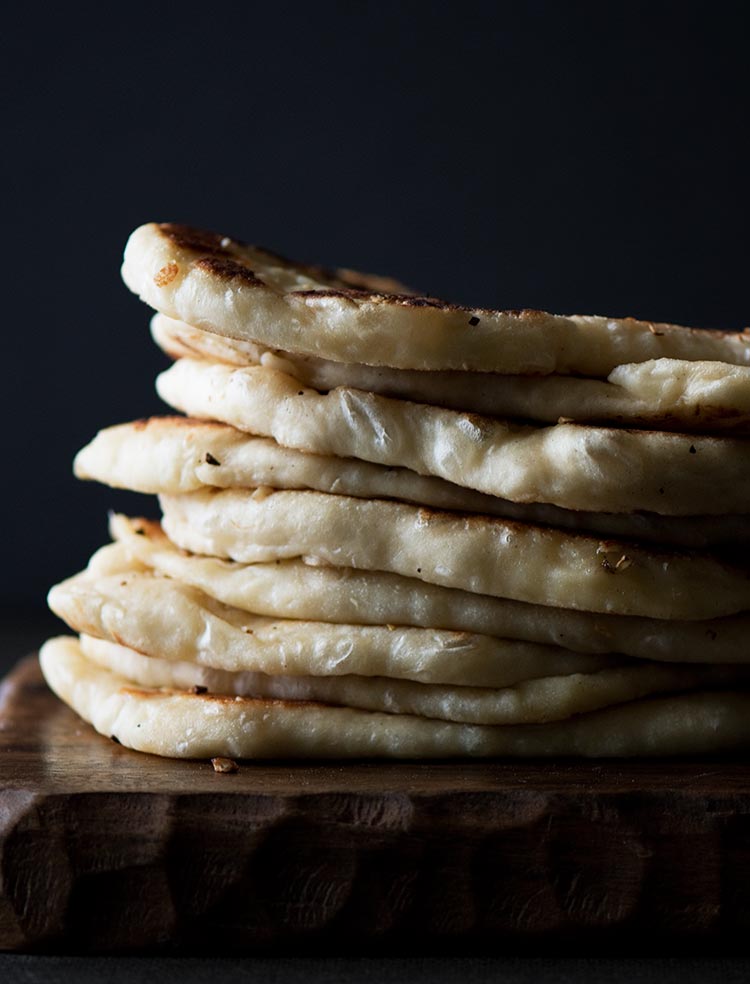 When someone cuts in line right in front of me, I'd yell Karma really loud. Only I wish I really yelled. Just in my head, I did.
If I'm lucky, that person would step on a banana peel that wasn't even there 5 seconds ago, slip and fall and land with a pie originally intact but has now made a beautiful art work on the face area. I have to say though, I'm never this lucky.
Nevertheless, I still believe in Karma.
I lied a lot throughout my lifetime.
My first lie was told to my mom. I was 5. It was the stupidest lie any five year old could have ever told. She found some coins in my bag and asked where I got them. I actually had the guts to say "Uhmm, I save them up". "Oh really? And who gave them to you?", my mom asked. I knew I was busted.
She took all the coins away and that was the end of my extravagant ice cream buying after kindergarten sessions.
But Karma didn't only work in my favor. I started to get lied to as well. Of course, when that happens, I don't go 'Oh hey karma, nice to see you'. Instead I'd always throw the biggest fit and give my most dramatic being lied to performance.
Sane enough to connect the dots now, I realize of course that it was all Karma working its magic.
I remember the day I was told the worst lie of my life. I was at Steven's Corner – a popular Mamak place. Mamak place is a stall or restaurant run by Indian Muslims in Malaysia. Mostly opened 24 hours a day and have plenty of delicious and affordable food, Malaysians would go to there to appease their non-stop insatiable appetite.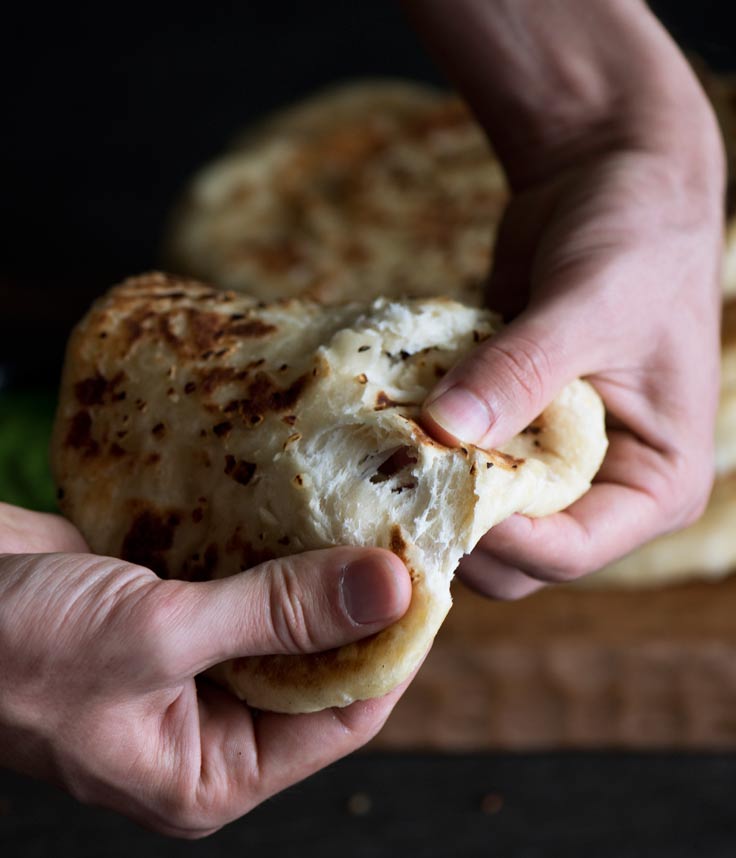 To cut to the chase, it was a boyfriend type of lie that ended with a broken relationship, fast forward half a year later, I was with Mr. V and the rest was history. No regrets. No harm done. In fact, there wasn't much fits or dramatic performances at all. Instead, all there was really… was cheese naan. Steven Corner's Cheese Naan. A lot of it. It's embarrassing to say this, but that was my first time eating it. I honestly have no excuse for my late discovery. No clue what took me so long.
Like I said before, I believe in Karma. Life sort of stripped me off everything that day but instantly filled it up with cheese naan. And to think that nothing could get any better than cheese naan. It certainly can.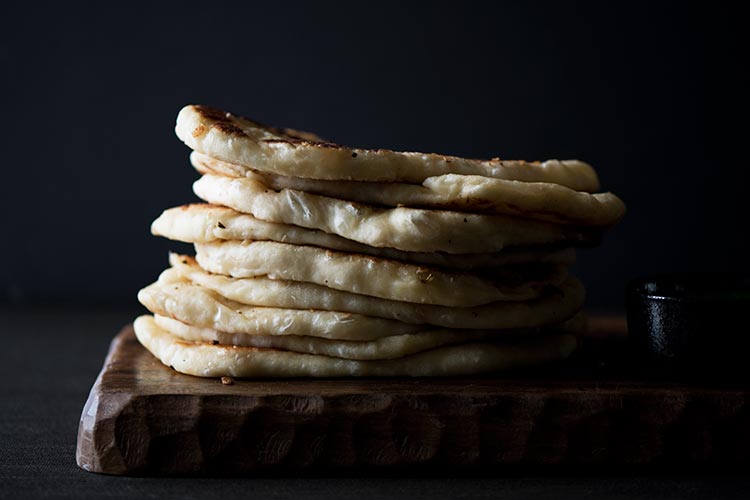 Garlic Cheese Naan.
Amazing naan flavored with garlic and butter, beautifully charred and crisp on the outside yet soft, chewy with melting cheese waiting for you on the inside. Naan in its perfection.
For those who may not know, naan is a type of Indian leavened bread traditionally cooked in a Tandoor (oven). It resembles a pita bread. This naan recipe has a 85% hydration. It doesn't require kneading. The high percentage moisture in the dough, the use of yogurt and milk are the reasons why this naan is insanely soft and chewy inside.
What better thing to go with naan than some smoky, roasted Tandoori Chicken.  The flavors are so bold as they are marinated in yogurt & plenty aromatic spices. And let's not forget the mint chutney.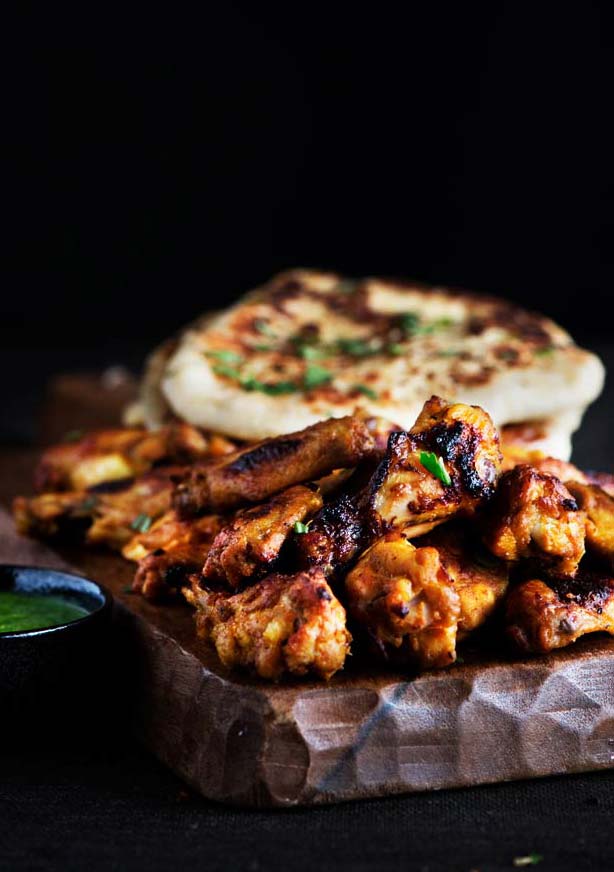 If you like what you see, don't forget to subscribe and follow me on Instagram, Facebook, Pinterest or Twitter to get the latest post updates. See you there!
Do you believe in karma?
---
No Knead Garlic Cheese Naan
Author:
AiPing | Curious Nut
Serves:
Makes 8 naan (8"long 4"wide)
Ingredients
1⅓ cup (10.6 oz) warm milk
2 tsp sugar
1 tbs active dry yeast
4 cups (17 oz) all purpose flour
½ cup yogurt, room temperature
¼ cup ghee or melted butter
1 tsp salt


2 cups shredded mozzarella
10 garlic cloves, finely minced
2 tbs butter, melted
Cilantro, chopped (optional)
Directions
In a bowl, combine the milk and sugar. Gently stir in the yeast. Let sit for 15 minutes.
Add the flour, yogurt, ghee and salt. Using a wooden spatula, mix until flour is well incorporated. It will be extremely wet and sticky.
Swirl some oil on and around the bowl. Use your hands and bring the dough together especially the bottom so that the dough doesn't stick to the bowl. Cover with a clean cloth and let rise in a warm, draft free area for 1½ - 2 hours or until double in size.
Turn the dough onto a floured surface. Gently punch the air out. Knead it briefly and shape it into a log. Divide and shape the dough into 8 balls and place them on a lightly floured baking sheet. Cover with a clean cloth and let them rest for 30 minutes.
Take each ball and place it on a lightly floured surface. Lightly flour the dough and rolling pin. Flatten each dough and place 3-4 tablespoons of cheese. Pull the edges and seal the dough.
Gently shape it into a ball, and using a rolling pin, flatten and shape the ball into a teardrop shape. The thickness you're looking at is about ¼" or a little less. Take heed this time when rolling it as dough may tear. Pick up the dough on one end and let the other end dangle downwards. Let gravity help you stretch the naan a little more. If it doesn't budge or shrinks back, let it rest and try again a few minutes later.
Set the naan back on the surface. Sprinkle some garlic on the dough and use the rolling pin to gently press the garlic into the dough. Spread the top with melted butter.
Heat a cast iron pan over medium high heat until very hot - almost smoking. Gently place the naan on the pan (no oil needed). Cook for 1½ - 2½ minutes or until bottom has browned (almost charred). Flip and cook the second side for 1 - 1½ minutes or until beautifully browned or charred.
Brush more melted butter after if you wish. To keep naan warm, place them stacked on a towel lined basket or plate.
Notes
1. If you like your naan thinner, roll it to ⅛" thick and you'll need a bigger pan. Alternatively, divide the dough to 16 balls instead of 8. Thickness is just a matter of preference.

2. You can make naan in the oven too. I've tried it but I find that it makes a stiffer naan. If using oven, place a baking sheet or stone in the oven and preheat to 500 F or your highest setting for at least 30 minutes. Bake naan for 3-4 minutes or until brown or charred.

3. I've tried both the knead (less liquid) and no knead version. The difference in both naan is negligible. The only difference is the no knead dough requires more dusting of flour when rolling and shaping.

4. You can freeze the naan for future consumption. To reheat naan, sprinkle water on it, wrap it in aluminum and toast or broil for 4-5 minutes or until hot. To reheat on a pan, heat each side on low for 2-4 minutes or until hot.