I've never named my soft toys.
I've never named my barbie.
I don't have names for my body parts.
I once claimed a kitten is mine. I never named it.
What I'm trying to say is, I'm bad with names.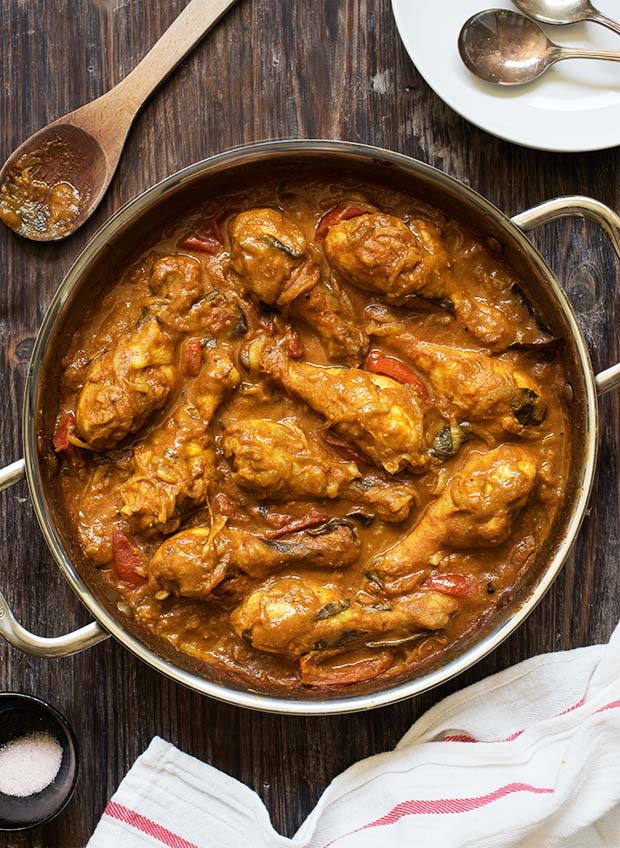 In a few days, Mr. V and I are having some friends over for 'Indian Food' night. You would think that since I'm Chinese, I'd have 'Chinese Food' night. But really, I'm Indian.
Honestly.
Indian blood flows in my veins. That's the only way I can explain my love for Indian food. I don't just say I love curries because that would be an understatement. Curry is my life.
How does a Chinese girl in Malaysia end up loving Indian food?
My mom. No, she's not Indian. She's Chinese too. But all my life she has opened my palate to Indian food. Thanks mom.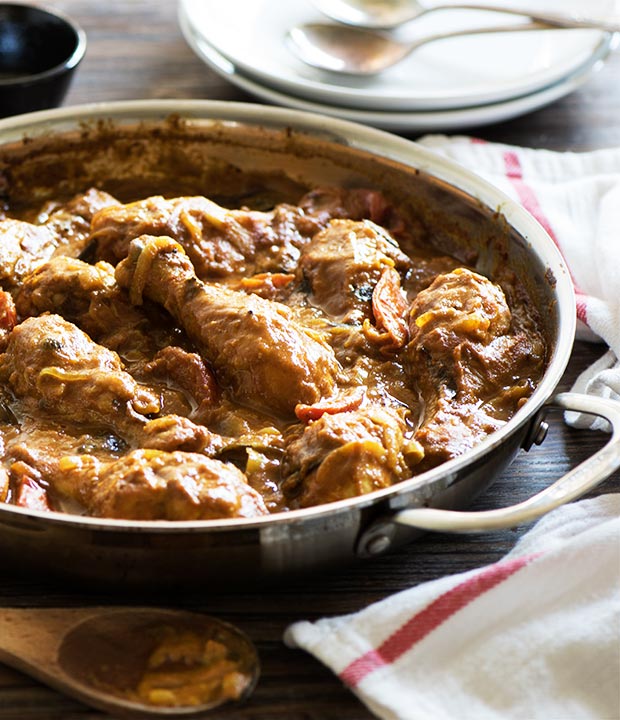 Anyway, for Indian Food night, one of the dishes I planned to make was a chicken dish with thick gravy. At least in my head, that was what I imagine.
So I thought Chicken Varuval would be perfect! Only once I cooked it, it didn't taste like it at all.
I want to say it's like Vindaloo yet not quite. Plus, there are no potatoes.
It has a hint of flavor like in the traditional Malaysian Chicken Curry dish probably because of the brand of curry powder used. But this dish has less gravy and is also much thicker, so it's not quite like the Malaysia Chicken Curry either.
With that, I'm just going to call this dish Dry Chicken Curry.
Remember I said I was bad with names.
Yeah.
Sorry folks. This is the limit to my creativity and innovative-ness in naming things. Let's not even think about what my kid's name would be.
All I can say is that this dry chicken curry was accidental and born out of my kitchen partly out of desperation to make a spectacular dry type curry. No doubt it has plenty of flavor from the spices, tomatoes and slight creaminess from the shredded coconut. I was surprised myself by how amazingly delicious it turned out.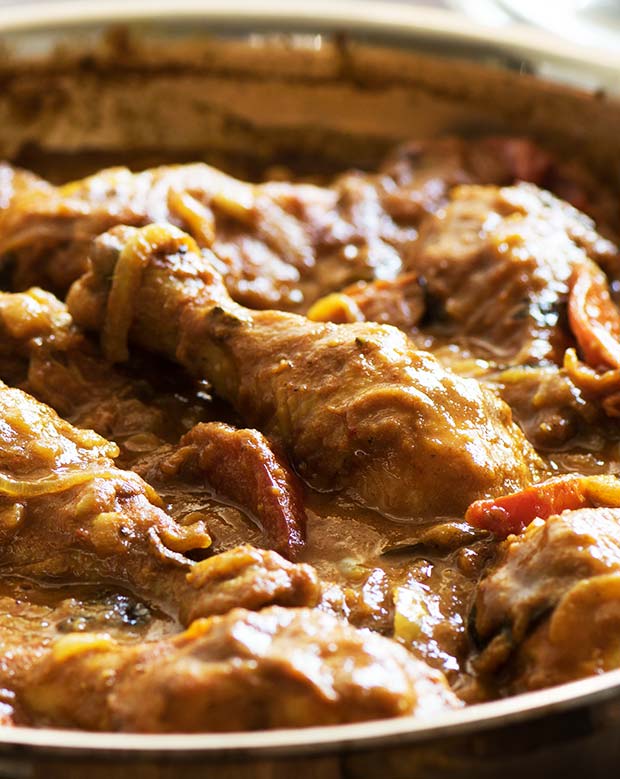 PS: It was a hit for dinner. That's all that matters.
Chicken and spices your cup of tea? You're going to love this Thai Green Chicken Curry. Creamy & packed with flavor Thai green curry made from homemade green curry paste. Also find out how to change the heat without losing the green.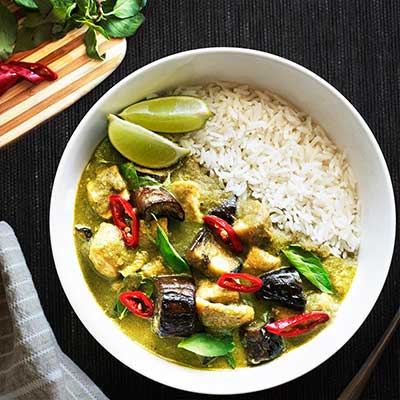 Or maybe you're also going to love this Spicy Tomato Chicken. A traditional Malay style dish. Chicken is fried & then braised in a spicy, sweet sourish sauce.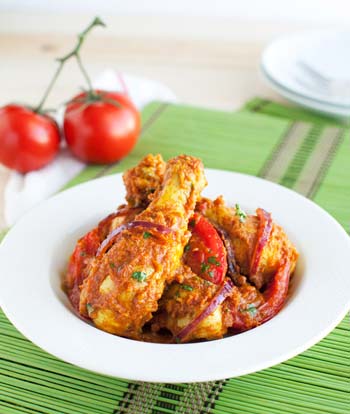 Lastly, if you haven't already, check out my last post Malaysian Curry Puff. Delicious spicy beef and potato curry filling wrapped in a buttery crispy & flaky pastry goodness fried till hot & golden brown. Best I've even eaten in my  life.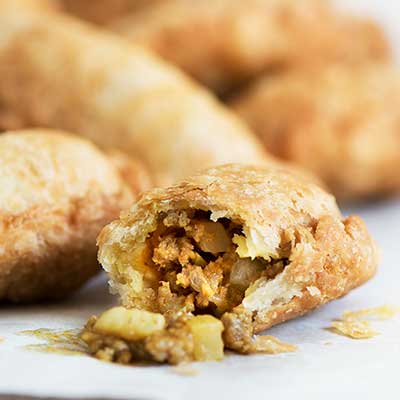 Do you have trouble naming a dish you accidentally made?
---
Dry Chicken Curry                            Serves 10
what you need:
3lb (about 10) chicken drumsticks
Spice Paste:
1 large onion
8 garlic cloves
2″ ginger
4 dried cayenne chilies, deseeded and soaked in hot water
2 tbs curry powder (I use Baba Meat Curry Powder
)
1 tbs chili powder
1 tbs cumin
1 tbs coriander
2 tsp turmeric
2 tsp fennel seeds
1 tsp paprika
4-5 tbs oil
Whole Spices:
1 cinnamon stick
2 star anise
4 green cardamoms
5 whole cloves
1 tsp mustard seeds
2 – 4 sprig fresh curry leaves of 1/2 cup dry curry leaves
2 medium onions, thinly sliced
4 tomatoes, cut into thin wedges
1/2 – 1 cup water
1 1/2 tsp salt or to taste
Pinch of sugar and black pepper
1 tbs shredded coconut, toasted and pounded into a paste
directions:
1. In a blender or food processor, add all the ingredients for the spice paste and blend until smooth.
2. In a wide skillet or pan, add a thin coat of oil. Over medium heat, add all the ingredients for the whole spices. Fry the spices for a couple minutes. (Put the whole spices into a small herb bag if you don't like accidentally biting into them). Add the blended spice paste and fry for 10 minutes until fragrant. Set aside.
3. Turn the heat to medium high, add 1 tablespoon oil, and fry the onions. When they're almost soft, add the tomatoes. Once the tomatoes have soften, add the paste and whole spices. Stir to combine.
4. Add the chicken and fry for another couple minutes. The chicken will start to absorb the flavor.
5. Add 1/2 – 1 cup water. Depending on the size of your pan, the water should cover half or slightly less of the chicken. The tomatoes, onion and chicken will excrete more water as they simmer.
6. Bring the liquid to a boil. Once boiled, turn the heat to low and simmer covered for 60 minutes.
7. Uncover. If you're happy with the amount of gravy at this point, season with salt, sugar and black pepper. Add the coconut and the gravy will thicken slightly. On the other hand, if you want less gravy, turn the heat to medium and let the liquid evaporate until dry to your liking. Season when you're happy with the consistency of the gravy.
8. Serve warm with coconut rice, roti or naan. As with most curries, they taste best the next day.
Notes:
1. This curry is moderately spicy. The spice level will depend on the curry powder and dried chilies used. Increased or decreased accordingly. If you're not a spicy type of person, it's best to start little. You can always add more towards the end.
2. Shredded coconut can be found in Whole Foods or most Asian markets.
Disclaimer: This post contains affiliated links.