In this post, I've shared with you the basic facts regarding WordPress plugins. Today, I'd like to share with you my Top 10 WordPress Plugins. In no particular order:
Speed & Optimization
1. Autoptimize – Optimizes your website, concatenating the CSS and JavaScript code and compressing it.
2. EWWW Image Optimizer – Reduces file sizes for images without losing quality.
3. GZip Ninja Speed Compression – Quickly compresses and GZip your site.
4. W3 Total Cache – Improves the user experience of your site by increasing server performance and reducing the download times.
Social Media
5. Simple Social Icons – Displays icons that link visitors to your various social profiles.
6. Shareaholic – Adds share buttons to your post and pages for visitors to easily share on social medias.
Backup
7. UpdraftPlus Backup & Restore – Automatically updates your website files to your chosen storage (ie. Dropbox) according to your scheduled settings.
SEO
8. Yoast SEO
a. You can decide on the focus keyword and meta description for each post.
b. It also shows a google search result snippet preview for each post.
c. You can choose what image on a particular post is pulled by social medias like Facebook or Twitter when a link is shared.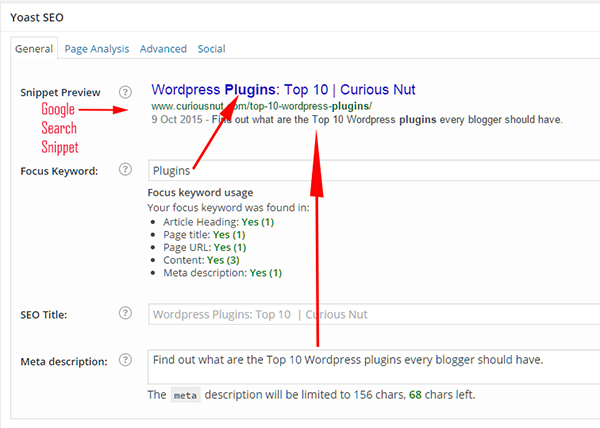 Reply on Comments
9. Comment Reply Notification – You know how you leave a comment on a blog and never ever hear from them again even though that person actually replied to your comment? With this plugin, when you reply to your visitor's comment, an e-mail will be sent to that person notifying him/her of your reply. This plugin hasn't been updated but I as well as other bloggers I know have no problems with this plugin.
Multiple features in one plugin
10. Jetpack
There are 36 features offered under this plugin alone. The ones are helpful are:
a. Extra sidebar widgets – Provides options of alternative widgets like image gallery widget.
b. Tiled Galleries – Offers different styles and placements of how images appear on posts.
c. WordPress stats – Offers an alternative website stat to Google Analytics.
d. Widget Visibility – Control which pages your widgets appear on. This is useful if I have a particular sidebar ad that I only want visible on one post.
There are also other features that I don't find useful (eg. Contact page, beautiful math, custom CSS, JSON API, OmniSearch, Post by Email, Spelling & Grammar…etc). I just deactivate them. Go to settings to do so.
I know I said 10, but this is already built-in in your wordpress. Plus, it's important, so I'm including it.
Spam
Akismet – It's actually a default plugin included with WordPress. It helps checks your comments for spam and automatically deletes old spam after 15 days. VERY useful.
What are your top 10 WordPress plugins?
New to WordPress plugins? Find out How to Install A WordPress Plugin with step by step instructions and images.