Sour and spicy soup made from lemongrass, kaffir lime leaves & galangal filled with prawns, mushrooms, tomatoes , onions and rice vermicelli noodles. Delicious & ready in 20 minutes.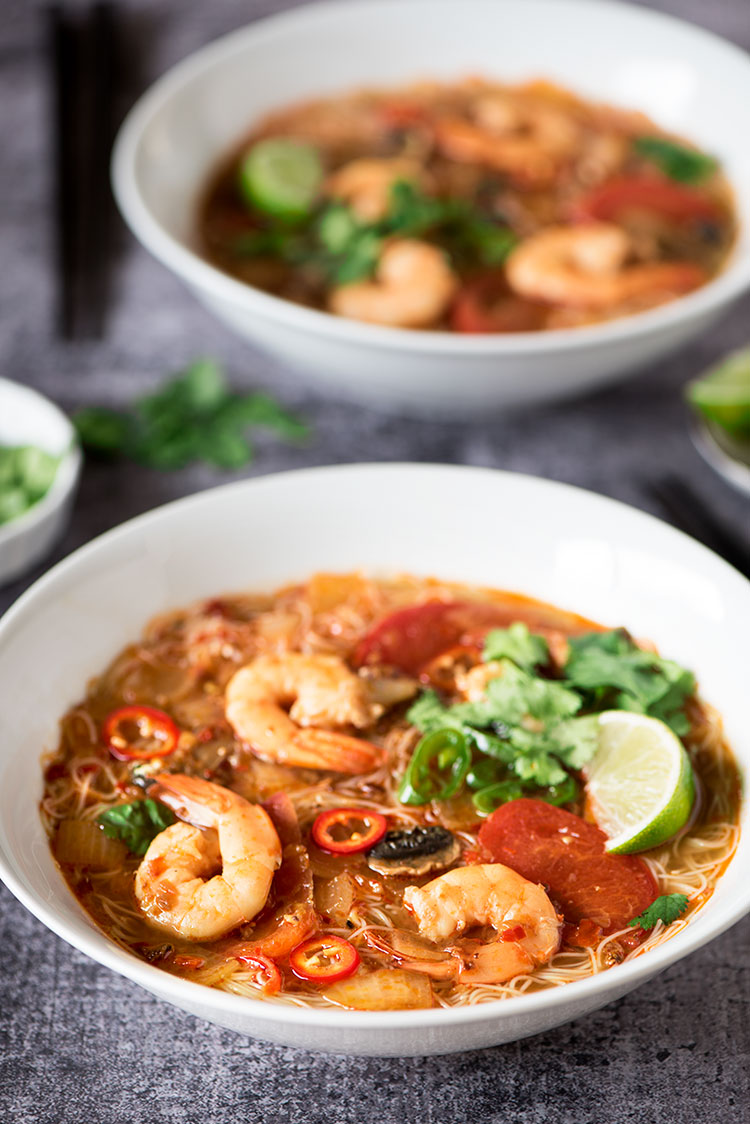 Friends are great… most of the time….. until they become annoying and you want to just kick them in the face.
You know… the time they think it's the funniest thing in the world when they start (and won't stop)  repeating everything you say. Ok fine. We were 7. But still… so annoying.
Or the time you had to threaten to end the friendship just because they didn't feel like sharing their ice cream. Ok still 7. Nevertheless…. annoying.
And how about the friend who instead of saying "Hi, how are you" asks "When are you going to make Tom Yum" for the 100th time?
I get it. You like Tom Yum. So here is your damn Tom Yum Miss P.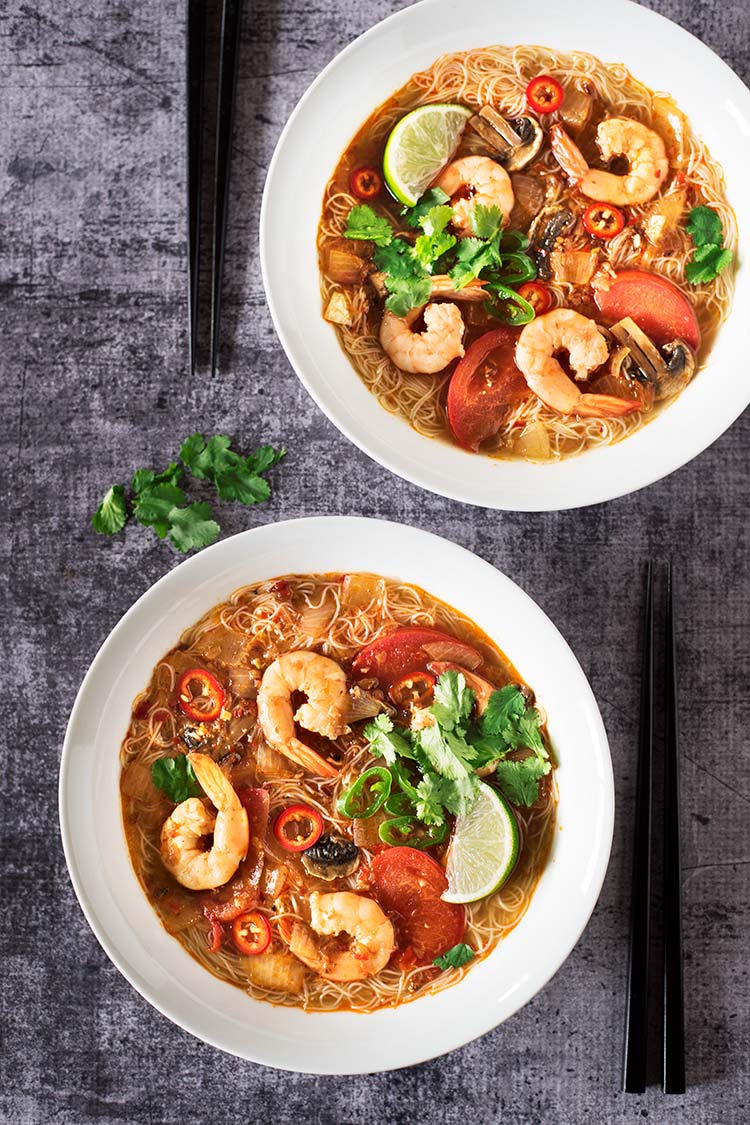 What I meant to say was…. I've made you Tom Yum but you're across the globe right now so I'm just going to enjoy this myself.
Yup. That about sums up exactly what friends are for. To annoy each other.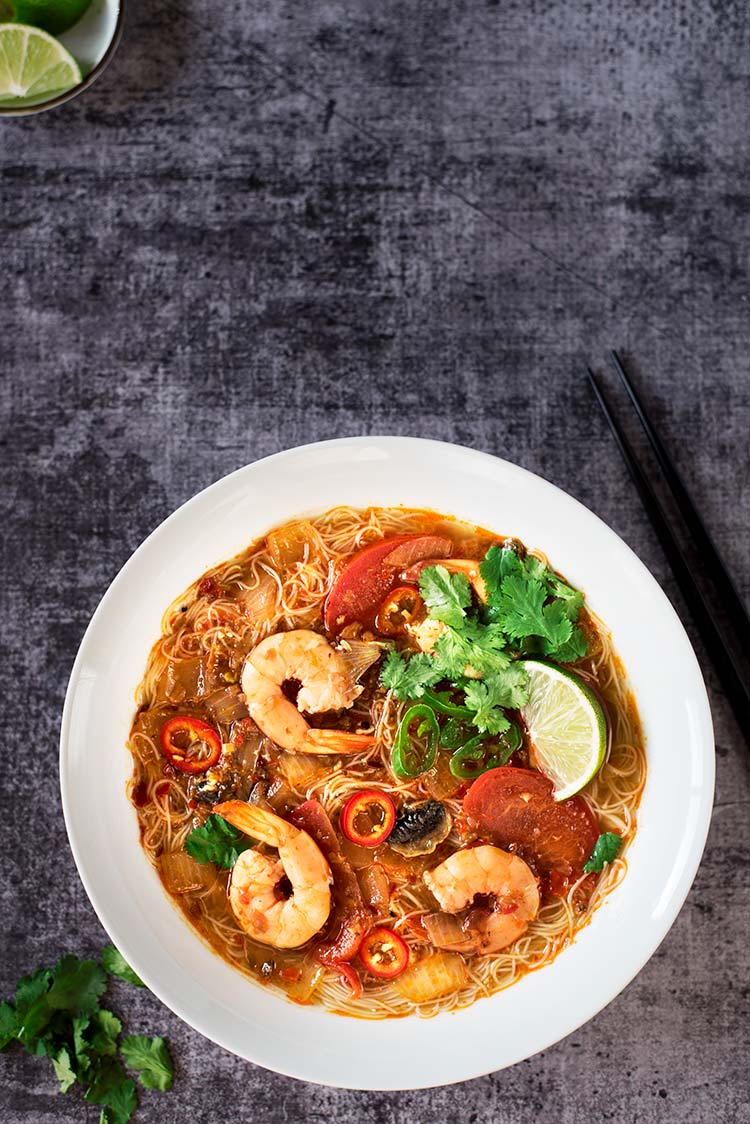 Noodle soup your thing? You're going to love this Taiwanese Beef Noodle Soup. Flavor packed beef noodle soup made from beef stock of 3 types of meat plus a concentrated beef sauce. Top with melt in the mouth beef, noodles & pickled mustard green.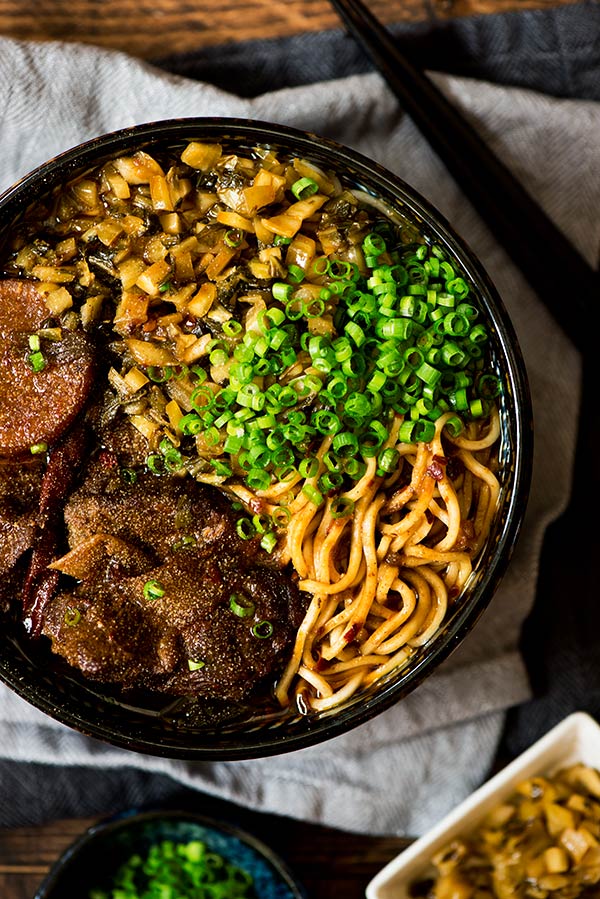 If you haven't already, check out my last post Sticky, Sweet & Savory Marmite Ribs. Gorgeous crispy baby back ribs coated in a thick sticky, sweet and savory glaze.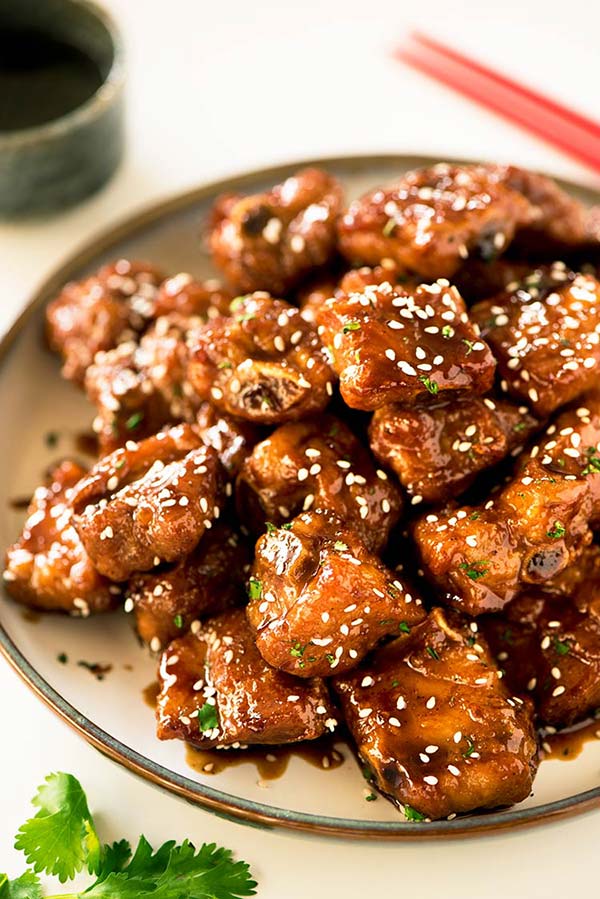 If you like what you see, don't forget to subscribe and follow me on Instagram, Facebook, Pinterest or Twitter to get the latest post updates. See you there!
---
Tom Yum Noodle Soup
Sour & spicy soup made from lemongrass, kaffir lime leaves & galangal filled with prawns, mushrooms, tomatoes , onions & rice vermicelli noodles.
Author:
AiPing | Curious Nut
Ingredients
3.75 oz rice vermicelli, soaked in water for 5 minutes
4 cups prawn stock, chicken broth or water (see notes 1)
4 lemongrass stalks, bruised and cut into 3" length
2" galangal (blue ginger), peeled
12 kaffir lime leaves, bruised


Chilies (see notes 2)
1 fresh red chili, sliced
1 fresh green chili, sliced
1-5 fresh bird eye chilies, cut in half


2 - 3 tbs fish sauce
2 - 3 tbs lime juice
2 - 3 tbs Thai roasted chili paste
½ tsp brown sugar
Salt to taste


½ small onion, cut into small squares
½ tomato, cut into thin wedges
4 baby bella mushroom, sliced
12 raw, peeled large shrimp
Cilantro
Directions
In a pot, add water enough to cook the noodles. Over medium high heat, bring it to a boil. Once boiled, add the noodles and cook for 1½ minutes, drain and set aside.
While boiling water (for noodles), add the chicken broth, lemongrass, galangal, kaffir lime leaves and chilies (see notes 2) in a large saucepan. Over medium high heat, bring the stock to a boil. Once boiled, simmer covered for 15 minutes. Discard the lemongrass, galangal, kaffir lime leaves and chilies(optional).
Turn the heat to medium high and add the fish sauce, lime juice, chili paste, sugar and salt. Taste and adjust seasoning according to your preference.
Add the onions, tomatoes and mushrooms. Let it cook for 1-2 minutes or until almost soft. Add the prawns and cook for another 1-2 minutes or until prawn is almost cooked through. Add the noodles in, give it a taste and adjust seasoning if necessary. Garnish with cilantro and serve immediately.
Notes
1. Tom Yum soup can be easily made using water. But for flavor pack broth, it's best to use prawn stock. Chicken broth can be used too but it will obviously have chicken flavor which some may not like in their tom yum soup. To make prawn stock, you'll need heads and shells of 2 lb prawn and 4 cups + 2 tbs water. Fry the prawn shells and heads (with some oil) in a stockpot until fragrant and pink, then add the water and bring to boil. Simmer covered on low for 30 - 45 minutes, strain and use as stock. Make a large batch and freeze for future consumption.

2. How much chilies you add and whether or not your deseed all or half the chilies will be dependent on how spicy you like your soup. If you're not sure, deseed all the chilies and add the chilies first. If you want more heat, you can always add the seeds into the soup.

3. To reduce total cook time, I usually prep the ingredients for the stock first (lemongrass, galangal, kaffir lime leaves and chilies). While the stock is cooking, I prep the rest of the ingredients.

4. You can replace or add other ingredients eg. squid, claims, other greens or mushrooms.

5. I use rice vermicelli because that was what I had on hand but you can use whatever noodles you like. I cook the noodles in water first because they release starch which if cooked in the broth would thicken the broth.

6. Lemongrass, galangal and kaffir lime leaves can be found in Thai markets or some Chinese markets. Depending on your grocery store, you may find Thai roasted chili paste at the International aisle (Thai Kitchen brand can be found at Whole Foods).