Part crispy, part soft & tender with a delicious pork filling inside. The textural difference of these potstickers will blow your mind.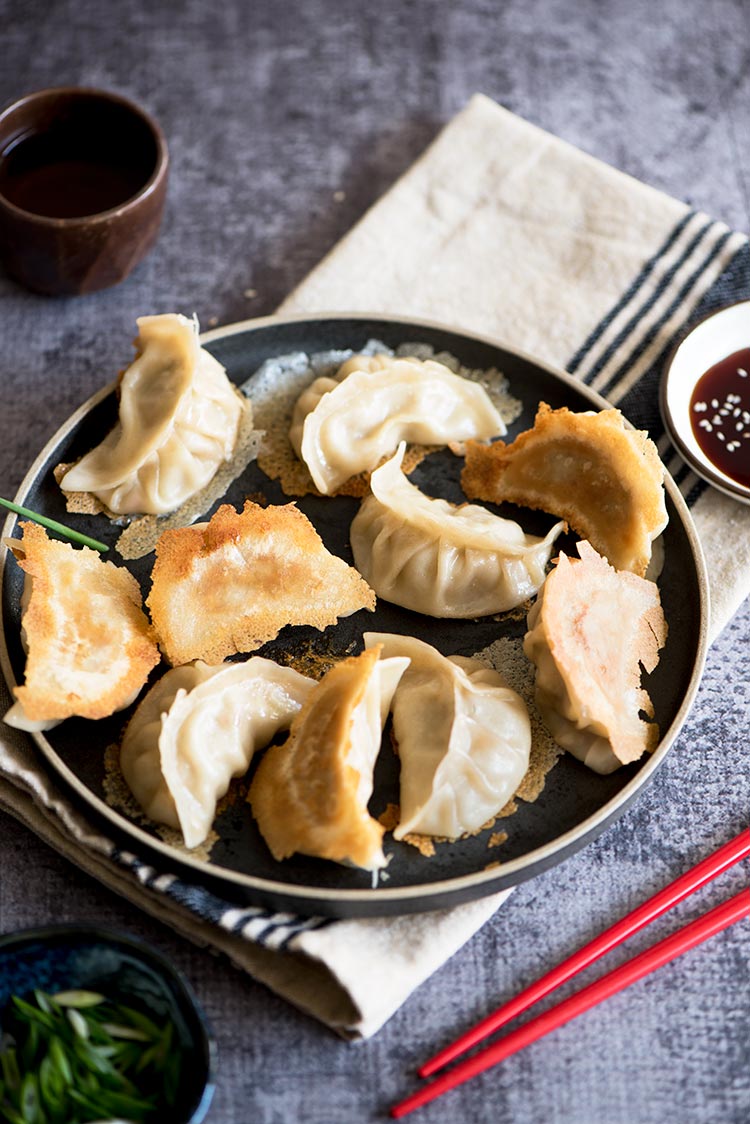 Why hello there.
Potstickers anyone?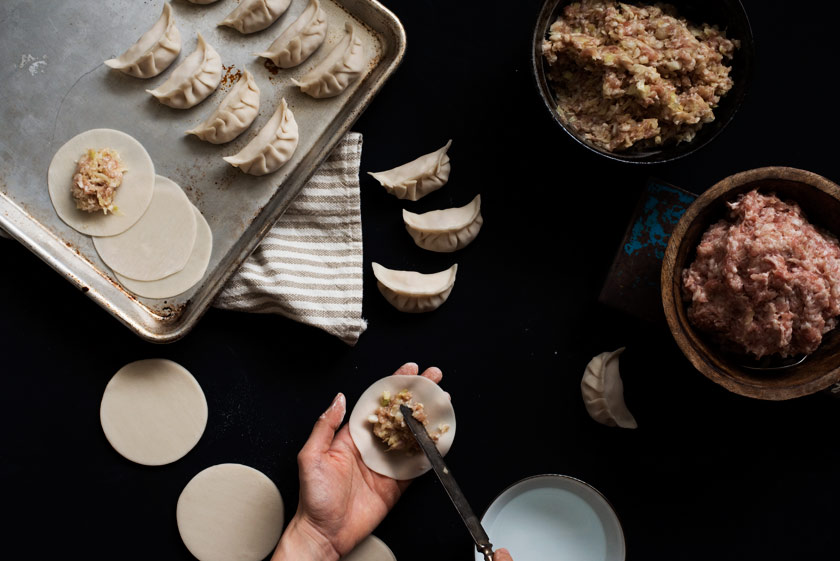 No, not the kind where you just fry em'.
Not the kind where you only add water and then fry em'.
Definitely not the kind where you steam and then fry em'.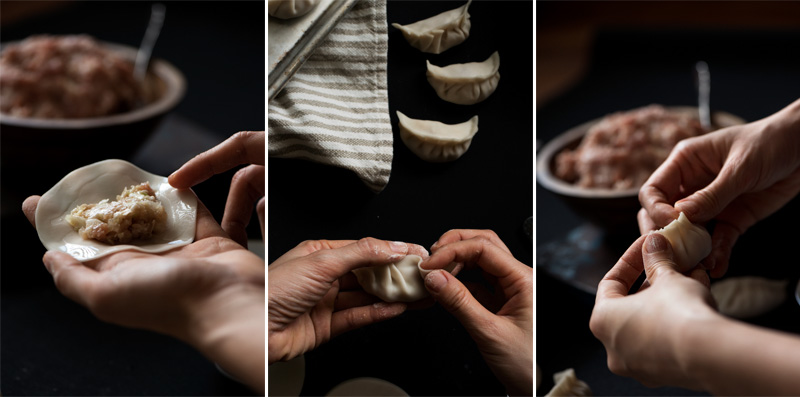 It's the kind you will get at most dumplings shops in Taiwan. And Japan. And China. But Taiwan mostly since I first ate it there.
Like Din Tai Fung?
Yup.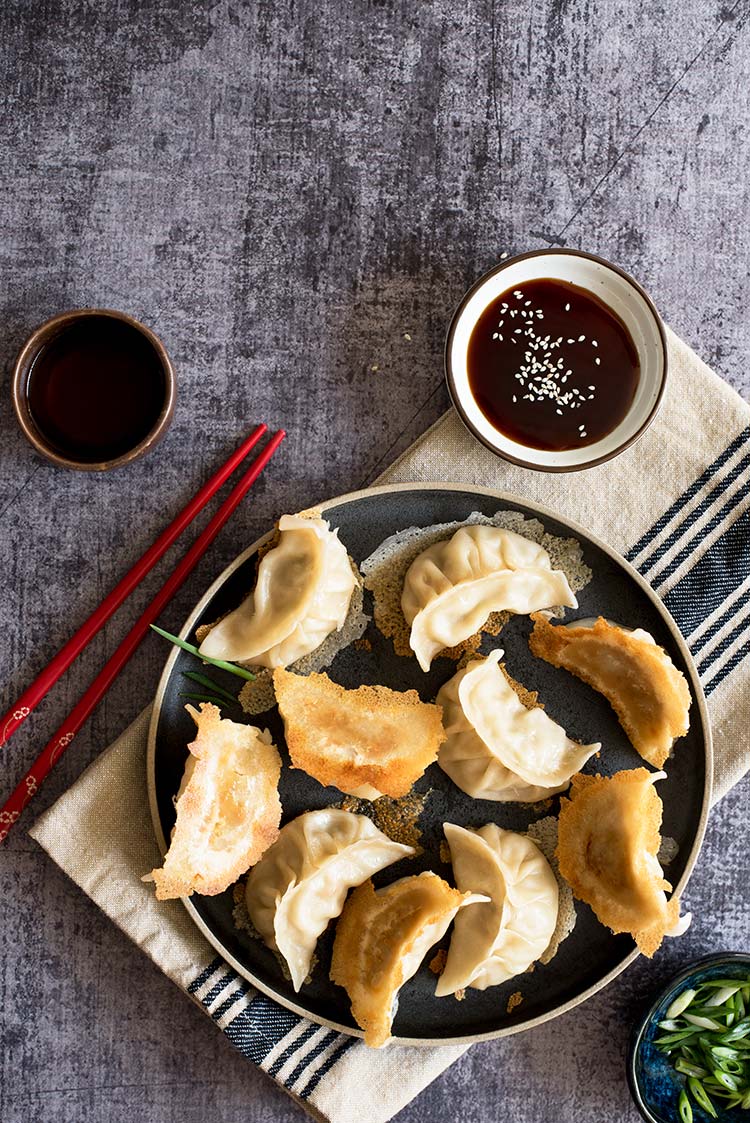 Din Tai whaaat?  Ok, so maybe if I'm lucky, 1 out of 5 of you will know what I'm talking about. Yes, L.A. peeps.
Guys, it's the real deal. The real kind.
The kind with a light, thin, crispy brown lace at the bottom connecting all the dumplings. When you take a bite of it, you'll get a half crunch half tender bite from the outside and into the moist, tasty filling inside. The textural difference between the steamed and the fried will just blow your mind.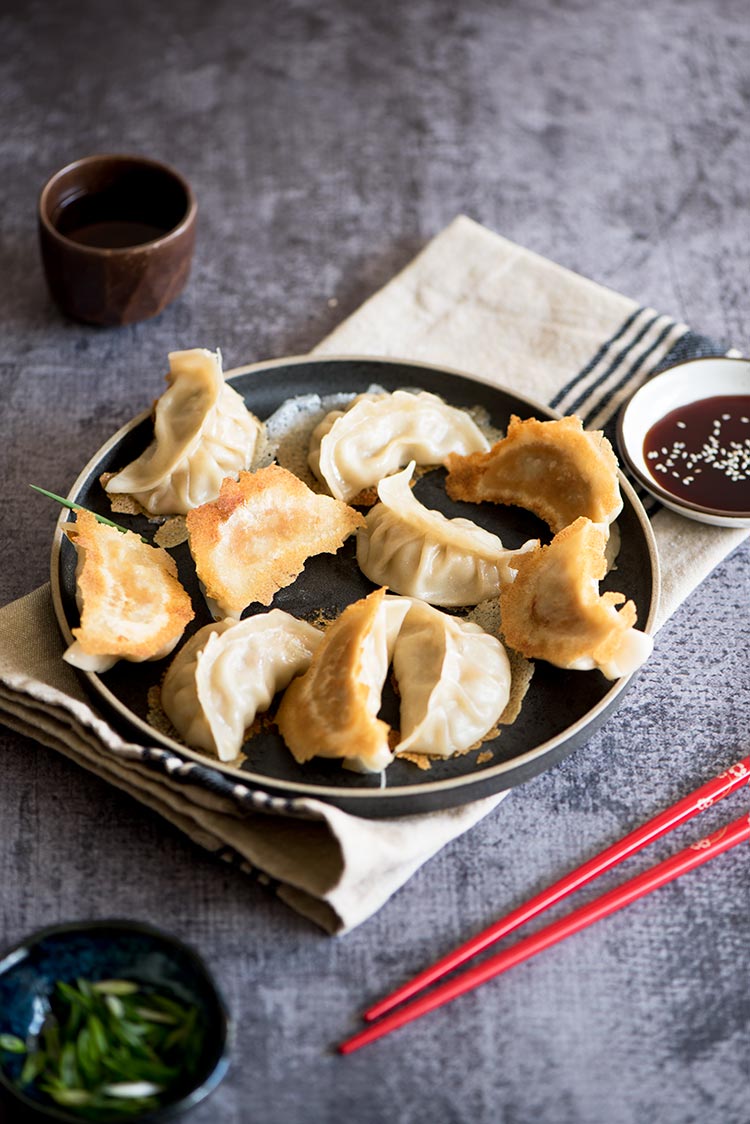 It's a wicked hybrid frying-steaming technique all done in ONE pan. Easy? If I may say so.
But how? Water and starch.
Water steaming will cook the dumplings. When the water has evaporated and the dumplings are cooked, what's left behind (or more accurately, what's left at the bottom) is a starch flurry which has perfectly browned and crisp up to a thin layer.
Yeah. Genius. A little bit of magic too seeing how you're going to watch 'em disappear…. into your tummy.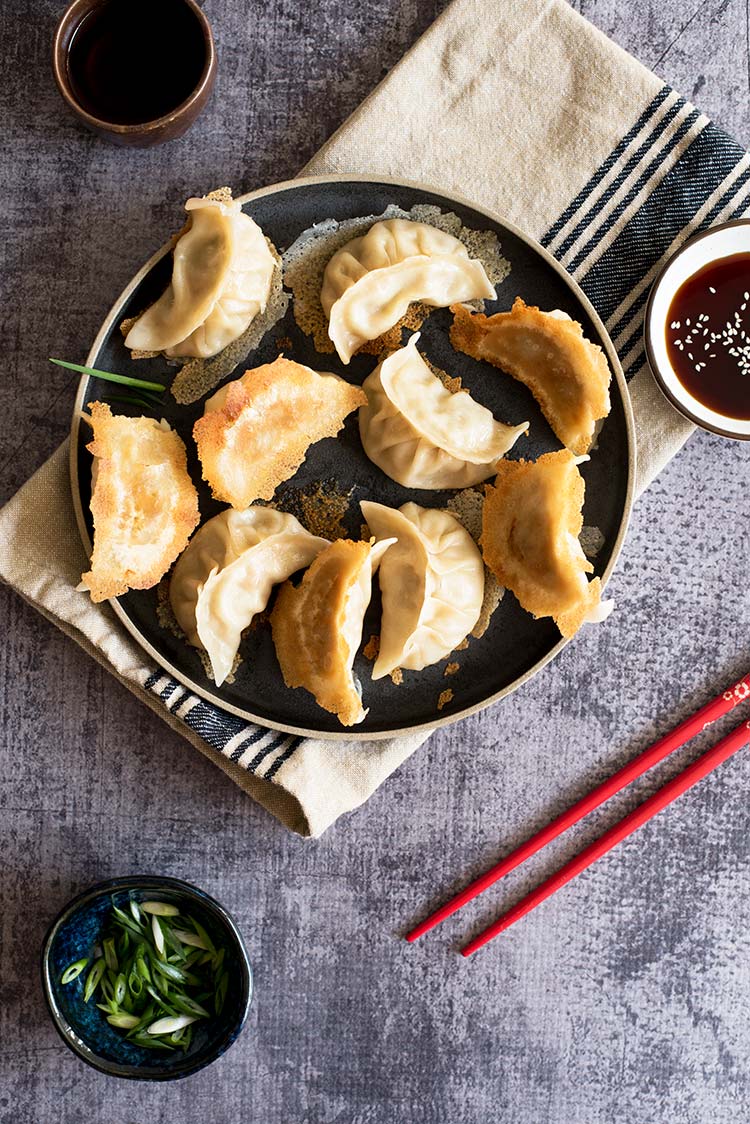 Tips:
1. Wrappers: Do not buy wonton wrappers. They are meant for wontons and are therefore thinner. Potstickers need a thicker wrapper. Looks for ones labelled Gyoza. With that said, different brands have different sizes and thickness. If you like thick ones, go for Korean brands or Wei Chuan brand. For thinner ones go for most other Chinese brands.
2. Ratio of meat to cabbage can be changed according to taste. Omit the cabbage (like Mr. V) if you like your dumplings meaty-ful.
3. It's imperative to seal the dumplings tight and no air bubbles are present. This is to avoid the filling leaking out or the dumpling breaking apart when they are being cooked.
4. When cooking potstickers, to control the thickness of the crispy 'lace', increase or decrease the amount of flour accordingly. More flour equals thicker crust. Different types of flour gives a tad difference in the crust and flavor. Rice flour will yield the crispiest and has a nice flavor to it. I tend to combine different flour.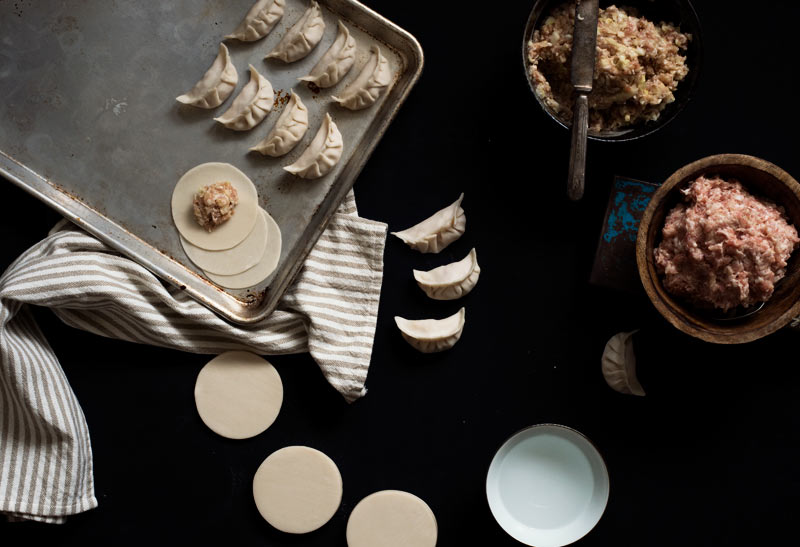 PS: No, I don't make the wrappers from scratch. If I have become a great grandmother with 3 other generations with me… and their hands of course, I may consider making them from scratch. Don't judge. Honestly, if you can't be bothered to make your own dumplings, get your grandma to do it. That or buy commercial frozen ones. I won't judge either.
Want to explore more Taiwanese dishes? How about some Taiwanese Beef Stuffed Scallion Pancake? Or perhaps a bowl of Taiwanese Braised Pork Over Rice? Take your pick.
And if you haven't already, check out my last post  Malaysian Chicken and Potato Kapitan Curry. Savory and slightly tangy creamy curry with the softest & juiciest chicken ever and delicious tender potatoes.
If you like what you see, don't forget to subscribe and follow me on Instagram, Facebook, Pinterest or Twitter to get the latest post updates. See you there!
---
Taiwanese Potstickers
Part crispy, part soft & tender with a delicious pork filling inside. The textural difference of these potstickers will blow your mind.
Author:
AiPing | Curious Nut
Recipe type:
Appetizer; Snack
Serves:
50 (depending on size of wrappers)
Ingredients
1 lb ground pork (80:20 or 85:25)
¾ lb white cabbage, finely diced
3 garlic cloves, fined minced
½" ginger, grated
1 tbs soy sauce
1 tsp sesame oil
¼ tsp salt
⅛ tsp sugar
Pinch of white or black pepper
2 pack gyoza wrappers (You'll have leftover)
⅔ tbs flour (rice flour, all purpose flour, cornstarch or a combination of any)
½ cup water (room temperature tap or filtered water)
Directions
To make dumplings
In a large bowl, add the pork, cabbage, onion, garlic, ginger, soy sauce, sesame oil, salt, sugar and pepper. Mix to combine well.
Prepare a bowl of water (amount doesn't matter). Place a small dollop of meat filling (less than 1 tablespoon) in the middle of a wrapper. Dip your finger into the bowl of water and paint the edges of the wrapper.
Bring the bottom of the wrapper to the top. Pinch to seal the center. Now you can choose to pinch to seal the rest of the edges or pleat it however you wish. Make sure there are no air bubbles and seal it tight. Place the dumpling on a baking sheet making sure there's space between dumplings. Repeat until you've finished all the filling.
If you want to freeze them, place the baking sheet of dumplings in the freezer (uncovered). Once the dumplings become semi harden, you can transfer them into a ziploc bag and let it freeze completely. (If you do not let it semi harden first before transferring into a bag, it will mush together and separating them will be impossible).
To cook dumplings
In a small bowl, combine the flour and water together.
For freshly made dumplings: Over medium heat (or a tad lower), heat a 10" non stick pan. Add ½ tsp oil. Add 12 dumplings. Make sure there's a small gap between the dumplings. They will start to sizzle. Pour the flour water mixture in and cover the pan. Let it simmer for 8-10 minutes or until most of the water has evaporated. (For frozen dumplings, do not thaw. Combine ⅔-3/4 tablespoons flour and ⅔ cup water instead and cook for 10-12 minutes or until most water has evaporated).
Uncover and let the bottom starchy flurry dry completely and crisp up (a couple minutes more). Swirl a little oil to help with the crisp and to avoid it sticking to the pan. You can move the pan around the heat source to help it brown evenly. Turn the heat to medium low towards the end for even browning (and to avoid burning). A golden brown crisp skin will form.
Place a plate upside down on the pan and flip the pan (and plate). The potstickers will come off beautifully and land on the plate crisp side up. Enjoy with your favorite dipping sauce. I usually mix hoisin or oyster sauce with some water. Sometimes, I enjoy them with some chili sauce like sriracha or thai chili sauce.