Cooked in 10 minutes, this stir-fried pork and cabbage glass noodles is healthy, flavorful and so addictive. The noodles are soft yet has a bite and bounce to it and flavored with pork fat. Yum!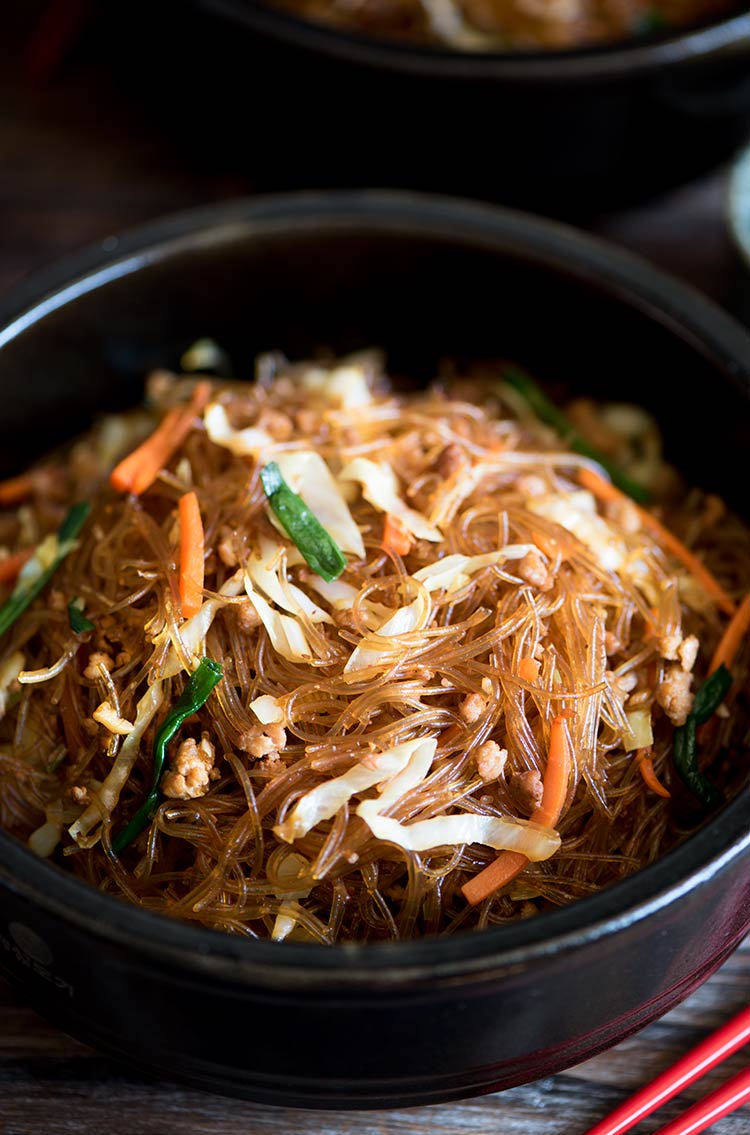 Exactly two weeks ago, my butt nearly died on me. That long haul flight nearly killed it.
Yup.
I'm back.
In Asia. Taiwan, to be exact. Yes, that would explain my MIA-ness.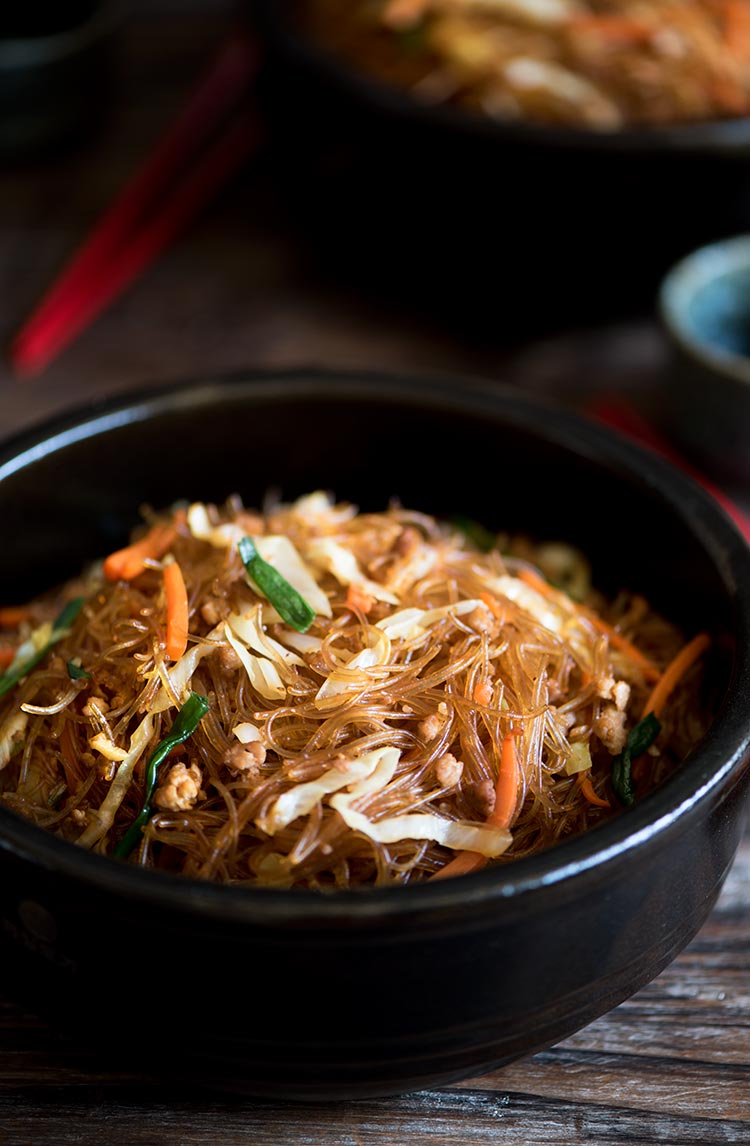 I've come to appreciate dry air. Ironically, even though I lived in Taiwan for more than half a decade (in fact, Mr. V grew up here), we both actually needed time to get used to the humid air. For the first few days, our skin was always sticky, our noses stuffed up and our throats phlegm-y.
And then there's the blood sucking flying creatures that should be sucking my fat instead.
And the bad polluted air…..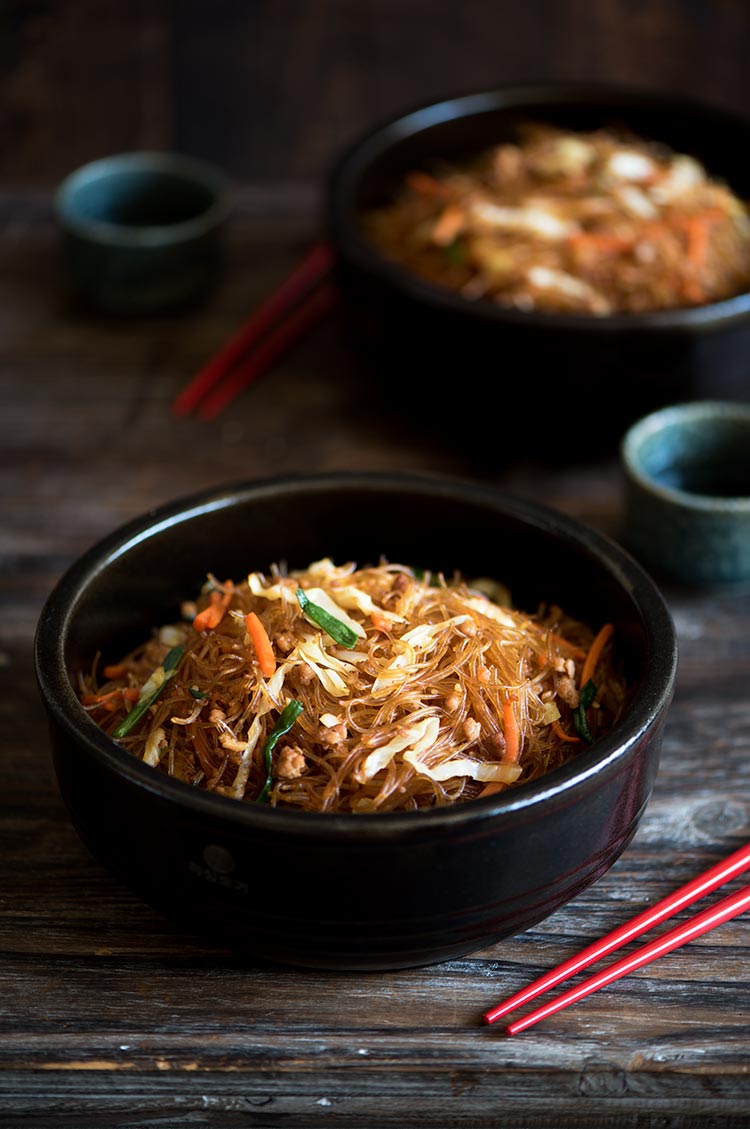 Ok fine, I shouldn't be complaining. I've been wanting to come back for the longest time already. Food is heaven. Family is…loud. Plenty of sticky, stinky two and six year old hugs and kisses. Love it.
Two more weeks of this and then Mr. V and I move on to Malaysia. More food, more family, more everything!
To celebrate my coming back to Asia… I thought I'll share one of my 'I used to not like it but now I love it' noodles. If you haven't cooked glass noodles before, now is the time. Trust me, it's easier than you think. Soft yet bouncy glass noodles, nothing's quite like it. Cooked in ten minutes, it's healthy, super delicious and very addicting. Enjoy.
Tips
1. Glass noodles aka cellophane noodles, bean thread noodles, mung/grean bean thread are a type of transparent looking noodles. They're easily found in Asian markets. They should not be confused with rice vermicelli which are white instead of transparent after cooking. If the package ingredients have rice in it, it's not the right type. They come in different thickness. For this dish, I like the thin type (as opposed to the thick type like Japchae found in Korean restaurants).
2. Stir frying noodles in small batches yield better results.
Love stir-fried noodles? Try this Malaysian Fried Flat Rice Noodles (Char Kway Teow).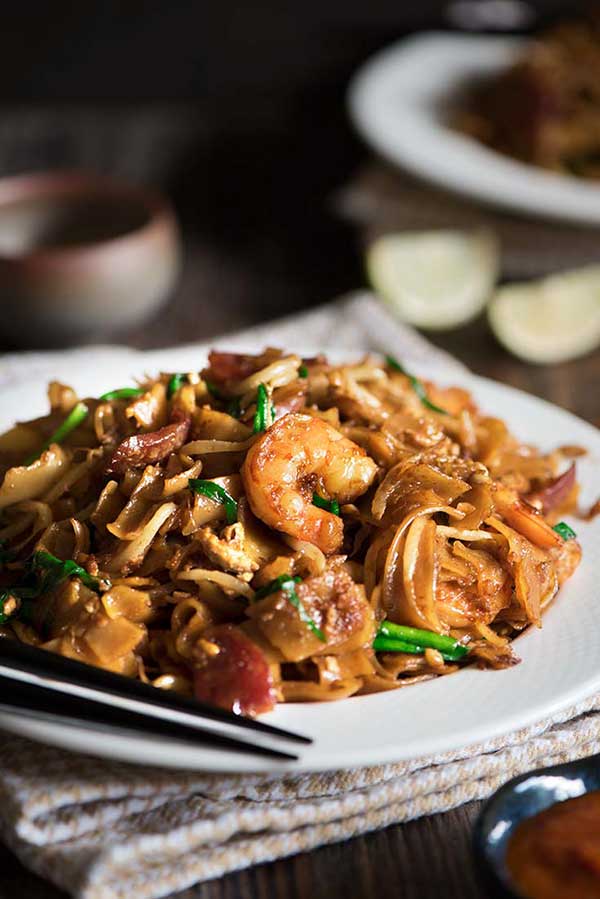 Or this Malaysian Fried Rice Noodles (Lo Shu Fun).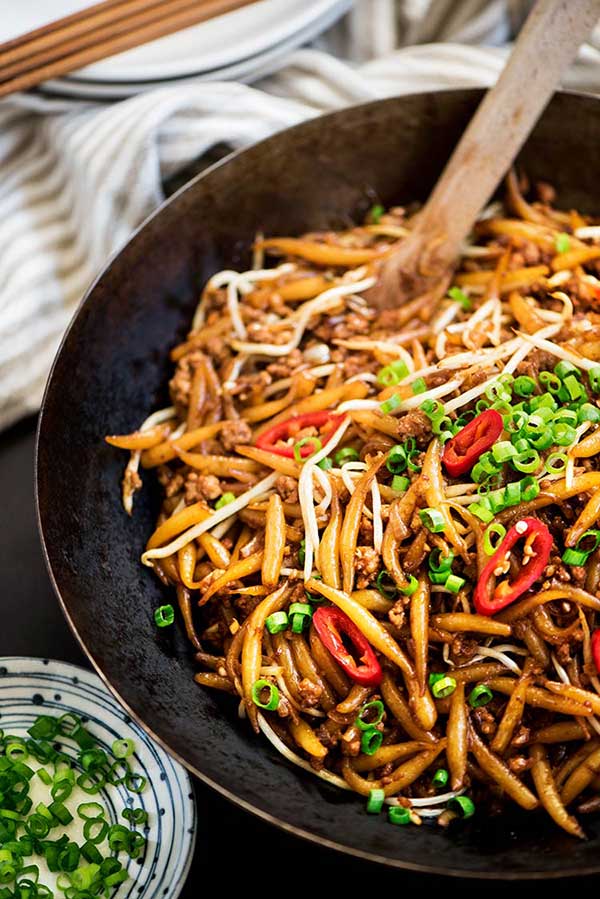 If you like what you see, don't forget to subscribe and follow me on Instagram, Facebook, Pinterest or Twitter to get the latest post updates. See you there!
---
Stir-fried Pork And Cabbage Glass Noodles
Cooked in 10 minutes, this pork & cabbage glass noodles is healthy, flavorful & addictive. Noodles are soft and bouncy & flavored with pork fat.
Author:
AiPing | Curious Nut
Ingredients
8 oz ground pork (see notes 1)
6 garlic cloves, finely diced
1 large carrot, julienned (about 1 cup)
8 oz white cabbage, shredded (about 3 cups)
1 pack (17.6oz) glass noodles, soaked in water for 10 minutes, drained and set aside
4 green onions (white parts chop, green parts cut into 1½" length)


Sauce
2½ cups chicken stock
4 - 6 tbs light sauce (see notes 2)
4 tbs thick caramel sauce (for color)
2 tsp salt
Directions
Combine all the ingredients for the sauce in a bowl. Set aside.
Heat a wok or a large cast iron/non stick skillet over medium heat. Once hot, brown the ground pork for 2 minutes. This is to extract the grease from the pork. Push the pork aside while tilting the wok to collect the grease at the bottom of the wok.
Add the garlic and white parts of the green onion. Fry until the garlic turns a light brown (about 1½ minutes). Combine the pork and garlic mixture together. Again push everything to the side and tilt the wok so the grease collects at the bottom of the wok. Add the carrots and fry for 1 minute. Add the cabbage and fry for 1½ minutes or until softened. Combine the pork and vegetable mixture together. Remove half the mixture (we're going to cook the noodles in two batches).
Add half the sauce mixture, turn the heat to medium high and bring it to a boil.
Put in half the noodles and half the green onions. Fry for 1½ minutes ensuring the noodles are able to absorb the sauce. Turn the heat down to medium heat and fry for another 1-2 minutes or until the noodles dry up a little more and become bouncy (see notes 3). Use a pair of chopsticks or fork to toss as it's easier that way.
Repeat with remaining meat mixture, sauce and noodles.
Notes
1. The pork I use have a considerable amount of fat (about 70/30). Therefore I do not have to add any cooking oil. If you use ground pork with less fat ratio, add a tad of oil when frying.

2. How much soy sauce will depend on the brand of soy sauce used, how salty the chicken stock is and how salty you like your noodles. If it's a side, you may want it less salty and if it's an entree you may want it saltier.

3. I like the noodles slightly to the dry side as it's bouncier when so. If you like yours a tad 'wet', do not fry too long. Wet noodles are less bouncy/springy. Frying too long however, will also dry up the noodles.