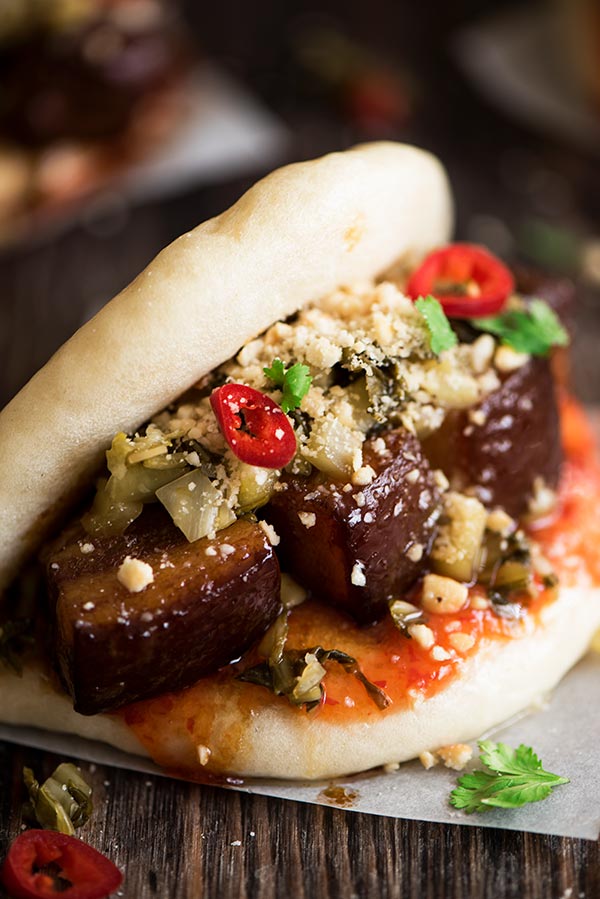 I have this group of besties since elementary school… some even since kindergarten. We're called the MC Gang. Yes, we have a name. MC being the initials of our elementary school (Marian Convent).  There are 12 of us altogether. One dozen.
During the prime time of MC Gang aka middle & high school, many things happened at school that garnered both love and hate of teachers and students alike. We had plenty of friends but equally plenty of enemies. It may be due to this that there may be people out there who wanted to sabotage our relationship.
For real.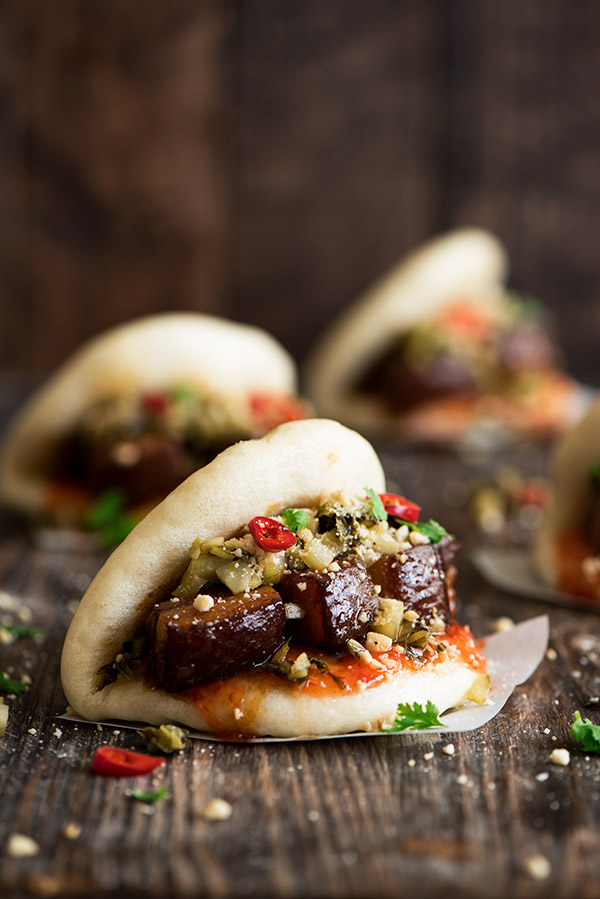 There's a point in our lives… at about age 15 that some of us started to receive weird phone calls. I vaguely recall the details but scraping what memories I have left, I remember that the caller used a voice changer to pretend to be one of us calling the others. Super high tech for middle schoolers.
I also remember a lot of confusion when we tallied up facts at school. The caller was trying to create tension in the group using false rumors. She was also trying to collect information from us that were otherwise secrets. We had to come up with a code to be said when we called each other just so we can be sure that the caller was legitimately one of us.
Oh yes the drama in school really exist.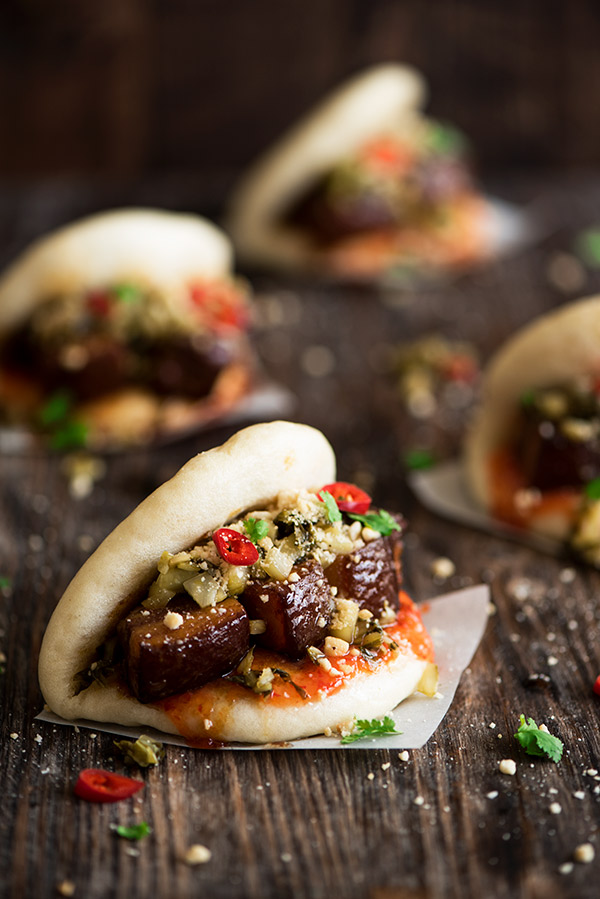 We had a hunch on who that caller was. But honestly, to this date, I can't say for certain if that person was the caller. I can't even say for certain that this incident truly occurred because unfortunately, I didn't receive any calls. Bummer.
This has become one of the many mysteries in my life. Well, this… and the fact that I love braised pork belly with mantou (Chinese steamed buns) to death yet I've only eaten it three times in my lifetime. Why I've only had it three times, no one knows.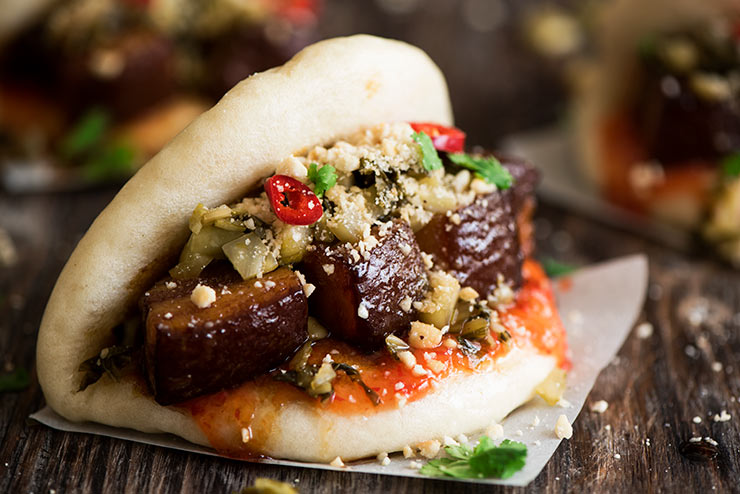 Gua Bao (in Taiwan) or Kong Bak Bao (in Malaysia) is melt in the mouth savory braised pork belly stuffed in soft, fluffy mantou along with sweet and spicy chili sauce and crunchy sour pickled mustard greens.
Warning: A bite of this will cause much perplexity and confusion like who was that caller…. or why is this only the 4th time that I've eaten this? Oh and this is the biggest anti-fat Mr. V  approved. Seriously good.
Tips:
Pork Belly
1. If you like your pork belly a larger slab, then don't 'em cut into cubes.
2. If you want to remove the grease, refrigerate overnight (after two hours of simmer) and remove the layer of grease that forms on the surface. Overnight pork tastes better anyway.

Mantou (Buns)
1. Water can be used but milk gives it a richer taste.
2. All purpose flour makes it a tad chewy which I love. If you love it super chewy, use bread flour. If you want it super soft, use cake or pastry flour instead. To get the white color most commercial buns have, use Hong Kong Flour.
3. Baking powder is used to give the buns a little bit more volume when steaming and also helping the buns not deflate after.
4. Allowing steam condensation to drip onto the surface of the buns during or after steaming will cause the buns to wrinkle.
5. If buns cooled and firmed up, re-steam to soften it again.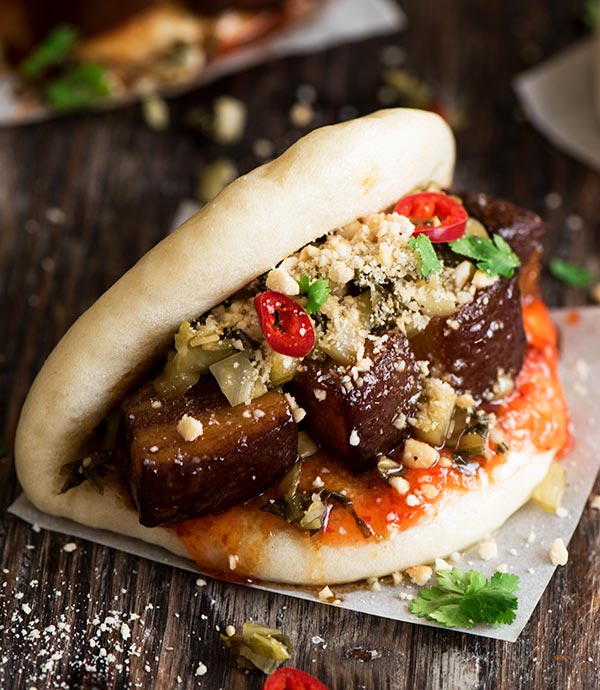 If you love this, you're also going to love this Steamed BBQ Pork Buns (Char Siu Bao). Freshly steamed spongy and slightly chewy bun with a warm, juicy, flavorful bbq pork filling inside. Super simple to make at home.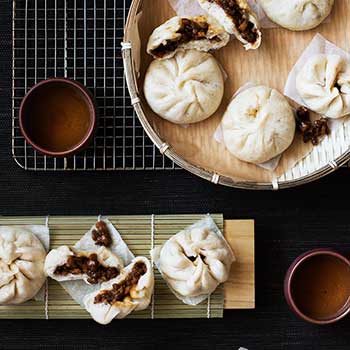 Also, check out my last post Spiced Beef Roti Turnover (Murtabak). Crispy, flaky, chewy roti stuffed with soft warm spiced ground beef and egg filling.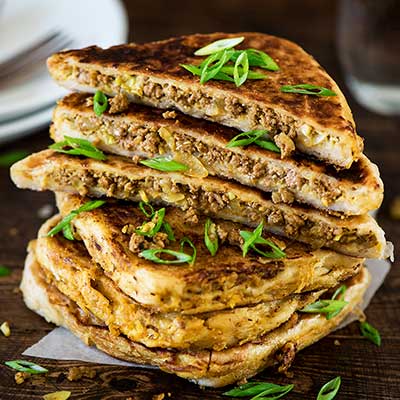 Pork Belly Mantou
Melt in the mouth pork belly stuffed in soft, fluffy mantou (buns) with sweet & spicy chili sauce & crunchy sour pickled mustard greens.
Author:
AiPing | Curious Nut
Ingredients
Braised Pork Belly
2½ lb pork belly with skin, cut into 1"
5 garlic cloves, peeled and lightly bruised
5 green onions, cut into 3" length
2" ginger, sliced
1 star anise
1 stick cinnamon
3 tbs light soy sauce
2 tbs thick caramel sauce or kecap manis (for color)
1 tbs oyster sauce
2 tbs sugar
3 cups water and more for blanching


Mantou (Buns)
11 oz warm milk (1¼ cup + 2 tbs)
2 tbs sugar
2¼ tsp active dry yeast
17 oz unbleached all-purpose flour (4 cups)
2½ tsp baking powder
½ tsp salt
2 tbs oil


Chili sauce
2 red Fresno chilies, deseed one
2 garlic cloves
¼ cup water
¼ - ⅓ cup sugar
1½ tbs rice vinegar
1 tsp lime juice
¾ tsp salt
½ tbs cornstarch + ½ tbs water (cornstarch slurry)


Pickled mustard green
4-6 Chinese mustard green (leaves and stems)
Salt
Water
Rice vinegar


Garnish
½ cup crushed peanuts or cashews
2 red fresno chilies, sliced
A couple sprigs cilantro
Directions
Pork Belly
Blanch Pork: Put the pork in a pot or a large wide saucepan. Add enough water to cover the pork by 1". Over high heat, bring the water to a boil. Once the water is boiled, let it hard boil for 1 minute. Drain and rinse the pork with cool water.
Braise Pork: Add the blanched pork and the rest of the ingredients for the braised pork belly into the pot. Add 3 cups of water or enough to almost cover the pork (pork will shrink a little). Bring the liquid to a boil. Once boiled, simmer on low heat for 2 hours.
Reduce Liquid: Uncover and turn the heat to medium high. Let it continue to boil to reduce the sauce. I like the pork with some sauce so I'd let it boil for only 20 minutes. Taste and adjust seasoning. If the sauce is still not thick to your liking, add a cornstarch slurry (combine 1-2 tsp cornstarch with 1-2 tsp water) depending on how thick you want the sauce to be.
Mantou (Buns)
Activate Yeast: Combine the sugar, warm milk and yeast. Let sit for 10 minutes until a foamy mixture forms.
Knead Dough: In a large bowl, whisk together the flour, baking powder and salt. Add the oil and yeast mixture. Form a dough. Turn it over a work area and knead the dough for 10 minutes. The dough should be soft and supple and not sticky.
First Rise: Lightly oil the bowl, place the dough in, cover the bowl with a sling wrap and let the dough rise in a warm, draft free place until doug h doubles in size (about 1-2 hours).
Shape: Gently punch out the air of the risen dough and remove it from the bowl. Divide the dough into 12 equal parts. Shape each dough into a ball. Using a rolling pin, roll the dough into a flat oval (1/8" thick). Brush some oil on one side of the dough. Fold the dough in half (like a half moon). Place it on a 4" square parchment paper. Repeat with the rest of the dough. Loosely cover the half moon dough with a clean cloth and let them rest for 30 minutes.
Steam: Bring water in your steaming vessel to boil over high heat. Once boiled, place the dough (with parchment paper) on a rack or steamer (leave 1" gap as buns will expand) and steam for 8 minutes.
Rest: Turn off the heat and remove the steaming vessel from the heat. After 5 minutes, slowly open the lid. This is to cool the steaming vessel before uncovering. Too much temperature change may cause buns to deflate.
Chili Sauce
In a blender or food processor, blend the chilies and garlic cloves. Put the chili garlic paste into a small saucepan. Add the water, sugar, vinegar, lime juice and salt. Bring it to a boil.
Once boiled, turn the heat to low and add the cornstarch slurry. When chili sauce has thickened to your liking, remove from heat.
Pickled mustard green
In a sterilized wide mouth glass jar, add a layer of mustard green. Sprinkle with a layer of salt. Repeat with another layer of mustard green and salt. Once, you've finished layaring, add enough water to submerge the mustard green.
If you want it slightly spicy, add 1-2 red chilies.
Add 1 tbs rice vinegar and cover the jar. Let it ferment for 5-10 days depending on the temperature. It will turn a yellowish brown when it's ready. The vegetable must be fully submerged in the water at all times or you'll risk having mold.
Remove the mustard green from the liquid and dice it. If it's not salty and sour enough, drizzle some soy sauce, add a pinch salt and some vinegar.
To assemble
Slather some chili sauce on one side of the mantou. Top with pork, drizzle some of the uber concentrated sauce, add pickled greens, crushed nuts, chilies and cilantro.
Notes
If making pickled mustard green is too daunting for you, feel free to use commercially sold pickled mustard greens or other types of pickled vegetables like sweet radish or even kim chi.