When I was young, it was almost like a tradition in my family to gather at a Dim Sum place in the weekends for breakfast. Grandparents, uncles, aunties and cousins – all my favorite people in the world in one place.
At a dim sum restaurant, one can find an assortment of delicious small, bite size Cantonese style dumplings served in small steamer baskets or plates. Usually, these freshly steamed dumplings are carted around the restaurant for customers to choose while seated in their seats.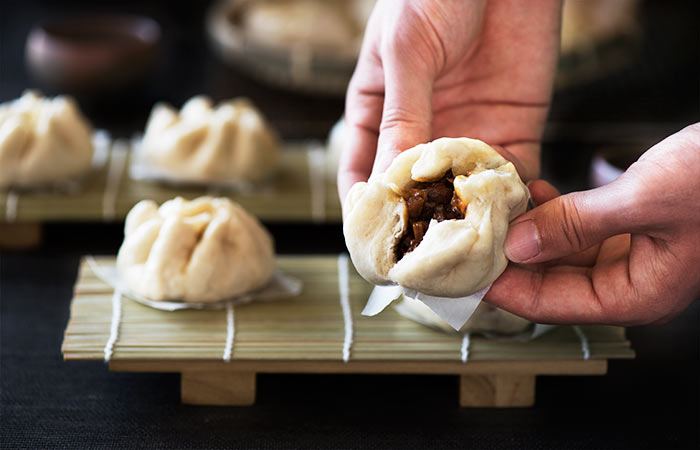 Although for outsiders, it may feel a tad loud with people chattering and chopsticks clanking, but for me, it's a relaxing dining experience. One that brings myriads of memories of spending an enjoyable time with loved ones as a young child… or from my parents' perspective, dim sum breakfast was probably full of havoc with hot food (and hot tea) everywhere and a itchy bum Ai Ping who couldn't very well sit still. Not even for a second.
I've made it a point at every Dim Sum place I go to eat one my favorite dishes. Steamed BBQ pork buns or popularly known as Char Siu Bao (pronounced char see-you bow). Most Dim Sum restaurants won't go wrong with their baos. Some better than others, but generally delicious. Freshly steamed spongy and slightly chewy dough with a flavorful, juicy pork filling inside. Hmmm… I do love my char siu bao.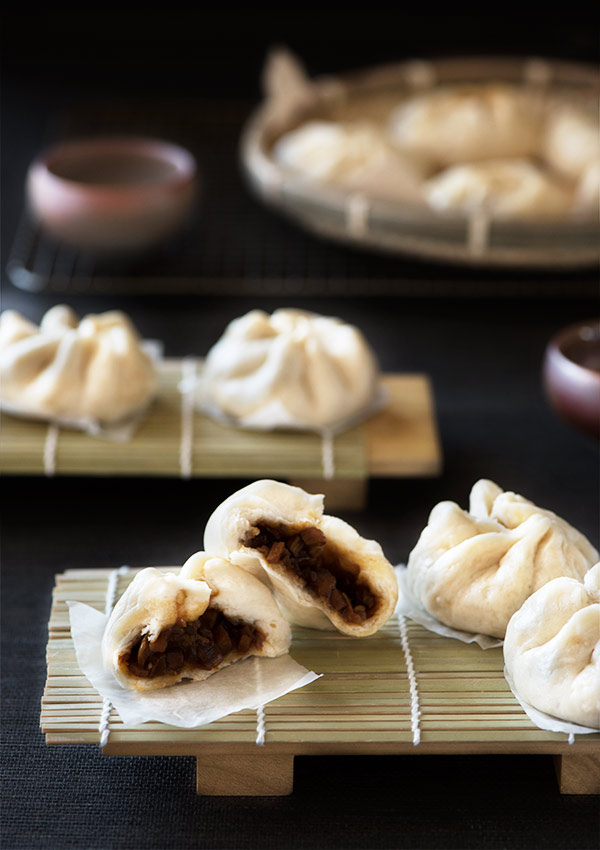 In Malaysia, you can even find bao steamer machines with layers and layers of bao being kept warm. It's like a tall wide cabinet, only it is made of stainless steel and is electrically powered.
Some sellers even brought the machine to the streets and thereby making  'selling baos' portable and accessible pretty much any time.  Sometimes, if we were on the road late at night and I get hungry for supper and if we're lucky to come across this bao selling machine, my dad would pull up the car at the side of the road and pack a few baos to go.
As a child, as simple minded as I was… this was pure heaven. Bao heaven. Finish it off with a hot Chinese tea to cleanse the palate (and the system). Aahh, life is good.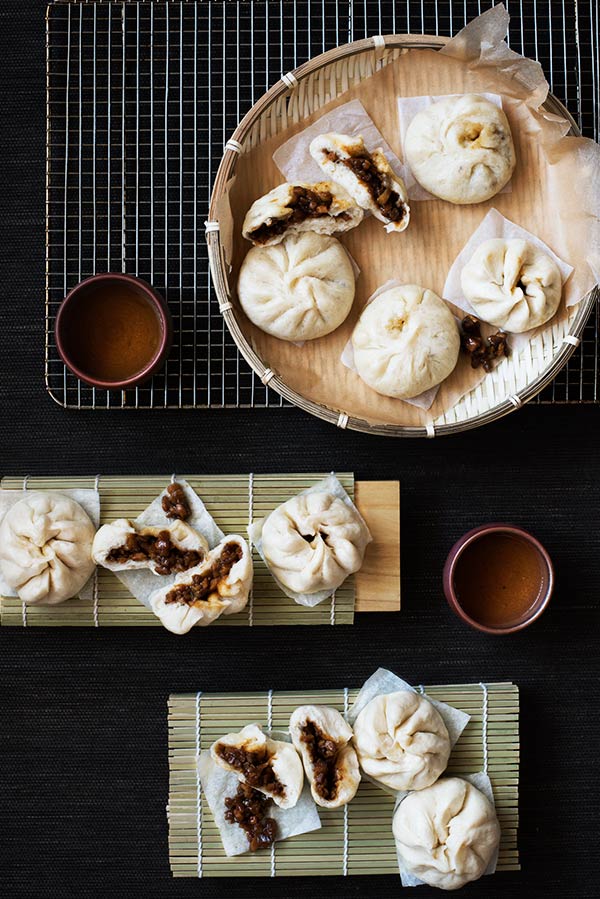 Check out the video below for a visual guide on rolling and sealing the baos. By all means, use a smaller rolling pin.
Tips:
1. All purpose flour will not give you the classic white colored (or the super fluffy) baos you see in Chinese restaurants. If you want to get that white color and soft/fluffy texture, you'll have to find low protein bleached white flour (ex. Hong Kong flour, bao flour or cake flour). All purpose flour will give a soft but chewier texture.
2. I like my baos where the dough isn't too thick and there is a generous filling. Regular baos in Chinese joints have too much dough and very little filling. If you like yours like that, you can divide the dough into 10-12 balls instead of 16. When you roll, roll it to 3″ wide instead. That way, your dough will be thicker. If so, increase the steam time by 5 – 8 minutes or more so the dough cooks through. The beauty of homemade baos is that you decide on the kind of bao you'd like to eat.
If you haven't already, please check out my last post Cherry Pie. Tender & flaky crust made from butter & lard with a perfectly sweet syrupy cherry filling. Also, some great pie tips for you.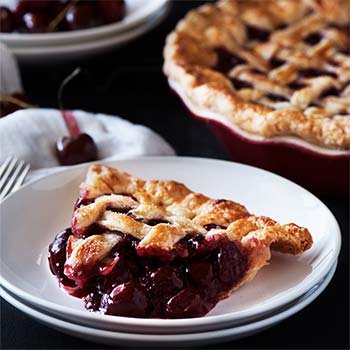 Have you been to a Dim Sum restaurant? What's your favorite dish?
---
Steamed BBQ Pork Buns (Char Siu Bao)         Makes 16 small baos (2 1/2″ wide)
what you need:
Dough
1 cup + 1 tbs warm milk (about 118 F)
2 tbs sugar
2 tsp active dry yeast
12.75 oz unbleached all purpose flour (3 cups scoop and sweep)
1/2 tsp salt
2 tsp baking powder
2 tbs oil
Pork Filling
1/2 small onion, finely chopped
1 green onion, finely chopped
1/2 lb Chinese BBQ Pork (Char Siu), diced
3/4 tbs hoisin sauce
1/2 tbs oyster sauce
1 1/2 tbs water
1/2 tbs honey
1 tbs thick caramel sauce or kecap manis (for color)
Salt and pepper, to taste
1 tbs cornstarch + 2 tbs water, mixed to make a slurry
directions:
Dough
1. In a bowl, add the milk, stir in the sugar and yeast. Let sit for 15 – 20 minutes. This is to activate the yeast.
2. In a large bowl, add the flour, salt and baking powder. Whisk to combine well.
3. Add the yeast mixture and oil into the flour mixture. Form a dough. Turn it over to a lightly floured surface and knead for 8-10 minutes.
4. Lightly oil a bowl and place the kneaded dough in. Cover the bowl and let the dough rise until double in size about 1 1/2 – 2 hours in a warm, draft free area.
5. Once dough has risen, divide them equally into 16 portions. Roll them into balls, place them on lightly floured baking sheet (2-3″ apart), cover and let rest for another 1-2 hours.
Pork Filling
1. Over medium heat, add a coat of oil in a pan and fry the onion and green onion until they're soft. Add the pork and stir to combine.
2. Add the hoisin sauce, oyster sauce, water, honey, thick caramel sauce (if using), salt and pepper. Stir and let the pork absorb the sauce.
3. Once it starts to boil, turn the heat to medium low and let simmer for a couple minutes.
4. Add the cornstarch slurry. It will start to thicken. Increase the heat to medium. Once the sauce is thick to your liking, remove from heat and let the pork filling cool.
Making the Baos
1. Prepare 16 pieces of 3X3″ parchment paper
2. Take each ball of dough and roll into 3 1/2″ – 4″ diameter, thicker in the center to support the filling and thinner on the edges. Pick up the rolled dough and stretch it lightly to relax the dough or else it'll shrink back.
3. Put 1 – 1 1/2 tbs pork filling in the center. Use your left hand to hold the bao with your left thumb across the filling (to make sure filling stays in). Use your right fingers and start making folds. Pinch the top of folds and make sure the folds stay on the center of the bao all the while turning the bao. Twist and pinch into the bao for the last fold. Gently reshape the bao if necessary. Place the bao on the cut up parchment paper. Repeat with the remaining baos.
4. To steam, bring water in your steaming vessel to boil on high heat. Once boiled, place the baos on a steamer or wire rack. Leave 2″ between each baos as they will double in size. Cover and steam on high heat for 10-12 minutes. Repeat with the remaining the baos.
5. You can freeze the steamed baos for future consumption. No need to thaw, Just repeat step 4 and steam for 12-15 minutes. It makes for a quick healthy breakfast or snack.