Melt in the mouth delicious chocolate almond cookies. Perfect to share with your guests on Chinese New Year or any other day really… or just keep popping 'em in your mouth so you have an excuse to make more for your guests yourself.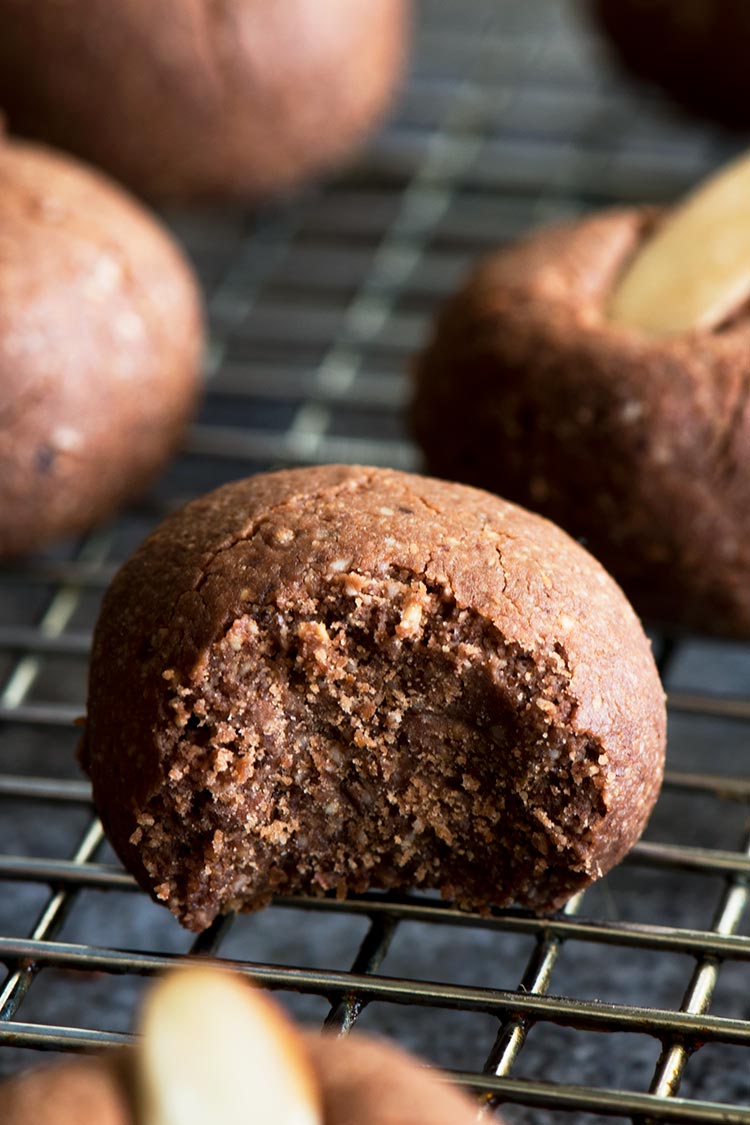 It's the time of the year when I gorge on food after food after food for 15 straight days.
The time of the year when firecrackers  (totally illegal) are lit and then I'd run for my live in hopes they don't blind me or blow up my body parts.
The time of the year when I am given a lot of money in red packets…. just because. (Unfortunately, this doesn't happen anymore since I'm married. Booo!!!)
Yup
Chinese New Year is just around the corner.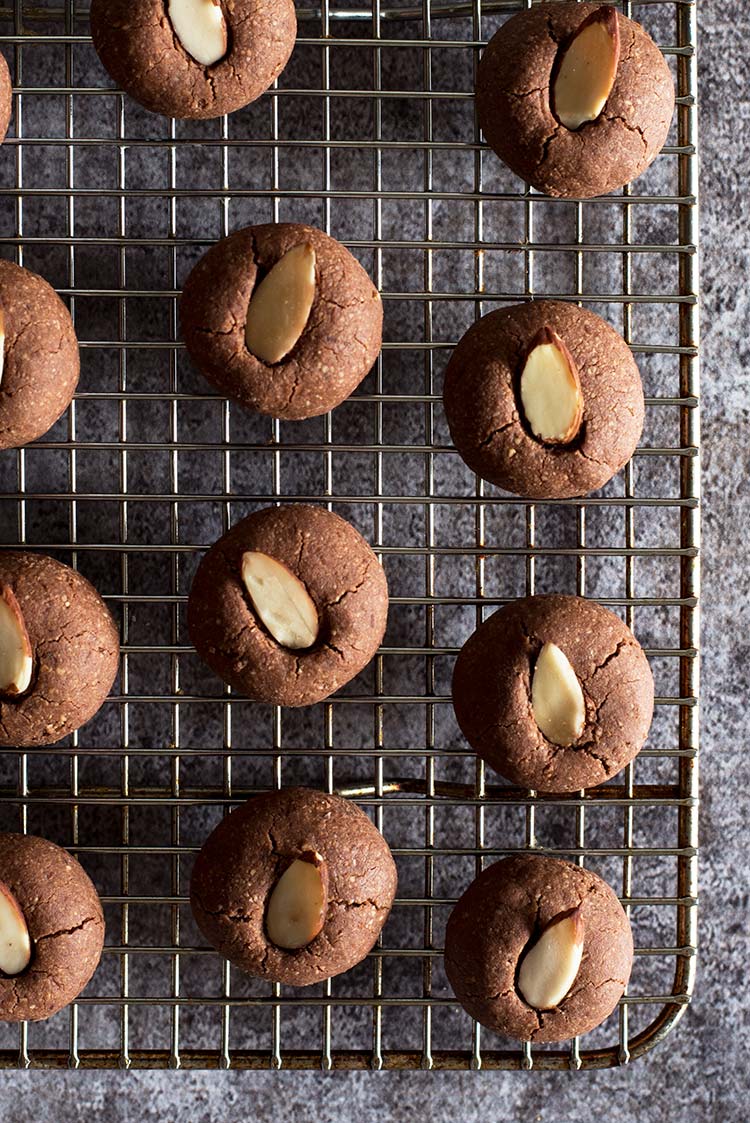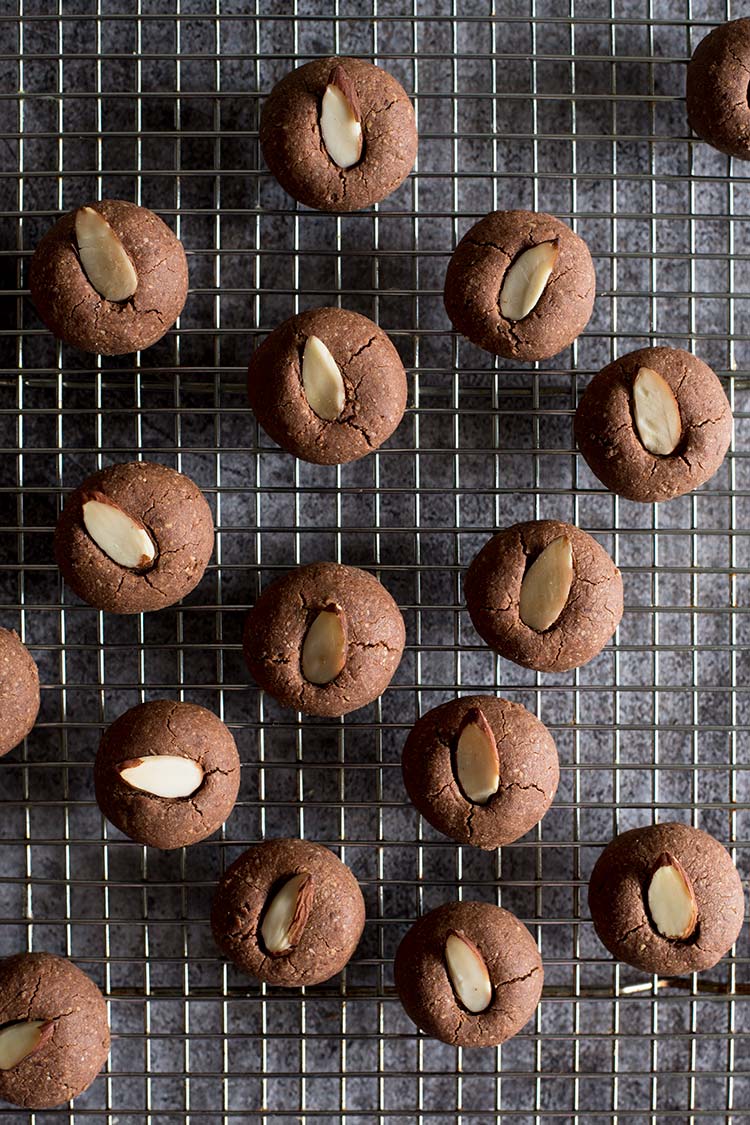 Me and a bunch of super talented blogger friends of mine are having a Chinese New Year Cookie Party.
That's right.
We dream that we can all come together and stuff ourselves with the cookies that we've baked.. but in reality, we're in different parts of the world. So this is the closest thing we can do. Look and salivate at each other's cookies while needlessly popping into our mouths the ones we've just baked for our guest. 🙂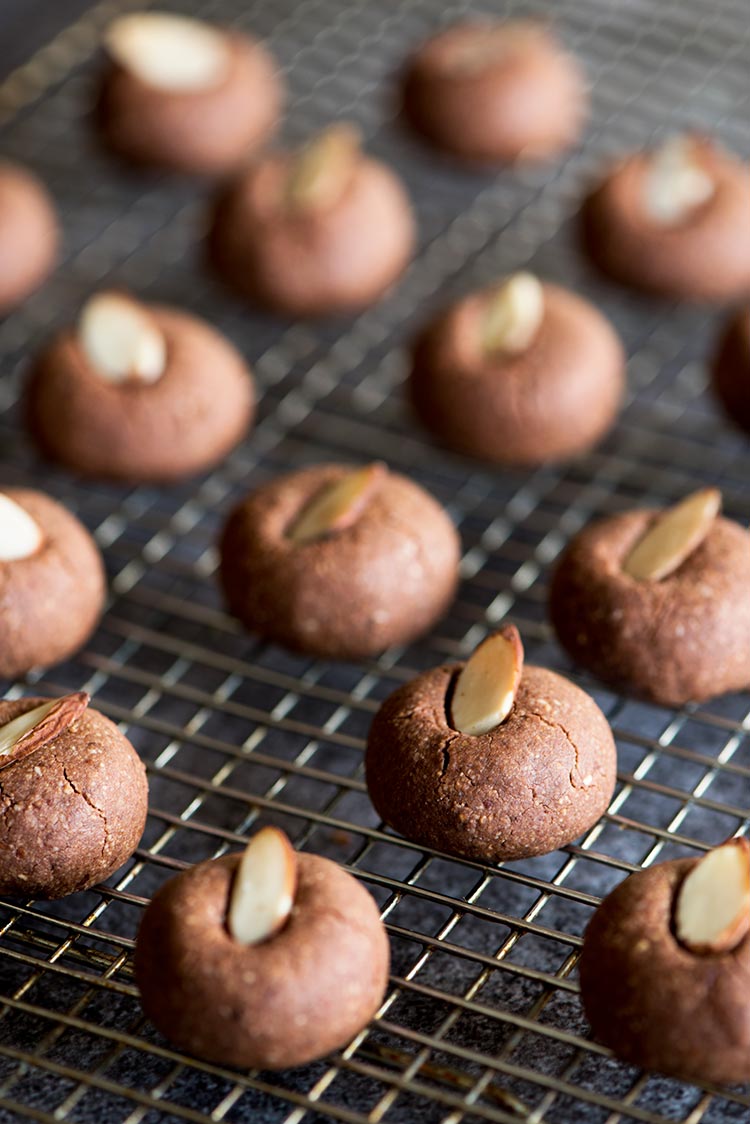 Last year, I made some 'artery blocking because I just can't stop eating the melt in the mouth' peanut cookies. So this year, I thought I'd up the game to block even more arteries by adding my very much loved chocolate.
These cookies are melt in the mouth because icing sugar is used and they are baked before they harden to a crisp. So so good.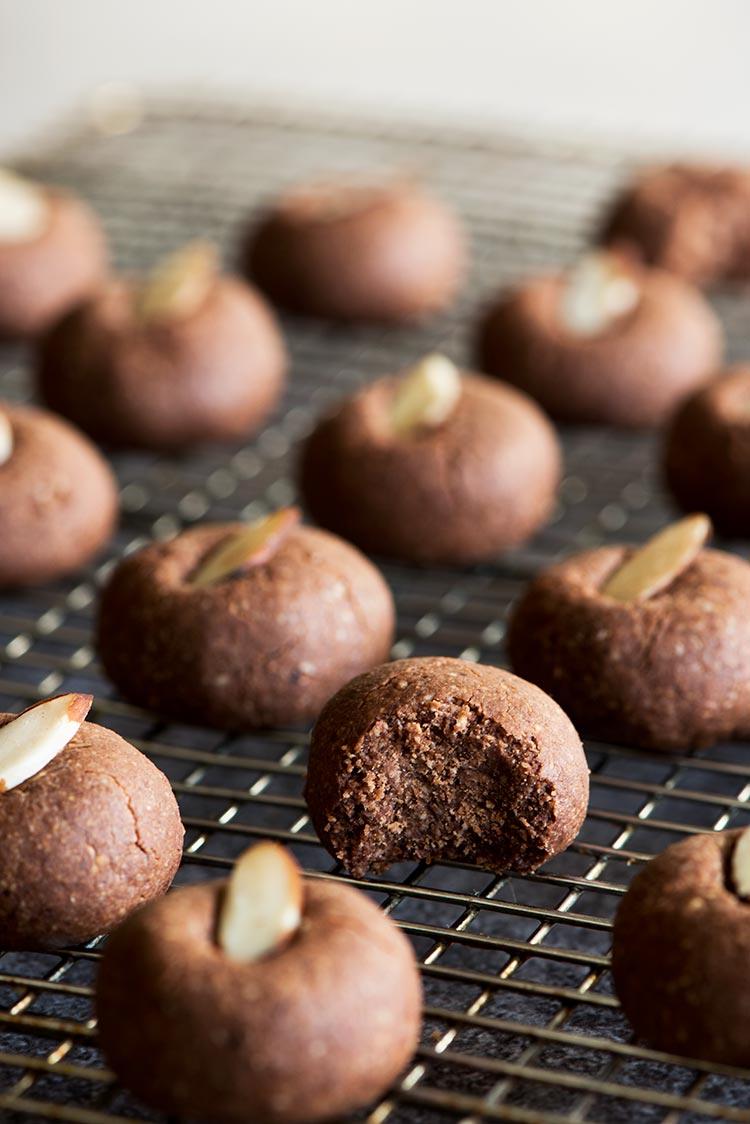 Do you love baking cookies too? Come join the party on Instagram, Twitter or Facebook with the hastag #ChineseNewYearCookieParty and tag @CuriousNut to showcase your cookies creation. I look forward to seeing them there.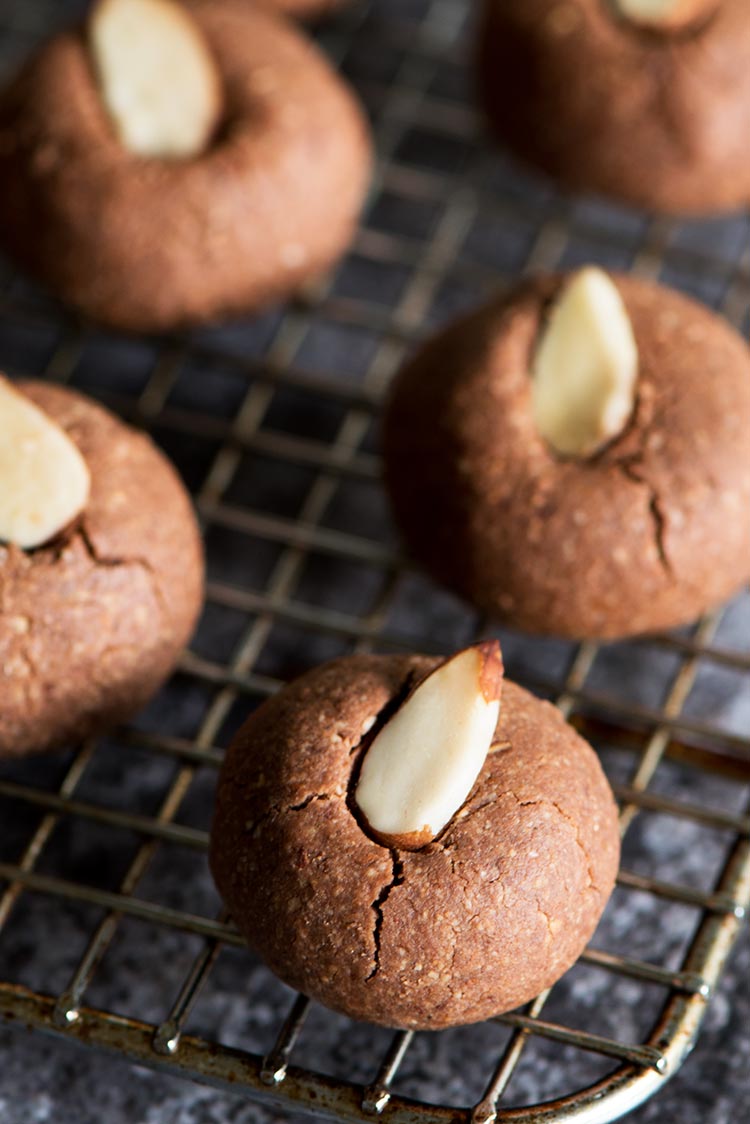 Let's get the cookie party started. Check out the other scrumptious cookie recipes from the brilliant bunch.
Vegan Cornflake Cereal Cookies by Christine from Vermillion Roots
Honey Almond Cookies by Kathleen from Hapa Nom Nom
Quinoa Sesame Brittle by Maggie from Omnivore's Cookbook
Red Bean & Strawberry Pinwheel Cookies by Lindsey from Butter & Type
Sesame Spiral Pie Cookies by Bobbi from Bam's Kitchen
Macau Almond Cookies by Bonnie from Thirsty for Tea
Mochi Stuffed Almond Cookies by Mabel from Miss Hangrypants
Browned Butter Walnut Chinese Cookies by Betty from Yummy Workshop
Melt in the mouth Chinese Gluten Free Peanut Cookies by Jasline from Foodie Baker
Tapioca Cookies (Kue Bangkit) by Marvellina from What to Cook Today
Fried Red Bean Puffs by Lokness from The Missing Lokness
Chinese Peanut Cookies by Anita from Daily Cooking Quest
Pineapple Jam Tarts by Charmaine from Wok & Skillet
Cherry Blosson Cookies by Linda from Brunch n Bites
Also, if you haven't already, check out my last post Sambar. A flavor packed hearty & healthy South Indian lentil based curry stew filled with vegetables. It's mildly spicy and a tad sour from the tamarind & tomatoes.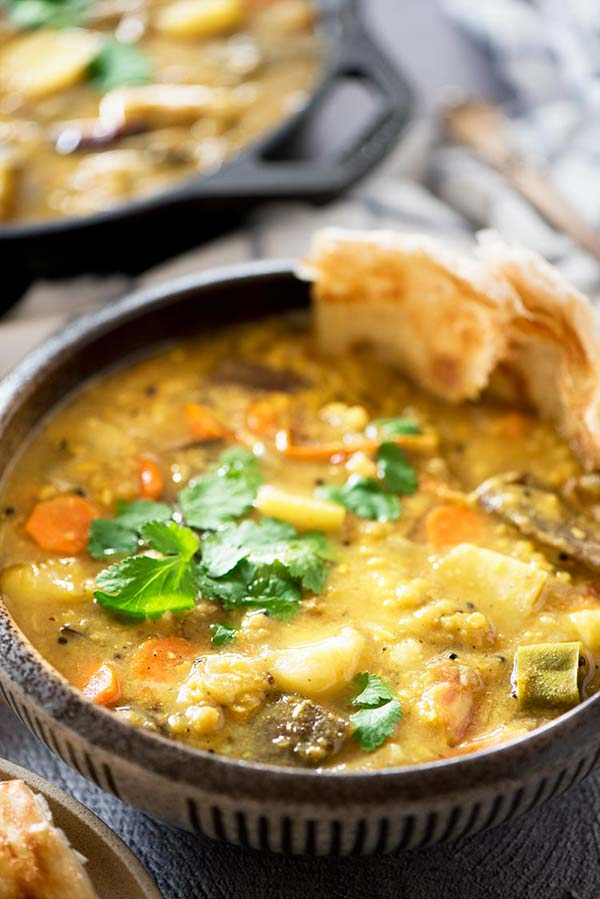 If you like what you see, don't forget to subscribe and follow me on Instagram, Facebook, Pinterest or Twitter to get the latest post updates. See you there!
---
Chocolate Almond Cookies
Melt in the mouth delicious chocolate almond cookie. Once you pop em in your mouth, you can't stop.
Author:
AiPing | Curious Nut
Recipe type:
Dessert; Snack
Ingredients
6.4 oz all-purpose flour (1½ cups scoop and sweep)
1.2 oz (1/2 cup) cocoa powder
10 oz (2 cups) roasted unsalted almonds, ground
5 oz (1¼ cups) powdered sugar, sifted
¾ tsp baking powder
1 tsp salt
½ cup – ¾ cup canola oil
Sliced Almonds
Directions
Preheat the oven to 350 F.
In a large bowl, whisk together the flour, cocoa powder, ground almonds, powdered sugar, baking powder, and salt.
Add ½ cup oil and toss the mixture. You will start to see small clumps forming. Continue to add oil 1 tbs at a time and toss. More clumps will start to form and the color will darken a little. Test to see if the mixture comes together without breaking apart by squeezing a handful into a ball. If it's still crumbly, add a little more oil. If not, the dough is ready.
Press everything together to roughly form a large dough. Divide and shape them into small round balls (about 1" in diameter). I use the scale to make equal size balls (0.6 oz each). Rolling each ball between your hands will make the ball smooth.
Place the shaped balls on a parchment paper lined cookie/baking sheet pan with 1" gap between each dough (cookie will not spread). Gently press a sliced almond onto the top of the dough making sure it's snug or else it may drop off after baking.
Bake them for 12-15 minutes until cracked forms on the surface. Let cool on the pan placed over a wire rack. Once completely cooled, store in an airtight container. Cookies are delicate so handle with care.
Notes
Baking Powder helps lighten the cookie a tad.