A flavor packed hearty and healthy lentil based curry stew called sambar that is very popular in South India. Filled with a variety of vegetables, sambar is mildly spicy with a slight tang from the tamarind and tomatoes. Absolutely delicious.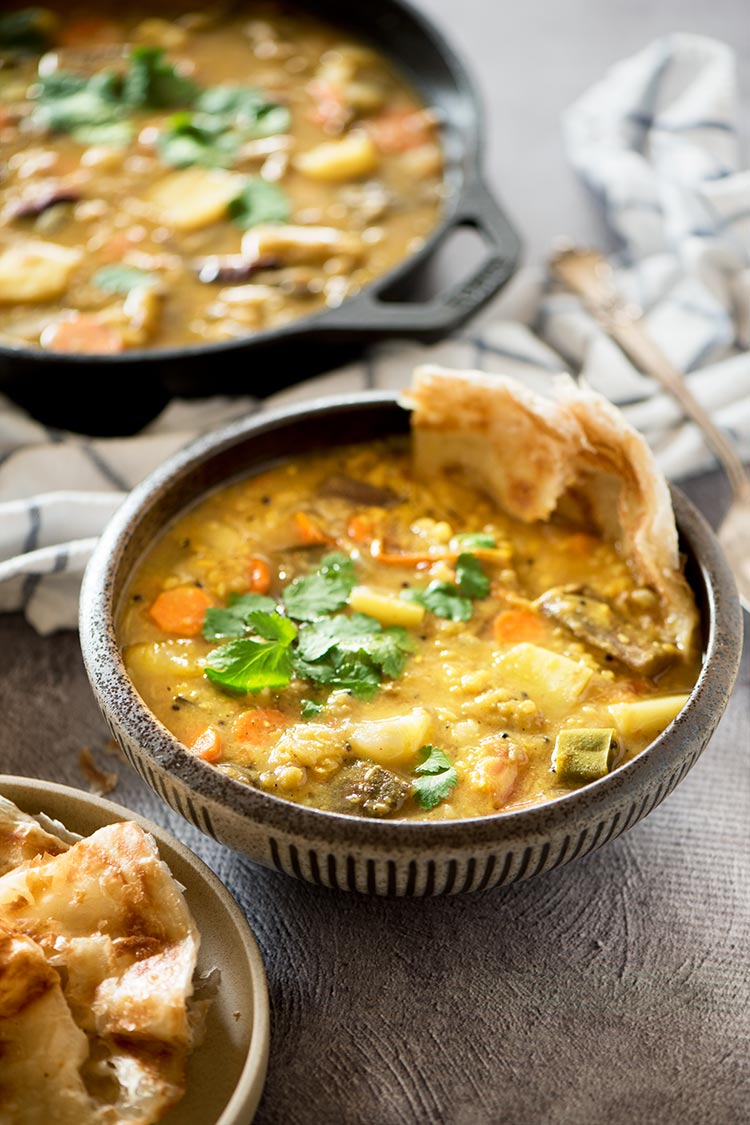 Some people say that our destiny was written even before we were born.
I believe that.
I was born to be love chocolate cake. I was born to question the crunchiness of every fried chicken.
Most importantly, I was born to develop taste buds for my colon and breathe like a dragon. I was born to eat spicy food.
Unfortunately, Mr. V my lifelong partner wasn't.
Story of my life really.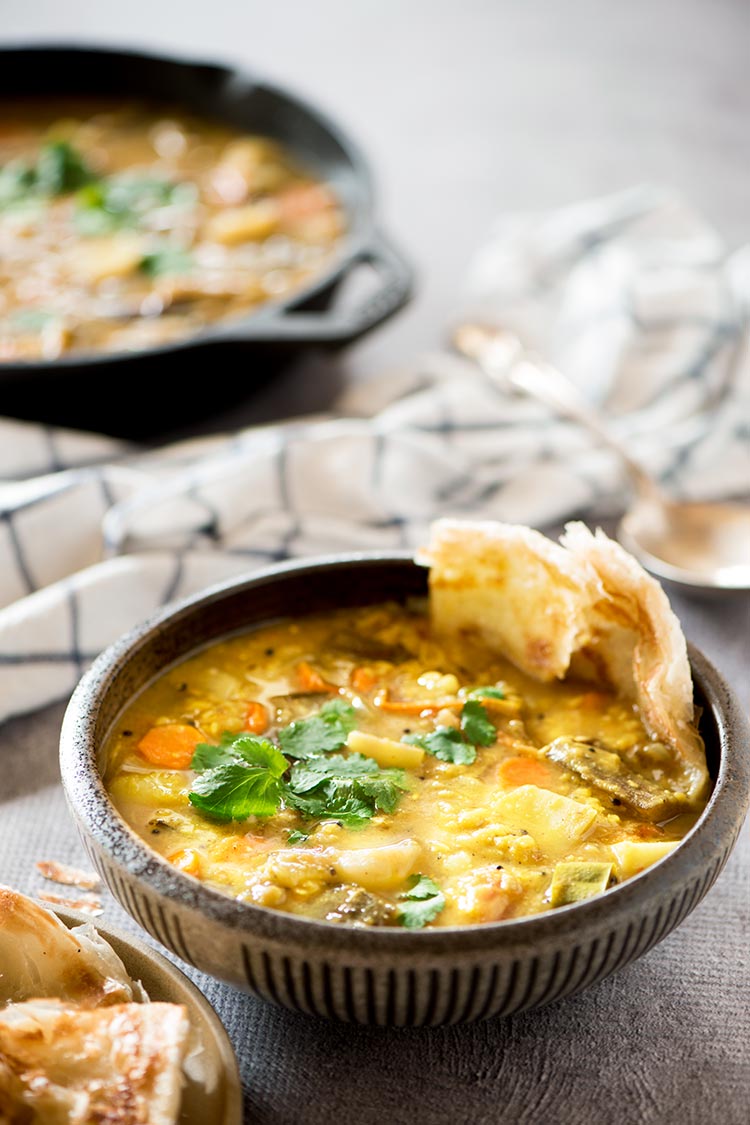 This past week has been rough on Mr. V. He has been swamped with work (which is a good thing) and hasn't been getting enough sleep. With sleep deprivation at bay, I'm pretty sure his digestive system needed as much help as it can from its master's wife.
I decided to feed him something healthier, heartier & meatless (gasp yes!) yet still one of his favs.
Guys, meet Sambar.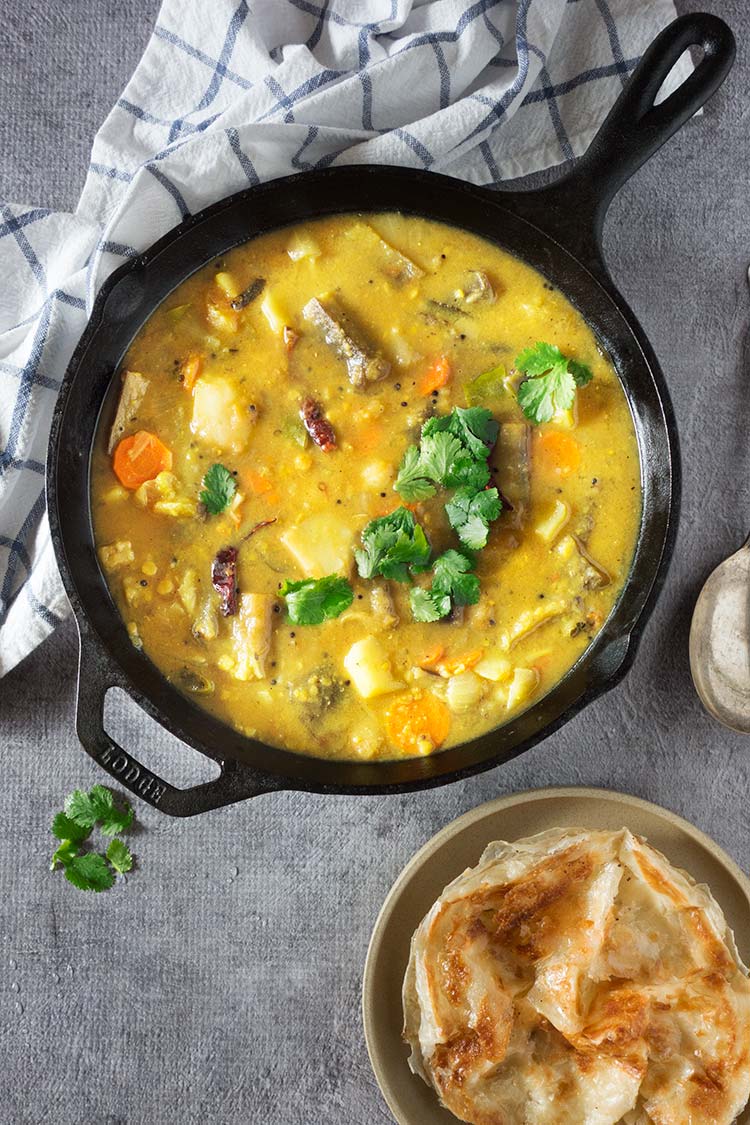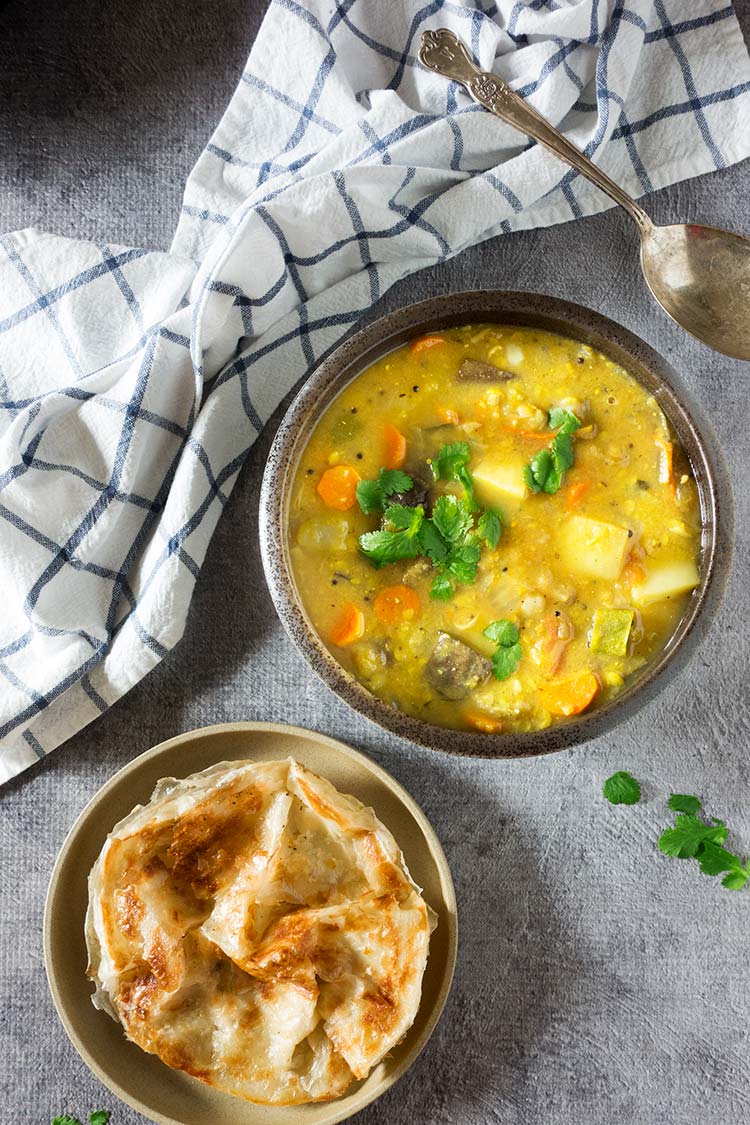 A lentil based curry stew that originated from South India. Mr. V have had his share of sambar when he was living in Malaysia. He loves it just because it wasn't spicy.
The main ingredient for this sambar is toor dal (yellow pigeon pea) which is a beige colored lentil with a yellow interior. It has a delicious nutty flavor. It is cooked until soft and then added to the stew. Sambar is so versatile that you can replace the vegetables in this recipe with any of your favorite ones really.
For a non-spicy curry, this is superbly delicious. And this is coming from a spicy food lover. That says a lot.
Of course, I'd still prefer my spicy curry over this any day but for my Mr. V, I will NOT climb the highest mountain or swim across the deepest sea but I WILL enjoy a non-spicy curry with him.
X0X0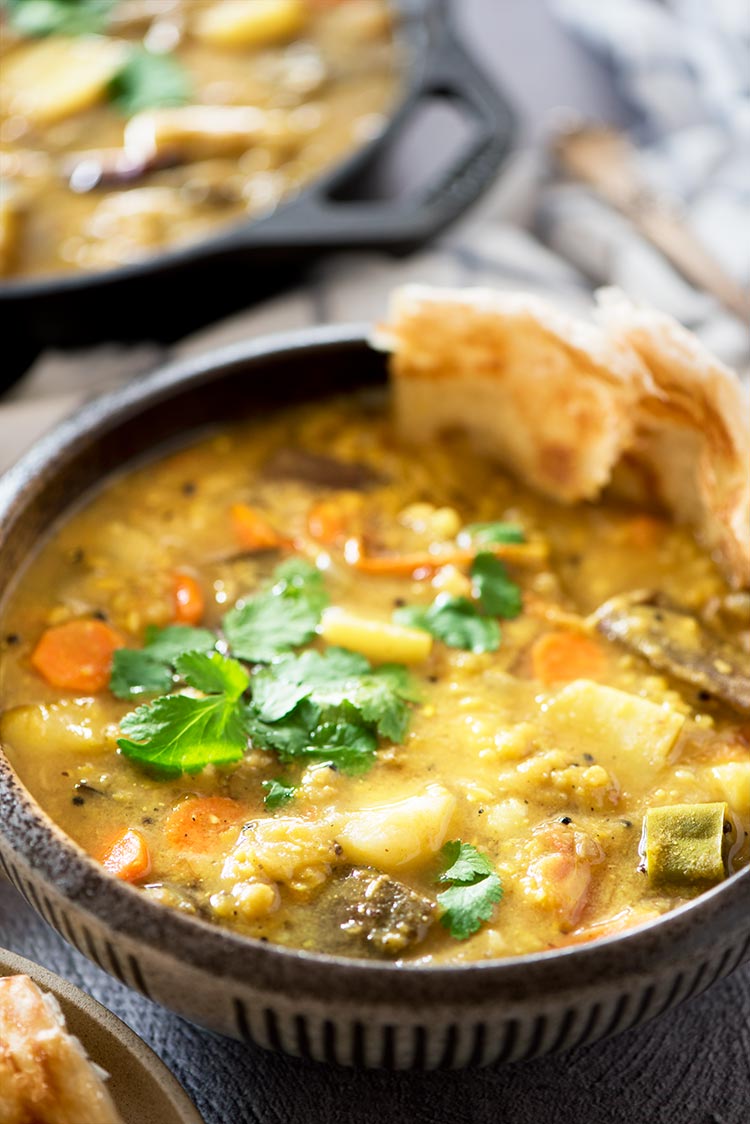 Tips:
1. If you do not have the time to soak the toor dal, skip it but you'll have to cook it for longer (about 1 hour) and with more water (about 5 cups).
2. Korean green chili peppers are milder in heat and slightly sweeter than Jalapeno.
3. I did not include chili in my sambar powder (I'm sure you know why). However, if you want it with some heat, add some dried chilies when making the sambar powder or add chili powder according to your taste.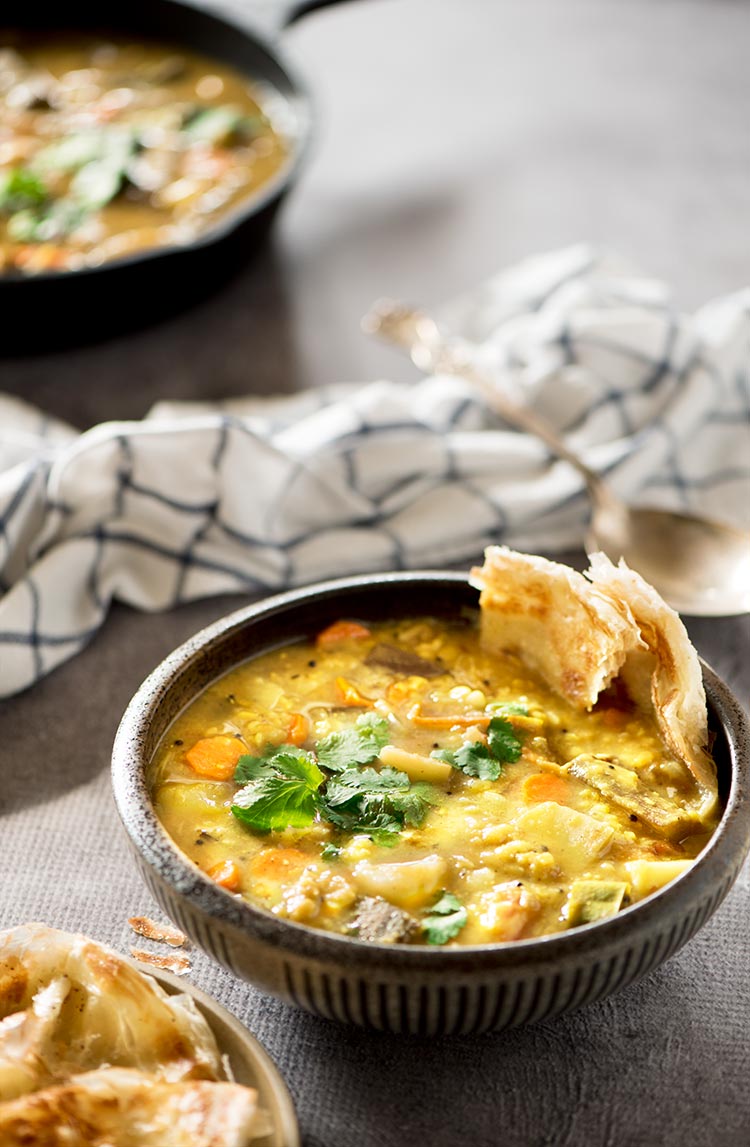 If you're into meatless curries like this, then you're definitely going to love this Potato Eggplant Kurma (Korma). Silky smooth, ultra thick & rich kurma. A great depth in flavor with only vegetables but use meat if you like. So delicious & addictive.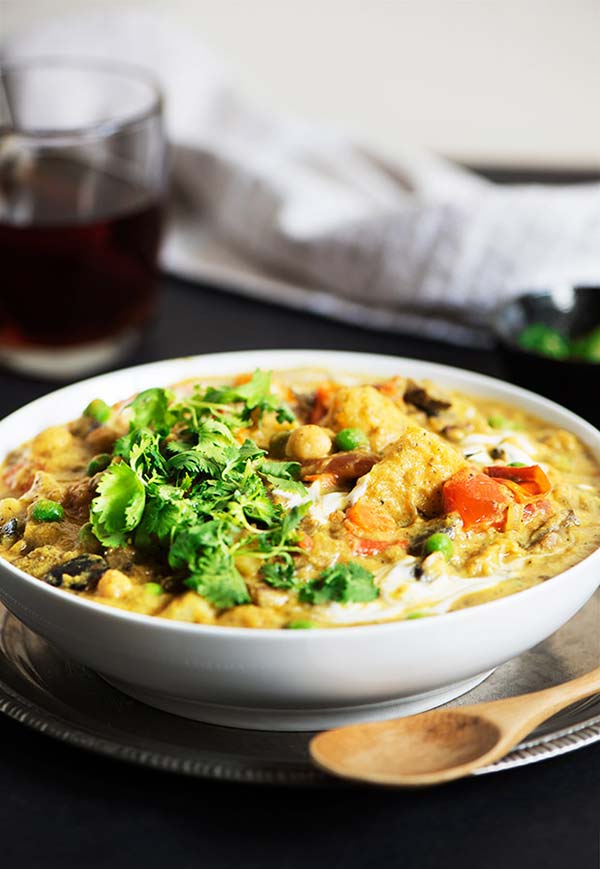 Also, if you haven't already, check out my last post Tom Yum Noodle Soup. The ever popular Thai sour and spicy Tom Yum Noodle Soup. Ready in 20 minutes, it's delicious & comforting.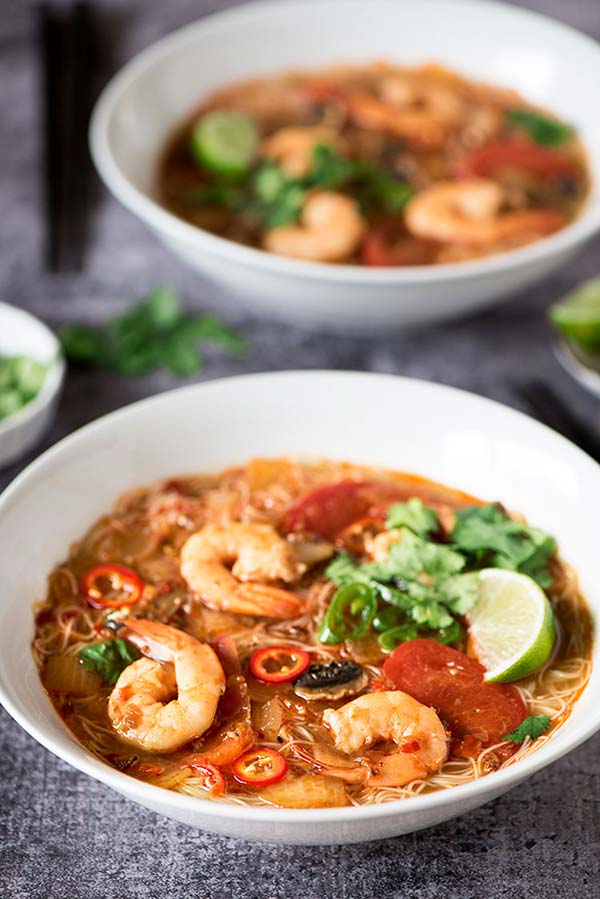 If you like what you see, don't forget to subscribe and follow me on Instagram, Facebook, Pinterest or Twitter to get the latest post updates. See you there!
---
Sambar
Flavor packed hearty & healthy South Indian lentil based curry stew filled with vegetables. It's mildly spicy and a tad sour from the tamarind & tomatoes.
Author:
AiPing | Curious Nut
Ingredients
Sambar powder (Makes ½ cup)
¼ cup coriander
1 tbs chana dal (split chickpeas)
1 tbs toor dal (split yellow pigeon peas)
1 tbs urad dal (split black gram)
1 tbs cumin
1½ tsp black pepper
1½ tsp turmeric
¾ tsp mustard seed
¾ tsp fenugreek
10 dried curry leaves or 1 sprig fresh curry leaves


Toor Dal
1 cup toor dal, washed thoroughly
3½ cups water
3 garlic cloves, sliced
¼ tsp ground turmeric


2 small Chinese eggplants, cut into bite size
2 tbs ghee or oil
1 large onion, cut into squares
2 medium carrots, sliced
3 medium tomatoes, cut into wedges
5 fresh Korean green chilies, chopped
2 small russet potatoes, cubed
¼ cup sambar powder (from above)
4 cups water
2-3 tbs tamarind pulp/paste
Salt to taste


To temper
1 tbs oil
1½ tsp mustard seed
20 dried curry leaves or 2 sprig fresh curry leaves
5 small whole dried chilies
1 tsp onion powder
Directions
Sambar Powder
Add all the ingredients for the sambar powder in a blender or spice grinder and blend until becomes fine powder. You will only use half the amount for this recipe. Store the remaining in an airtight container for future use.
Toor Dal
Soak the toor dal in 4 cups water for 2 hours or more (the longer it soaks, the faster it cooks.). Drain and add dal into a large saucepan along with 3½ cups water, garlic and turmeric. Over medium high heat, bring the liquid to a boil. Skim the scum on the surface.
Cover and simmer on medium low for 30 minutes or until soft to your liking. (I like mine semi soft with some bits mushy and others with a bite still). Roughly mash the dal. If the dal isn't soft enough and there isn't much water left, add hot water ¼ cup at a time and continue to simmer until soft.
Eggplant (Optional step)
Over medium heat, add ¼ cup oil into a wok or pan and sear the eggplant until wilted and charred. Set aside.
Sambar
In a 6 qt (or equivalent size) pot, add the ghee and heat the pot over medium high heat. Once hot, add the onions and fry until almost soft. Add the carrots and fry for a couple minutes. Add the tomatoes and green chilies and fry until they start to soften. Add the russet potatoes and the sambar powder. Stir to combine.
Add the water and bring the liquid to a boil. Once boiled, cover and simmer on low heat for 15 minutes. Add the eggplant and simmer for another 15 minutes. Add the cooked dal, tamaring pulp and salt to taste. If the sambar is too thick to your liking, add more water and salt to taste. Add the spices from 'to temper', give the sambar a stir and serve with rice, roti, dosa or idli.
To temper
Add 1 tbs oil to a pan and heat it over medium high heat. Once pan is very hot, turn the heat to medium and add the mustard seed, curry leaves and dried chilies. Once spices darken a little (within a few minutes), add the onion powder, give it one last stir and add the spices to the sambar. Do not burn the spices.
Notes
If you can't find spices from regular grocery stores, you can buy them from Mountain Rose Herbs. You can find dried chilies, dried curry leaves, mustard seeds, fenugreek..etc there.