Pink bread.
Need I say more?
My sister's to blame for this. Apparently she bought beetroot (aka beet) to make soup with potatoes but she used up her potatoes for something else and then didn't have time to shop for more potatoes….. yada yada….
Long story short, she had beetroot in her fridge and didn't know what to do with it. So she pureed it, made bread out of it, told me about it and that piqued my interest.

"Was the bread red? I want my bread red"
"No, it's reddish on the outside but brown on the inside."
Sure enough, the bread turned out pinkish brown on the inside and pinkish maroon-ish on the outside.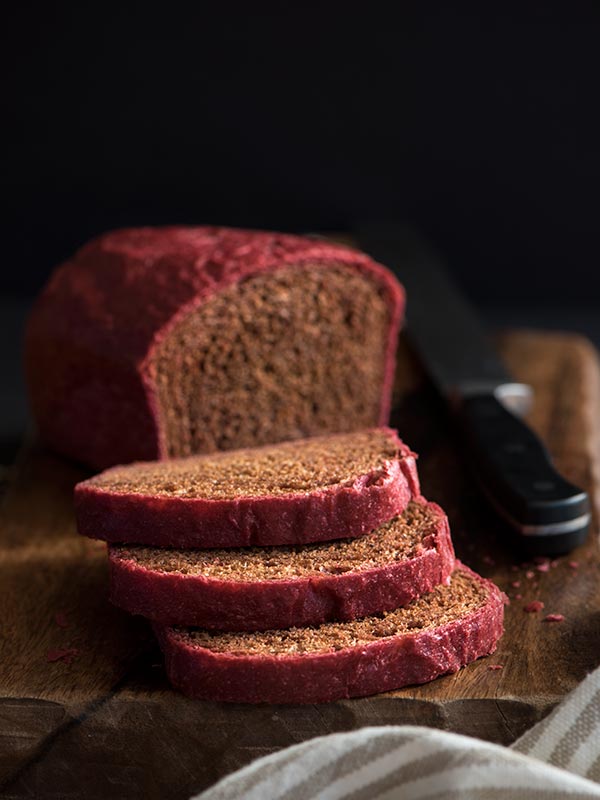 Mr. V's reaction when he saw the bread sitting on the counter:
"What the …. ?"
He doesn't curse often. Pink bread makes him do so.
"What is that?"
He actually couldn't recognize that it was bread. (That was before I sliced 'em).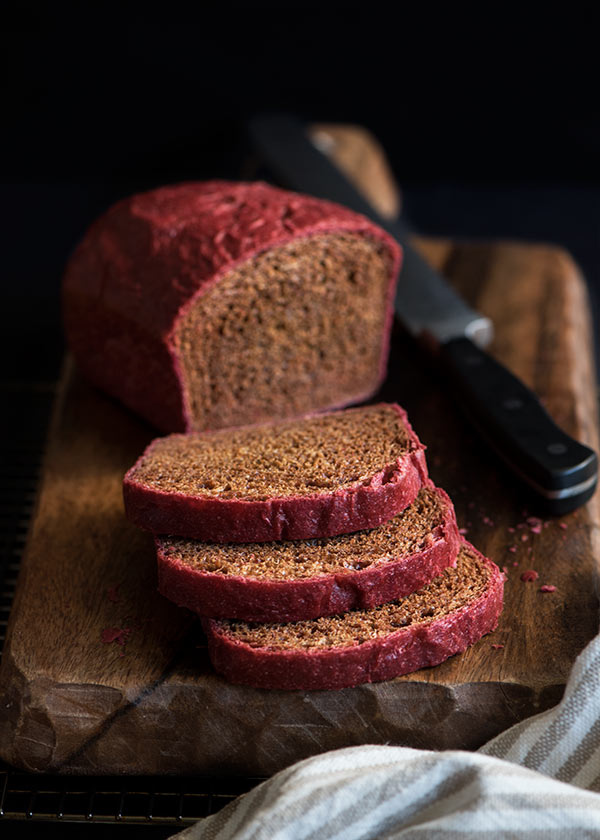 Regardless of the not the exact color I wanted on the bread or the foul language thrown as it, it was nevertheless amazing to have freshly baked soft and lightly chewy with a hint of earthy beetroot flavor pink bread.
Yes, the beetroot flavor's there but subtle. You'll barely taste them in toasts or sandwiches. But if you absolutely detest beetroot, then it gives you reason to spread more peanut butter on it. MORE!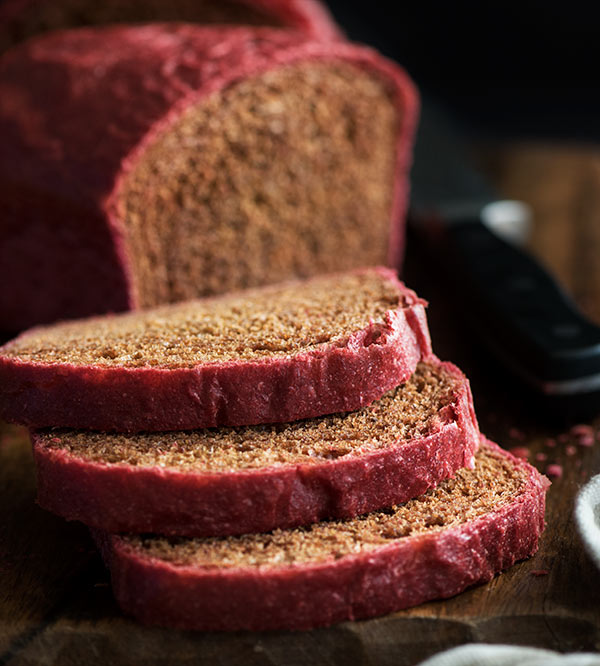 PS: Since I'm a pink freak, I'll try cooking the beetroot first to seal the color before blending the next time I bake this. I'll also try replacing the water with more beetroot. We'll see if that will give more pink.
Love trying out different types of bread? Then you're going love this Hokkaido Milk Bread. This Japanese milk bread is the softest, lightest & fluffiest bread ever. Easily convert your regular bread recipe & you will never look back. I guarantee.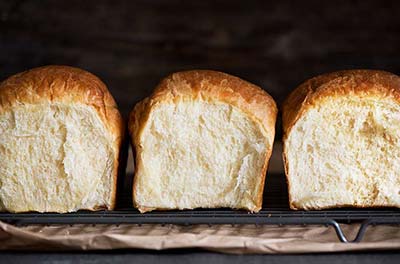 Also, if you haven't already, check out my last post Sweet Fire Chipotle Lime Tenders. Crispy outside, juicy & tender inside tossed in a sweet, spicy & tangy sauce. Also, find out the three ways to make these tenders.
---
Beetroot Bread                         Makes 2 (8″ X 4″) loaves of bread
what you need:
25.5 oz bread flour (6 cups scoop and sweep)
1 tbs salt
8 oz (1 cup) warm water
1 tbs sugar
4 tsp active dry yeast
14 oz (3 small) raw beetroot, peeled
3 oz (3/8 cup) warm water
3 tbs melted butter (or oil for vegan), plus more for greasing bowl, pans and brushing bread
directions:
1 . Mix Dry Ingredients: In a large bowl, whisk all but 1 cup (4.25oz) of flour with salt. (Because the dough is going to be sticky, we're setting aside some flour for kneading later.
2. Activate Yeast: Combine 8 oz water and sugar. Add in the yeast and let proof for 10 minutes.
3. Puree Beetroot: Add the beetroot and 3 oz water into a blender or food processor and blend until smooth.
4. Make the dough: Using a wooden spoon, combine the yeast mixture, beetroot puree and melted butter with the flour mixture until it roughly comes together. Using the 1 cup of flour that we've left aside, sprinkle the work area generously with flour. Turn the dough onto the floured surface.
If using a stand mixer, combine the ingredients using the paddle attachment. Using the dough hook, knead the dough for 8 minutes until smooth and elastic. It will still be sticky.
5. Knead the dough: Lightly flour the dough and knead the dough for 10 minutes. The dough will be sticky so you will need to continuously lightly flour the dough and work area throughout kneading time. Try not to use more than 1 cup of flour for dusting. Even better if you can use less. The dough should still be slightly sticky at the end of kneading time.
6. First Rise: Shape the dough into a ball and place it in a lightly greased bowl. Cover the bowl tightly with a sling wrap and place the bowl in a warm, draft free area. Let rise until double in size – about 1 1/2-2 hours.
7. Second Rise: Gently punch out the air bubbles. Split the dough equally into two and flatten each with your hands or rolling pin. Roll up each dough and shape it into a log. Pinch the ends to seal and place them seam side down in two greased 8″ X 4″ loaf pans. Cover the pans loosely and let the dough rise (warm place) until double in size – another 1 – 1 1/2 hours. The dough should crown over the rim of the pans by 1 – 1 1/2″.
8. Bake the bread: 15 minutes before the rising time ends, preheat the oven to 350 F. Brush on melted butter on the loaves and bake for 30 minutes.
9. Cool the bread: Remove the loaves immediately from the pans. If you want, brush the crust again with butter to give it a beautiful shine. Set the loaves on a wire rack to cool completely before slicing. Bread can be left at room temperature for a couple of days or stored in the freezer.