This Japanese milk bread is the softest, lightest & fluffiest bread ever. Easily convert your regular bread recipe & you will never look back. I guarantee.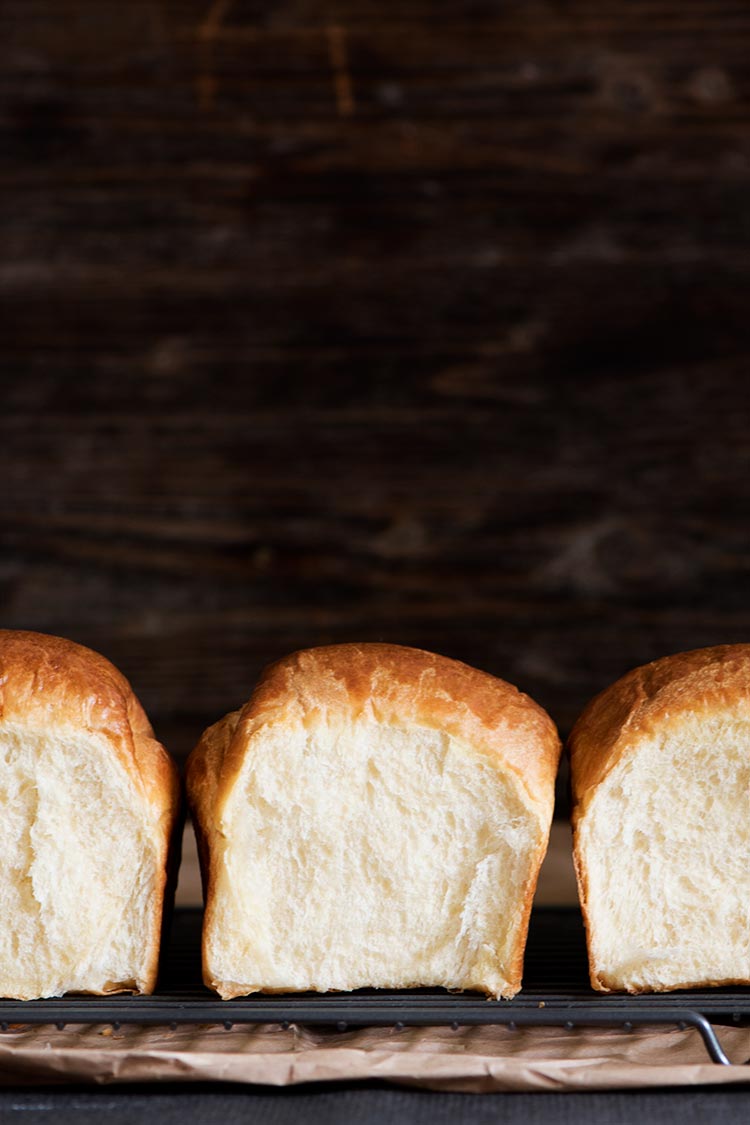 Couple years back, I attempted to make my first ever bread. My friend had a bread machine sitting around in her garage so she was more than happy to have it put to use. Apparently, I wanted to go gluten free because that would have explained why I had chosen spelt bread as my first choice of bread to bake. That, or I was stupidly ignorant.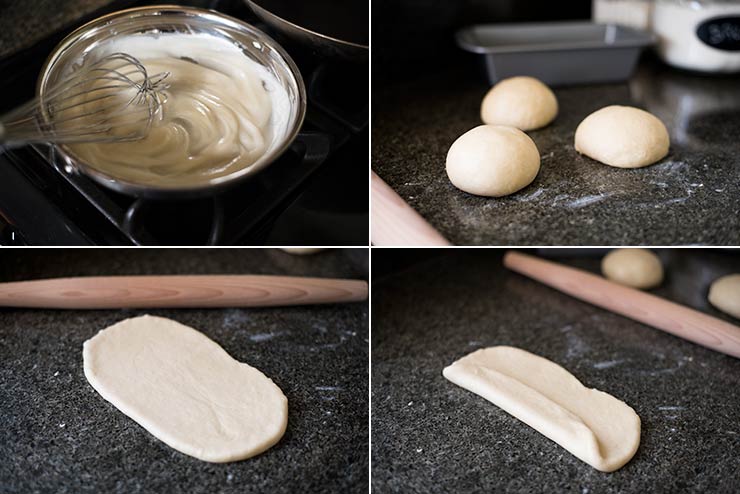 I ended up with a brick bread.
A brick spelt bread, that is.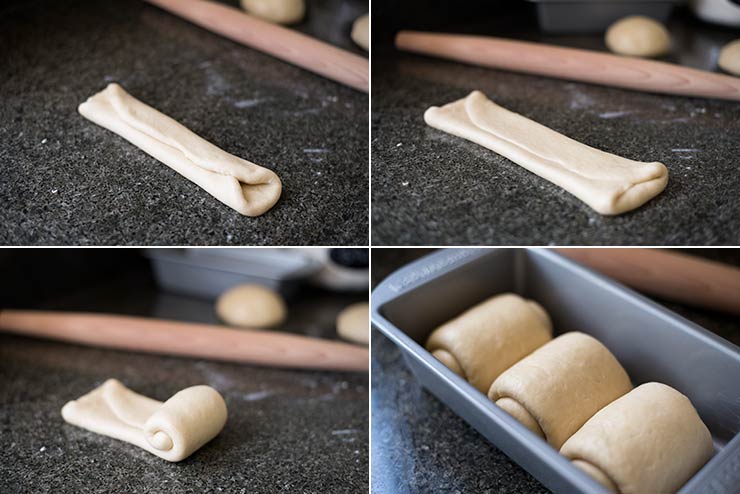 I promptly relieved the bread machine of its torture from me whacking it with my brick bread. That was my first and last time baking bread… until I got a Vitamix last year. It seems that one can "knead" bread dough in a Vitamix and rise time was only 20 minutes. I was sold!
This happiness was short lived.
I ended up with a dense, gummy whole wheat bread. The Vitamix wasn't even kneading per se. It was just bringing together the dough. I could do that with my a wooden spoon and a bowl. Geez. I love my Vitamix but definitely not in the kneading bread dough department.
Next up, good old regular hand kneading and recently employing a stand mixer. Regardless of the different methods employed, I just simply couldn't get the bread texture to where I wanted it to be. It really felt like the bread Gods were against me.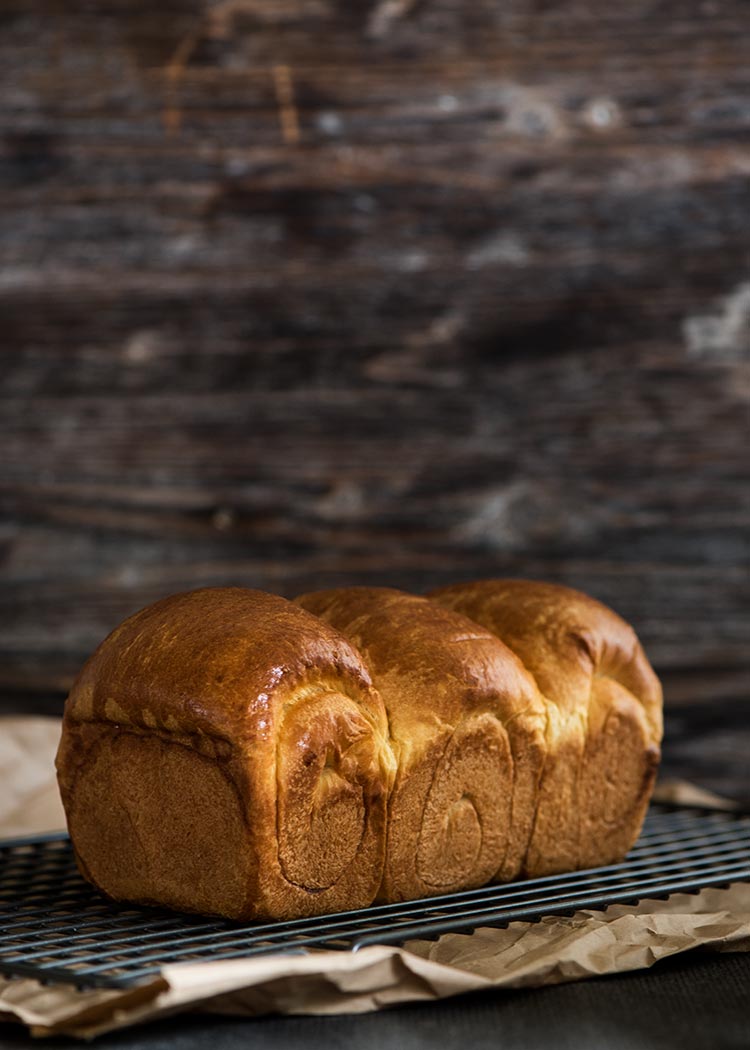 Then, a couple weeks ago, I was walking around Little Tokyo. Two things happened there.
One, I saw Rainn Wilson. Crazy coincidence.
Two, I almost lay my head on one of the most pillowy soft bread I've ever seen. It was a Hokkaido Milk Bread or Japanese Milk Bread.
The bread reminded me of a super soft bread in Malaysia sold on a motorcycle by a "breadman" (or roti man, roti meaning bread in Malay) that I regularly consume when I was young.
It was love at first sight.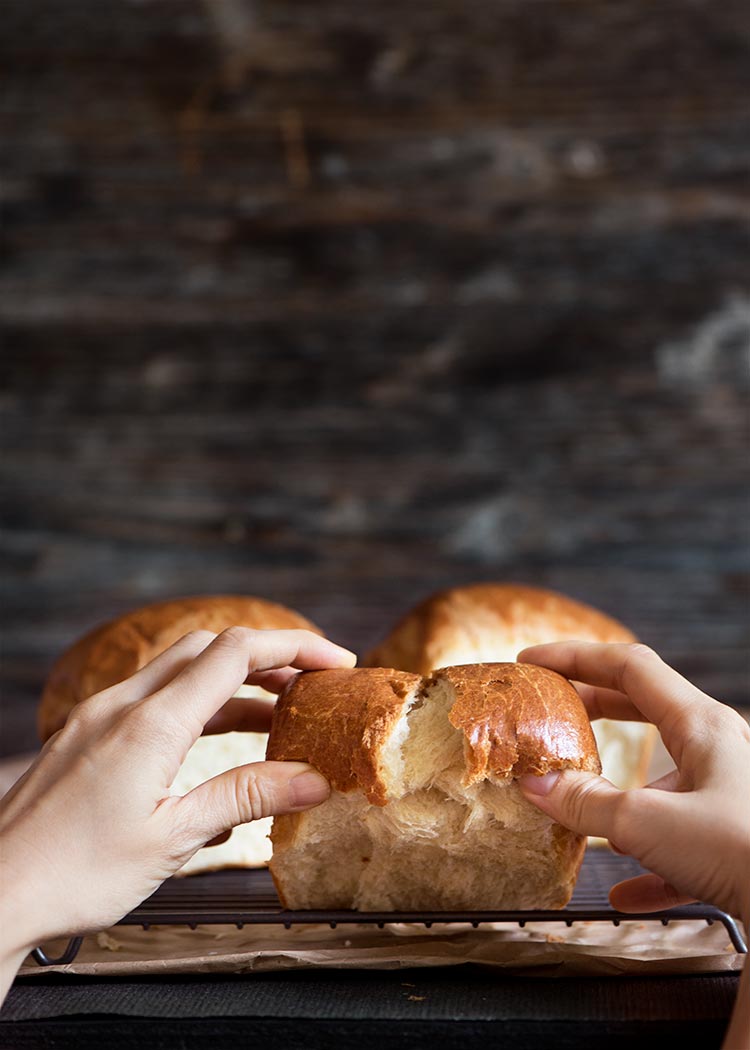 Hokkaido Milk Bread employs the tangzhong method where a pudding like roux (made up of flour and liquid) is first cooked and then added to the rest of the ingredients for the dough. When the roux is heated to at least 149 F, it helps leaven the bread. It also locks in the moisture thereby adding lift, fluff and softness to it.
Milk bread is also rolled in a certain way (unlike traditional shaping) so that when baked, it helps heighten the bread which equals more fluffiness. Butter is added later to allow the gluten to form a strong network (fat makes things slippery).
Once baked, it results in a beautiful golden brown bread that's uber soft with added richness from the milk and extra flavor from the butter and the egg. Best part is, this bread stays soft for a couple of days unlike most bread that turns to brick fairly quickly.
Mr. V rarely says anything nice when he eats what I make. Not even a bowl of Taiwanese Beef Noodles would bring words out of his mouth. But then, out of nowhere, I got a "Hmmm, this is delicious…" when he had PB&J with this bread. I almost had a heart attack. So amazing what this bread can do.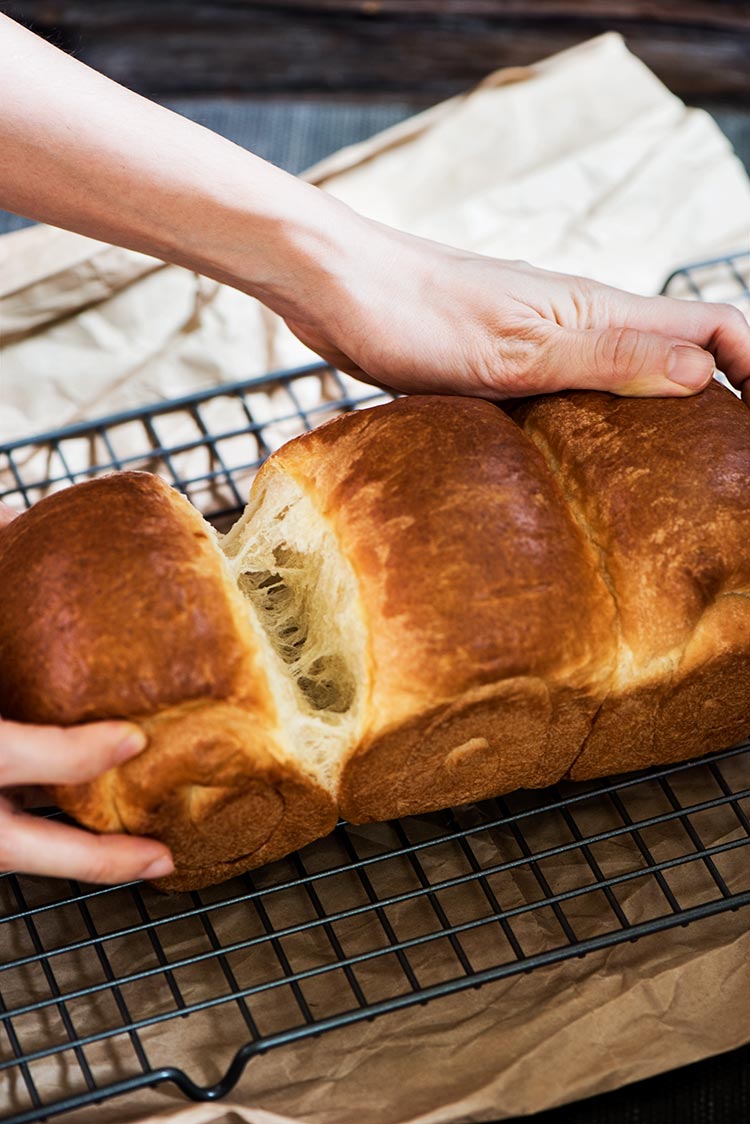 Tip: You can easily convert any of your current bread recipes to apply the tangzhong method in order to enjoy extra soft and fluffy bread. All that's required is a couple of math equations and a short brain freeze. You'll be good to go.
Here's how. Let's say your bread recipe requires 12.75 oz flour and 8.5 oz liquid (a 67% hydration).
1. Quantity of flour and liquid for the tangzhong:
Flour: 5-12% of the total weight of flour in any bread recipe is needed for the tangzhong. The higher the percentage, the stickier the dough will become, the longer you'll have to knead. For this recipe, I only use 5%.
Liquid: Multiply the weight of flour by five to get the amount for liquid.
If applying 5%, you'll need 0.65 oz flour (5% of 12.75 oz) for the tangzhong. As for liquid, you'll need 3.25 oz (0.65 X 5).
If applying 10%, you'll need 1.25 oz flour and 6.25 oz liquid for the tangzhong.
2. Quantity of flour and liquid for the dough:
Flour: You've used 0.65 oz flour for the tangzhong so what's left is 12.1 oz (12.75 oz – 0.65 oz) flour for the dough.
Liquid: You've used 3.25 oz liquid for the tangzhong so what's left is 5.25 oz (8.5 oz – 3.25 oz) liquid for the dough.
3. Liquid used: Milk or a combination of milk, heavy cream or half and half.
4. Other ingredients (like yeast, sugar and salt) remain the same in your original recipe.
If you like what you see, don't forget to subscribe or follow me on Instagram, Facebook, Pinterest or Twitter to get the latest post updates. See you there!
---
Hokkaido Milk Bread
This Japanese milk bread is the softest, lightest & fluffiest bread ever. Easily convert your regular bread recipe & you will never look back. I guarantee. Recipe adapted from
Christine's Recipes
.
Author:
AiPing | Curious Nut
Ingredients
Tangzhong
3.25 oz milk
0.65 oz bread flour


Dough
5.25 oz milk (or a combination of milk, heavy cream or half and half)
2 tbs sugar (or more depends on how sweet you like your bread)
2¼ tsp (1 pack) active dry yeast
12.1 oz bread flour
1 tsp salt
1 room temperature egg
1 tbs unsalted butter, softened


Egg wash
1 egg, lightly beaten
Some milk
Directions
Activate Yeast : In a small bowl, add the warm milk, sugar and yeast. Give it a stir and let sit for 10 minutes.
Tangzhong: In a small pan, over medium low heat, combine the milk and flour for the tangzhong. Whisk until thick like pudding. It takes a couple of minutes. It's ready when line streaks stay visible on the roux (or the temperature is 149 F). Set aside and let cool.
Make Dough: In a stand mixer bowl, whisk the flour and salt together. Crack the egg in, add the yeast mixture and the tangzhong. Stir with a wooden spoon until it roughly comes together.
Knead: Using a stand mixer, knead on low speed for 5 minutes. Add the butter and knead for another 5-7 minutes. Dough may stick to the bottom of the bowl. Scrape and give it a fold so that the dough is evenly kneaded. To know if dough is ready, dust some flour on the sticky dough and poke it. If it springs back immediately, it's ready.
First Rise: Allow the dough to rise (covered) in a warm, draft free place for 1 - 1½ hours or until double in size.
Shape: Divide the dough into 3 equal parts and shape each into a ball. Using a rolling pin, roll out the dough until it becomes a long oval. Fold one side (lengthwise) into the middle and then fold in the other side as well. Use the rolling pin and flatten it. Now, roll the dough into a cylinder. Pinch the seams. Place it seam side down into a greased 8" X 4" loaf pan. Repeat with the remaining two dough.
Second Rise: Cover and let rise again for 1 - 1½ hours or until double in size (or top of dough has risen over the top of the pan by 1" - ½". 30 minutes before the loaf is ready, preheat the oven to 350 F.
Bake and cool: When the bread is ready to bake, brush the top of the bread with egg wash and bake for 30 minutes. Loosely tent the bread with aluminum foil if it's browning too much during the last 5 minutes of baking. Remove the bread from the pan immediately and let it cool on a wire rack.
Notes

1. You can double the recipe to make two loaves.


If you're into soft pillowy things like this bread, then you're going to love this No Knead Garlic Cheese Naan. Great flavors from the garlic & butter, beautifully charred & crisp outside yet insanely soft, chewy with melting cheese inside.