Amazingly delicious fusion of Western & Asian flavors. The dressing is the hero. Sweet, savory & a lil tang with peanut butter & ginger. Full of umami goodness.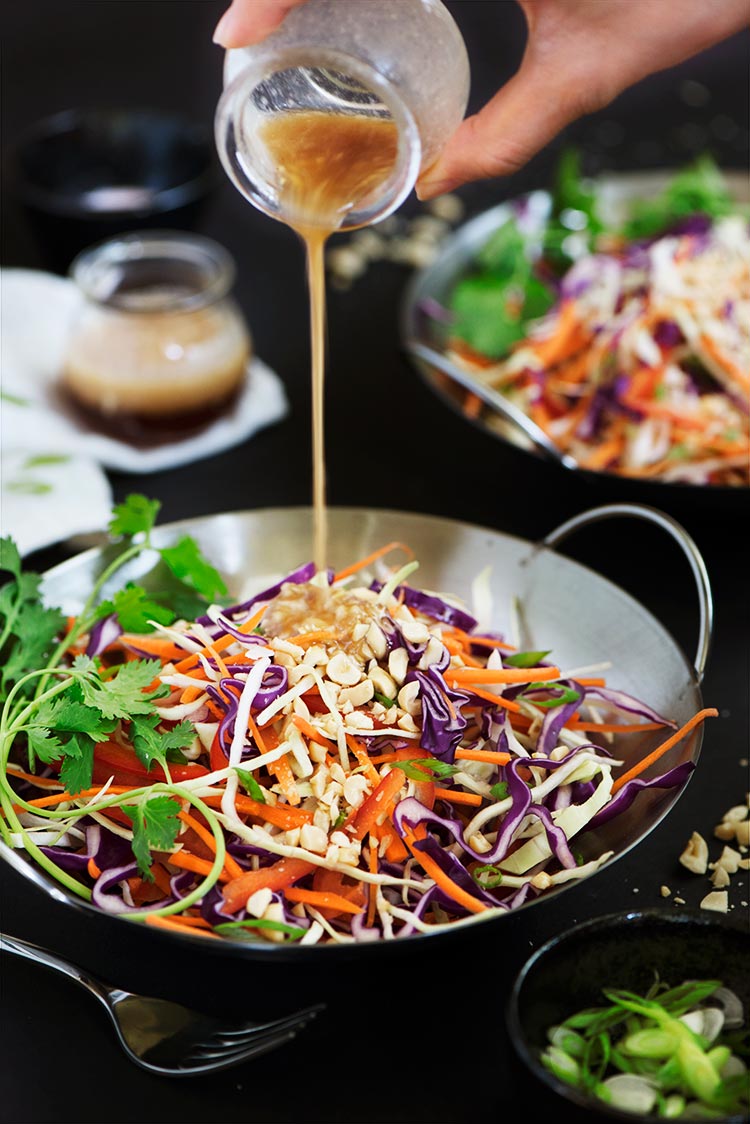 Hey guys.
Remember two months back, I posted a 10 minute Wasabi Soy Almond Salmon dish for you. At least 20% of you ought to remember this. For those of you who have no idea what I'm talking about, click on the link and then come back here. We'll wait for you.
As to the rest of you…. I hope you've tried that dish unlike my sister who asked for an easy but still amazing fish recipe and I gave her one yet she still has not cooked that dish because she hasn't bought Dijon Mustard. Come on, peeps.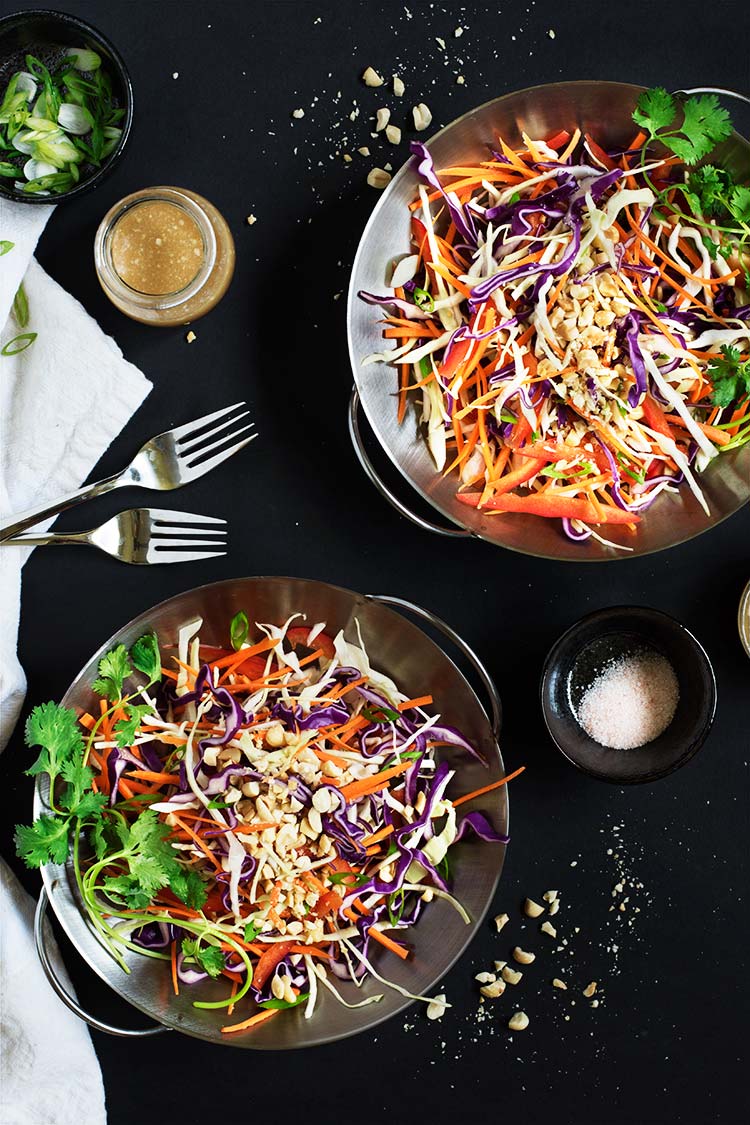 So now that you know the story of the fish… if you just answered No I don't, I just gave you an Internet smack on your head. Anyway, this salad actually came with the story. The fish story, that is. Mrs. C served this salad for dinner as well. If you're going whaaaatttt???, read the story.
I was never a salad person. Still not really one. But I do have a rule I go by. Try EVERYTHING. Even if it's just half a bite. I found that I'll never know what I'll learn to love to eat until I actually try it.
So, I did.
I tried the salad.
And I'm glad I did.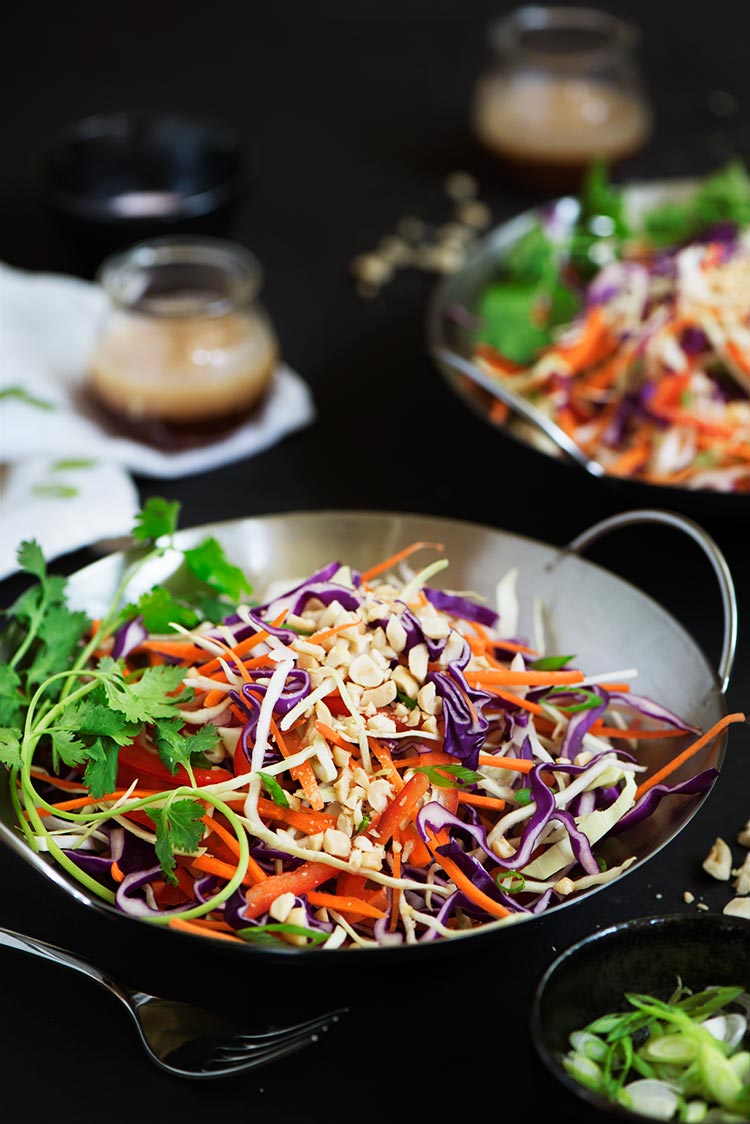 I ended up helping myself to seconds. The only reason I didn't go for thirds was because they were gone. Finished. Eaten up. Sad day for Ai Ping's tummy.
But today's a happy day. Today's the day I made salad. Wow. Pig's fly.
A salad with a fusion of Western flavors with a twist of Asian in there. It's unbelievably delicious. The dressing is the real hero. It is savory with a tad sweetness and a little tang all wrap in a mix of deep flavors from the peanut butter and ginger.
Drizzle this atop fresh, crunchy vegetables along with more peanuts and fresh cilantro, and boy oh boy can this salad totally become a meal on its own. And that says a lot coming from a fried chicken girl me.
Oh, if you haven't already, check out my last post Green Apple Cucumber Smoothie. Delicious green smoothie that fills you up yet keeps you feeling light. Cheers!
What did you ever tried for the first time and loved it to death?
---
Asian Slaw With Peanut-Ginger Dressing
Amazingly delicious fusion of Western & Asian flavors. The dressing is the hero. Sweet, savory & a lil tang w/ peanut butter & ginger umami. Recipe adapted from Mrs. C which I found out is from
Serious Eats
.
Author:
AiPing | Curious Nut
Ingredients
Dressing
2 tbs raw honey
2 tbs rice vinegar
2 tbs vegetable oil
½ tbs soy sauce
½ tbs peanut butter
½ tsp sesame oil
¼ tsp salt or to taste
¼ tsp chili sauce
½ Tbs minced fresh ginger
1 large garlic clove, minced


Slaw
2 cups shredded white cabbage
2 cups shredded purple cabbage
1 cup julienned carrots
½ red bell pepper, thinly sliced into bite-sized pieces
1 stalk green onion, finely sliced
¼ cup chopped salted peanuts, roughly chopped
¼ cup chopped fresh cilantro, roughly chopped
Directions
Combine all the ingredients for the dressing. Stir until the peanut butter has dissolved.
In a large bowl, combine all the ingredients for the slaw. Add the dressing and toss well. Let sit for 10 minutes so the vegetables have the chance to absorb the dressing.