This is the 10th entry for the Food Inspired by People project. Every Monday for three months, I will post a dish that is inspired by a person. Today is Tamarind Prawn (Asam Prawn) inspired by Aunt May – my mom's sister.
1st Entry: Sambal (spicy Malaysian condiment)
2nd Entry: Dry Wonton Noodles
3rd Entry: Taiwanese Chicken Rice
4th Entry: Bibimbap (Korean mixed rice)
5th Entry: Banana Chocolate Chip Muffins
6th Entry: Potato Egg Salad
7th Entry: Asam Laksa (Malaysian spicy sour noodles soup)
8th Entry: Braised Soy Vinegar Ribs
9th Entry: Thai Pineapple Fried Rice
---
Look. I know I've said this before but I can't help it. Thank you for the lack of entertainment back in those days in order for my grandparents to resort to alternative entertainments. Ah hem, if ya know what I mean. Hence, resulting in having 11 children aka plenty of aunts and uncles for me to look up as a kid and of course to make fun off now as an adult. What are they going to do, spank me?
But it does also mean 10 extra mouths opening wide and yelling into my ears to quit chasing the poor chickens under the house or to get out of the bath party you and your cousins are having because we were hogging the one and only bathroom or to stop hanging down the vine yelling 'aaahhh ahh ahh ahh ahh ahh ahhhhh' like Tarzan.
I don't remember my Aunt May yelling probably because she's one of youngest and she probably doesn't care as much as the unable to chill and relax older ones. And because of that, I thought she was pretty cool. So as a teenager and even as an adult, I had many sleepovers in her house.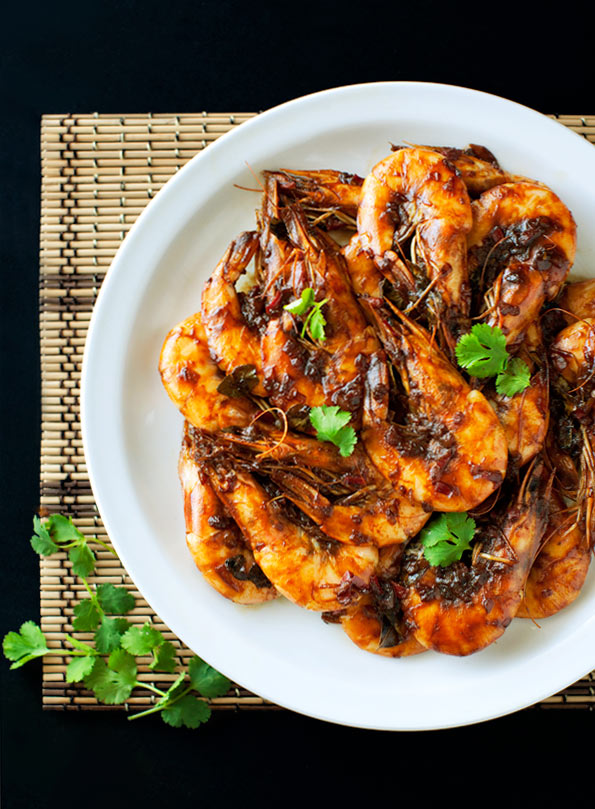 I remember plenty of Karaokes, her shih tzu gliding all over her tile floor, hanging out with her at work and food. Food was definitely one of the things we enjoy together. One thing she's really obsessed with is seafood. Crabs. Squid. Fish. Prawns. Big Prawns. Not shrimp. Shrimps are small. Weak. We're talking big, fat, plump prawns.
You know what's perfect to make with these plump juicy bad boys? Tamarind prawns. A delicious sticky tart and sweet sauce coating the prawns that are fried in a fragrant mixture of chilies, onions and curry leaves. Tamarind or Asam Prawns is a unique Baba Nyonya dish in Malaysia.
Why the prawns stay in the shells confuses me. Her only answer to that is "so that it's finger licking good'. Nuff said. I'm in.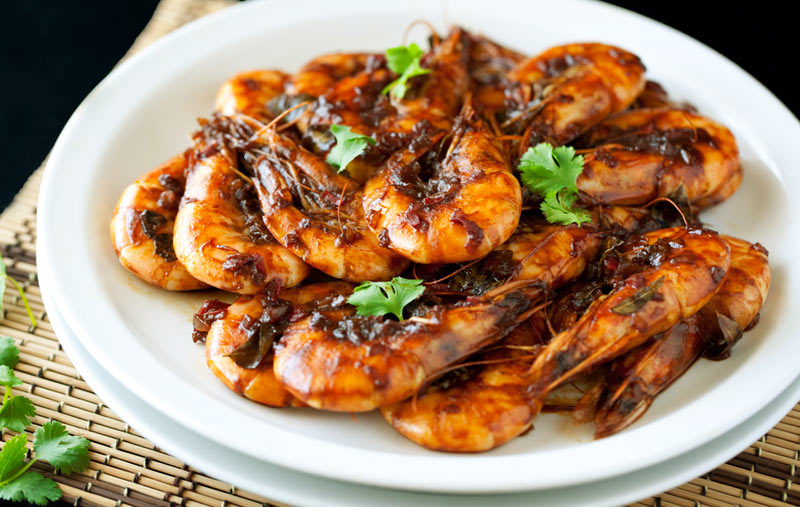 Also, if you haven't done so already, check out my last post Sparkling Berry Lemonade. This beverage has berry flavors just bursting in your mouth. Perfectly sweet & tart tantalizing every taste buds on your tongue.
To see all the delectable entries for the Food Inspired by People project, click here.
What do you and your aunt share?
---
Tamarind Prawns (Asam Prawns)                 Serves 2-3
what you need:
1 lb raw shell on prawns
1/2 cup tamarind pulp
2 tsp sugar
1 1/2 tbs dark soy sauce (for color)
1/2 tsp salt
2 tbs oil
2 fresh fresno chilies, deseeded and chopped
1 small onion, finely chopped
1 stalk (1 tbs) fresh or dried curry leaves
directions:
1. Combine the tamarind pulp, sugar, salt and dark soy sauce. Marinate the prawns with the tamarind mixture for 1 – 4 hours
2. Over medium high heat, add 1 tbs oil in a wok or skillet, sear the prawn (without the marinade) until just pink. Set aside.
3. In the same wok or skillet, add 1 tbs oil, fry the chilies, onions and curry leaves over medium heat until fragrant (a couple minutes).
4. Add the marinade and stir. Add the prawns and toss until sauce coats the prawns. Taste and add some salt if required. Don't overcook the prawns. Serve immediately with steamed rice.
Notes:
1. You can always adjust the ratio of tamarind to sugar. More sour, add more tamarind. Sweeter, add more sugar.
2. If you can get your hands on fresh curry leaves, all the better. If not, buy dried ones and soak in water for a couple minutes before using.
PS: Mr. V hates peeling prawn shells but he would dig in for the sake of this dish. That's how good the tamarind prawns are.