'Bian Dang' (pronounced bee-Ann dung) is a Taiwanese bento box . This cultural phenomenon originated from Japan (bento). During the Japanese occupation in Taiwan, bento made its way into the Taiwanese people's mouths and tummies (and hearts and minds) and its legacy has stayed in Taiwanese culture ever since.
Bian Dang is basically a recyclable paper box filled with steamed rice, vegetables and a protein. A simple home-style like meal that is important for adults and children alike. It's sold 'fresh and hot' at many eateries and shops. Because it's cheap and fast, it's easy to just grab and go. Kind of like a healthier concept of fast food really.
If you happen to find yourself in Taiwan, trying Bian Dang is a must. It's like skipping carne asada in Mexico or hawker food in Malaysia. It's blasphemy.
Give Mr. V some spicy Malaysian food and he'll take his time eating… looking as though chewing is a huge chore. When asked if he'd like seconds, he'd politely decline saying he's full or he might have acid reflux or he plans to go to bed early. Give him his Bian Dang and he can eat boxes after boxes of them and in a super speedy manner too. When asked to slow down, he claims he's afraid the food will get cold.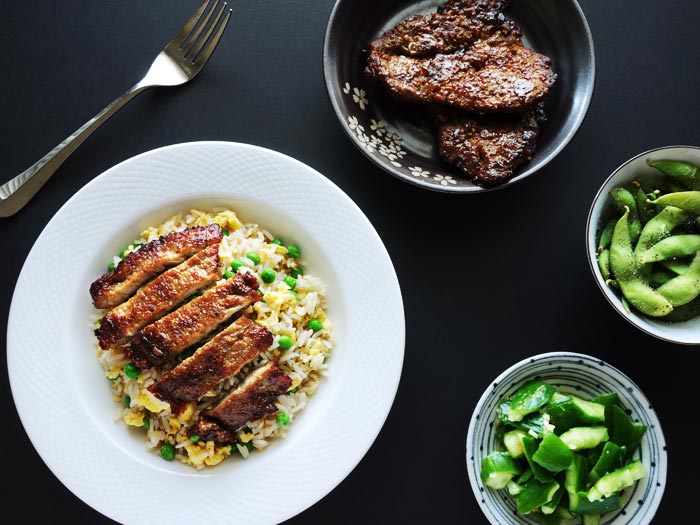 Mr. V has been eating Bian Dang from as young as he could remember which in his memory's case, it may be 18 years old. Not exactly a child anymore. He wasn't even in Taiwan at that age. Anyway, during his time, his school would order Bian Dang for students' lunches. Apparently, they weren't good enough for one of Mr. V's best friend in class, so he would always buy his own. Mr. V followed suit.
These two jokers, probably to the dislike of their other classmates, ate their store bought Bian Dang in class every day. Mr. V would regularly buy his favorite Pork Chop Bian Dang (apart from Chicken Rice, that is). Generally, there are three types of Pork Chop Bian Dang in Taiwan. All are different and delicious on their own.
The deep fried type.
The pan fried type.
The braised type.
Today, we shine the spotlight on the pan fried type. It's lightly coated with cornstarch to give a velvety texture to the tender and juicy meat. It's not meant to be crispy nor filled with gravy. The marinade sauce is rather simple yet the flavors are mouth wateringly great.
As for you, put this pork chop in a box, add some vegetables and rice and you'll be one step closer to eating a classic and popular Taiwanese Pork Chop Bian Dang.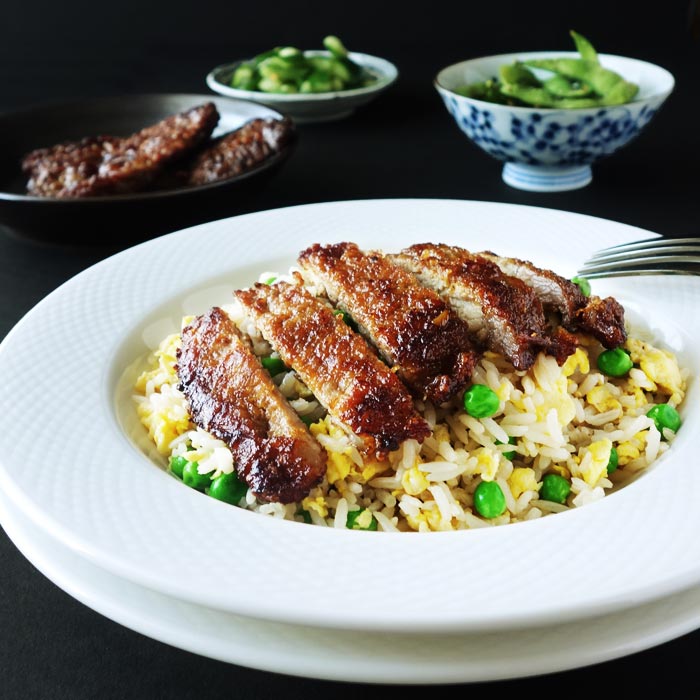 ---
Quick Recipe          Serves 4 (or 1 Mr. V)
what you need:
4 boneless pork chops, trim the fats, slit the edges, pound to 1/4″ thick
Cornstarch or potato starch
Marinade for pork
2 green onions, chopped
4 garlic cloves, finely minced
2 1/2 tbs light soy sauce
1 1/2 tbs cane sugar
1/4 – 1/2 tsp Chinese five spice powder
Salt to taste
Black and white pepper to taste
directions:
1. Combine the marinade for pork and marinate the pork with it for 1 hour to overnight.
2. Remove the pork from the marinade and place them on a shallow dish. Sprinkle (not heavily coat) cornstarch or potato starch on both sides of each pork.
3. Over medium high heat, put a coat of oil in a pan (about 1/8″). When oil is hot, fry the pork for 2-3 minutes each side or until temperature reaches 145 F.
4. Let it rest for a few minutes, slice and serve with fried rice or steamed rice and stir-fried or pickled vegetables.
Note:
1. The edges of pork are slit to avoid them curling up when being fried.
My last post: Stir-Fried Black Pepper Venison
What is your version of a Bian Dang?