Quinoa is bitter.
At least that was what I thought when I first used it to make quinoa flat bread. I later found out that it was because I didn't give it a proper wash.
Quinoa is not bitter… if washed correctly.
Not only is it NOT bitter, it is actually really delicious.
Provided it's not wet and mushy.
I'm glad there are things in this world I can't count on that are healthy yet delicious. Unlike bittergourd.
Bittergoard is bitter. Regardless of how you wash and scrub the daylights of it, it's still bitter. Oh, the Chinese worship bittergourd.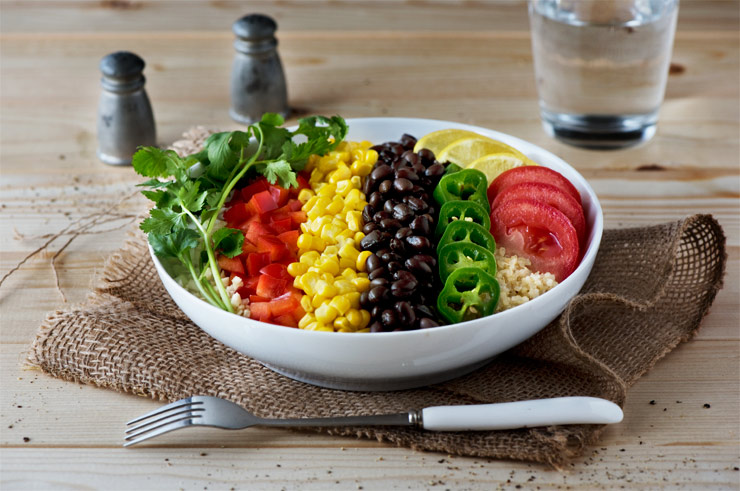 You know what's scary about bitter food? It makes people cry. It made me cry. Dinner used to be filled with tears whenever there's bittergourd. Really sad, 'why are you doing this to me mom and dad' type of tears. Of course I've come to accept eating bittergourd but I still wouldn't call it delicious.
But Quinoa though… is just wonderful.
Quinoa cooked in vegetable (or chicken for non vegans) broth gives it the extra flavor. A little heat and tang is added for a delightful boost making this salad super addictive. Unlike binging on crap such as this, this salad offers a no guilt, welcome to continually stuff yourself with it perk.
It's so easy to make too. Just toss the ingredients together and a wholesome satisfying dish is ready to be served. It's great to be eaten as a meal, a side dish or dip.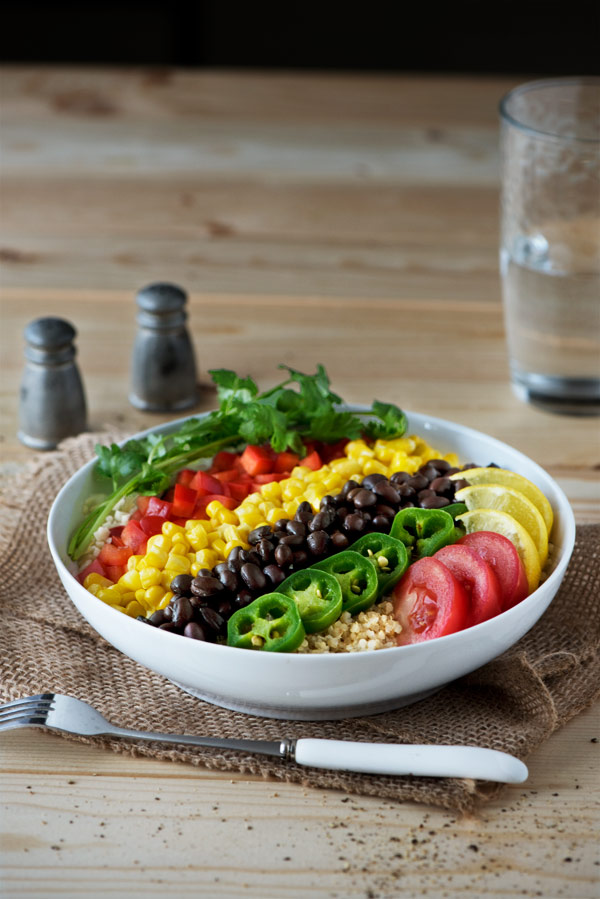 If you like this quinoa salad, I'm pretty sure you'll also enjoy this Roasted Vegetables Couscous. Also a quick, delicious and healthy meal, a medley of roasted vegetable is tossed with couscous and dressed with herbs, olive oil & lemon juice.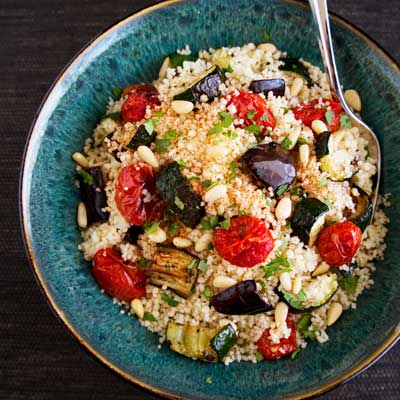 Also, if you haven't done so already, check out my last post Cajun Chicken Quesadilla. Chicken in Cajun spices is seared to moist & tender perfection along with a spicy & tangy sauce & ooeey gooey melting cheese all in a warm toasted tortilla.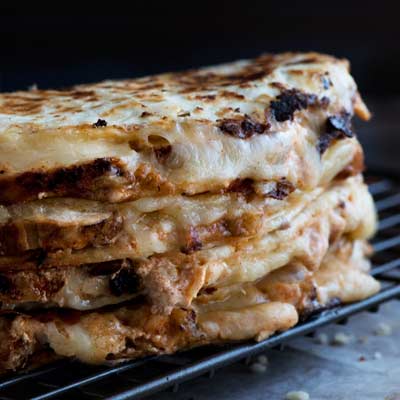 What bitter food makes you cry?
---
Quinoa Salad        Serves 4-6
what you need:
1 cup quinoa
2 cups vegetable broth
1/4 tsp salt
1/4 small onion, finely diced
2 garlic cloves, finely minced
1 cup cooked corn
3/4 cup cooked black beans or 1/2 15oz can black beans
1 small red bell pepper, diced
1 tomato, diced
1 bunch of cilantro, roughly chopped
1 jalapeno pepper, diced (deseeded for less spicy)
1 tbs cumin
1/3 cup olive oil
Juice of 1 1/2-2 lemons
1 tsp salt or to taste
Black pepper to taste
directions:
1. Place quinoa in a fine mesh. rub and swish quinoa with hands while rinsing. This is to get rid of the bitterness. Very important.
2. Over medium heat, place quinoa in a pan. Quinoa will start to dry out and will start to pop. Toast until quinoa is lightly browned. Remove from pan and add it to a rice cooker. Add the broth and salt and cook on a regular rice setting.
3. Once quinoa is cooked, fluff it and let it cool a little.
4. In a large bowl, toss cooked quinoa with the rest of the ingredients. Serve chilled or room temperature.