Tomorrow's Valentine's day, guys. Couples are about to play and enjoy 'their' song together probably at the place where the proposal took place while talking and reminiscing about their very first date.
Yea, Mr. V and I… we don't have any of that.
He's not fond of pop or love songs, we never actually had a first date and he proposed through MSN.
I'm not joking.
Besides, he never believed in Valentine's day and therefore, we never celebrated it.
But what we do share is an absolute agreement to which restaurant we would immediately pig out at every time we landed in Malaysia.
Nandos.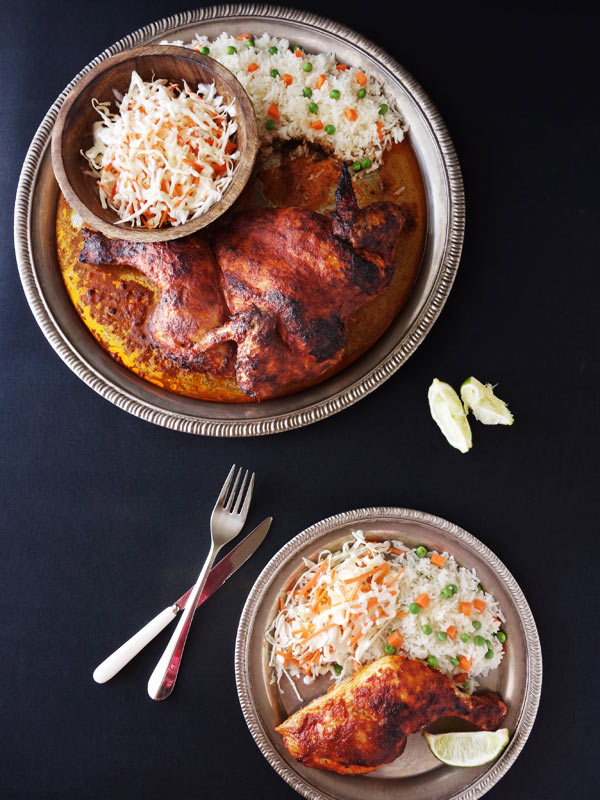 I suppose this will be the closest thing to being 'our' place. How befitting that Valentine day's tomorrow. I guess I'm feeling a little irrational-nostalgic about our non-existent celebrations we have never had in the past. Ok, I'll stop being so melodramatic. It's not that bad (Yes, it is).
Well then, with sheer dumb luck that there aren't any Nandos in L.A. (or Taiwan and Chicago for that matter), I suppose the only logical thing to do is to recreate Nandos ourselves myself. Oh, peri-peri chicken. How I've missed you.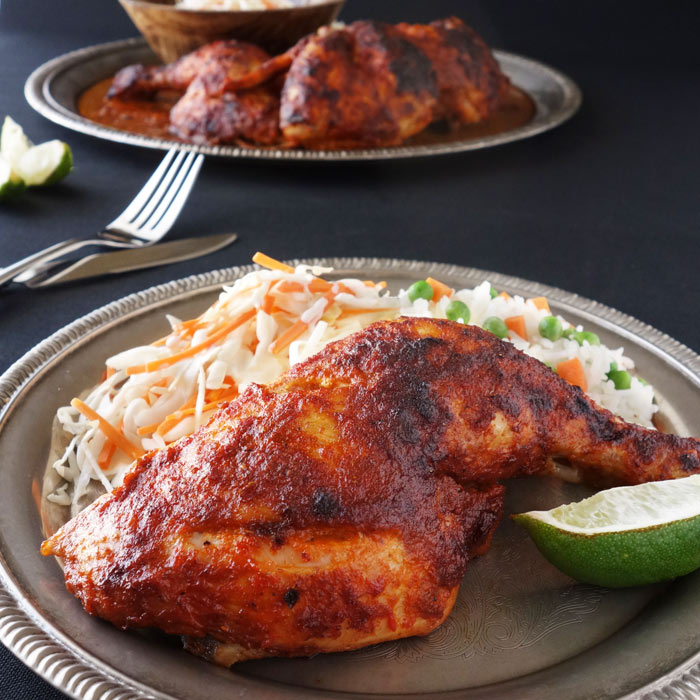 Quick Recipe                  Serves 4
what you need:
4 lb whole chicken, butterflied and sprinkled with salt
Sauce:        Makes about 3 cups
4 red chilies, deseeded
10 bird's eye chilies
2 large red bell peppers, deseeded
8 garlic cloves
2-3 shallots (short variety)
1/4 cup apple cider/white vinegar
1/2 cup + 2 tbs oil
1/2 cup + 2 tbs lemon juice (4-5 lemons)
1/4 cup paprika
1/4 cup oregano
2 tbs coriander
1 tsp sugar
Salt and black pepper, to taste
directions:
1. Place all the ingredients for the sauce in a blender and blend until smooth. If you have the time, let the sauce steep for several days to a week before using it as a marinade or dip.
2. Pour half the sauce generously over the chicken and marinate overnight to two days. The leftover sauce is used as a dip.
3. Preheat the oven at 425 F. Place the chicken on a wire rack set on a baking sheet lined with aluminum foil. Roast the chicken for 50 – 60 minutes or until thickest part of chicken registers 175 F. Baste the chicken with the rest of the marinade every 15 minutes.
4. Change the oven setting to 'broil', place the chicken on the top rack and broil the chicken for a couple minutes or until charred to your liking.
5. Let the chicken rest for 15 minutes before slicing. Serve with peri peri sauce, Mediterranean rice and coleslaw (that's how Mr. V and I roll). You could do salad or fries, any sides basically.
Notes:
1. Chilies:
a. For red chilies, I use Fresno.
b. 10 bird's eye chili is for hot, 8 or less for mild and 12 or more for flaming hot.
2. Sauce: It can be thinned further with water.
3. Chicken:
a. Chicken must be placed in room temperature for 30 – 45 minutes before roasting.
b. You can use only drumsticks or thighs or quarters or breasts instead of whole chicken. Adjust timing if doing so.
c. You can use a sharp knife to slash the chicken before marinating to let the flavors get in deeper.
d. To butterfly the chicken, use a sharp scissors and cut along the backbone of the chicken (both sides) from the neck to the butt. Flip the chicken and press it down to flatten it.
4. Cooking Method: You can grill instead of roasting it in the oven.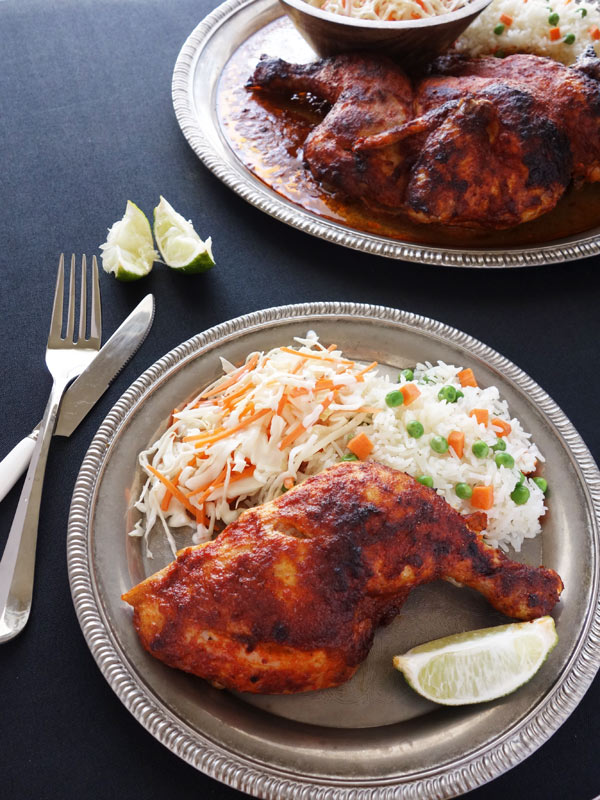 Mediterranean Rice
2 cups uncooked rice
1 cup frozen mix vegetables
2 tbs butter, softened
1 1/2 tsp salt
Combine the frozen vegetables, butter and salt with uncooked rice. Cook the rice as you would in a rice cooker or stove top (amount of water or chicken broth will depend on how the method used to cook your rice).
Coleslaw                    
6 cups finely shredded white cabbage
1 cup finely shredded carrot
1/2 cup plain yogurt
1/2 cup mayonnaise
2 tbs sugar
1 tsp white vinegar
1 tbs lemon or lime juice
Pinch of salt and black pepper
In a bowl, combine the yogurt, mayonnaise, sugar, vinegar, lemon, salt and pepper. Pour over shredded cabbage and carrot. Chill for at least 4 hrs to let flavors meld. If you want a thinner sauce, replace some of the yogurt with water or milk. Adjust seasoning if needed.
My last post: Orange Avocado Green Smoothie
What cooking for Valentine's?