Mr. V's family owns two orange trees in a nearby farm. Yes, other people buy houses, their family buy orange trees. I have no idea how it works but they have two trees.
So last year, during harvest, we had so many oranges. 'Many' is indeed an understatement in this case. Imagine going to a supermarket to get oranges. You walk to the produce section. Now picture the ENTIRE section of oranges in ten supermarkets right in our garage. Ok, maybe not ten. Imagine… two supermarkets, maybe three. That's how many oranges we had.
We didn't eat the oranges. That'd be too much chewing on our part. We juiced 'em. Freshly squeezed orange juice. The first 50 oranges were gone pretty quickly. Probably within a couple days. Somehow, in the middle of our juice aka sugar overload, I felt a pang in my heart (and tummy) every single time we threw away the peels. It could be because I had too much orange juice in the first place but we'll never know the true cause.
Then I remembered my last trip back to my parents' home where I saw countless bottles of gooey orangy looking stuff that appeared to look like garbage in water. When they told me it was enzyme made from citrus peels – pineapple skin to be exact, I told them I knew what they were (Shakes head. I actually had no idea). They then proceeded to educating me on how great this enzyme cleaner was although I later found this should be called a citrus alcohol cleaner instead. More on this later.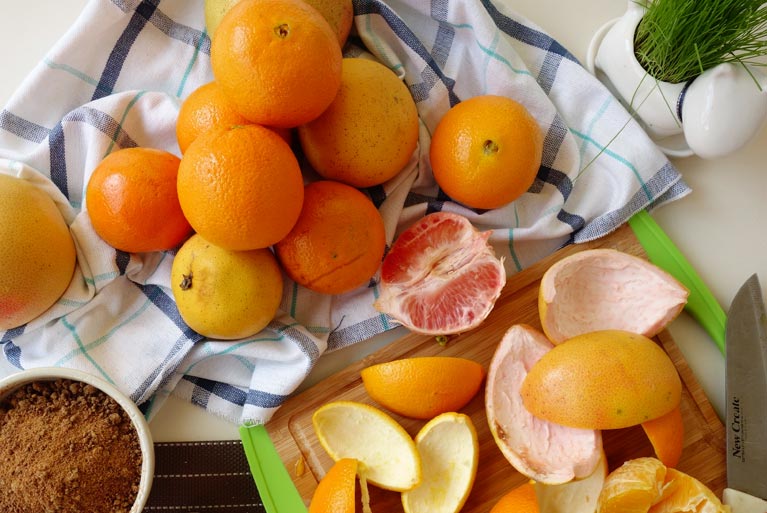 So citrus cleaner we shall make (I added some grapefruit peels to the pile).
Fundamentally, it is really easy to make this. Just remember 10:3:1. For every 10 parts of water, you need 3 parts peels and 1 part brown sugar in weight (eg. 1 liter/1000g water, 300g peels, 100g sugar). Any type of citrus fruit peels is fine. Combine them in a container and leave them to ferment for 3 months. 3 months too long for you? Check out "the experiment" to see how to speed up the fermentation process.
What do they smell like?
Citrus oils.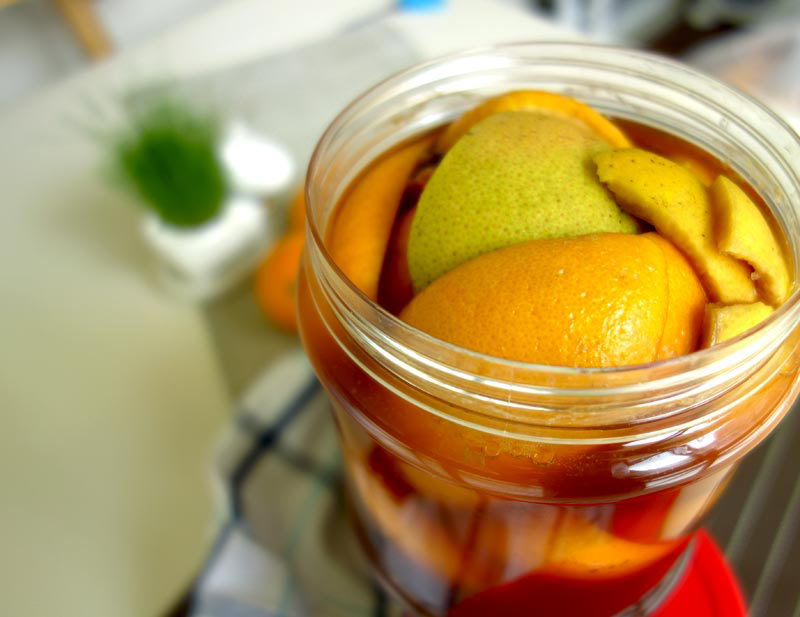 So what is this cleaner? Basically the yeast from the citrus peels will start eating up the sugar. In turn, the yeast will produce 'waste products' which are alcohol and Carbon Dioxide (CO2). There will also be a good amount of citrus oils from the peels. Alcohol and the oils are what's left in the resulting solution that responsible for the cleaning action. There really isn't enzyme (perhaps very minimal) in this as far as I know. Perhaps it should be called citrus alcohol cleaner instead.
Why make this cleaner? Well, for one, to use all that peels. But if you're like every other normal human being in the whole world that doesn't have that many orange peels at any given time, just stock up the peels in the freezer and make the enzyme cleaner when you find yourself starting to curse along with your blue black swollen toes. Secondly, if you're a control freak like me and thrives when you get to control the ingredients in your cleaners, well problem solved. Besides this cleaner is made at little… almost at no cost and it really does what it's suppose to do which is to clean. Really well. Really.
Quick Recipe
what you need:
10 parts warmish water (slightly lower than body temp)
3 parts citrus peels
1 part sugar
Containers, preferably soda bottles
directions:
Put all in the container. Tighten the lid/cap. Shake and dance (optional). Date it. Store in a warm place.
Loosen the cap/lid a few times daily for the first week to allow excess gas to be released. Thereafter, do this every other day for the next few weeks and then on a weekly basis after.
Three months up, time to harvest. Strain through a sieve and use away.
Important notes:
1. Container: Soda bottles work best because they are made to be able to take on a good amount of gas buildup. However, any narrow neck bottle is fine too. Try to avoid using a wide mouth bottle (I did it for the purpose of this post). This is because it is important that we do not allow oxygen in the bottle. This is so the yeast can continue to breed and unwanted fungi or bacteria won't grow (which explains the whitish layer some people claim to have). If too much oxygen gets in, the resulting solution will be vinegary which will explain the vinegar or off citrus or in some case vomit smell. It still cleans well but with an unpleasant smell. Citrus essential oils may help in this matter.
2. Lid: Screw the cap/lid to avoid oxygen from getting in. But unscrew the lid or cap to release the build up gas when needed. Yeast + sugar gives off CO2. There were some cases of explosion due to gas buildup,  (I personally have not experienced such an awesome event.. yet)
3. Mold: If whitish stuff grows on top, you have mold. That sort of means oxygen got in. You can add more sugar in. That way, the yeast will start to eat them and create more CO2 again. This will expel the organisms. But be warned that by doing so, you'll have a higher concentration of alcohol and it will smell that way too. It still cleans.
4. Sugar: White or brown sugar is fine. Yeast loves them all.
5. Peels: Orange, grapefruit, pineapple, lemon, lime.. any citrus fruit peels is fine. Make sure they're fresh (not dry), clean and not rotten. If you're going to be using frozen peels, be sure to allow them to come to room temperature 'naturally' before adding to the water and sugar. Microwaving or baking frozen peels to thaw them will kill the yeast.
6. Temperature: Yeast is the happiest in warm temperature, that is why I suggested putting the container in a warm spot especially during the first few weeks of fermentation.
7. Leftover Peels: What to do with the leftover peels?
a. Eat them. I dare you… I mean kid you. Heh..
b. Add more water, let it soak for a couple of days and consider that as 'diluted' enzyme.
c. Use the peels to directly clean sinks, counters, or tubs.
d. Add them into your compost pile.
e. Bury them in soil of a new pot of plant.
f. Put them all over the floor and ask your kid to step on them, letting them have fun while cleaning for you.
g. Cut them into smaller pieces if they aren't already and throw some into the garbage disposal. This cleans and freshens the garbage disposal.
If you're not into the above, just throw them away.
To read more on how to use the citrus enzyme cleaner, check it out here.
Three months too long? Check out how you can speed out fermentation here.