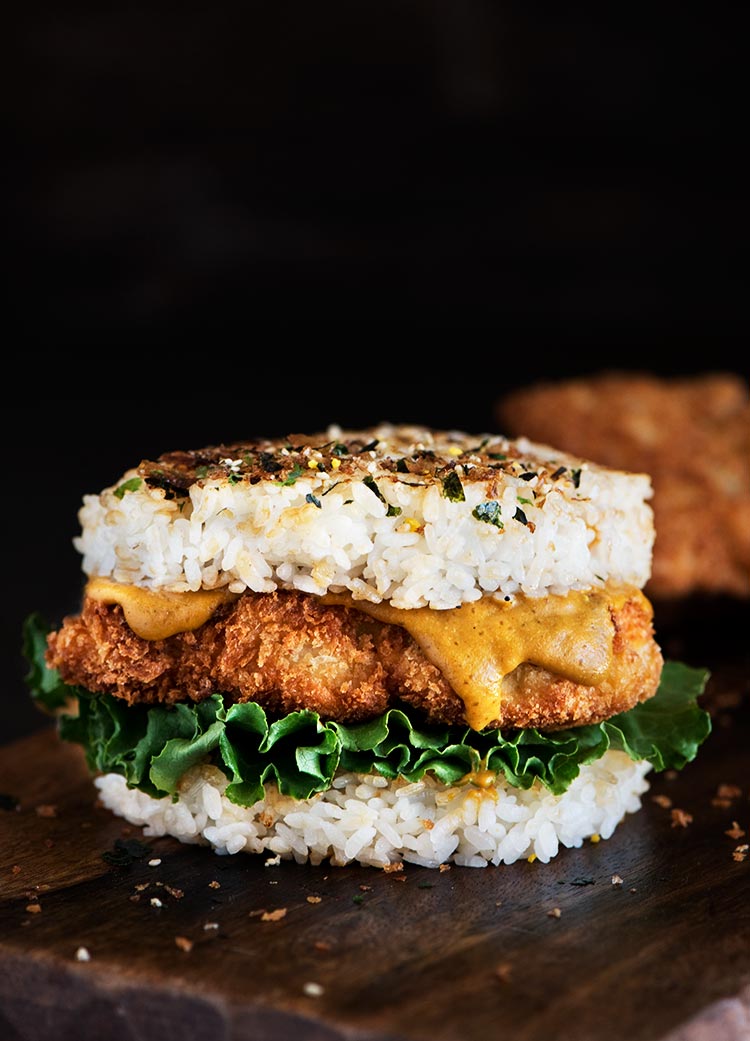 Burger = Burger Bun + Meat. Period.
That is until I went to Taiwan and walked into a Mos Burger for the first time in my life.
Mos Burger is a fast food restaurant chain originated from Japan. They serve regular burgers like other fast food restaurants. However, there is one thing that differentiates them from the others.
Rice burgers.
Yup. You heard me right. RICE burgers.
Instead of a wheat-based bun, grilled or pan fried rice patties are used instead.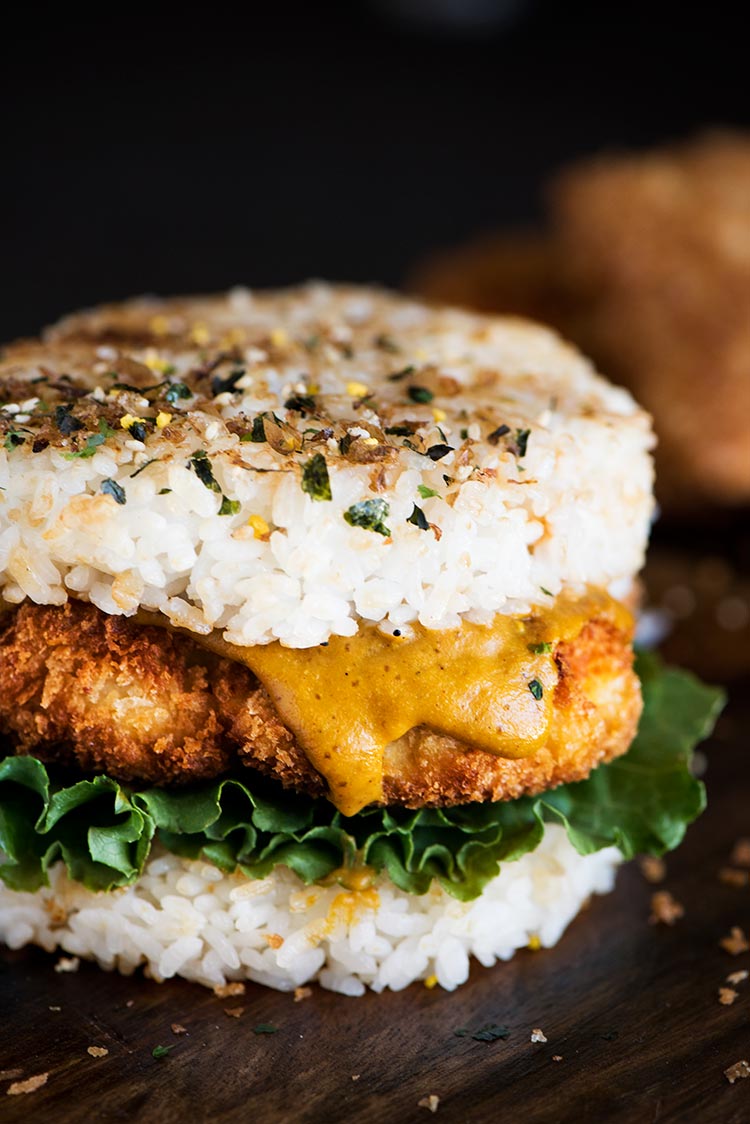 The closest Mos Bugers to L.A. is Hawaii. So to satisfy any form of Mos Burger craving, I'd either have to fly there (which sounds like an awfully brilliant idea) or replicate 'em at home. The latter seems more realistic.
Mos burger uses a mixture of rice, millet and barley for the rice patties to stay intact. I found that using rice alone to be sufficient. Specifically, short grain Japanese rice or sushi rice. Like onigiri (Japanese rice ball). The stickiness and chewiness of this type of rice is perfect for making rice patties. Long grain rice WILL NOT work because it's usually fluffy and doesn't clump together.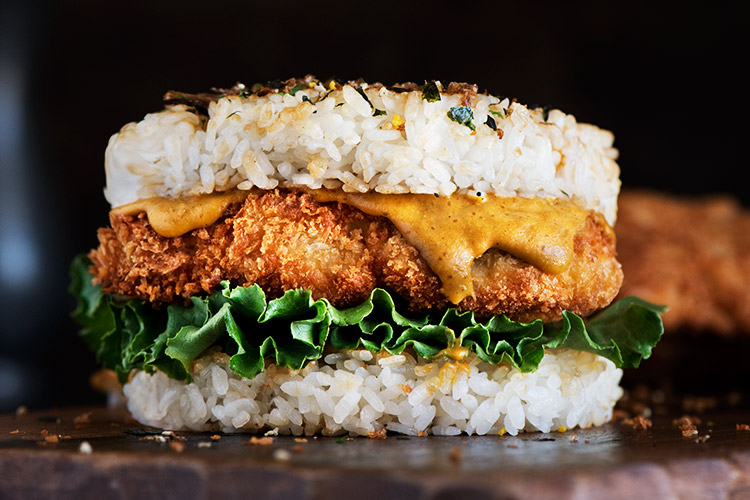 Now comes the best part.
The filling.
It can be anything you want in the world. From teriyaki chicken to bulgogi to kimchi pork to seafood tempura. I was craving for some tonkatsu but all I had was chicken. So chicken katsu it was.
Crispy on the outside, juicy and moist on the inside chicken katsu topped with thick Japanese curry and fresh lettuce. Place them between two slabs of pan seared rice patties and there you have a Chicken Katsu Curry Rice Burger.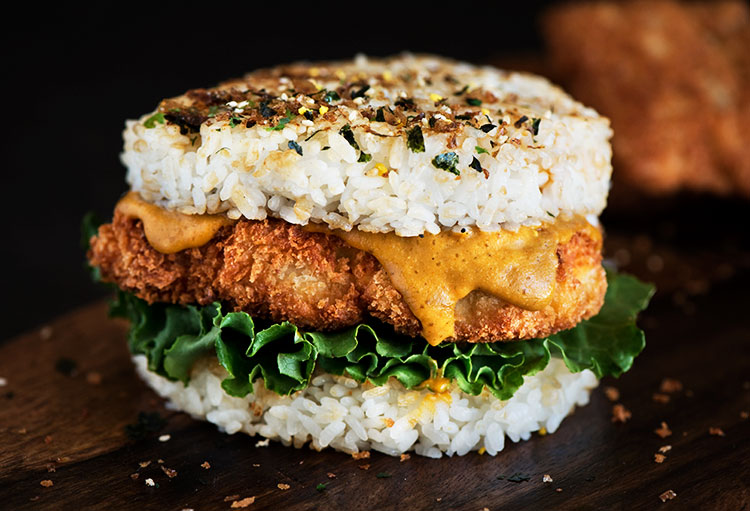 Love Chicken Katsu but love pork even more? Then, this Pork Tonkatsu is for you. It uses the same technique. The only difference is the use of pork and a special dipping sauce. Yums.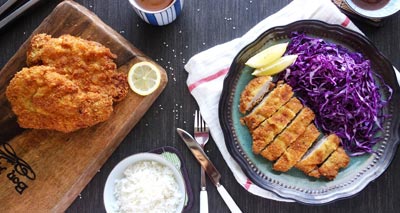 Also, if you haven't already, check out my last post: Tandoori Wings & Garlic Cheese Naan. Smoky, roasted wings with bold flavors marinated in yogurt & aromatic spices, soft garlic cheese naan & a vibrant mint chutney.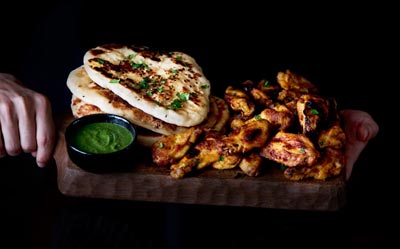 What other versions of hamburgers have you eaten before?
Chicken Katsu Rice Burger
Crispy on the outside, juicy & moist on the inside Chicken Katsu with Japanese curry smack in between two pan seared rice patties.
Author:
AiPing | Curious Nut
Ingredients
Chicken Katsu
2 boneless chicken breast, pounded until ½" thick, cut in half to make 4 pieces
1¾ cup panko crumbs
2 tbs oil and 2 eggs, beaten together
½ cup all purpose flour
Salt and black pepper


Curry
Roux:
3 tbs unsalted butter
¼ cup all purpose flour
2½ tbs Japanese curry powder
1 tsp cocoa powder
1 tbs tomato paste
1 tbs Worcestershire sauce
½ tsp cayenne pepper (reduce or omit for less or no heat)
⅛ tsp black pepper


1 medium onion, roughly chopped
2 garlic cloves
½" ginger
2½ cup chicken stock
Salt to taste
Sugar to taste
Black pepper to taste


Rice Buns
8 cups cooked rice (Japanese short grain or sushi rice)
Sesame oil
Soy sauce
White or black sesame seeds
Seaweed flakes
Directions
Chicken Katsu
Sprinkle generously salt and pepper on chicken.
Prepare three separate shallow bowls. Filled each with flour, eggs and panko crumbs.
Coat the chicken in flour. Shake off any excess. Dip the chicken in the eggs and then coat it with panko crumbs pressing it so that the chicken is well coated. Repeat with the flour, egg and panko crumbs one more time.
Over medium high heat, add ¼" of oil into a cast iron pan. Heat the oil to 350 F.
Once hot, gently place the chicken and fry it for 2-3 minutes on each side until chicken reads at least 165F. Place the chicken katsu in the oven at 200 F to keep warm if needed.
Curry
To make roux: Over medium low heat, add the butter to a small pan. Once it melts, add the flour and stir. Add the curry powder, cocoa powder, tomato paste, Worcestershire sauce, cayenne pepper and black pepper. Continue to stir for 10-15 minutes. It will become dry and crumbly. Be careful not to burn it.
To make curry: In a blender, add the onion, garlic and ginger and blend until smooth. Over medium heat, fry the onion paste in a pan until translucent and fragrant about 10- 15 minutes. Add the chicken stock. Increase the heat to medium high and bring it to a boil. Once boiled, add the roux. Stir well until the roux has dissolved. Season with salt, sugar n black pepper.
Rice Buns
Divide the rice into 8 portions. Shape and compress the rice to ½" thick and 3" diameter patties. Damp hands will help the rice not adhere to your hands while shaping.
Brush both sides of the patties with soy sauce. Heat a pan over medium high heat. Once hot, add a little oil and sear the patties until crisp on both sides. Use minimal and gentle handling so that it doesn't fall apart on you. Use a wide spatula.
Assembling
Place lettuce or tomato or whatever toppings you like to the bottom rice patty. Put a piece of chicken katsu and pour curry on the chicken. Top with another rice patty.
Wrap the rice burgers using a parchment paper (for added help to stay intact). Serve immediately.
Notes
1. Boneless, skinless chicken thighs can be used too. Just pound it so that it's evenly thick.

2. If you don't want to make the curry from scratch, just use store bought ones.