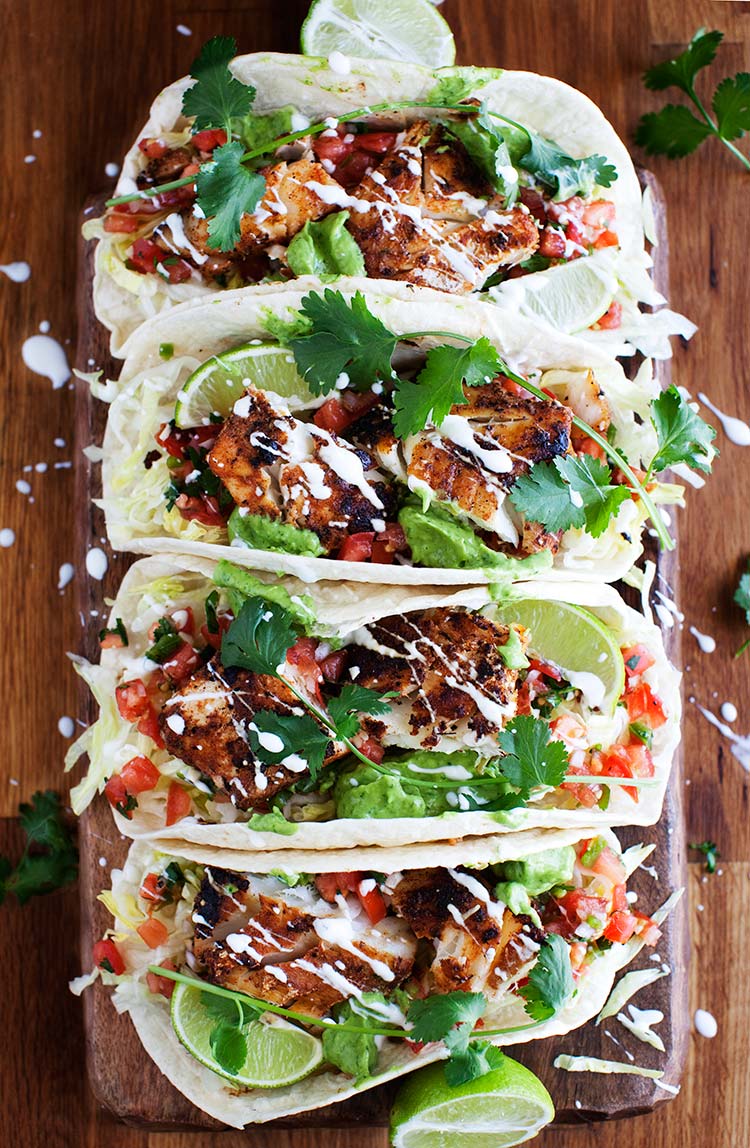 I don't remember much major debates between my parents. That equals they don't fight much. I suppose that's a good thing, right? But then again, now I have nothing to write about. So, good thing, yet a bad thing?
If I dig in hard enough into my I once thought I had excellent memory but as days go by it seems like it's getting murkier, does that mean I'm getting old? memory, I do recall a couple of times a debate that occurred between my mom and dad.
Fish or meat.
Mom is fishy while Dad is meaty.
In my defense, the above statement is somewhat true.
Dad IS on the rounder side. He has a belly. Belly = meaty, On a side note, I have his genes. My face is round. I have a belly. Yes, irrelevant. Just thought you guys wanted to know about my belly.
On mom being fishy… well, if we look at salted baked chicken, then yes tis' true. My mom is pretty fishy. But let's just look at that statement on the literal side. Basically, she loves fish. Dad loves meat…. other than fish. (Is meat fish?)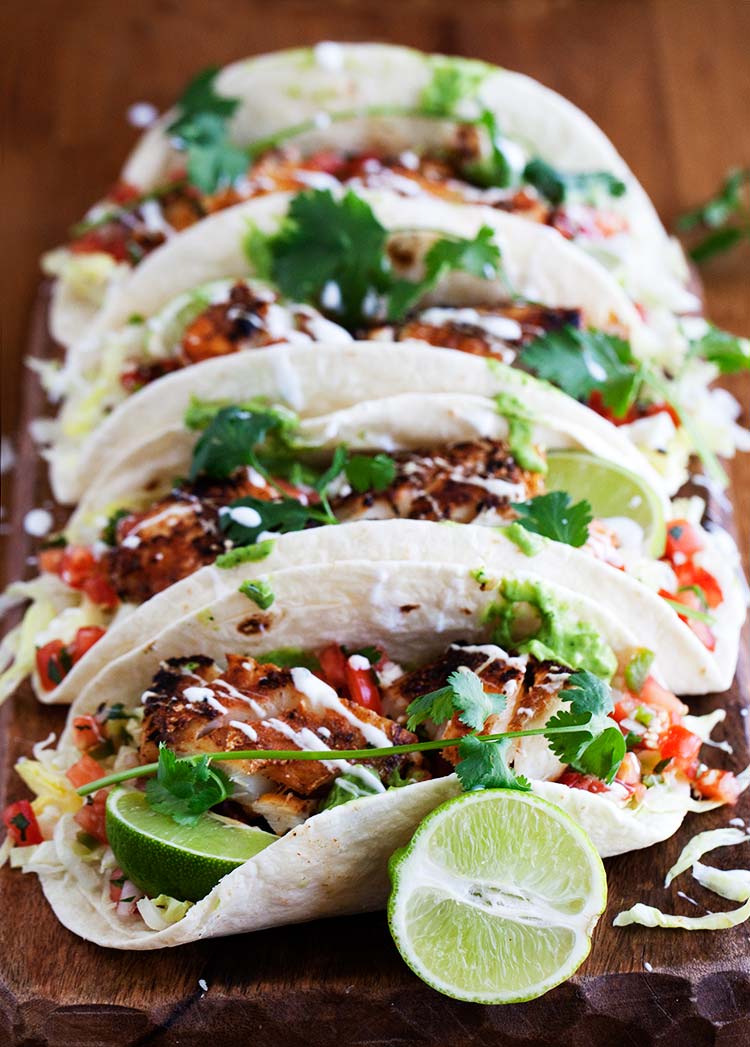 So seeing that mother's day's around the corner, what better way to celebrate my mom than to make some fish food. No, not food for fish. Fish based food. Food fish. Aaah.. this ain't going nowhere.
Fish tacos.
But I'm not going to be seeing her on Mother's day since we don't live near each other. Heck, we don't even live in the same country… or continent. So, the right thing to do is to might as well enjoy it on her behalf and celebrate mother's day all by myself. Not that I'm a mother yet. But I will be soon so I should practice celebrating this day as a mom, right? No, this is not my attempt to hint that I'm pregnant. I'm not. Man… this is getting out of hand.
Anyway, it's the thought that counts, right mom?
Cajun Fish Tacos for you. Delicious and smoky cajun rub on beautifully seared juicy fish topped with rich creamy avocado cilantro sauce and spicy tangy pico de gallo all wrap in warm tortilla. So light, so fresh, they're to die for. Dare I say the best fish tacos ever? Of course that is before I make the next best fish tacos.
PS: Hey mom. I have an idea. You could ask one of your two other daughters to make these. *grins
What could possibly be equally as good as this tacos?
This Cajun Chicken Quesadilla. Chicken in Cajun spices seared to moist & tender perfection, a spicy & tangy sauce & ooeey gooey melting cheese. All in a warm tortilla. Same rub but different taste… equally delicious.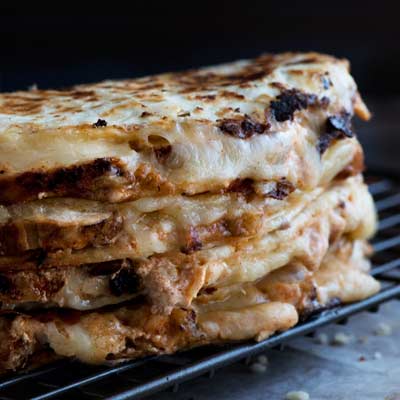 Also, if you haven't already, please check out my last post Classic Pepperoni Pizza. Easy to make with delicious homemade crust & sauce. This will become your go to pizza.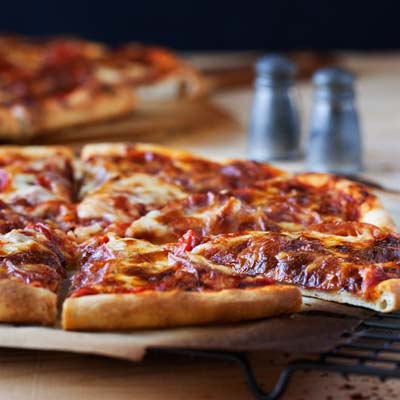 If you like what you see, don't forget to subscribe or follow me on Instagram, Facebook, Pinterest or Twitter to get the latest post updates. See you there!
---
Cajun Fish Tacos
Delicious smoky seared Cajun fish with rich creamy avocado cilantro sauce & spicy tangy pico de gallo all wrapped in warm tortilla.
Author:
AiPing | Curious Nut
Ingredients
2 lb any white fish (see note 2)


2 tsp of:
Cumin
Coriander
Paprika
Garlic Powder
Onion Powder
Cayenne


1 tsp of:
Thyme
Oregano
Black Pepper
Salt
Sugar


Avodaco Cilantro Sauce
3 ripe hass avocado, halved, deseeded, scooped out from peel
6 tbs whole plain yogurt
½ cup cilantro (leaves & stems)
2 garlic cloves, peeled
1 tbs olive oil
¼ tsp ground cumin
Salt and black pepper to taste


Pico de Gallo
5 large tomatoes, diced
½ medium white onion, soaked in water for 5-10 minutes
4 garlic cloves, finely chopped
½ cup cilantro leaves, roughly chopped
2 Jalapeno, half or fully deseeded if you want it less spicy and diced
2 limes, juiced
Salt and black pepper to taste
Couple of pinches of sugar


8 flour tortillas, warmed and covered in a towel-lined plate
4 cups thinly sliced lettuce or alfalfa sprouts
1 bunch cilantro, roughly chopped
¼ - ½ cup yogurt or sour cream
Directions
In a small bowl, combine the ingredients for the Cajun rub. Generously coat the fish with the rub (see note 1). There will be some the rub left. Let marinate while you prepare the remaining ingredients.
In the blender or food processor, combine the ingredients for the avocado cilantro sauce and blend until desired consistency. Chill until ready to use.
In a bowl, combine the ingredients for the pico de gallo. Chill until ready to use.
Over medium high heat, add a coat of oil in a pan. Once the pan is hot, sear the fish until browned and charred to your liking. Depending on how thick the fish is, fry 2-3 minutes on each side. If the fish is really thick, lower the heat a little so that the center can cook without the outside burning. Cook a couple minutes more if so. When you can flake the fish (or temperature reads 145 F), it's ready.
To assemble, break up the seared fish and place them on a warm tortilla. Top with lettuce, avocado cilantro sauce, pico de gallo, cilantro and yogurt.
Notes
1. The rub already contains salt but if you want it saltier, sprinkle some salt over the fish before the rub.

2. The fish can be cod, mahi-mahi..etc. The thinner the fish, the better since marination time is short. Thicker fish will result in less flavorful since the spice won't be able to penetrate that deep in.