I love fried chicken.
Ok, that's an understatement. I'd die without fried chicken, really.
What do you want for dinner? Fried Chicken. That would be my go to answer ALL THE TIME as a kid. My little 8 year old heart would leap with joy once in a blue moon when I have successfully convinced my parents to have fried chicken for dinner. I would gorge the chicken down like there's no tomorrow. Because who knows when's the next time I get to eat fried chicken.
Honestly if it wasn't for what time does to the my arteries and fats and digestive system, fried chicken would still be my answer today.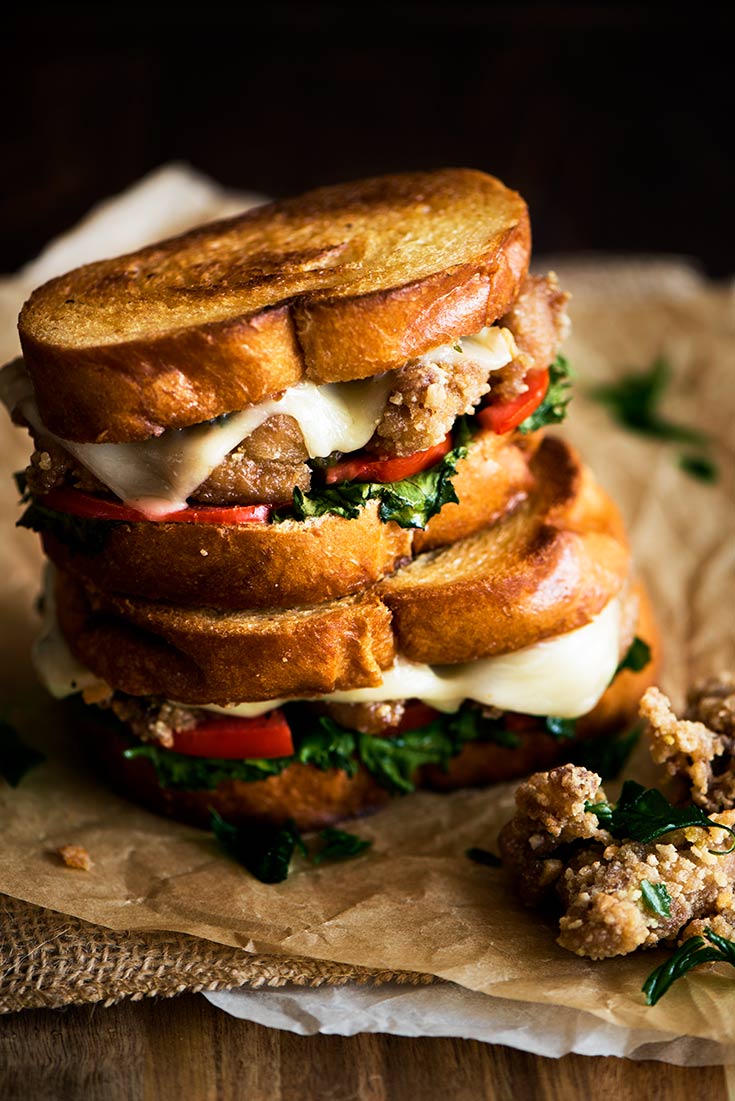 When I was in Taiwan, I was in fried chicken heaven. They were sold everywhere. No exaggeration.
"Yen Su Ji" translated as Salty Fried Chicken but westernized as Popcorn Chicken is a superbly popular street food in Taiwan. You can find this in every night market and most food streets. If you're lucky, there even may be a popcorn chicken stall or two in some obscure neighborhood with the smell of the fried chicken wafting all over.
Not only can you buy freshly fried popcorn chicken from these food stalls, but you can mix and match the fried chicken with other fried food like green pepper, green beans, sweet potato or regular fries, tofu, squid, shrimp, fish cake, sausages and plenty other heart stopping food. Literally.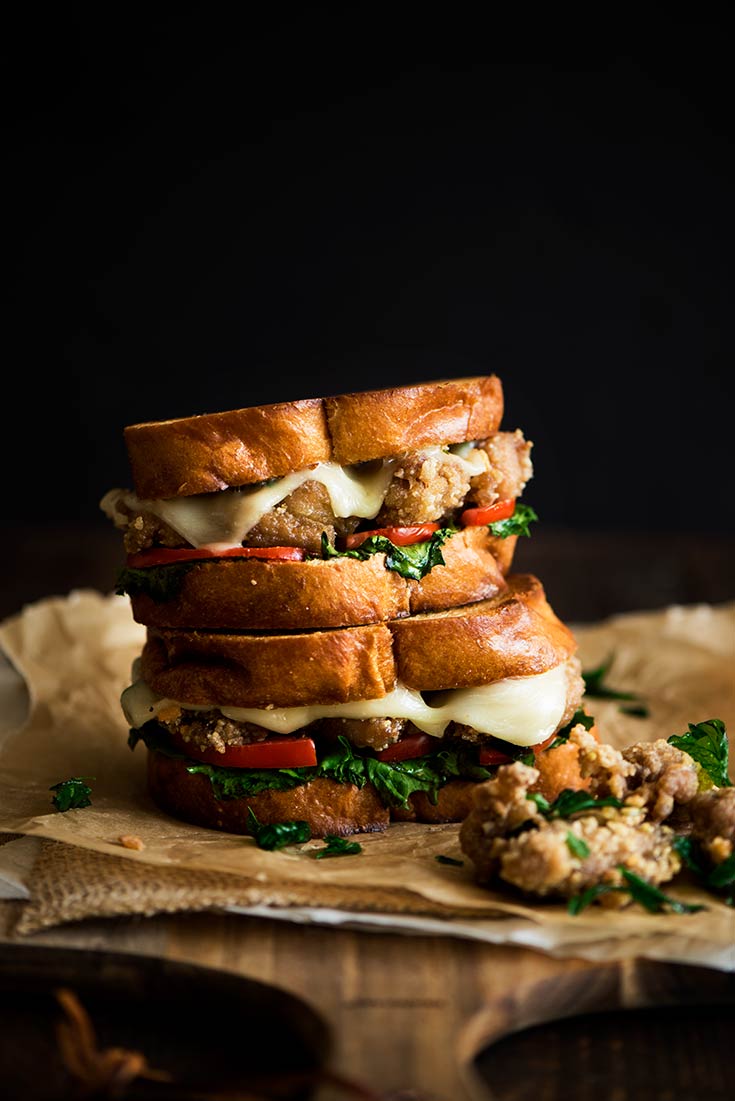 The chicken is first marinated in a blend of garlic, ginger and spices before coated in a low-gluten flour mix and with basil infusing the oil, it's fried to maximum crispiness. Then, a salt pepper seasoning is generously sprinkled on the hot and crispy fried chicken which perfectly completes it. This is truly the taste of Taiwan.
If you want to stop here, I wouldn't blame you. The chicken alone is that good and super addictive.
But why not stuff it between two buttered bread along with ooey, gooey melting cheese? It might seem like over the top…. well, because it is.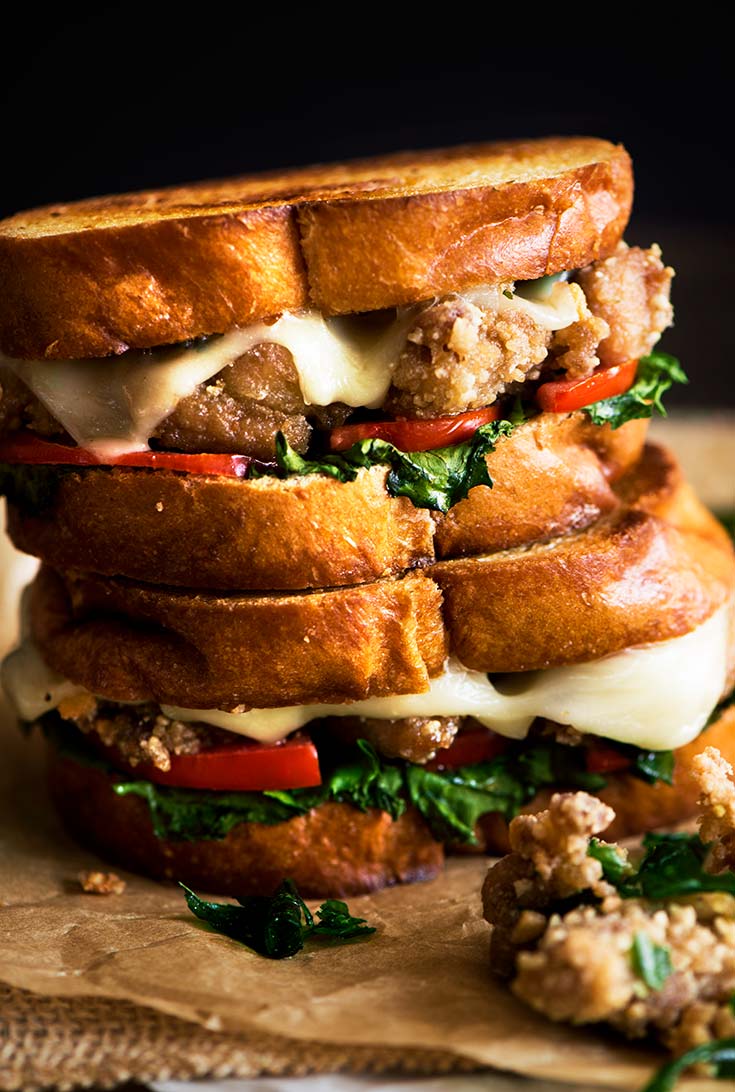 Tips
1. Flour: Sweet potato flour or sweet potato starch is used. You can easily find this is most Chinese Markets. Look for the one that is white in color (not yellow) and the texture is coarse (similar to bread crumbs or coarse sand). This is the secret to making the chicken crispy. Potato flour or potato starch that is white and coarse is fine to use too. However, if you find one that is labeled sweet potato flour or starch, yet the texture of the flour or starch is like cornstarch, don't get that. It's not going to give the chicken a real crispy coating.
2. Rice flour and cornstarch is used because they absorb less moisture and fat thereby making the chicken less greasy and aid in crisping up the chicken.
3. Egg yolk adds flakiness to the bite.
If you love this, then you're also going to love Bulgogi Philly Cheesesteak Sandwich. Tender & juicy ribeye Korean bulgogi style with caramelized onions, seared peppers & melted cheese.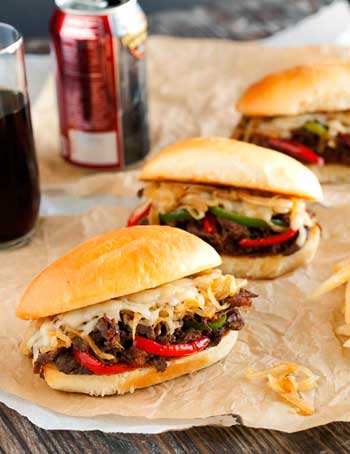 Also, check out my last post Taiwanese Beef Noodle Soup.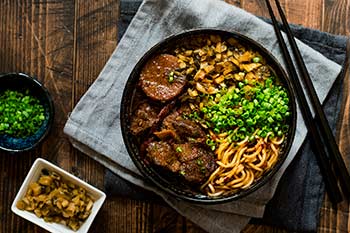 Taiwanese Popcorn Chicken Grilled Cheese Sandwich
Ultra crispy fried marinated chicken with a bomb salt pepper seasoning stuffed between buttered bread and ooey gooey melting cheese.
Author:
AiPing | Curious Nut
Cuisine:
Taiwanese Western
Ingredients
1 lb boneless chicken thighs (4-5 pieces)


Chicken Marinade
3 garlic cloves, grated
½" ginger, grated
2 tbs soy sauce
2 tbs sugar
½ tsp sesame oil
¼ tsp five spice powder
¼ tsp all spice powder
Pinch of cinnamon powder
½ tsp salt
¼ tsp black pepper
¼ tsp white pepper


1 egg yolk


Flour Mixture
½ cup sweet potato flour or starch
¼ cup rice flour
2 tbs cornstarch
½ tsp baking powder
Handful of fresh Thai basil leaves, washed and dried well


Salt Pepper Seasoning
½ tsp salt
¼ tsp white pepper
¼ tsp black pepper
⅛ tsp paprika (optional)
⅛ tsp chili powder (optional)


Sandwich
8 slices of cheese of choice
8 slices of bread of choice
Mayonnaise
Sweet Chili Sauce (store bought ones are fine or click here for recipe)
Pickle, sliced (optional)
Tomato, sliced
Lettuce (or other greens you like)
Unsalted butter + salt (or salted butter)
Directions
Chicken
In a large bowl, combine all the ingredients for the chicken marinade and marinate the chicken for 1 hour in the refrigerator.
Combine the egg yolk to the marinated meat.
In a wide shallow bowl, whisk together the flour mixture. Using your left hand, pick up the chicken and drop it onto the flour. With your right hand, coat the chicken well with the flour mixture. Give it a gently press so that the coating stays and place it on a baking sheet. Proceed with the rest of the chicken.
In a large skillet or Dutch oven, add enough oil (at least 1") that will cover the chicken when frying. Over medium high heat, heat the oil to 350 F. Once hot, turn the heat to medium and add ⅓-1/2 the chicken. Quickly drop half the basil leaves and stay away from the pan. Oil may spatter because of the leaves.
Do not poke or prod the chicken before the flour sets to minimize the coating falling off the chicken. Fry the chicken and basil leaves for 2 minutes or until the chicken is almost brown. Remove and set on a wire rack. Make sure the oil becomes 350 F again before frying the next batch.
When you're done, heat the oil to 400 F. Dunk the fried chicken for 10 - 15 seconds, remove and place them on a paper towel for 15-30 seconds before transferring to a wire rack. Immediately sprinkle the salt pepper seasoning on the chicken generously.
Sandwich
Spread mayonnaise and sweet chili sauce on one side of each piece of bread. Butter (and sprinkle some salt) the other side of each piece of bread.
Turn the heat to medium low and add 2 slices of bread mayo/chili side up onto a large skillet or griddle. To each bread, add a slice of cheese, top this with lettuce and tomato, add 4-5 pieces of chicken (and basil), top with another slice of cheese and another slice of bread butter side up.
When the bottom bread has browned, carefully flip the sandwich and fry until the second side has browned and cheese has melted. Gently press the sandwich down. Repeat to make two more sandwiches. If the cheese isn't melting fast enough, cover the pan to help it melt faster. If the cheese has melted but bread hasn't browned, increase the heat a little. Serve immediately.