A super simple and healthy dish whipped up in less than 10 minutes from start to finish. Fragrant & savory stir fried pork over warm, silky soft tofu. Because sometimes, life needs to be this simple.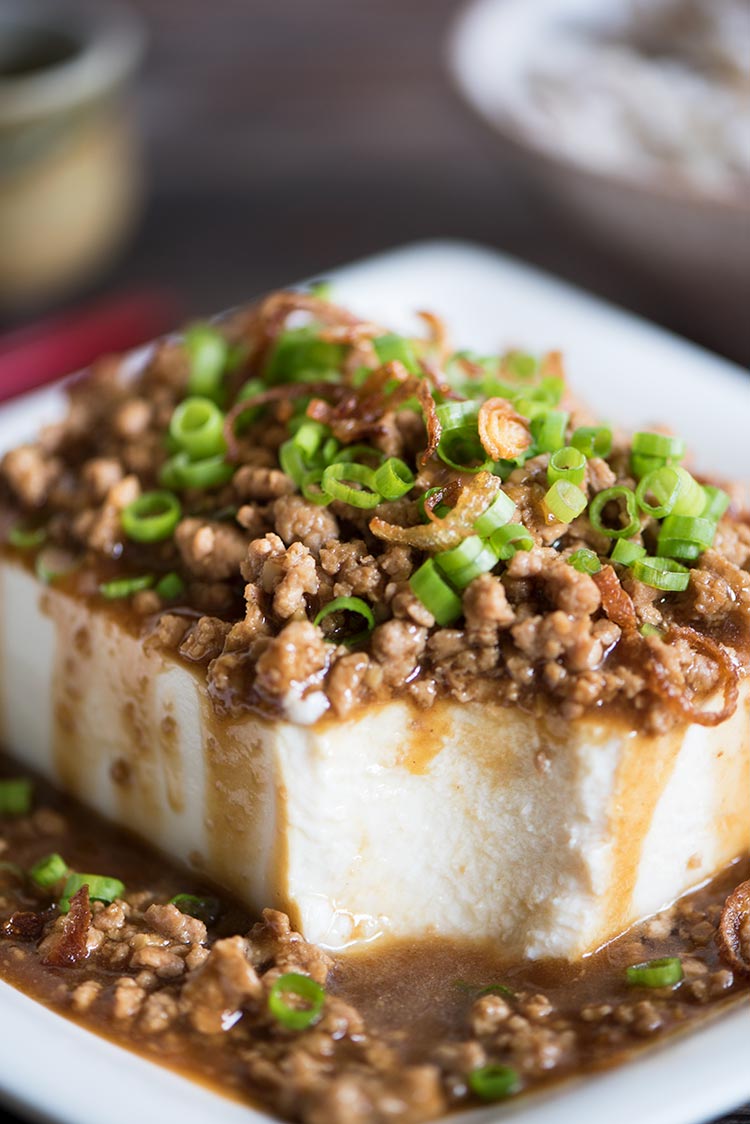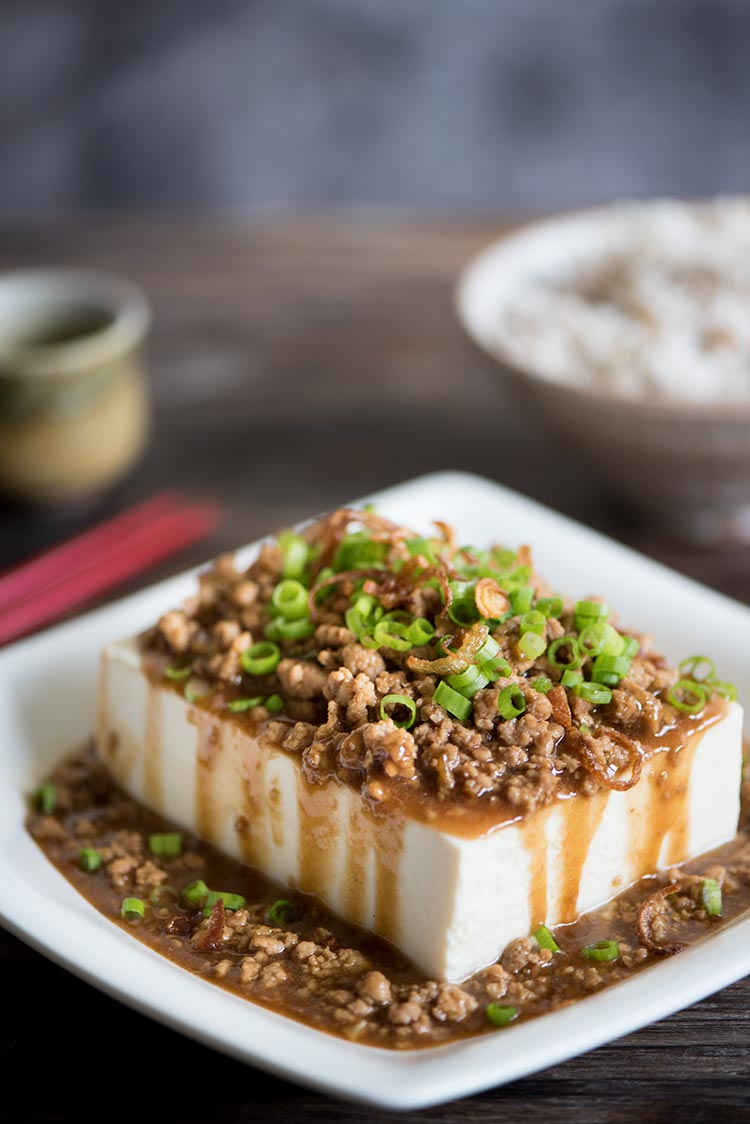 Yes. Tofu for dinner. Or lunch.
It's normal, guys. It is.
But tofu doesn't have any flavor….
Raw chicken doesn't have much. Not that we should eat raw chicken. Point is, we're supposed to flavor-ize it.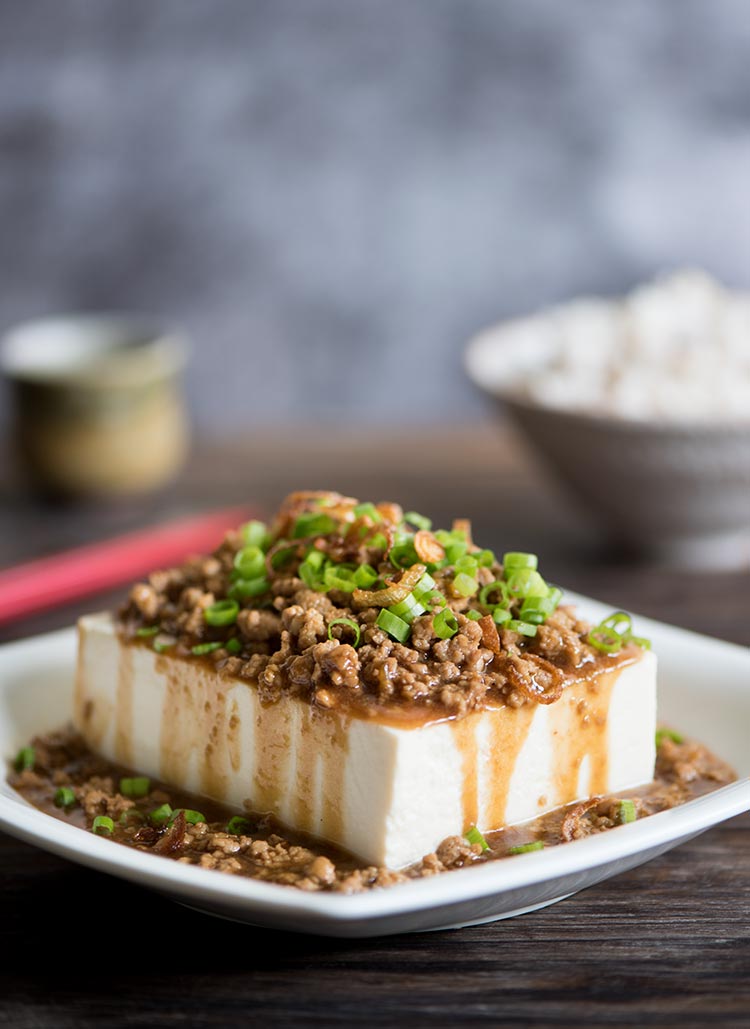 Tofu looks weird….
So does ice cream. They're wrinkly. And don't even get me started on how pickles look.
But it doesn't taste like chicken….
That's cause it isn't. It's tofu.
Soft tofu to be exact. Melt in the mouth, silky and velvety soft.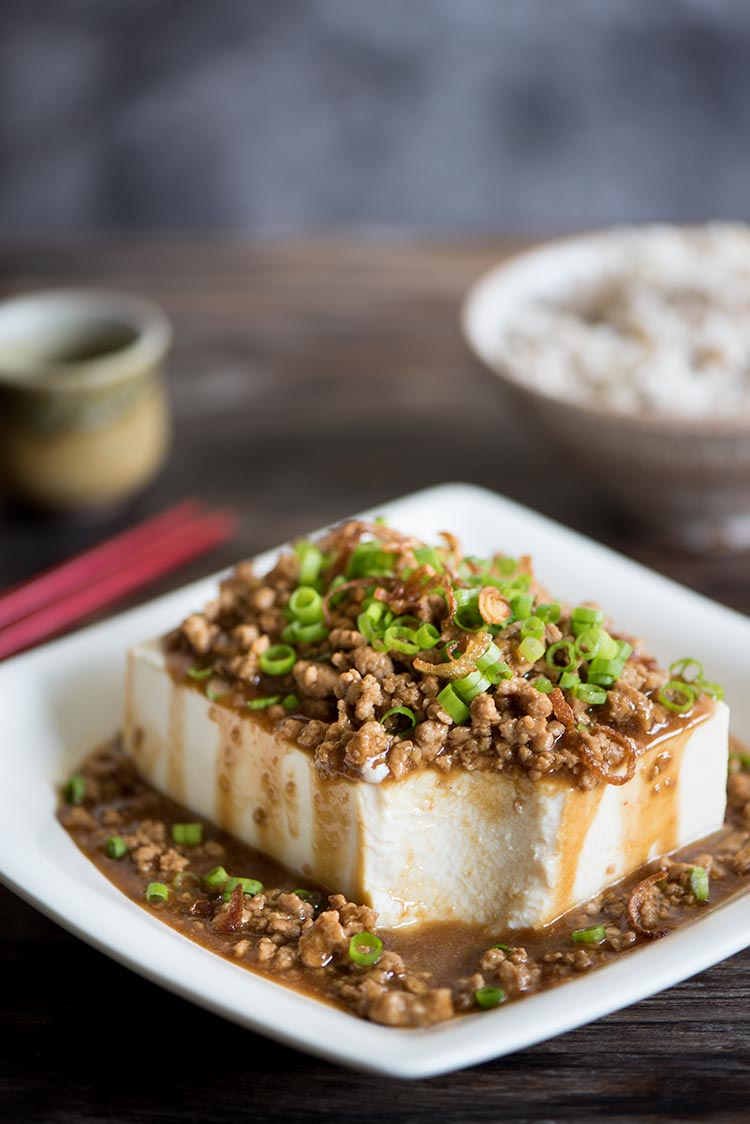 Say what?
Oh.
You like tofu?
Well, ok then. Me too. Tofu high fives!

Stir Fried Pork Over Tofu
Savory pork stir fried in oyster and soy sauce over warm, silky soft tofu.
Author:
AiPing | Curious Nut
Ingredients
1 14 oz soft tofu, drained and placed on a heatproof plate
3 garlic cloves, finely diced
1 stalk green onion, sliced (separate whites from greens)
⅓ lb (5 oz) ground pork
4 tsp oyster sauce
2 tsp soy sauce
½ tsp thick cooking caramel sauce or kecap manis (for color)
Pinch of sugar and white pepper
⅓ cup water
1 tsp cornstarch and 1 tsp water for cornstarch slurry
1 tbs fried shallots (optional for garnish)
Directions
Prepare your steaming vessel. Steam the tofu for 3-5 minutes. Drain excess water.
While the tofu is steaming, add some oil to a wok or pan. Over medium heat, fry the garlic and white parts of the green onion until fragrant. Do not burn the garlic.
Turn the heat to medium high, add the pork and fry until almost cooked. Add the oyster sauce, soy sauce, caramel sauce, sugar and white pepper. Let the pork soak in all the flavor.
Once pork is cooked, add the water and bring it to a boil. Once boiled, turn the heat to medium and add the cornstarch slurry. Stir the mixture until the sauce thickens. If you want it thicker, add more cornstarch slurry (keep in mind that the sauce will thicken more once cooled). Taste the sauce and adjust seasoning if necessary. (It's ok for it to be slightly on the salty side as the tofu has no seasoning whatsoever).
Pour pork mixture over steamed tofu. Garnish with green onions and fried shallots. Serve immediately with warm steamed rice.

Don't forget to subscribe and follow me on Instagram, Facebook, Pinterest or Twitter to get the latest post updates. See you there!