Ayam Percik, a Malaysian grilled or roasted chicken marinated in flavorful spices like turmeric, cumin & coriander along with lemongrass, coconut milk & tamarind. As the chicken is roasted, the marinade caramelizes on the meat lending a delicious coating that will blow your mind.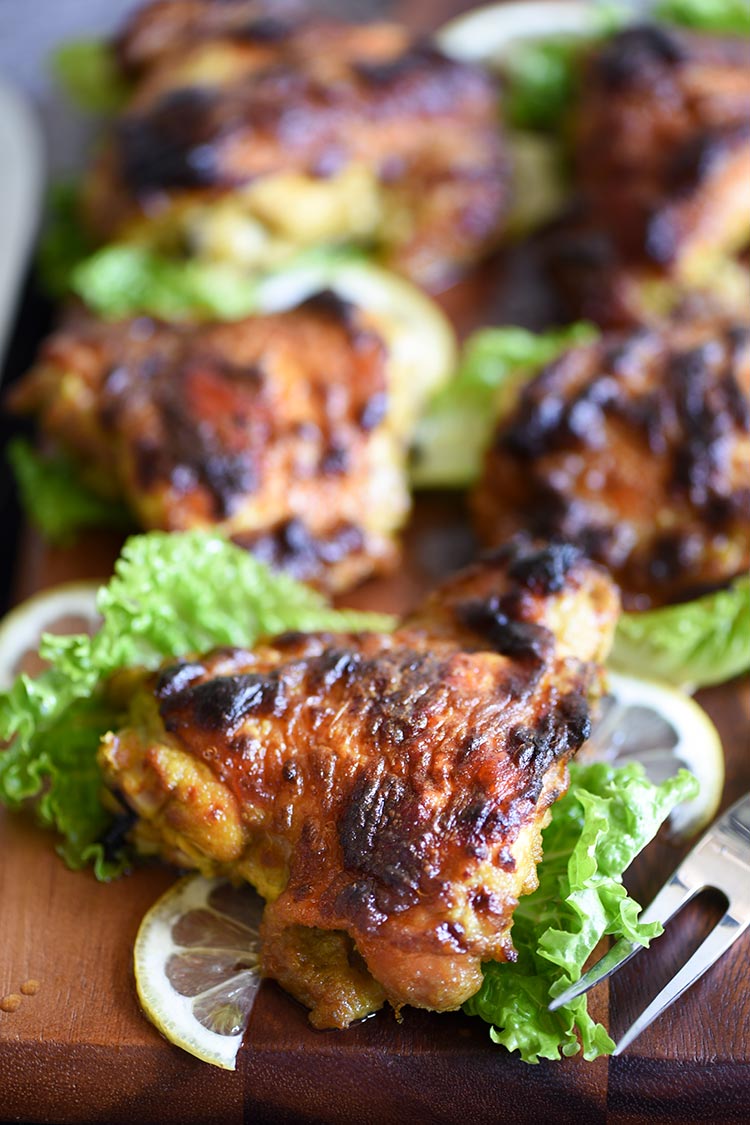 College came quite suddenly for me. One day I was taking the major exam every 17 year old human being in Malaysia has to take before graduating from high school, the next day, I was in an air-conditioned room with twenty strangers looking at our very first 'if else' statement on the board.
Yes, a computing major.
The important thing about college is not the quality of education. At least not for students like me. It's location location location. This means that it has to be in close proximity to good food. That and long gaps between classes and friends who drive. Parents always nag children to wisely make full use of their time. I finally put their words of wisdom to practice. I spent my time in a productive search for great places to eat. College money went to food. Period.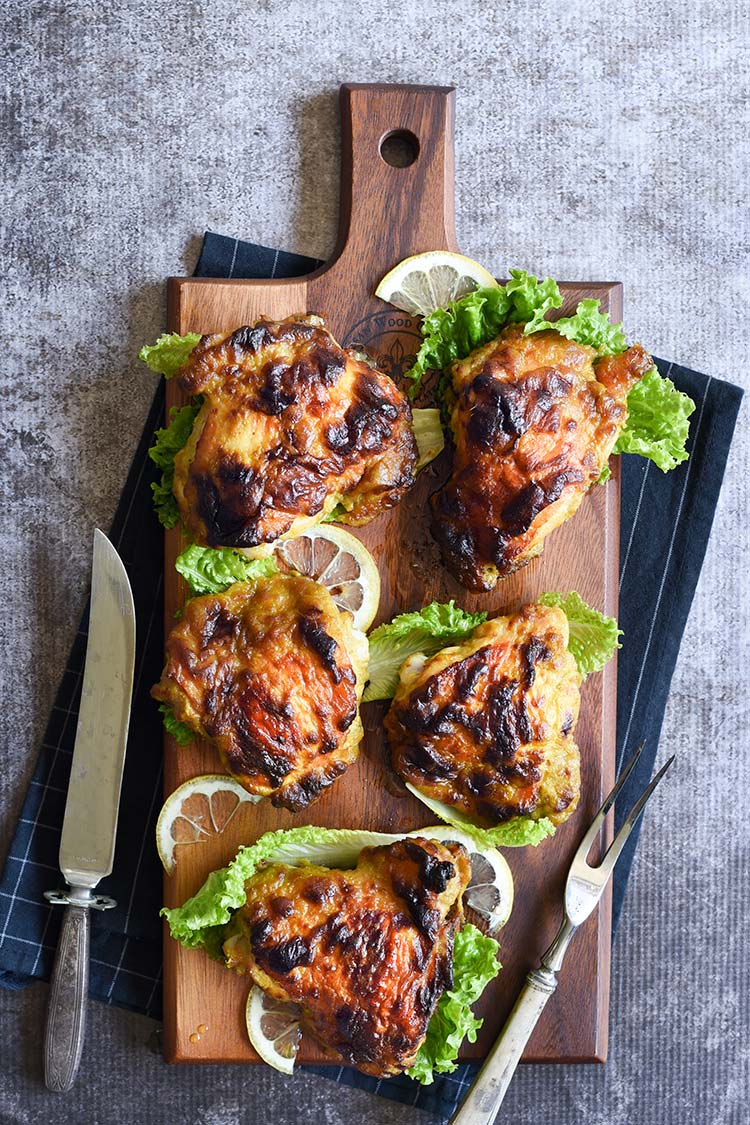 It was during that time when I first laid my eyes… and mouth on Ayam Percik (pronounced ah yum per chay-k ) It's literal translation means splash chicken, which in this case, it means basted. This traditional Malay dish originated from the state of Kelantan in Malaysia. Ironically, a state I've yet to step foot in.
The first bite I took felt like the greatest thing I've fed my tummy… that day. Perfectly grilled tender chicken that was marinated in spices slathered with the most divine creamy spiced coconut milk sauce. It's mildly spicy, has a slight sweetness and packed with so much flavor from the turmeric, lemongrass, coconut milk and all the other spices combined. Yum.
I can honestly say that the only good thing I got out of college is Ayam Percik. ;p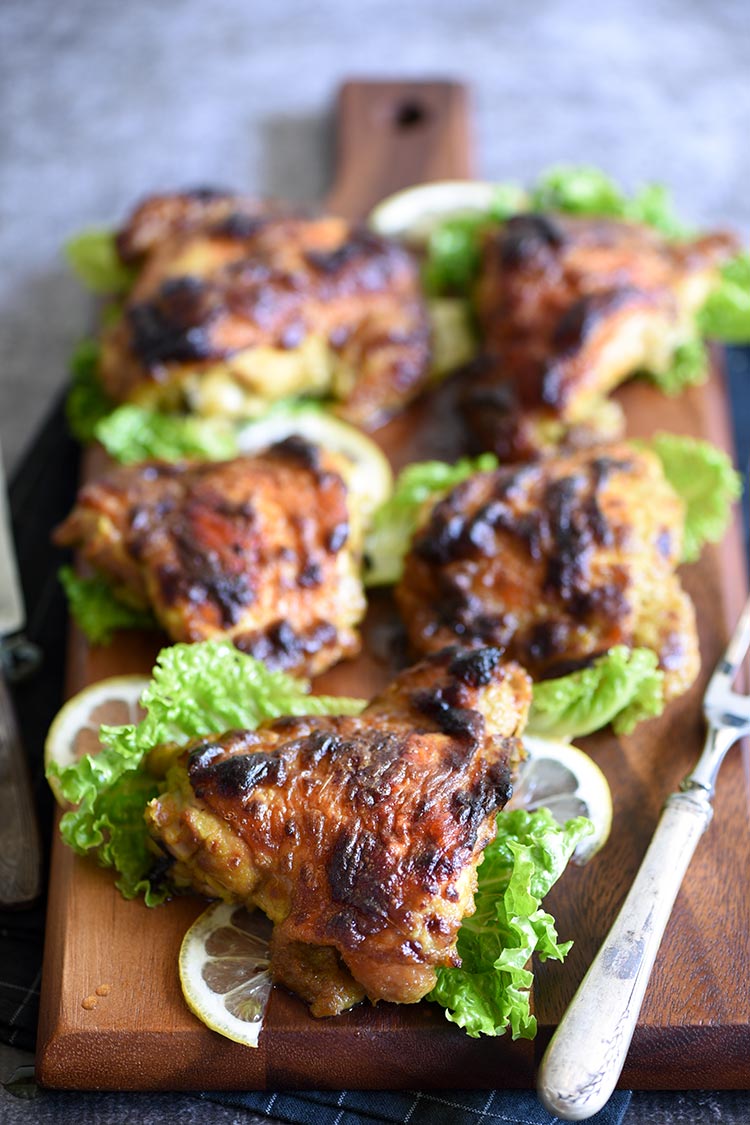 If you like what you see, don't forget to subscribe and follow me on Instagram, Facebook, Pinterest or Twitter to get the latest post updates. See you there!
---
Malaysian Roasted Spiced Chicken (Ayam Percik)
Ayam Percik, a Malaysian grilled or roasted chicken marinated in flavorful spices, lemongrass, coconut milk & tamarind.
Author:
AiPing | Curious Nut
Ingredients
6 chicken thighs
Spice paste
16 shallots (short variety), peeled
1½" ginger, peeled
1½" galangal (blue ginger root), peeled
6 garlic cloves, peeled
8 dried cayenne chilies, deseeded and soaked in hot water
2 tsp turmeric powder
1½ tsp cumin powder
1½ tsp coriander powder
1½ tsp fennel powder
½ tsp fenugreek powder
5 stalks lemongrass, white parts only
8 candlenuts or macadamia nuts
1 tsp salt
1 tbs sugar
¼ cup oil


3 cloves (optional)
2 green cardamom pods (optional)
2 tbs tamarind pulp
1 can 13 oz thick coconut milk
1 cup water
1 tsp sugar
Directions
In a blender, add the ingredients for the spice paste and blend until smooth.
Over medium heat, pour the spice paste in a skillet or pan and fry for 10 minutes until fragrant. Add water or oil 1 tablespoon at a time if the paste becomes too dry. Don't burn the paste. Lower the fire slightly if needed.
Add the cloves, cardamom, tamarind pulp, coconut milk, water, sugar and salt. Turn the heat up and bring the mixture to boil. Turn the heat to medium low and simmer for 10 minutes. Stir occasionally. It will reduce slightly. This is the marinade/sauce, so taste and adjust seasoning if necessary. Don't worry if it's slightly bitter. It will go away when roasting.
When the marinade/sauce has cooled, pour everything over the chicken and marinate overnight to two days.
Preheat the oven to 425 F.
Remove the chicken from the marinade. Spoon the marinade onto a greased (or aluminum lined) baking sheet. Lay the chicken on top of the sauce (make sure the chicken covers the sauce and the sauce isn't exposed or it'll burn) and spread the remaining marinade on the chicken. Roast for 35-45 minutes or until internal temp of the thickest part of chicken is at least 175 F.
Let chicken rest for 5 minutes. Brush the chicken with some of the oil. Serve chicken with the sauce over steamed rice (or coconut rice).
Notes
1. Chilies: You can substitute 8 dried chilies with 5 fresh red chilies. This recipe is mildly spicy. Increase chilies if you'd like it spicier.

2. Shallots can be replaced by one large onion.

3. Galangal (blue ginger root), shallots, lemongrass and candlenuts can be found in most Chinese or Thai markets.

4. Chicken: Make sure that the chicken is in room temperature for at least 30 minutes before roasting.