Smoky, savory BBQ chicken wings with a tangy, spicy chili sauce. Grilled over charcoal or roasted in the oven, these wing-asm in your mouth wings are perfect for summer.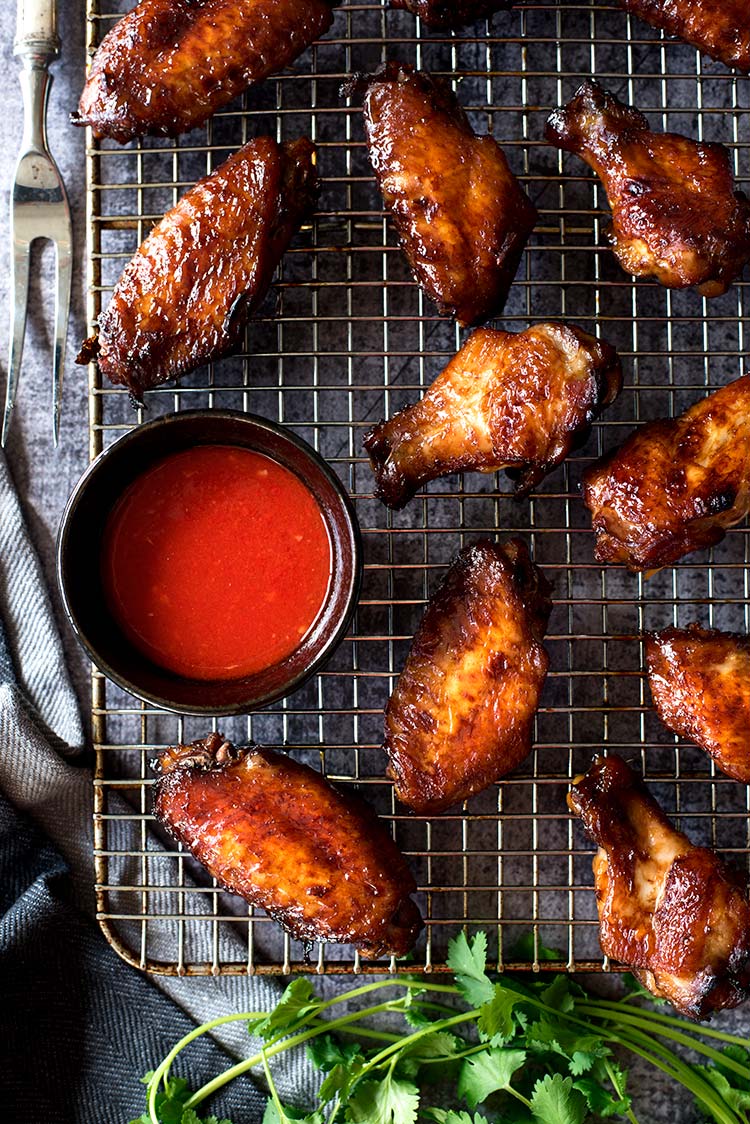 If you read my last post, you would know that my butt nearly died on me. It even had a second episode of near death experience.
Yup.
That second long a** haul flight back to La La Land almost did it.
Living in such a high tech world now, I still can't believe instead of beaming all over the world, I still have to experience numb and sore butts and joints along with my tummy which has lost all sense of what's still and what's not with that all turbulence.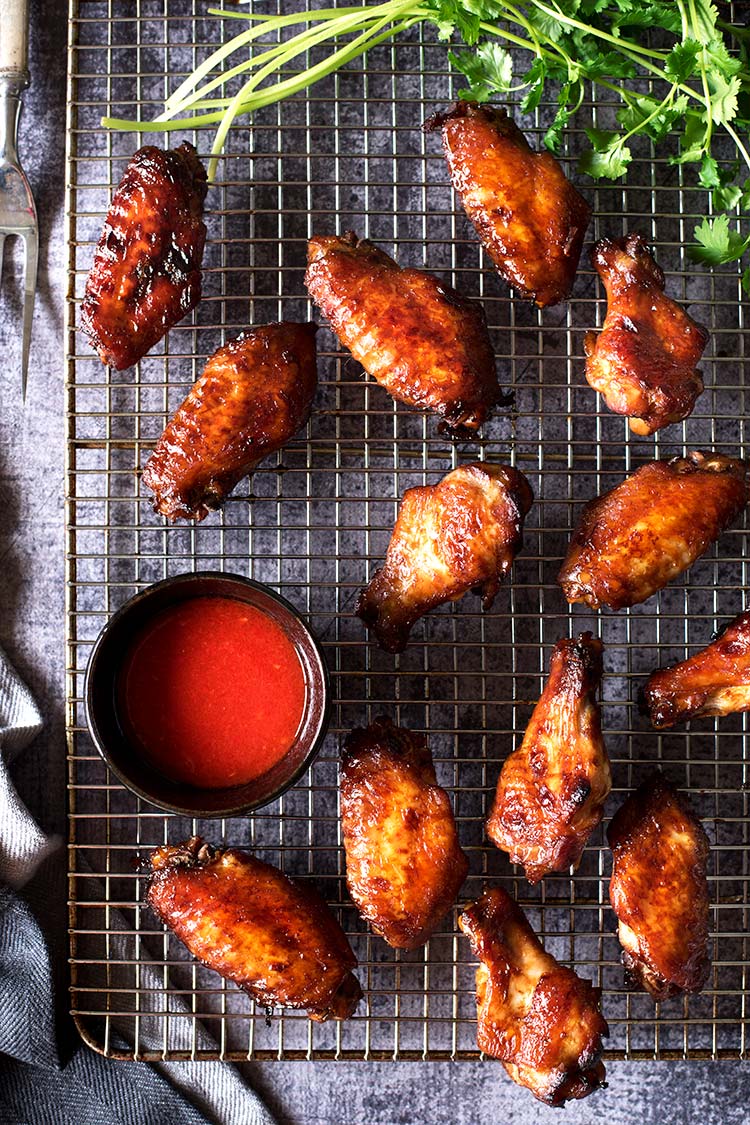 You must think.. that explains all the non-existent social media updates, blog posts and emails. She must have been so busy…. with vacation.
In fact, you're right. I was busy.
Busy with gorging on every single thing my mouth can get itself on.
But then as though too much food made my brain non functional, I had forgotten to eat the famous charcoal roasted BBQ chicken wings of the streets of KL.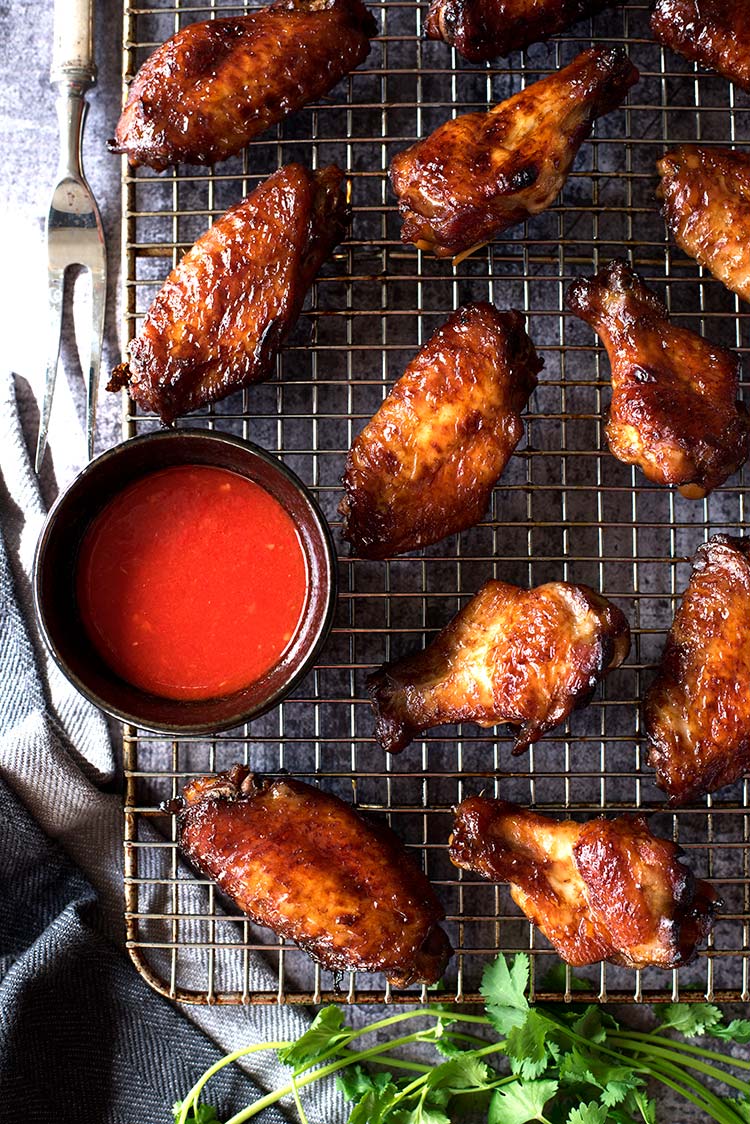 But with all things in this trip (like the time Mr. V and I were not allowed to leave Taiwan at the check in counter due to visa issues causing us to miss our flight back to Malaysia or that few days before our flight to LA, my gum had severe infection that we had to postponed the flight), I believe everything happened for a reason.
As with the case of the chicken wing…
Well…
It's time to get back to work.
Work = cooking and eating.
Why not cook some smoky savory bbq chicken wings dipped in a tangy spicy chili sauce and eat 'em all myself.
Yes!
If you like what you see, don't forget to subscribe and follow me on Instagram, Facebook, Pinterest or Twitter to get the latest post updates. See you there!
---
Malaysian BBQ Chicken Wings
Smoky savory BBQ chicken wings with a tangy spicy chili sauce. Grilled or roasted in the oven, these wing-asm in your mouth wings are perfect for summer.
Author:
AiPing | Curious Nut
Serves:
20-24 Wings/Dummettes
Ingredients
2½ lb chicken wings


Marinade
½ cup light soy sauce
¼ cup honey
2 tbs fish sauce
3 tbs thick caramel sauce (for color)
1 tbs sesame oil
6 garlic cloves, crushed
4 green onions, cut into 3" length
1" ginger, crushed
Pinch of white pepper


Chili sauce
4 red fresno chilies, deseed three (or more for less heat)
½" - 1" ginger
2 garlic cloves
1¾ tsp sugar
2-3 tsp rice vinegar
¼ cup chicken broth
½ tsp salt
Directions
Combine all the ingredients for the marinade and marinate the wings overnight. Flip a few times for even marinating.
Place all the ingredients for the chili sauce in a blender. Blend until smooth. Let sit in the refrigerator for at least 1 hour so that the flavors can meld.
To grill: Remove wings from the marinade and grill the wings for 20-25 minutes (flipping occasionally) until beautifully brown and charred. To roast: Preheat the oven to 400 F. Remove wings from the marinade. Place wings on a parchment paper lined baking sheet (not pretty side up).
Bake for 20 minutes, flip and bake another 20 minutes. Set the oven to broil and broil for 1-2 minutes. Serve immediate with chili sauce.
Notes
1. The sauce is meant to be slightly runny (compared to other sauces). If you like it thicker, add a tad of cornstarch or arrowroot to thicken it.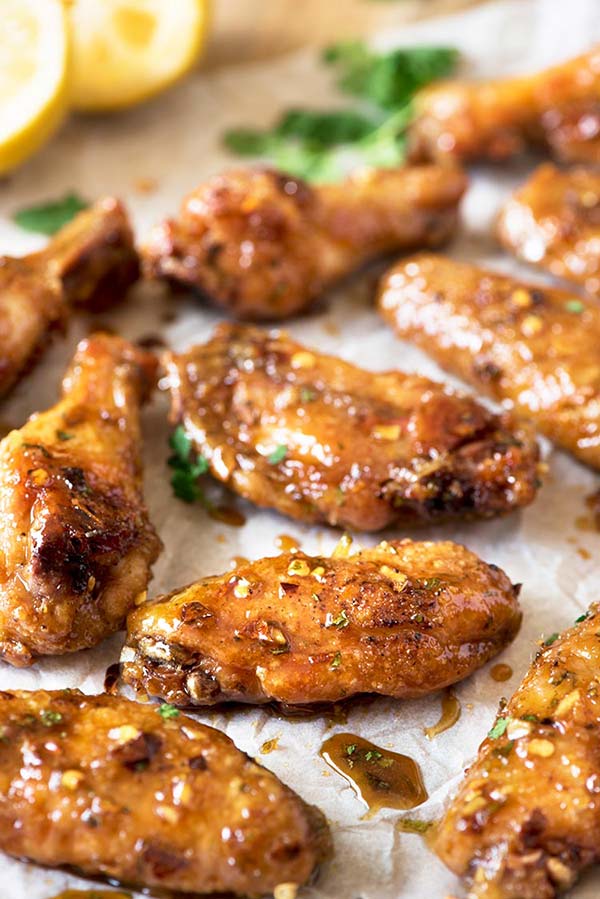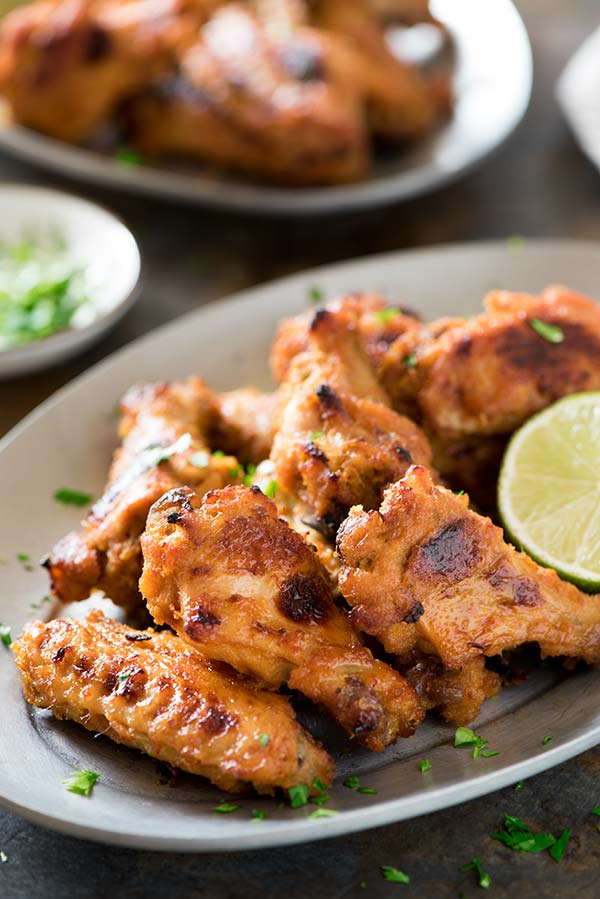 Tandoori Wings & Garlic Cheese Naan