Uber crispy outside, moist and tender inside spiced fried chicken tenders with tomatillo chutney, cucumber mint raita all wrapped in flaky, crispy roti paratha.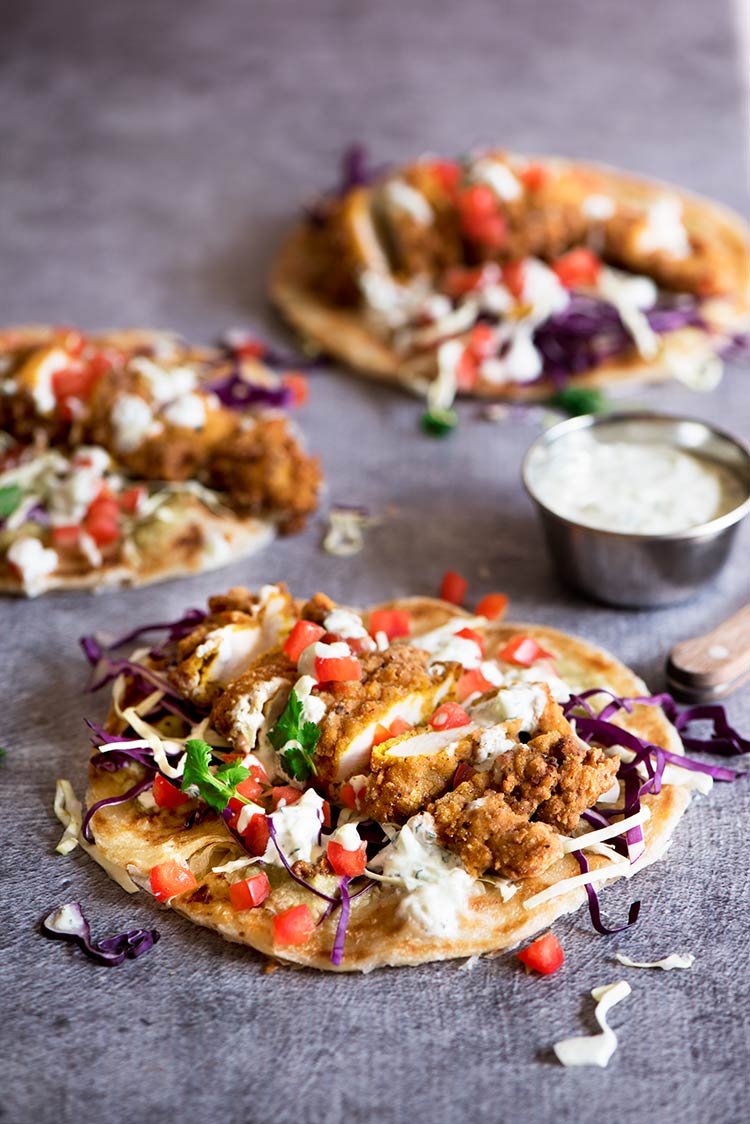 It's that time of the year again. The time when Chinese New Year just passed and I had a 15 days stuff-food-in my-face festival.
The time of the year when Ayyam-I-Ha will come next – a festival that Mr. V and I (and Baha'is all over the world) celebrate. A festival that lasts 4-5 days filled with being charitable and generous and to give love and laughter to yourself and to others.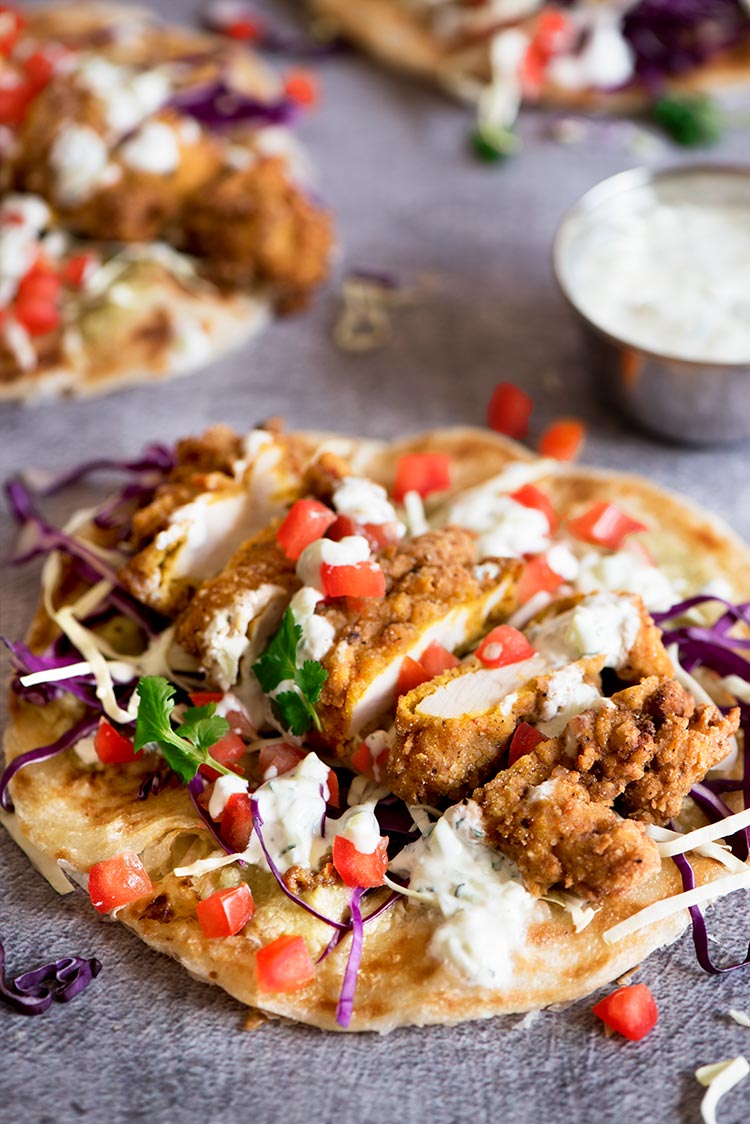 This year, I have decided to give love and laughter to the most important thing in the world.
My tummy.
Yes, it has had its share of ups and downs. I've not taken care of it very well, with skipping breakfast since I was young and causing major Gerd and "gastric-nomical" issues throughout my life.
The gift?
My tummy's two most favorite things in the world. Fried Chicken and Roti Canai (or paratha). Combine these two together, and I have a friggin' light but still craggy crunchy outside yet moist and juicy inside fried chicken wrapped in flaky, crispy roti paratha among plenty other delectable accompaniment.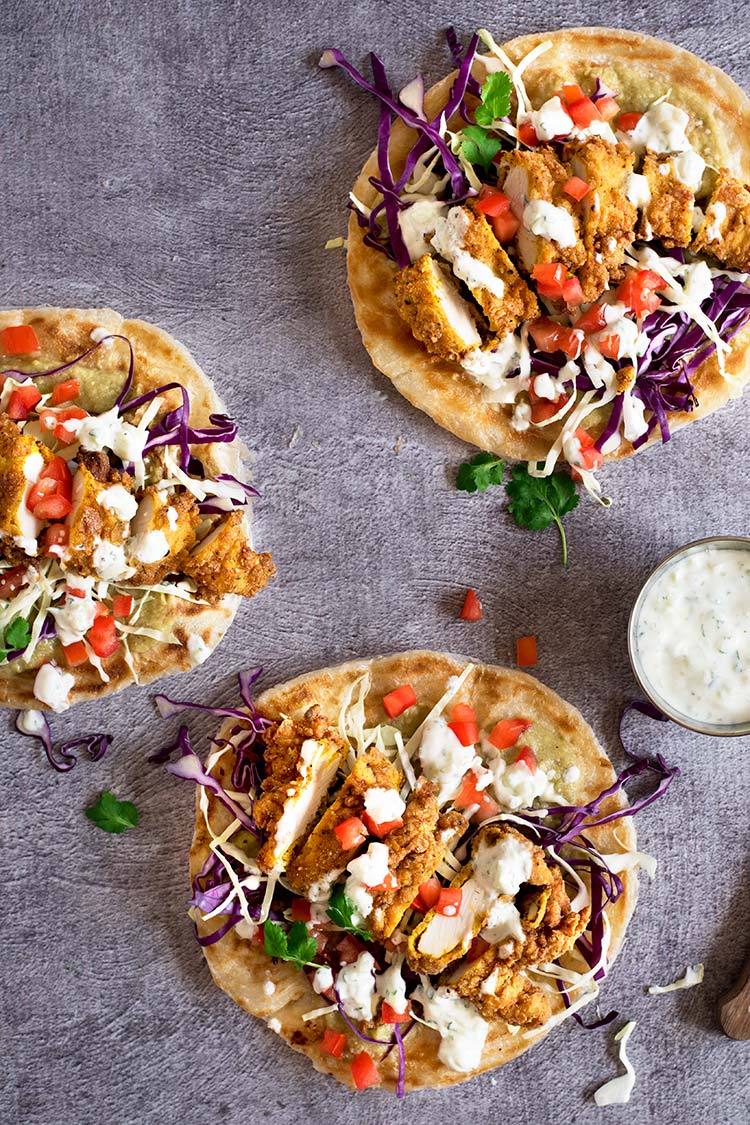 It's a kati roll guys.
It's like a taco or a burrito only so much better because it uses the flaky and crispy roti canai or paratha instead of regular tortilla.
And if you know me well, you'll know that I only love chicken thighs… but in the spirit of giving love, I used Mr. V's favorite meat.. the white meat. But let's not become too out of hand. No breasts… just tenders. 🙂
Now that I've given the love and laughter to my tummy (I totally devoured it while I was shooting the pictures), I'm now spreading the love with the world… with you and your tummies. Enjoy!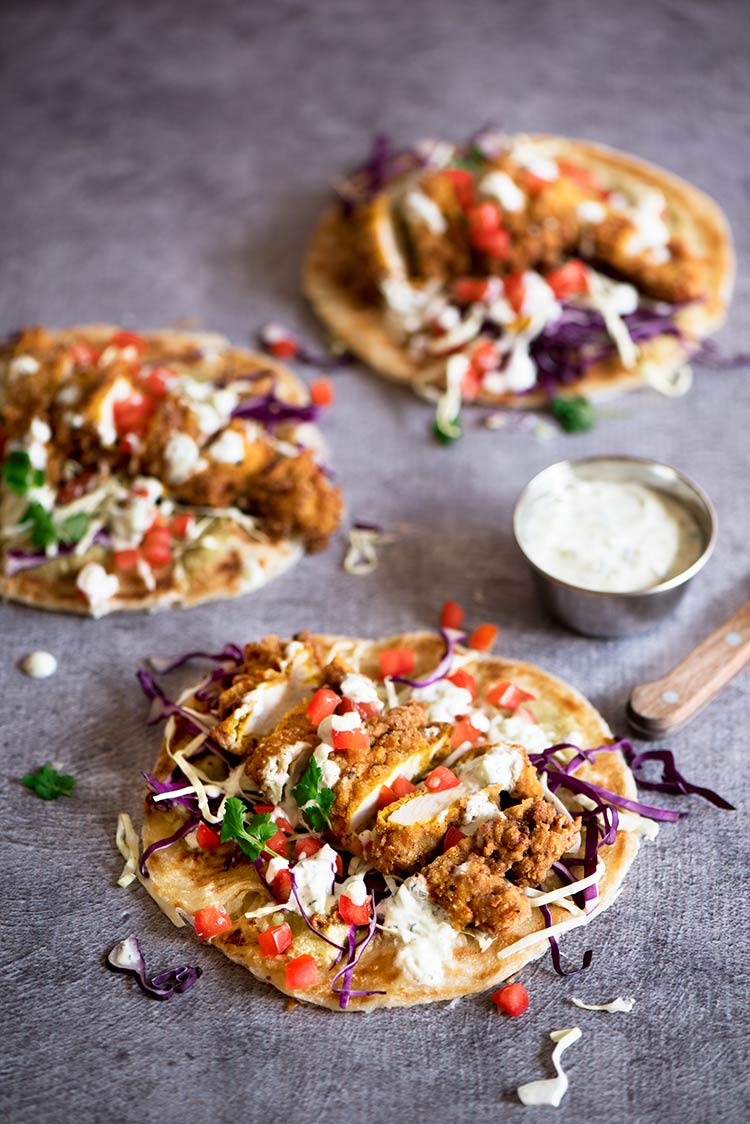 Tips:
1. Stay crisp: The coating of the chicken tenders stay lightly crispy for a long time because of the mix of all-purpose flour, rice flour, cornstarch and a little baking powder for the coating.
2. Extra crunch: Liquid from the marinade is added into the flour mixture to create small lumps in the flour coating that when fried will become an extra craggy crust that's still light but with an amazing crunch.
3. Moist & tender meat: Chicken tenders are marinated in yogurt to give make it stay moist and juicy inside.
Love rolls with crispy flaky wraps? Then you're definitely going to love this Taiwanese Beef Stuffed Scallion Pancake.  Crispy flaky chewy scallion pancake, fresh crunchy cucumber & a warm melt in the mouth tender beef with a sweet & savory sauce all throughout.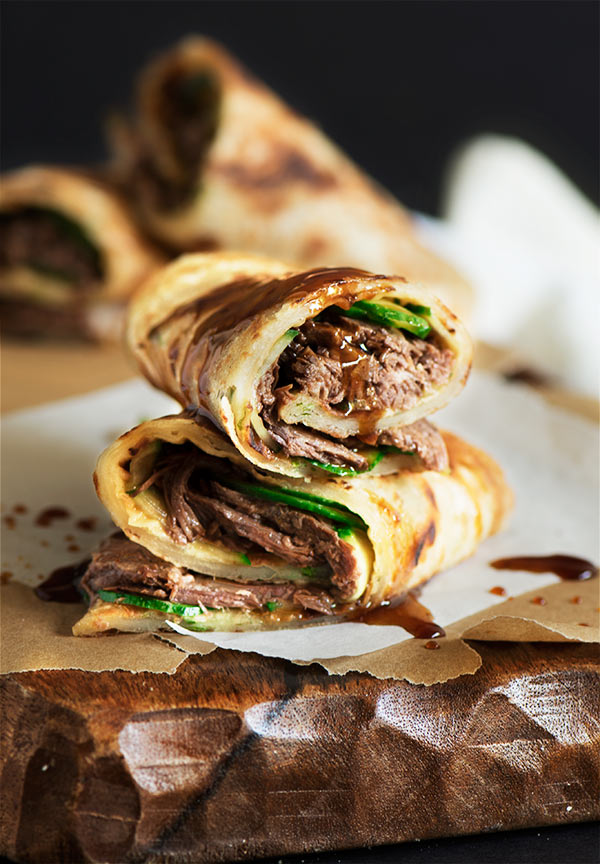 Also, if you haven't already, check out my last post Asian Zing Chicken Wings. Crispy wings that are baked (not fried) and then coated in a sticky, sweet, spicy & tangy sauce. Full of tropical Asian fusion flavor with each bite. A sure crowd-pleaser.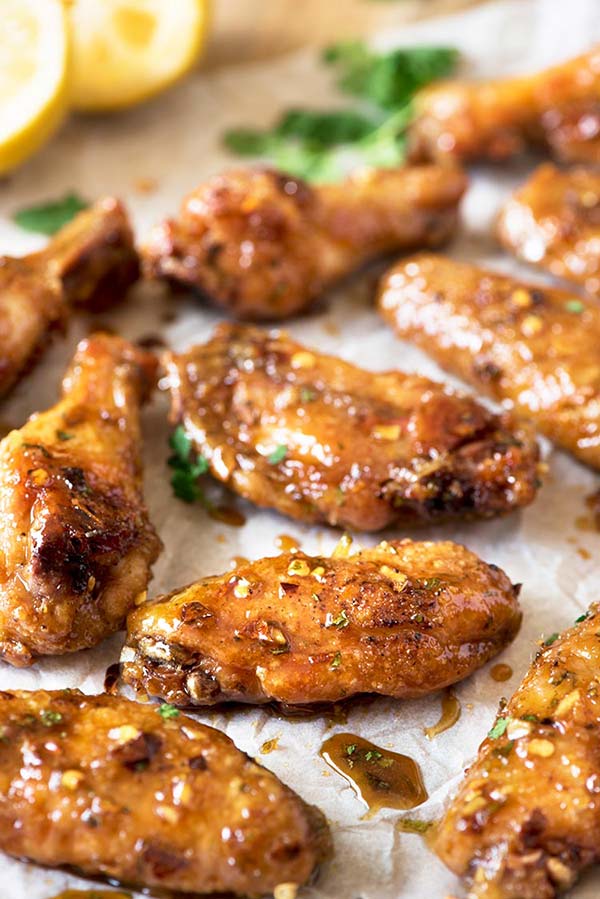 If you like what you see, don't forget to subscribe and follow me on Instagram, Facebook, Pinterest or Twitter to get the latest post updates. See you there!
---
Fried Tenders Kati Rolls
Uber crispy outside, moist and tender inside spiced fried chicken tenders with tomatillo chutney, cucumber mint raita all wrapped in flaky, crispy roti paratha.
Author:
AiPing | Curious Nut
Cuisine:
Indian; Malaysian
Ingredients
Curry Spice Mix
1 tbs fish curry powder
1 tbs meat curry powder
½ tbs chili powder (see note)
½ tbs ground turmeric


Chicken Marinade
1.5 lb chicken tenders (about 10 tenders)
1 cup whole plain yogurt
1 egg
2 tbs curry spice mix
2¼ tsp salt
1 tsp sugar
¼ tsp black pepper


Tomatillo Chutney
½ small yellow onion, roughly chopped
4 tomatillos (about ¾ lb), cut in half
10 sprigs cilantro
1 Serrano chili, deseeded (or not depending on if you want it spicier)
Salt and sugar to taste


Cucumber Mint Raita
1 cup whole plain yogurt
½ hothouse cucumber, peeled, deseeded, shredded, squeezed excess water
1 tbs lemon juice
1 tbs chopped fresh mint
Salt, sugar and black pepper to taste


Flour Mixture
½ cup all purpose flour
¼ cup rice flour
¼ cup cornstarch
1 tbs curry spice mix
½ tsp black pepper
½ tsp baking powder


5 oz purple cabbage, thinly sliced or shredded
5 oz white cabbage, thinly sliced or shredded
4 tomatoes, seeded and diced
2 pack (10 pieces) roti paratha, cooked according to package directions
Directions
Marinate Chicken
In a small bowl, combine the ingredients for the curry spice mix.
In a ziploc bag or large bowl, add all the ingredients for the chicken marinade (except the tenders). Stir until well-combined. Add in the chicken tenders and make sure each piece is coated with the marinade. Marinate overnight in the refrigerator.
Tomatillo Chutney
Over medium heat, add a thin layer of oil in a pan. Once hot, sear the tomatillo for 3 minutes. Flip them and sear for another 1 minute. Push them to one side of the pan and add a little oil. Sear the onions.
Two to three minutes later, the onions should be soft. Do not let both tomatillo and onions to burn too much.
Blend the seared tomatillo and onions until smooth. Place puree into the pan over medium heat to reduce the liquid a little.
Place puree back into the blender, add the cilantro and chili. Blend until smooth and season with salt and sugar. (If you don't care for color, you can blend the cilantro and chili before reducing the liquid). Chill for at least 2 hours for the flavors to develop.
Cucumber Mint Raita
Combine all the ingredients for the cucumber raita and let chill in the refrigerator for at least 2 hours.
Fry Chicken
In a wide shallow bowl, add all the ingredients for the flour mixture and whisk to combine. Add 2 tbs of the chicken marinade into the flour mixture. Use a fork to stir the flour mixture until small lumps start to appear. You'll end up with a mixture of loose flour and lumps.
In a cast iron pan, add ¾" of oil and heat it to 350 F over medium heat.
Remove chicken from the marinade (make sure they're in room temperature), coat each piece with the flour mixture and let sit on a large baking sheet. When the oil is ready, gently place chicken into the hot oil. Do not overcrowd the pan and fry in batches.
Fry for 2 minutes (no poking or nudging for the first 1½ minutes), flip and fry for another 2-3 minutes or until thermometer inserted into the thickest part of the chicken reads at least 165 F. Place fried chicken on a wire rack set above a baking sheet. You can keep the chicken and the roti paratha warm in the oven set at 200 F.
Assemble
Spread tomatillo chutney on the roti. Top with both shredded white and purple cabbage. Add the chicken tenders, cucumber raita and diced tomatoes. Fold the raita to make a wrap. Devour!
Notes
This chili powder is the kind with a blend of spices like cumin, oregano, coriander, garlic, allspice and clove. It's not the kind where it only consist of ground dried chilies.