Flavorful, tender smoky beef satay marinated with plenty of herbs and spices dipped in a delectable savory, spicy, sweet peanut sauce.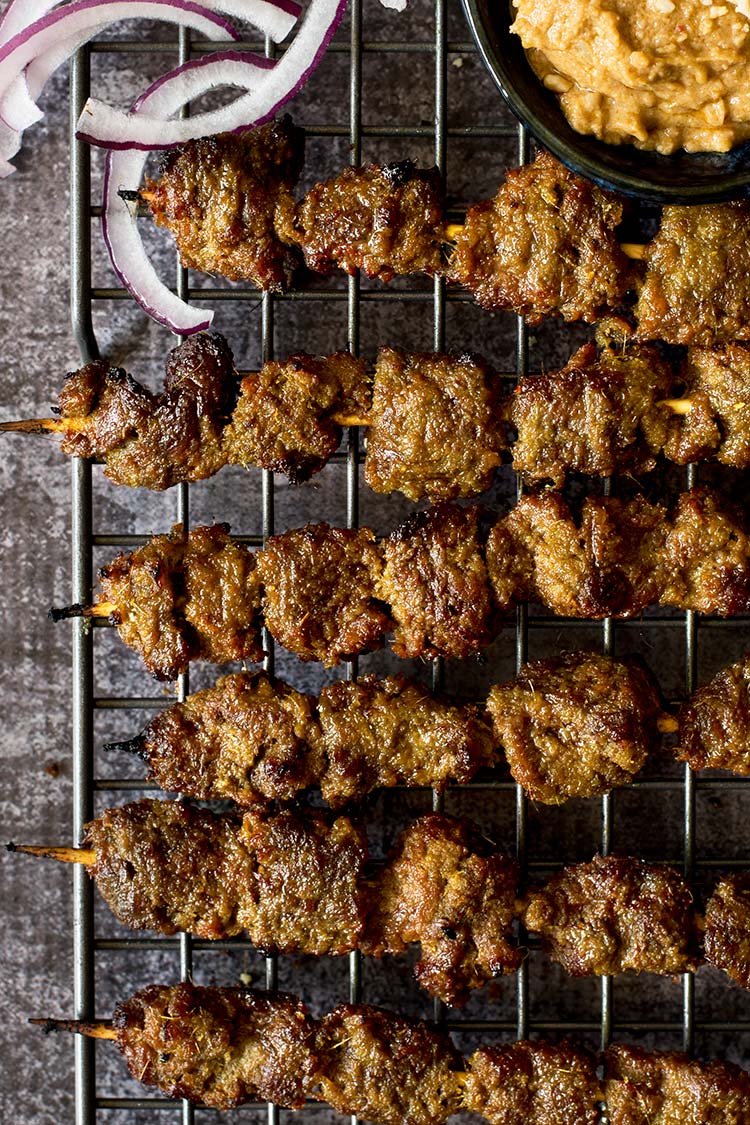 The hardest part of my childhood was not when I had my worst asthma episode with the thickest phlegm you could ever imagine lodged in my throat and in that particular moment in time, it dawned to me that I couldn't breathe and I may possibly die.
It wasn't the times when I found it difficult, almost impossible to catch up with my longer legs siblings running down the street.
It wasn't even the time when I woke up in the middle of the night after a confusing night terror only to realize minutes later that I've just stripped off my pjs and flushed them in the toilet.
Nay.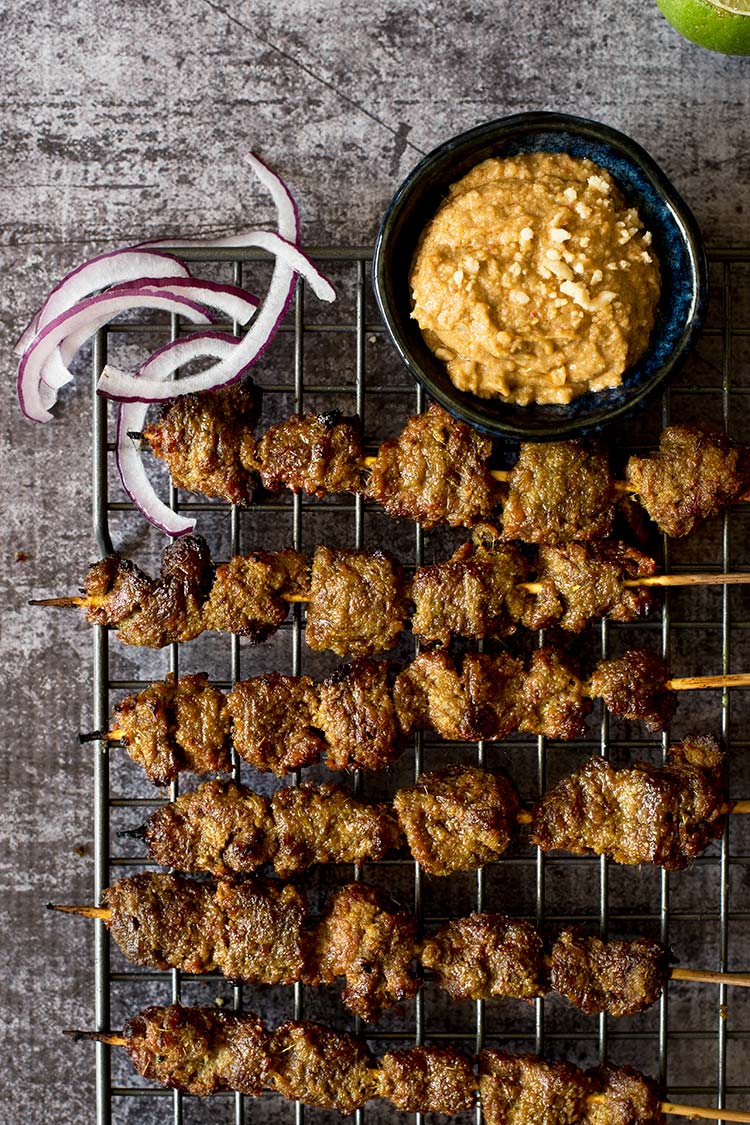 The hardest part of my childhood was having to give my parents an answer to their question 'What would you like for supper?'.
What was not to love about supper? With supper, I get to eat. Again. Didn't I just have dinner? Yup. I also get to go to bed later. Score! Ok fine, this usually happened on weekends or holidays, but still… they were magical times.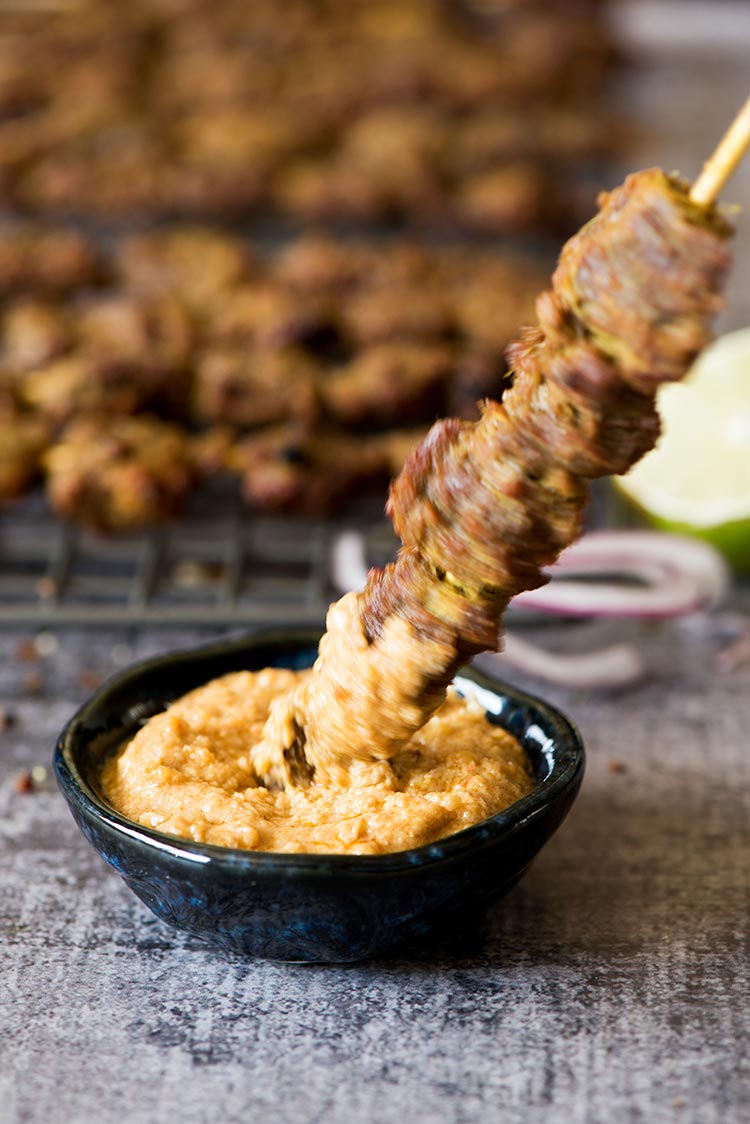 One thing about being a Malaysian kid was that there wasn't much to complain about… apart from my natural tanning sessions from the blistering tropical country sun.
I was (still am) definitely blessed (or cursed) with our late night eats culture in Malaysia. The choices of food (and I exaggerate not) is like a History teacher talking. It's endless. One of my all time favorite late night snack is undoubtedly satay.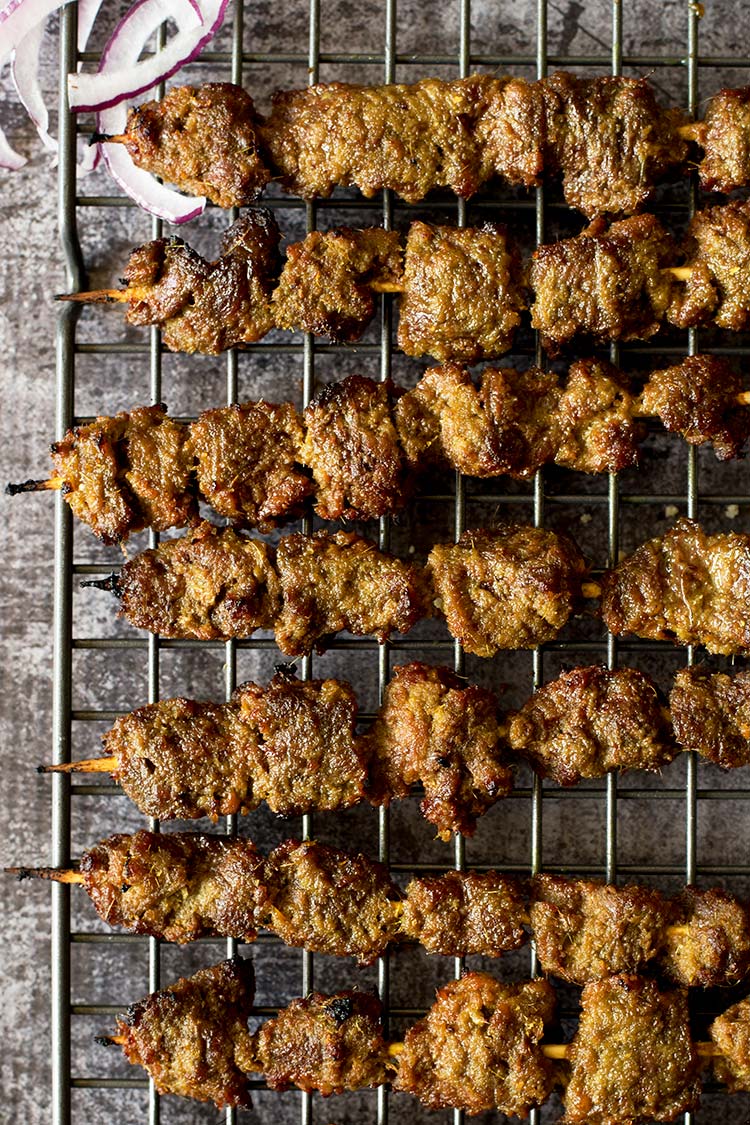 Kajang, pronounced ca jung (ca from car without the r) is a town 15 miles south east from downtown Kuala Lumpur. Arguably home to the best satays in the country, this town has definitely built its satay reputation since the early 1900s and has been reeling in crowds after crowds both local and tourist alike.
I had my share of deliberate hour drive to Kajang as a child just for satay.
When I think of satay, I imagine rows and rows of them on bamboo skewers lined up on long open fire grilling pits, hands working fast handling a self made lemongrass baster, basting the satays with oil that causes flames from the coals to leap up thereby charring the meat and a bamboo fan fanning away the glowing embers. It is a beautiful sight indeed.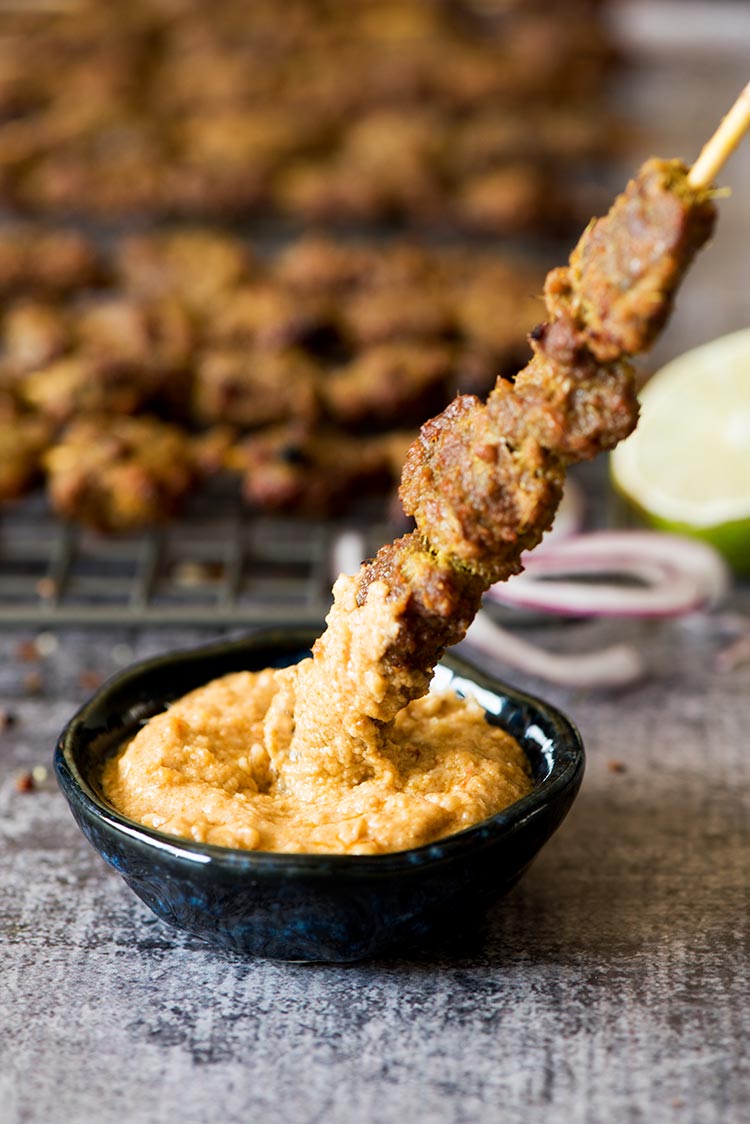 Satay is brilliantly scrumptious. Marinated meat packed with flavor that's grilled over charcoal fire imparting a smoky and charred deliciousness to the tender and juicy meat. And if that isn't enough, it comes with a delectable savory, spicy, tangy and sweet peanut sauce.
For me, satay is the taste of home… of memories of late night suppers with family and friends.
If you like what you see, don't forget to subscribe and follow me on Instagram, Facebook, Pinterest or Twitter to get the latest post updates. See you there!
What was a fond memory of late night snacks for you?
---
Beef Satay
Flavorful, tender smoky beef satay marinated with plenty of herbs and spices dipped in a delectable savory, spicy, sweet peanut sauce.
Author:
AiPing | Curious Nut
Ingredients
1½ lb flank or skirt steak, cut into 1" by ½" pieces
Wooden skewers (see notes 1)


Meat Marinade
10 shallots (short variety), peeled
1" ginger, peeled
4 garlic cloves, peeled
2 lemongrass (white parts only), sliced
2 tbs sugar
1½ tsp ground coriander
1½ tsp ground turmeric
1 tsp ground cumin
1 tsp ground fennel
1¼ tsp salt
2 tbs oil


Peanut Sauce
2 fresh red Fresno chilies (deseed one for less spicy sauce)
5 shallots (short variety), peeled
½" ginger, peeled
½" galangal (blue ginger root), peeled and sliced
3 garlic cloves, peeled
2 lemongrass (white parts only) sliced
3 candlenuts (or macadamia)
6 tbs oil
6 tbs water


Spices (optional, adds extra flavor)
1 tsp ground coriander
½ tsp ground turmeric
¼ tsp ground fennel
¼ tsp ground nutmeg
¼ tsp ground cinnamon
⅛ tsp ground cumin


1¼ cups roasted unsalted peanuts, roughly ground
2 - 3 tbs tamarind pulp
2 cups water (see notes 2)
1½ tsp brown sugar
½ tsp salt or to taste
Directions
Meat
Put all ingredients for the meat marinade into a blender or food processor and blend until smooth.
Pour the marinade over the meat, mix well and marinate meat for 6 hours to overnight.
Thread 4-5 pieces of meat on a bamboo skewer. To broil, set satay on a wire rack set over an aluminium lined baking sheet. Brush the meat with oil.
If you have a grill, grill this babies until cooked though, 2-4 minutes each side (for medium to medium well) turning once and basting with oil. To broil: Set the oven to broil (high setting) and broil the meat for 20-25 minutes or until meat is cooked through, turning every 10 minutes. Serve immediately with peanut sauce.
Peanut Sauce
Put the chilies, shallots, ginger, galangal (blue ginger root), garlic, lemongrass, candlenuts, oil, and spices (if using) into a blender or food processor and blend until smooth.
Over medium heat, pour the paste into a pan and fry for 10 minutes until fragrant. Add additional water or oil 1 tablespoon at a time if the paste is getting too dry. Do not burn the paste. Turn the heat to medium low if needed.
Add the ground peanuts and stir. The paste will become very dry. Turn the heat to medium high and add the water (and coconut milk if using). Bring the liquid to a boil.
Once boiled, turn the heat to medium low and simmer covered for 15 minutes stirring once in between. The last one minute, turn the heat to medium and let boil covered vigorously for 1 minute.
Uncover and turn the heat to low so it won't splatter on you. You will see red colored oil oozing out on the surface. That means the peanut sauce is ready. Add the tamarind pulp, sugar and salt. Add more peanuts or water and adjust seasoning and consistency to your liking.
Notes
1. Wooden Skewers: I read a lot about soaking them for 30 minutes prior to using. Soaking the skewers will still sauce them to burn but they will be stronger than if those that weren't soaked.

2. You can replace ¼ of the water with coconut milk if you like the addition of it.

3. If you like your peanut sauce creamier, blend the peanuts well. If you like it chunkier, leave chunky bits on it. You will have leftover peanut sauce. Freeze it to enjoy with satay in the future or use the sauce for salad or noodles.

4. Spices: I buy most of my spices from wholefoods and some from Mountain Rose Herbs - dry cayenne chilies & fennel seed.

6. Shallots, lemongrass, galangal and candlenuts can be found in most Asian markets.